Japan's VAIO Phone Biz and NuAns Neo get Windows 10 Anniversary Update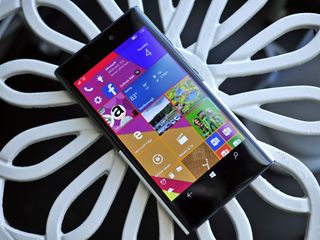 A new report claim that the VAIO Phone Biz and NuAns Neo smartphones, both from Japan and both with Windows 10 Mobile, are now getting the Windows 10 Anniversary Update that Microsoft began rolling out in mid-August.
The report comes from the Japanese site Windows Forest (via MSPU). You may remember that VAIO issued a statement in late August saying the Phone Biz would get the Windows 10 Anniversary Update a bit late due to an issue with its Continuum feature. It would appear that problem has been resolved.
While there are no plans for the VAIO Phone Biz to be sold outside of Japan, the company behind the NuAns Neo tried to fund a worldwide launch for its phone via a Kickstarter campaign. That effort failed but NuAns hinted it may attempt another way to sell the phone in other markets.
I'm surprised by their inclination towards Windows Ecosystem!

they know something you don't

My comment was on positive note, but i still like your reply!

No, internationally speaking, yours not so positive. THat's why.

Take it easy man! The dude just made a Q!

And I like your reply. Posted via the Windows Central App for Android

I would like them too, but I heard they are note coming to america

NuAns Neo might come...I doubt VAIO phone Biz... :(

I am not that familiar with the details, but I did see the Vaio at a local retailer using Continuum. My understanding is there is no docking and the one on display was using the MS wireless receiver. The phone itself is very nice. I'll have to see if there is a closer look I can grab.

The Vaio is only 2G I think. I looked for one on eBay and in the description it said 2G but it was an auction site and they may not know to much.

Moreover it might not support your country's 3G/4G bands

Of course it's not just 2G! Do the research...ignore the aufofilled device info supplied by eBay

Now, ppl will like it even more...

And Release Preview Insider Build has also been updated to .189 matching the production build.

If ever there's a Vaio with Win 10, it will be upwards of Rs. 60k in India.

That's not true. Sony doesn't own Vaio anymore. Windows 10 Mobile would be cheaper considering its status in the market. I mean it's not going to be costlier than an iPhone 5 if Vaio offers the phone to Indian market.

Now iPhone 6 costs around ₹20,000 in India. Which means we may get price cut on WP too ?

Does anyone have a link for the wallpaper used on the phone in the picture?

Vaio phone biz is pretty expensive on eBay. And ... Where are the windows 10 roms for op2,op3 and mi5?

I really hope we do see both Microsoft and 3rd party's start to push windows mobile within the next 12 months. I was on the fence about windows phone and moved to android (LGG4) but then along came the Lumia 950xl and I switched over. I love the phone but it feels like MS are backing out the mobile space. I do like the New HP phone looks stunning but we know it's not being pushed in front of the public. Great to sae some older phones getting 10 Ano though that's a good thing.

Honestly I hope they start pushing it earlier than that. The strap on my band broke recently and between my busy schedule and the time it took to mail it to MS, I realized I don't want to live without a smartwatch. The news of a possible drop in support for the band could be the last straw for me. I was messing with an Android yesterday, hated it. Plain hate iOS and what they charge for the phone. I still believe Windows Phone is the superior OS but I can't deny, I could be more productive on other platforms. MS needs to step up their game.

As I've started here before, tweet concerns on Satya, Terry, Joe, and Bill's twitter pages with class. Go to twitter and View some of my tweets @OMG55 on Twitter. I post to them almost daily, I even added poles for voting.

I know what you mean. I had a band one and the strap broke after 6 months and I got my money back. When I got my Lumia 950xl I got a band 2 and really like it but if MS drop it then it could be a deal breaker for me to come next year when I can upgrade. I do think in the business section nothing comes close to a windows mobile 10 phone but there are alot of people who have a phone for home and business and because of this they are missing a big part of the market. If I did move it would be android for me as I hate ios but for me WP is the OS I enjoy the most but not having other hardware work with it like a smart watch is a big thing for me. Only time will tell though.

Great news,have anyone heard any news of the high end Alcatel windows phone that is to be released? Crazy that msft ending sales of Lumia 950/XL,doesn't make sense,which other windows phone on market offers what 950/XL offers at such great price point?

The Lumia line wasn't exactly a success. Plus aside from the high end Surface line, M$ doesn't want to be in the device manufacturing business. They only bought out Nokia's phone division because they (Nokia) seemed to be looking to move on from Windows Phone. They've got more companies making WP's than ever before and the Surface Phone looks like it will be coming soon. And even if it isn't, we've got the upcoming high end Alcatel, Acer Jade Primo and the HP Elite. Things are starting to look better for W10 Mobile. Posted via the Windows Central App for Android

I'll probably stop now. I've bought the 950, 950 XL, and the 650. I'm such a completist. Probably passing up on Elite since my 1520 is still functioning (but the camera isn't just up to par these days). Posted via the Windows Central App for Android

Cool collection you have. I agree with you on the camera. There's a misconception these days, business phones doesn't need to have a great camera, ugh!!

You can get similar wallpaper in Wallhaven I think under 'abstract'

Well I'm extremely happy with my new Lumia 950 and even even happier with my unlock sim code in less than 20 hours from at&t. Nothing to look for on another phone any time soon.

@raytiger Vaio's divorce from Sony doesn't mean their products are any cheaper ! Also, did you say Win 10 is a failure ? Well, quality things are not for the masses u see

I so want a neo but super$$ on ebay

Link to the wallpaper pls
Windows Central Newsletter
Get the best of Windows Central in in your inbox, every day!
Thank you for signing up to Windows Central. You will receive a verification email shortly.
There was a problem. Please refresh the page and try again.