Tip: Jetpack Joyride is giving away free loot on Windows Phone 8 and Windows 8 today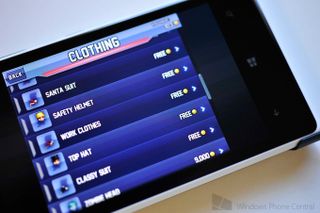 Here's a good tip for you if you're a fan of the endless runner Jetpack Joyride. On the Windows 8 and Windows Phone 8 versions, just about everything in the Stash (the game's store) is free today.
Bug or giveaway? We're not sure but it's worth checking out.
Indeed we bought just about everything we could from unlocking levels to new outfits to utilities on our Surface Pro. On Windows Phone we were able to do the same as well, collecting a ton of achievements too. However, after about every second "free purchase" the game would freeze on our Lumia 925 and Lumia 1020, making the process…well, a process, though it seemed to be random too. We didn't experience the same on Windows 8 though, making it much easier.
We checked with Halfbrick's Twitter account and this doesn't look to be a temporary sale. In fact, our tipster told us this:
The game does look to still be having stability problems as on an initial load it seems to be crashing the game, at least on three of our phones. After that, it crashes after a few purchases, requiring us to hit the Windows key, jump back into Games and re-launch. It eventually exits the game and we have to repeat the process.
On our Surface Pro, just about everything is free
We're not sure if Halfbrick is doing this to amend for yesterday's crash (plausible) or if it's a glitch. Regardless, you are more than welcome to give it a go.
If you haven't downloaded Jetpack Joyride yet, you're really missing out on what is an excellent game.
Jetpack Joyride – Windows Phone 8 – 36 MB – FREE – Store Link
Update: A ton of you are noting in comments that you don't have anything for free, so here at WPCentral, we must have magic phones and tablets as our pictures don't lie! Now pardon us, we're going to go use our Golden Piggy Pack and blast money at scientists. (But seriously, sorry if you can't get this deal. We verified with a few people that this works.)
Update 2: People are having luck by uninstalling and reinstalling the game, then trying the Stash. That makes sense as we fresh installed the game on our three phones.
Thanks, Sholokov, for the tip!
Windows Central Newsletter
Get the best of Windows Central in your inbox, every day!
Daniel Rubino is the Editor-in-chief of Windows Central, head reviewer, podcast co-host, and analyst. He has been covering Microsoft since 2007 when this site was called WMExperts (and later Windows Phone Central). His interests include Windows, laptops, next-gen computing, and for some reason, watches. Before all this tech stuff, he worked on a Ph.D. in linguistics, watched people sleep (for medical purposes!), and ran the projectors at movie theaters because it was fun.
Just checked it, nothing is free. Damn it!

Weird. Myself and Seth have tons of free stuff here...three different phones and the Surface. Plus our tipster.

The game has just frozen for me. I'll restart and see what happens.
Update: game refuses to start at all now! All I see now is the main screen with music playing, but the menu itself doesn't appear..

I just got more free things. I guess Halfbrick just likes some of us, lol. Sorry, everyone!

You're right Daniel, On Windows 8 almost everything is free for me. Yay! Thanks for the info.

Update: Everything (almost) is free on my 920 too. This is awesome!

Everything's free on my 920 but it locks up my phone after the 4th purchase and soft reset doesn't work.

Minimize the game (Win key), relaunch the game, note the black screen. Let it time out/exit. Relaunch and repeat process.

Worked the first time. The 2nd time it hard freezed my 920 and I had to,do a hard reset (both volume keys and power)

Actually, after you hit the win key, just turn on some other game and then retry JJ.
UPDATE: Jetpacks, utilities and vehicles buying is buggy. Just exit the game after every purchase.... :/

I've gotten 6+ emails of this reply being edited in the last 2 hours.. Stahp.

Yep, you guys were right! Most items (apart from 1 or 2 items) are free! Time to take advantage lol!

Seems like a glitch. It kept freezing on me after every two purchases but that did not stop me from keep geting back in and buying two at a time till I had bought everything that was free! +920

Unfortunately nothing for me. Oh well, am I the only who doesn't care?

Actaually it worked after uninstalling the game, but i lost some achievements and the game freezes frequently...

You have to play before trying to open the stash, otherwise it just freezes when you click stash.

Yeah I also don't have anything free

928 here, nothing is free

Nothing free here either.. :-(

Not showing up as free for me :(

Update: the game itself is free today!!!! /s

I just checked nothing free

Hint: Uninstall + Reinstall = Free Stuff. Thumbs up!

You are right. The game wouldn't turn on yesterday. So I uninstalled it. But today, when I reinstalled it, almost everything was free. That's when I tipped WPC.

As above. Checked my game and everything is not free!

Nothing free here as well.

No luck on w8 or wp8 here in canada

Nothing's free for me either...

Nothing free here, either.

Nothing is free. False advertisement!

No its not... I am enjoying all the free stuff. Try uninstalling and reinstalling it. Then play a couple of games before heading to the Stash.

nothing free on my nokia 521 gdr2.

Nothing free for me either.

Nothing free for me either.

nothing free and i had the crash also

Just checked and nothing free for me :(

You lie...nothings free :P

I unlocked everything lol no need for me

Just downloaded the game, and everything is free for me

The game is contantly crashing after buying two items every time....
Crashing like crazy

I haven't bought anything today, but it does keep crashing for me too! What's going on with this game all of sudden?

Same here whatever happen anyone solved it

This has been happening since yesterday. Actually it's not too bad today.

Not just this, but Fruit Ninja (also by half brick) is crashing too. After every game it just gets stuck on the score screen. HalfBrick might be having some background problems.

Yeah no free stuff for me either. :(

Not working, too bad I'd love to grab all the stuff but I'm almost done buying everything except uniforms and heads now anyway... :( not free on my PC either

Already unlocked all achievements :P no need. :)

allmost everything for free!
Latvia


Yeah and the games just stuck on the menu screen for me all I hear is the background music and that's it I touch the screen nothing as well as I uninstalled and installed 4 times already Update: Its working now and alot of the things are free for me I'm using a L925

Nothing free. Took a long time to sign into Xbox though. Edit: Changing clothes/jetpacks now crashes the game.

Everything is free but it keeps crashing!

Yeah I'm having the same problem

free on win8 pc, not free on wp8 :S

Yep nothing free for me on w8 phone, will check RT. Then win 8 desktop and laptop

Bought a lot already, but nothing let is free for me.

Still free on Windows 8. Nice!

Just tried it on W8, and it's free. Just bought everything possible...and some extremely many times :P

Nothing free. Win 8 or WP8. Drat.

Daniel, is it 1st April today???? :):):)

I'm seeing free stuff, 920 in canada, provided it doesn't crash...

I checked and nothing was free. So I uninstalled it and reinstalled it and it worked. It may freeze after a couple of purchases however, but it works.

Nothing was free, but I figured I would try reinstalling. Bingo! Everything is now free. Try it!

Nothing free on my 920 ATT in the US :(

Nothing free on my Nokia 820 windows 8 phone :'(

I think people should point out if they have the latest game update on their phone versions and what kind of phone. I didn't download the game update because I heard of all the crashing issues. Also, I'm on a 920.

All of us achievement hunters should have already beat this easy and free game. You should already have this deleted!

Haha, I got lazy on the phone version....

Nothing free for me :(
I have an update that came out the other day, I believe.

Wow the entire game is free for me!

I know. What a great day of glitches. Free game and free items in game!

Almost everything is free for me.

But the app is crashing after a couple of "purchases".

Delete and re download the game.it will freeze a lot but u will get free stuff

Just download and everything free.:)

Just freezes and crashes.

This game used to be severely crash prone on Windows 8 too for a while, which they fixed with an update that took a few days to come out. Hope they fix the crashes for WP8 now too.

Off topic....any news about temple run 2 ?

Uninstalled the one i had on the phone, and reinstalled it. Now most of the items are free, but it crashes a lot, it just freezes after purchasing the items.

Same. Actually jetpack won't even start anymore on phone. And renders RT useless.

Same for me but keeps freezing now on my phone!!

Yeah I'm having that same problem

Check again guys... Just checked back on W8 and everything so far is free for me

I just checked again and still nothing. I think it depends on which version of the game you have.

Three missiles heading my way?

I'm not seeing anything free, but then I've already purchased most items anyway. I've just got one jetpack and a few articles of clothing left to buy.

All free on my Surface RT but not on my L822, I bought so much stuff for $0

I actually prefer them NOT being free. It's something to actually work for. If they were all free... I probably wouldn't want to play the game anymore. That said... I might've taken some of the more expensive items because I doubt I'll play the game that much to unlock everything.

I feel the opposite. I stopped playing because there was too much grinding just to get basic upgrades. Now I have almost all the upgrades and only the most expensive items still aren't free. The game is fun again, so I'll be playing it more to get the still-paid items

Almost everything is free for me. on a L810

Uninstalling and reinstalling works. Just freezes alot and now it's freezing my phone twice as I've been trying to get the last free items, freezes every time I but more than one free item....scary that it froze my phone but I have an 820 so I just pulled the battery out but yea...

Wait a min now everything I had purchased for free is gone!!! Omg noooooo!!! And my coins are down to zero!!! That's not fair...everything is free still but damn i don't wanna start purchasing and it freeze on me again :(

I was able to buy everything back without any freezing but my progress was lost?!?! Had to start over but that's a small price to pay ☺

Perhaps pulling battery was your problem.. Instead, when it freezes, try pressing Windows button, then back button... Once it resets to start screen, go back in and purchase 2 more items. Rinse and repeat.

Uninstall and reinstall DOES put everything "free" ;)

Oh the freezing... WP really needs a way to force close apps.

This is where the (X) on the multitask screen would be useful.

No need for this. Already cheevo-whored 100%.

Yep, uninstall, reinstall works. I had to do this twice on phone. Anyone know if this is happening to the other platforms like the IPhone version?

I just bought heaaaps of free things! Not everything was free, but the game crashes a lot trying to buy stuff.

L925 here items r free but after two purchases game freezes have to turn off and go back and buy more items but its ok.

Uninstall, reinstall, allow it to freeze, restart = free stuff :D

I keep getting freezes too...Lumia 822, but a lot of freebies under. "stash"!

Maybe this is a way of letting you get all the stuff you lost when the game loses all of your progress... now maybe I'll go back and finish the last couple of acheivements I'm missing.

Damn, Flash isn't free - but it seems like he costs less? better hurry up and earn some coins and get him so I can get that walkies achievement.

I'll do the right thing and earn it the hard way :)

I have all but a few things fr free and my version has been installed for about 3-4 weeks.

I've got tons of free stuff. The constant crashing is a PIA though!

Managed to get all the free clothes in one go, and the free gadgets, but jetpacks and vehicle upgrades freeze up. Only get one if you're slow, three if you're quick. Re-installed on my WP8 to get the free stuff since I hadn't played it much, but don't think I'll re-install on Windows 8. Getting close to unlocking everything on that anyway and not confident it'll remember where I'm up to when I re-install.

Is the save synced on Xbox Live?

On Windows 8 it is, on Windows Phone, I don't think so.

So it looks like if you dont see anything free, uninstall it, and reinstall it. This made items for me free when they previously were not (928) but freezes the game after 2 purchases

I wasn't seeing anything free on my Lumia 920 so I uninstalled the game and then reinstalled it. Now I see a lot of the items as free. Give it a shot.

The solution for the freeze is buy only a thing, quit the game and re-enter.

Also I noticed that the freeze only happens when you are connected to the internet

I uninstalled it and reinstalled it and now almost everything in the stash is free. The only thing is that when installing the jetpacks, only 2 can be downloaded then it freezes. What I do is go to the multitask street (hold on the back button) and go back one screen. Then press the back button again to go back to Jetpack Joyride. Then it closes. I then have to reopen it and continue buying the free stuff.

It is faster to press the start button and then the back button.

It would be great if we had multitasking close button and it messed up device a little made me unable to stay on WiFi it kept turning WiFi off but I reset a few times and it works.

I'm not really interested in losing my progress for freebies...and it's locking up this evening, it seems, while trying to access the leaderboards.
In a perhaps related note, the new version of Fruit Ninja (also Halfbrick) was locking up and having fits on me this morning. Server issues?
When does their new one come out? Colossatron?
Just looked at their Facebook page? Man, we need an update to get some of those other costumes and vehicles...

I'm with you. It would be nice to get some of the gadgets and a bunch of utilities to use, but I really don't want to lose all of my progress to do it. Darn.

Works for me Nokia Lumia 820 India Unlocked

On my Surface every time I launch the app it crashes at the splash screen. Happened multiple times already.

Had to plug my phone into my PC and reboot the PC in order for it to come back on

Got me some freebies, then my 920 locked up froze had to soft reset,,, I'll not do that again no freebies for me. Update,,
I just uninstalled jetpack joyride went to marketplace to reinstall and now I can't find it anywhere on my 920 but the marketplace place says share so it's on my phone but where?????

I had that happen to me with a different Xbox game. Sounds like the uninstall/install failed. Try going to the actual windows phone website www.windowsphone.com and log in there. Go to past purchases and follow the directions to "push" the reinstall to your phone. If the game installs, but shows up under the non Xbox section in the games tab, uninstall it. Then you can reinstall anyway you like, and it should work.

I was able to get everything without freezing when my data was off. :)

Got everything for free, my phone locked up, restarted, and I lost EVERYTHING (including what I had gotten before today). Probably just gonna uninstall... UPDATE: I turned off my data connection, and my WiFi, and then downloaded [almost] everything. Then closed the app, turned on my Data/WiFi, launched the app again and now I have everything saved. The game plays fine, no issues at all. Just had lots of freezes when downloading the stuff.

These freebies are weird. Will they stop maintenance the game?

Meh... not important enough to reinstall the game over. Still nice that they're offering it. Still love this game a few months later... Still having issues getting past 3000 meters.

Managed to get all the free items! On HTC 8X on Verizon.

Game constantly locking up...

I fresh installed, still freezes. L822.

Update: TURN OFF DATA! Do NOT sign into XBL.

Opening the app locked my phone and when I do get in it is still asking for coins. Worst if both worlds

Fixing the crashing is easy, just turn off Wifi.
I've got the Walkies achivement to unlock offline but the A Man My Son won't as it won't let me restart the missions!

So would that be considered stealing? Hmm...

If it doesn't cost anything, then no. We're not running any hacks or doing anything nefarious. If it's offered for free, why shouldn't we take it?

ALMOST EVERYTHING'S FREE ON MY STASH!
Thank you WPCentral for the tip :)

Thank you WPCentral for this tip!

Not a total fan but i unlocked almost everything.. Except the coins which i won't be needing anymore. Now i'm worried that i would have to pay for all the stuffs i just got later:|

Wow, buggy! Not only does it crash the game but it takes my phone with it. Have to reboot after every two purchases ...

Seemed to clear up after a couple of reboots (and draining most of the battery). Many of the purchases hadn't 'stuck' (they showed as not purchased) but I was able to go through them all again without any more crashes.

All free on lumia 920. But the game keeps crashing.

It crashed for me several times. Could only get 2 things at a time before crash. Restarted. Got everything with no hangs or crashes.

Nothing is free to me too (920)

Yep, Daniel's right. Almost everything's free in the Stash, just needed to reinstall the game. And also the game runs smooth as butter after an initial few crashes. :) Going to enjoy this loot,guys.

Just checked, nothing is free on my surafceRT too..

Patience is the secret.
Thank's for the tip, enjoy folks.

I'm doing it on win 8 works like a charm once uninstalled and then reinstated still trying to get the fly 5k achievement but best is 3k

Thanks for the tip guys! Saved me from hours of grinding.

Now its just a matter of getting the game properly working again.

This is legit. I didn't have the game so I downloaded it in order to grab all the goods. It worked great except for one thing.. Kept freezing after each second purchase. That's for jetpacks and utilities I think? Still, grabbed a nice 40G for just tapping on my screen. And got the materials to earn the rest of the achievements at my convenience. :) It works.

Thanks for this tip!!!, BTW turn off the wifi or data connection so the game wont crush. The free items wont disappear.

yea i got allmost everythng free :D few things are not free :)

The game is hanging and crashing, had to do a reset !

disconnect from the internet
go in buy everything that is free(not everything is free)
close the game
reconnect to internet
use your new stash to unlock achievments and get more coins
buy everything else enjoy

Nothing free on Windows RT Australia.:(

Works fine for me in Aus. Did you uninstall/reinstall the app?

The game is 29mb so you need to correct the information and I did not get anything for free now I am trying the re-installing trick. hope it works.

whooohooo re-installed and almost everything is free and yeah the game is freezing while purchasing but daniel's tip is working so no issue. First amber and now free stuff I am loving it :)

*Tip* if you want it to stop freezing uninstall, reinstall, then soft reset your phone. It worked like a charm for me, I have over 200 super boosts and bombs and lives bought and almost everything in the store without a single freeze.

This process worked for me as well and now I can purchase all I want without it freezing!!

this game crashes on lumia 820

As said, Uninstall and re-install to get nearly everything for free....did it on my 920 and Surface RT.
Happy days...cant stop it crashing and having to relaunch after a few purchases on my 920 though.

925 here and loads of free stuff, it does crash after buying 2 things, but when i played the game it crashed the whole phone :(

Wtf are they doing with this game... Since yesterday the game freezes after like 5-10 minutes of play.
I even had to soft reset once.... (btw why are my background tasks not working after soft resetting? chronos and weather flow)
Now they make everything free (bug or intented)... great, but the 2 problems: this kills the fun of the game, and more importantly the game is
STILL FREEZING... ffs (even not doing anything with the stash).
These made me delete the game... gz for the devs (or whoever responsible)


Tried uninstalling and reinstalling. Once it finished, my entire phone became incredibly unstable, actually freezing. This obviously caused great distress to me, because as we all know, Windows Phone is extremely stable and never crashes or freezes. Thankfully, a soft reset worked, bur once I rebooted, I noted it was trying to install itself again... This was too weird, and I'm worried it might compromise my phone, so just to be safe, I canceld the install and will leave it that way. It's a shame, I've now likely lost several weeks of progress in that game, but hey, it's better than my phone being bricked, and I kinda deserve it. I uninstalled a stable version in the pursuit of free stuff, which came at the cost of a seemingly unstable build. My phone is fine, and I'll await a fix. It just means I've got to work my way up the ranks... Again.

Exact same thing happened to me except I had no idea how to cancel a download and it also caused me to keep disconnecting from WiFi.

Well its free Alright n though with every second purchase , the games hangs. Well still made it work.

This hasn't worked for me all day. I guess you guys are lucky.

Idk man I have about 90% of the stock free however it freezes after every two purchases. Since I've done this my phone has been a lol bit buggy since I've purchased the items.

My way to prevent crash while purchasing : play some music at Xbox music and start the game.

I purchased a lot of items, then I had to soft reset my phone because it froze on me. If you go to buy one at a time then hit the back button then go to buy another item. It works. I had to take my case off and take out the battery, I'm using a Nokia Lumia 822. I'll be purchasing more soon. What I have now is fine.

When you uninstall do you loose your save or is it in the cloud?

if u uninstall you lose all your levels and achievement. but any of your previous gadgets, vehicles, jetpacks and clothes stay the same when u sign into xbox live. at that point once u sign in and restore what you had turn on airplane mode and buy what ever is free and buy the missions thru utilities.

My lumia 920 freeze when i get the free loot. I had to soft reset it. Anyone has this problem?

Me too, every second loot is freezing the phone..but everything is there for FREEEEEEEEEEEE :D

The game Froze but not the phone initially. I stopped playing the game when it froze my phone (cant get into start screen). Only soft reset helped.

I've just read this article and gave it a shot. Luckily, it is true.

It sounds like it is Halfbricking everyone's phone!

How did Microsoft let this even coke out like this..?

This was so awesome. I installed all the freebies,although it froze many times and I had to restart the game.

uninstall and reinstall load game let sign into xbox live and than turn airplane mode this let me purchase everything with no freezing.

The airplane mode works in fact! Thanks bro!

Thanks OP and CaFe88, that tip worked like a charm, got everything I could for free, plus a few extra lives ;)

I just turned off the sound and was able to get all freebies with no crashing. Also uninstalled my previous version on my Inspiron lappy this morning and just about everything is still free.

I got all the stuff for free on my Lumia 520

I reinstalled and downloaded some free stuff and my lumia froze for 20 minutes and wouldnt soft reset, when it turned back on, I didn't leave well enough alone and proceeded to get some more free stuff, it froze again on the resume screen, after ten minutes, the back of my phone was scorching hot, and wouldnt turn on. after I plugged it in, it showed a drained battery, so I let it charge for the rest of the night. When I woke up and tried to turn it on, the phone was again scorching hot and the nokia logo would flash on the screen and not turn on. Now my phone still says the battery's drained and won't turn on. :(

my game glitched and i am not getting new missions anymore. so no way to complete the highest rank Barry and obtain that achievements :(
i an relutant to reinstall.
it seems like this "glitch" has killed a lot of people's phones

Same. Had to uninstall. This time I won't purchase mission unlocks.

Nothing free on my end. :(

Confirmed for HTC 8X as of Sunday the 18th - Works like a charm. Turn on airplane mode and it wont crash and everything will stay on your account once you turn off airplane mode.

Un-confirmed for Windows Surface Pro - Will try once i am home from work, around 3pm CST.

Thanks for the tip!

Try buying your items on airplane mode you will never freeze.

Too many apps seem to cause unresponsive touch screen on my device often resulting in hard resets, needless to say I'm somewhat scared to install anything on my phone.. 920 is nice, but its not allowing me the use of all its features due to this sort of issue.. Lets hope GDR2 fixes some of this! (unbranded and still waiting)

free stuff is cool, but being able to play with out locking up would be cooler. Since GDR2 I can play 1 maybe 2 passes and it locks up. Had to button combo (vol down, power) reboot my phone on Saturday.