Joe Belfiore just wrapped up his Reddit AMA, here are the highlights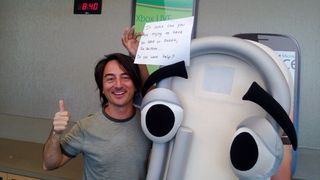 Microsoft's Joe Belfiore just wrapped up his first AMA on Reddit. It's an informal Q&A session with folks in that belong to the Windows Phone section of Reddit. He shared a lot of insight about the current state of Windows Phone. Joe also gave us glimpses into the future. We learned that an official file manager was coming to Windows Phone 8.1 sometime during this month (and even got a first look at it!), we learned that Microsoft is courting Snapchat, we learned about big updates coming to Skype and Facebook and so much more.
Below we've pulled out all the info that Joe shared from his AMA. Just sit back and read all his answers right here.
Joe Belfiore on the feature gap between Windows Phone and iOS/Android:
Joe Belfiore on why the enthusiast program (Preview for Developers) took so long to come out:
On whether or not Windows Phone is a second-class citizen within Microsoft:
What's Microsoft doing to improve apps that have been 'ditched' after being launched (Flickr) and what are they doing to improve their own apps (Skype)?
What feature do you think will make people choose Windows Phone over competing platforms?
Will Cortana come to Windows 8?
Will Cortana ever be able to toggle actions (such as turning off Wi-Fi when you leave a place)?
Why are games listed in the main app list in 8.1? Will this change in a future update?
Star Wars or Star Trek?
How long can Google continue not developing official apps for Windows Phone?
There's currently a long time lag between announcing a new phone/OS and having the product actually available. Is Microsoft doing anything to address this?
On whether or not Snapchat is coming to Windows Phone.
Are there any plans to give Xbox Music the love and support needed to bring it back to par to what Zune was capable of even before the advent of the Windows Phone 7?
Any plan that Windows team will bring ALL the basic apps to Windows Phone such as Alarm and Sound Recorder anytime soon?
Windows Phone 8.1 is really cool, but is still has a few flaws and needs fixing. Thoughts?
What is the most outlandish/futuristic idea you guys have ever wanted to implement, but technology is a limiting factor?
Does your team realize the downside of limiting Cortana to the US for the beta?
Why is the Settings screen still an unordered mess, in 8.1?
Why is the local phone search via the Search button dependent on an internet connection?
Why is the touch target for closing the action center so small?
When will the Store search have any kind of filtering?
Any plans for a file manager in Windows Phone?
Are there any "Easter egg" on Win 8.1 that most people don't know?
We seem to be on a feature backtrack with our updates. 8.0 lost radio, 8.1 killed music, Me integration, Photo Hub integration, and Windows Phone pales in comparison to our syncing options we had with Zune. What's the reason for this?
How are you working with other division (Office, OneDrive, Xbox team and so on) on their hub/application on Windows Phone?
Windows Phone is so awesome, but the carriers in Canada make it hard to be a fan here. Will Microsoft please start selling Lumia Windows Phones unlocked on their online store? Apple and Google both give us this option.
How can Windows Phone be faster?
The way windows phone currently "multitasks" is inelegant and quite frankly, bad. (Apologies if my terminology is not 100% accurate). Thoughts?
Why is Cortana completely useless without location turned on?
Joe, you're a very admirable presenter with a laid back style. How do you prepare for these presentations?
Source: r/windowsphone
Noooo :'( he didn't answer my question. All i wanted was for him to give insight on my app.

Yeah. He was very thorough, but didn't answer nearly as many questions as an average AMA. It seemed like he was typing from his phone or maybe a Surface Touch Keyboard or something. I was a little disappointed, but still pleased--like most of my Windows Phone experiences, haha.

I'd say he wanted to give complete (or as thorough as possible) answers to as many as he could instead of empty lines or not thought out responses to many more....

What is not complete and thorough are good answers that used the word ' focus ' in them... The need to focus on one thing or another is fine for a small company with limited funding and resources... BUT NOT FOR A HUGE COMPANY WITH DEEP POCKETS AND ABILITY TO HIRE SCORES OF DEVELOPERS SUCH AS MICROSOFT... Here's how it should've went... ' Feature parity with iOS and Android, how long will it take us to get there? Such and such years/months... How much will it cost? Such and such amounts... How many developers/divisions do we need to handle the workload? Such and such... Alright, I want to double down, what do we need of each to get us there in half the time?

True...will you tell me what you think of my app?

It's called Bass_Tuner, look it up in store.

Too many with that name, link to yours? If it is to detect the pitch of the guitar, I would say unique and it deserves attention. If that is not it, then I don't know which one is yours. Overall, I am not the desired audience, but my brother-in-law is, yet he uses an Android-based phone.

Well, that's what every developer wants to hear óÒ

And Email file attachments...anyway this AMA has been a sucessful one.

Glad he didn't, so he had total focus on the IMPORTANT questions.

That's very rude... Even though I asked a personal question, doesn't mm mean the whole event is ruined.

I asked him to send me a Nokia Lumia 930 :3

Lol he wouldn't give it free haha

Awesome. Love it when companies do stuff like this.

Joe you had changed your style so much.
Sorry for my English

What'll happen to those file manager apps when there's an actual official file manager built into WP?

Have better interface and more functions?

It won't be built in. So it will still be your choice.

Oh. I was assuming that it would be built in but I guess it does make more sense for it to be an app since Cortana is also an app.

They're pretty much doing away with built in apps because the limit updates to only when the OS is updated. By making it a seperate app, they can send updates as often as they want. Much like they did with the Music app. I'm so glad they are releasing an office file manager. These third party ones feel so half baked and forced. Not to mention poor UIs. The offical one looks amazing.

Glad to see he repsonded to my XBM/Zune question. I miss seeing how many time I listened to artists/songs/albums.

Here is one way to go about it: - Go to http://xboxmusic.uservoice.com/ - Search if your desired feature request already exists. - If so, vote it up and share the link here and tell others why should they vote for it. - Otherwise, create an account and be the one to submit that feature request. This link would be a future reference, which you can use on any forum discussion, in any AMA discussion and blog comments etc. And its a great way of convincing and keep reminding devs. Priority is usually evaluated based on the vote count. ~ Vote for me and I'll set you free ..

Why are the 2 choices on the XBOX music.uservoice site Google and facebook? Where is the choice for using the Microsoft account? Again Microsoft treating its own products as second class citizens.

UserVoice is a feedback platform and its not own by Microsoft. See http://en.wikipedia.org/wiki/UserVoice. Head on to http://feedback.uservoice.com/ to give them feedback on integrating Microsoft Account.

You can login by just entering your mail + name. I guess that's simple enough (and you don't have to misuse another shitty social account).

Ow I sooo miss that too! Making a playlist simply out of the ones you listen the most. Or discover interesting tracks you never thought you had but were never played before.

I'll be patient on XBOX Music...for me, I want more than 1000 per playlist and the shuffling algorithm fixed when shuffling playlists. Both are huge for me...

Dude, seriously, you have playlists that are 1,000+ songs? Why?? That's like 2± DAYS of music continuously. Why would one need a playlist that large? Not judging, but I don't get it. I have 5x that, but.......

Do you exercise regularly? It's nice to have a month long workout playlist which doesn't repeat.