Joe Belfiore just wrapped up his Reddit AMA, here are the highlights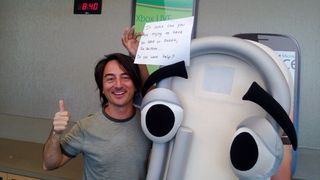 Microsoft's Joe Belfiore just wrapped up his first AMA on Reddit. It's an informal Q&A session with folks in that belong to the Windows Phone section of Reddit. He shared a lot of insight about the current state of Windows Phone. Joe also gave us glimpses into the future. We learned that an official file manager was coming to Windows Phone 8.1 sometime during this month (and even got a first look at it!), we learned that Microsoft is courting Snapchat, we learned about big updates coming to Skype and Facebook and so much more.
Below we've pulled out all the info that Joe shared from his AMA. Just sit back and read all his answers right here.
Joe Belfiore on the feature gap between Windows Phone and iOS/Android:
Joe Belfiore on why the enthusiast program (Preview for Developers) took so long to come out:
On whether or not Windows Phone is a second-class citizen within Microsoft:
What's Microsoft doing to improve apps that have been 'ditched' after being launched (Flickr) and what are they doing to improve their own apps (Skype)?
What feature do you think will make people choose Windows Phone over competing platforms?
Will Cortana come to Windows 8?
Will Cortana ever be able to toggle actions (such as turning off Wi-Fi when you leave a place)?
Why are games listed in the main app list in 8.1? Will this change in a future update?
Star Wars or Star Trek?
How long can Google continue not developing official apps for Windows Phone?
There's currently a long time lag between announcing a new phone/OS and having the product actually available. Is Microsoft doing anything to address this?
On whether or not Snapchat is coming to Windows Phone.
Are there any plans to give Xbox Music the love and support needed to bring it back to par to what Zune was capable of even before the advent of the Windows Phone 7?
Any plan that Windows team will bring ALL the basic apps to Windows Phone such as Alarm and Sound Recorder anytime soon?
Windows Phone 8.1 is really cool, but is still has a few flaws and needs fixing. Thoughts?
What is the most outlandish/futuristic idea you guys have ever wanted to implement, but technology is a limiting factor?
Does your team realize the downside of limiting Cortana to the US for the beta?
Why is the Settings screen still an unordered mess, in 8.1?
Why is the local phone search via the Search button dependent on an internet connection?
Why is the touch target for closing the action center so small?
When will the Store search have any kind of filtering?
Any plans for a file manager in Windows Phone?
Are there any "Easter egg" on Win 8.1 that most people don't know?
We seem to be on a feature backtrack with our updates. 8.0 lost radio, 8.1 killed music, Me integration, Photo Hub integration, and Windows Phone pales in comparison to our syncing options we had with Zune. What's the reason for this?
How are you working with other division (Office, OneDrive, Xbox team and so on) on their hub/application on Windows Phone?
Windows Phone is so awesome, but the carriers in Canada make it hard to be a fan here. Will Microsoft please start selling Lumia Windows Phones unlocked on their online store? Apple and Google both give us this option.
How can Windows Phone be faster?
The way windows phone currently "multitasks" is inelegant and quite frankly, bad. (Apologies if my terminology is not 100% accurate). Thoughts?
Why is Cortana completely useless without location turned on?
Joe, you're a very admirable presenter with a laid back style. How do you prepare for these presentations?
Source: r/windowsphone
Get the Windows Central Newsletter
All the latest news, reviews, and guides for Windows and Xbox diehards.