Join Office Sway without an invite for a limited time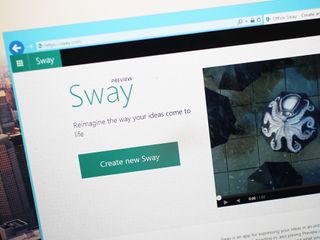 Sway is the latest product to the join the Office software family. It was first announced at the beginning of this month and is currently available in a preview version. You'll need to request an invite at the Sway.com website if you're interested in trying out the preview. Except today, you have a chance to join without waiting for that invitation.
The official Sway Twitter account is letting anyone join via an open invitation. It's available for a limited time, so act fast if you want to try out what's been described as "PowerPoint on steroids".
Sway is a new way to express ideas across any device. You're able to create an interactive web-based canvas to share ideas, stories and more.
Curious to see what a completed Sway looks like? Go to sway.com/red_panda and you can see for yourself. You'll also see how the content changes depending on whether you're viewing the Sway on your Windows Phone, tablet or 27-inch desktop monitor.
Join Sway today and let us know what you create!
Source: @sway
Windows Central Newsletter
Get the best of Windows Central in your inbox, every day!
GO GET IT GUYS!!!! I got my invite last week! Sway is AWESOME!!!

Looks like its closed already.

Open invite is a great idea to add lots of people

It's possible to use on windows phone? Please reply, I have an essay I could create through this

Looks like you can view sways on the phone (obviously since that's one of its selling points) but not create.

Thats lame! I spend most time in mobile, I want to use it there! :(

Does sway will available for Windows phone ?

...in the coming months. iPhone gets it first, as usual. Way to go Microsoft...way to go.

Did MS buy the people that made sway? Everything is an Apple project in that trailer.

MS has been doing this alot lately in their ads. It's wise. They've gotten back to their roots. They've acknowledged that there are more iPhones and Androids out there, and they aren't gonna act ashamed of it. They'll try to rule the market of low cost phones, and push out great software, forcing Apple and Google the serve essentially as OEMs for the MS content.

Not wise at all. Devaluing your own brand while bolstering the lead of the competition isn't sound business. The current Engineer in Charge hasn't figured that out yet. Their "roots"? Their roots were to always build for MS products first and THEN port out.

Yeah its like KFC advertising for taco bell.

Great stuff! Just tried it out, for now it's really incomplete and I wouldn't use it for any serious presentation, but it has such great potential. It reminds me of prezi but more modern and more straight froward without all those hassles prezi has. Awesome job MS!

Its not PowerPoint its interactive and web based. Like a fancy page....

It doesn't look like you can actually send someone a Sway like a PowerPoint presentation. You have to send them a link to the sway website that is hosting your presentation. There is no off line mode. Not a tool you would be putting any sensitive info in for a presentation.

And a video made with iPhone and iPad BA DUM TSSS!

The guy was using a iphone on a Microsoft video XD thanks for supporting your products Microsoft

How do you pronounce this? :P

It took 1 min. 35 seconds for a Microsoft add to show a Windows Phone. Just about every other product was on an Apple. Good job MS.

I just rewatched the video. Someone seriously needs to fire whoever made this marketing ad. The very first thing that explains what the ad is about is "now there is a new app." And when they say that, an iPhone is shown. This makes it seem as it is an apple iPhone app advertisement. As a matter of fact, there is no indication anywhere until the last 20 seconds of the ad that It can be used on any other device besides Apple. The only mention of Microsoft anywhere in the ad is in the last few seconds! Seriously! This does Apple more good than MS. What a crappy advertisement! If MS is going to do an ad, MS products and devices needs to be front and center all the time EVERY time. It cN then half a ticker at the end of the ad "available on" and then list all the platforms it can be used on.

Re: Hypnopottamis,
I agree.

The ad is crappy b/c the strategy is crappy. iPhone gets a mobile app first.

Damn, Sway actually has Swag! This is some pretty awsome stuff.

I made one to include in some communications about my photography work. https://sway.com/fnC_54CGS5kslt_B

I went to the page and submitted my email. They put me on the waiting list...

Just signing in worked for me

404 - tried here @windowsphone

**** why didn't I check WCentral yesterday!? :-(

Cool thing, was in the test programm. but i don't see a use in real live, only as a replacement for MS Office PowerPoint