Microsoft adds presentation app Sway to the Office software family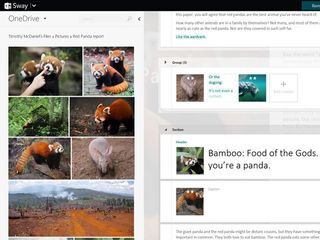 Microsoft has announced it has added a new member to its Office family of productivity software products. It's called Sway, and it's a web-based multimedia presentation app that's seems to be PowerPoint on steroids, but much easier to use.
In very basic terms, Sway will allow users to create an interactive multimedia presentation and show their work embedded on a website. Content sources like images and video can be taken from other outlets like YouTube, Facebook or a user's OneDrive account and placed into a Sway layout. Microsoft says:
Sway is currently available in a preview version, with access enabled via an invite by Microsoft. Interested users can go to the Sway.com (opens in new tab) site to request an invite. What do you think of this new presentation product from Microsoft?
Source: Microsoft (opens in new tab)
They should improve OneNote for Windows Phone!

it will now they were waiting for unidified windows. now hopes are more

I believe that everything in MS-Office on WindowsPhone must be improved.

unrelated, but I need to say something about xbox music any chance I get. It is incredibly terrible and needs fixed.. Painful to try and use.

They will be when Windows 10 is released in 2015 for PC, laptops, tablets, and phones.

When's the estimated release date for Lumia Denim? (for my Lumia 930 - can't wait for 'Hey Cortana')

It will come with Sway. The Easter bunny will deliver it. Soonish like which is sooner than laterish.

Did you confirm it with Santa?

Soon as in... Days? Weeks? couple months?

Soon as in some time in the future

Hey, if you are getting sarcastic answers, that is because you are not following one commenting guideline which was posted by Daniel Rubino before. It goes something like this (not verbatim but you get the drift) : Comments should be relevant to the post or article being commented on. Otherwise your comments will be moderated.

I would argue it is relevant. One of Microsoft's problems with Consumer satisfaction is the long time between announcement and availability. Ad in the very vague availability dates that are given, and you get annoyed Consumers. They need to hear this messages and change, so when something interesting is announced without an availability date, either you get pedantic people like me explaining why that's not good, or sarcasm. Pick your favorite flavor.

Ikr! They revealed Windows 10 and it's coming in a YEAR... But on the plus side, it gives people hope

Re: MadSci2... Good point!

When will Star Wars take place in Middle Earth?

I agree Jonas J. This reminds me of Prezi.

Sway looks amazing - it's gonna be a game changer for sure...

Sway looks awesome, by MS is screwing WinPhone again. It's web now with iOS coming soon. WindowsPhone and Android"in the coming months". It's like don't want to shut down WP, they are just acting passive aggressive so we'll break up with them.

Have to wonder how much other parts of Microsoft are moving towards in development with Windows 10 coming out within the year... And supposedly able to run on PC, tablet, phone, and Xbox One. Personally I'll probably finish the update on My Car Log for WP8, convert it to a universal app to provide better WP8.1 support, and then switch to working on a Windows 8.1 version that will probably never see the light of day but be easily ported to W10.

Probably less of a priority since the next version of WinPhone will run it natively, but still, your point is valid. It's clear that WinPhone is not a priory for the Office Group. Satya was supposed to have eliminated that sorry if encoding over at MS. Guys he still has work to do.

I like the name. Swaggy...sway!

First IOS app...loosing ground MS. Your own family should always be #1 priority.!!!

The point of Windows (Phone) is to push Microsoft services forward. Office doesn't seem to need that support, hence Microsoft can prioritize other platforms. But 12 months down the line, if data indicates that adoption of Microsoft services is overall better on Windows, despite the platform agnostic focus, then the Windows First mantra may make a comeback.

Hmm, it is like making new Abraham tank, but not adapting it first, but instead sell it to the "partners", and later use it for your own "army". Explainable - yes, acceptable - probably, but it still "smells" bad. Separating Windows OS from Windows "services" is a very interesting move indeed. As a consumer and windows os user, I sense, that company is creating an alternative route to dump an OS (part of OS, phone only?) division, in case it is not profitable (popular?!). At least what you shouldn't do as a company, is to excel this process by offering exclusive features to a "partners" first. My $.02.

Good point. And quite similar to the F-5/F-20 debacle. However expensive lessons are the most likely to be ignored.

Yep. Big company lose customer focus, typical. Trying,to put myself in the shoes of New user on the market for first smartphone brings an interesting conclusion...Id choose WP for it's HW characteristics and price, and not because of services it provides. Actually if id be choosing services id rather go with Android and IOS (all,MS and other eg Google services are available, updated timely and even ahead of WP). And how long price point would be attractive enough to hold off cheap Androids, and most of the other company phones now almost as good as Nokia's (even on cameras). Scary.

@vladfrenkel It does smell in that direction. An the same with XBox as well. It would not surprise me at all if they sell off the phone and XBox the divisions. Hardware is added complexity to being and OEM and Microsoft have in it's corner multiple hardware suppliers here and around the world so really don't need to be in hardware in any big way.

True. And it is totally fine. Problem is it looks like they are notreally supporting HW suppliers outside (Nokia) acquisition as well -Samsung, HTC, Huawei...OS is one of the services they are providing. What is the point of all Win10 universal app magic, if with one hand you are bringing app and Os together, but on the other hand, decouple OS from services and spending more time,on,services aspect (and even more on services for OTHER OS). It is like they don't want WP to grow anymore. That is it. Nothing special in it, no exclusivity, nothing to lure people to the platform anymore.

Where Is a store link? It is available on store, right?

I was looking for more info on this...thank you.

sway doesnt really look like powerpoint on steroids. its more like publisher on simplified for the web. one of the examples reminds me of a power point deck, but another reminds me of a blog post, and then another reminds me of a report. to me, this seems like a great tool for anyone from a casual user to someone who has to write a report. what seems to be missing is a way to navigate. i'd like to see if you can make sections that can be navigated through the document.

It seems to be aiming to compete with Prezi. I've seen a lot of students use it as of late.

Yes, clearly this is aimed at taking on Prezi, which has been rapidly threatening PowerPoint among college students. I just hope it's not 'too little, too late'.

Never heard of it. But then I'm not in school anymore, I actually have a job.

Read the presentation/speaker forums on LinkedIn. Prezi is not so popular in the business world. That much motion makes audiences dizzy. But Sway does look more like Prezi than PowerPoint. I'm on the invite list. I can definitely see using this for Office tutorials. Boring stuff like that needs a little motion to keep viewers awake. ;-)

Looks like Haikudeck for everyone. Not just iOS users. Finally.

Got accepted and now have a reservation for it! Can't wait!

I'M IN! I WAS ACCEPTED!!!!

I cannot wait to try it. I hope you can add sound.

It's not really a "PowerPoint" on steriods... it's more of a slick web composer, because it allows you to create dynamic responsive websites. Look at this one for example: https://sway.com/northwest_aquarium

What does this have to do with Microsoft or Windows Phones???

Sway is made by Microsoft and will be part of the office family. Watch the video.

I appreciate your reply, kind soul. I know exactly what's going on, it's just that everything posted around here seems to be receiving the same questions so I thought I'd get funny.

When does the 1030 come out?

It probably won't. At least not under the Nokia brand.

Sway -> new Office App
Office -> MS
What does this question have to do with this article?

Man, this bs has to stop. If the shit ain't ready for Windows first. Hold that shit back Coolest Man Alive

Nice! But prezi still more easy and fun.

after attending a conference where the presenters were using prezi, my opinion is it's worse then power point. the stupid zoom in and zoom outs are distracting and overbearing from the actual presentation. there may be more templates from prezi, but the ones chosen didn't do their presentations any favor.

That's how I feel. Prezie is neat, but all the zooming can get really distracting... Minimal chrome: Focus on the content. That is the Metro/Modern way.

"But prezi still more easy and fun" You've never used Sway so you cannot make this statement.

This should sway more users to Office.

Here are some examples
https://sway.com/rainier?src=featured
https://sway.com/wood_burning?src=featured
https://sway.com/state_flags?src=featured
https://sway.com/fabrikam?src=featured
https://sway.com/red_panda/?src=featured

Sounds cool! I really like the name.

Red pandas! I can't pay attention to anything else now ♥

why so many apple products in ad ? :P

I can use this like TODAY!

Microsoft needs to put out services like this first on ios because that is where every app hype starts. Office needs to independently guarantee its own success, apart from WP. Too bad for us, but in the long term this will help office to keep its head above competitors. This app on ios will generate much more press and attention. You cannot let office, the huge cash cow depend on WP. It's too large of a risk. WP will slowly grow and get equal or better status than ios, don't worry, but it will take some more years.

what kind of marketing genius didn't just use windows devices... Seriously a freaking Iphone and no windows phone? you have to be dumb as a rock

Is it me, or does this seem like it could of been influenced by So.cl.

I agree, Dustin. Watching the media selection process felt very much like so.cl. Chalk one up for the MS Research Fuse Team!

So like Prezie... But better? Cool!

I don't get it why they use an iPhone instead of a windowsphone Microsoft should promote their devices.

All they have is iphone n ipads in the add

It sadly makes sense. Office is trying to be a universal platform so if you show it on Windows hardware the Apple and Android loyalists would instantly dismiss it. Once windows phone has the same mind share I'm sure you'll see them in ads like this too

As long as this is released for WP and is as effective as the iOS version I would have no complaints..

This rocks. I love Microsoft ingenuity and productivity.

Looks good for but I agree with all the comments they need to improve the hole Office package on Windows Phone. I have started to feel that MS prefers to expand to other OS than create unique features in Windows Phone.


Considering the overhead needed for full-blown, deep-dive, bells-and-whistles Office? You don't want to devote even 1/4 that much storage to Office on your phone. I've created spreadsheets in Excel on my 920 just to see if I could do it. Do-able, but it's easier to stick my elbow in my ear. If it takes Office to persuade the fruit and robot crowd that Microsoft is not as evil as they have been brainwashed to believe, I'm all for it.

Should be first in windows store...

Signed up already. Looks fantastic.

Why they used an iphone for the video ad? Lol

...because they know in their heart of heart that windows phone suxx. #Bring back windows mobile. If not that I hate google so much, I would be using Android, and not this shit of a castrated OS that duplicates every gaddem file, because the programs are running in their own instaces, and therefore can not share data. BTW, this site is terribly difficult to navigate or make comment to articles using ie on wpos.

Hopefully it will Sway some people back to office and away from Google docs

Office is always amazing plus sway!

During the whole video I wasn't sure if they are presenting sway or Apple products rather. They put iphone and iPad wherever they could and there are practically zoom-ins on Apple logo. What is wrong with Microsoft I cannot comprehend

Just tried a new #blog & #presentation app #Sway from MS. Check my experience and post "Driving Outcomes With Tech". http://blog.idmlo.co/
Windows Central Newsletter
Thank you for signing up to Windows Central. You will receive a verification email shortly.
There was a problem. Please refresh the page and try again.