Just Cause 4 for Xbox One is a whirlwind of pure action
Gear up for action – Just Cause 4 is getting a lot crazier.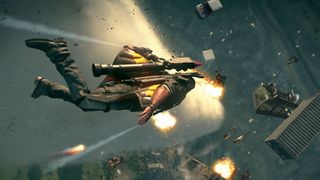 Everything about Square Enix's Just Cause series is reckless, absurd, and packed with unfiltered action; shaping a crazed identity for the series. Upcoming successor, Just Cause 4, isn't holding back either, harnessing otherworldly weather, immense firepower, and countless fiery explosions.
After three hours of hands-on, we've wrapped up our impressions on this next unhinged adventure, ahead of its December 4 debut.
See at Amazon (opens in new tab)
Harness the elements
Just Cause 4 shares plenty with its predecessors, embracing a familiar sun-draped locale with its new fictional South American island of Solis. Uncovering mysteries shrouding his father, the ever-charming Rico Rodriquez returns for his fourth adventure, after over a decade of toppling oppressive regimes. Now facing the Black Hand, an advanced private military organization headed by Gabriela Morales, our hero finds himself opposing their influence, and exploring the group's dark initiatives.
Returning Just Cause fans will find no surprises in the fourth's core gameplay, doubling down on the iconic trio of the grappling hook, parachute, and wingsuit. More so than ever, combat facilitates all-out chaos via varied tools (and lots of them) to take down every trace of Black Hand influence. Freedom of movement is also upheld, with mechanics rewarding raw speed and verticality, almost to a point where touching the ground is a disservice. Even with Avalanche Studios' new in-house Apex engine, what we've played to so far feels distinctly "Just Cause."
With a new locale comes new opportunities to explore, shaping one of the game's most promising qualities. Just Cause 4 defines four unique biomes, each with a distinct feel and gameplay traits, injecting variety lost during the transition from Just Cause 2 to 3. Spanning grasslands, rainforests, deserts, and mountains, each sport their own landmarks and environmental challenges, which should maintain variety after early hours.
Easily the most touted feature since the reveal, fully-realized weather systems elevate Just Cause 4 over prior entries. Extreme weather conditions can emerge relative to biome properties, rendering with world-affecting physics, changing up both the tone and gameplay. Tornadoes will tear through settlements, sweeping up debris in its path, while lightning storms can have devastating effects on volatile objects. Tying these into gameplay, we've seen our first look at manipulating these forces to shift the outcomes into player control.
With 1024 square kilometers of landmass on-disc, there's an overwhelming scale to the world Avalanche is building. However, I worry how this influences world depth in moment-to-moment exploration and whether Solis conveys locations I truly want to return to. While its digital playground is stronger than ever, there's a risk of forgoing identity and failing to offer enough activities on this canvas.
Play it your way
Avalanche has doubled down on its sandbox, providing a feature-rich playground that encourages players to experiment. Shooters aren't traditionally a platform to express creativity, but with the right tools, Just Cause 4 enables this in a fun and accessible way. And with increased flexibility with the environment, the game could serve as a platform some crazy creations.
Just Cause 4's grapple hook has undergone some major changes, allowing players to craft intricate loadouts comprised for player-configured parameters. Building the prior booster grapple mode, a new airlift option is also thrown into the mix, allowing players to suspend items sky-high with inflating balloons. Merging all three grapple modes with this fine precision could form a foundation for some of the game's most creative moments.
With the overwhelming range of options to configure, this allows you to build grapple synergies with surprising flexibility. Finely tuning strength, duration, and how other performance-altering effects makes the once-simple tool vastly complex, serving as the glue for player-made contraptions.
While Just Cause 3 housed some promising concepts in 2015, as an Xbox One gamer, I struggled to spend more than a few hours due to performance. Failing to consistently output 30 frames-per-second (FPS) on standard Xbox One, and without Xbox One X upgrades to follow, the game can be hard to return to in 2018. While mechanics facilitated smooth movement and action, performance issues overshadowed this, throwing off this fluidity for many.
With the new mechanics and depth promised by Just Cause 4, the studio has started fresh with the new Apex game engine. It's not a visual showcase, but with some complex physics systems under the hood, Just Cause 4 could be taxing on home console hardware. In theory, the new engine should improve performance throughout the sandbox, assembled around the game's ambitions. Our recent hands-on featured a pre-release Windows PC build, which isn't great for gauging console performance, but something to watch as we approach the final release.
Just Cause 4 is now available for preorder, priced at $60 (opens in new tab) on Amazon.
See at Amazon (opens in new tab)
This preview is based on a pre-release version of Just Cause 4 for PC.
Get the Windows Central Newsletter
All the latest news, reviews, and guides for Windows and Xbox diehards.
Matt Brown was formerly a Windows Central's Senior Editor, Xbox & PC, at Future. Following over seven years of professional consumer technology and gaming coverage, he's focused on the world of Microsoft's gaming efforts. You can follow him on Twitter @mattjbrown.