Is Kaspersky antivirus software safe to install on your PC?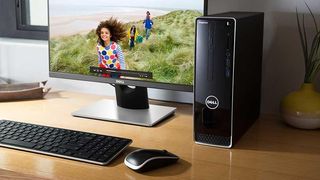 (Image credit: Dell)
Is Kaspersky antivirus software safe to install on your PC?
Best answer: Yes, Kaspersky is safe to install and use. Plus, it's one of the best antivirus solutions available. I personally use Kaspersky on several of my home computers and enjoy excellent protection without experiencing drag. Kaspersky has a data-gathering program. However, you can opt-out of it.Complete protection: Kaspersky Total Security

(opens in new tab)

($50 at Kaspersky)Step-up security: Kaspersky Internet Security

(opens in new tab)

($40 at Kaspersky)Basic protections: Kasperksy Anti-VIrus

(opens in new tab)

($30 at Kaspersky)
What you need to know Kaspersky's past
In 2017, it was reported that Kaspersky was using its antivirus programs to gather sensitive information from U.S. government workers' computers. This information included the inner workings of several organizations and infrastructures and was allegedly passed along to the Russian government.
As a precaution, the U.S. government ordered all departments to uninstall Kaspersky products from government computers and required any employee or contractor system that interacts with government systems to also be Kaspersky-free. However, officials stopped short of implementing a full ban to keep Kaspersky from being used by consumers, never officially confirmed the allegations, and never imposed punitive sanctions.
From the beginning, Kaspersky vehemently denied all allegations. In order to prove its loyalty to the U.S. and its users, Kaspersky ultimately moved several of its key operations, servers and facilities out of Russia. Its legal teams, production teams, operation, and servers are now located in Turkey, the U.S. and in Britain, where they are subject to third-party inspections and the governing laws of those countries. There haven't been any accusations or reports of foul play since this move. Additionally, Kaspersky's lab continues to be one of the best organizations for detecting new malware threats, especially emerging ransomware files, alerting government agencies and business of these threats, and creating anti-malware measures to implement in antivirus software programs.
Kaspersky Security Network program
Software companies, and online webpages, including social media pages, are notorious for gathering user information for creating targeted ads or selling this information to other companies. In fact, Avast recently made headlines when it admitted to the practice. While it is a common practice, it makes consumers uneasy having personal information exploited, especially when using a program specifically designed to keep you safe from online predators.
Kaspersky also collects user data, for both malware research and for marketing purposes, through its Kasperksy Security Network (KSN) program. On one side, information is used to understand how users maneuver through antivirus programs in order to better design security tools, create targeted ads and market higher-tiered programs. This data is often shared, or sold, to other third-party partners, and never includes personal user information.
Another reason for the KSN program is to report suspicious activity from users' computers in order to quickly identify and target new malware that hasn't been seen before. This zero-day malware information is quickly added to malware databases so all antivirus programs, not just Kaspersky, can create measures to block and destroy these files before they have the chance to attack other computers and systems. While opting out of this program doesn't diminish the overall level of protection offered by Kaspersky, if enough users opt-out it will affect the efficiency of this and other malware security programs from stopping new threats before a rampant attack.
Kaspersky asks when any of its programs are first downloaded if you'd like to accept or decline participation in the KSN program. However, under Settings, you can change your preferences at any time.
Everything Kaspersky has to offer
The best part of using any of Kaspersky's antivirus programs is the level of protection you get. In my own and in other third-party lab tests, Kaspersky consistently scores very high, and often perfect for stopping malware, including zero-day threats. Each of its programs has safe-browser features that stop malware files before they have a chance to download to your computer, tag search results as safe or dangerous, and block websites known to harbor malicious files, including phishing schemes. They also include an on-screen keyboard to bypass keyloggers attempting to swipe passwords and personal information as you type.
Kaspersky Internet Security added additional protections with its webcam monitoring that alerts you if a program, browser or third-party attempts to access your computer's webcam without your permission. It also includes safe money tools that create a separate, secure browser with added shields while you bank or shop online, so it is harder for hackers, snoops and identity thieves to snatch your financial and personal information.
The best protection program offered by Kaspersky is its Total Security. This software has parental controls that both block unwanted content through filtering and also allow you to set time limits. And since Kaspersky is compatible with all smartphone platforms, you can use these controls on all your kids' devices. Additional cellphone tools include GPS tracking and app blocking. Kaspersky Total Security also includes data encryption and secure vaults, and password managers.
Our top pick
The top security choice

This is the most comprehensive protection program offered by Kaspersky. It includes parental controls and safe money features.
Another good option
Kaspersky Internet Security
A step-up from basic protection

A big step from basic antivirus protection, Kaspersky Internet Security has password managers and webcam monitoring.
Good, basic protection
Basic malware security

A simple solution for powerful protection, Kaspersky Anti-Virus includes a firewall and an on-screen keyboard.
Nicole writes for multiple Future Publishing brands covering topics from antivirus to kitchen appliances to SAS. She has over 15 years of research and writing experience, including eight years of testing and reviewing consumer products. Nicole earned bachelor's degrees in both English and Political Science with a focus on empirical research. In her spare time, Nicole serves as a member of several school councils and volunteers for a local arts board.
Windows Central Newsletter
Thank you for signing up to Windows Central. You will receive a verification email shortly.
There was a problem. Please refresh the page and try again.