Keep your photos private with these Windows Phone apps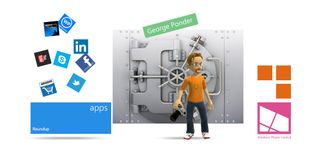 Windows Phone Central App Roundup: Photo Lockers
The other day we took a look at the Windows Phone app Pic Lock Ultimate. It's an app that lets you store photos in a secure environment, away from prying eyes. Pic Lock also goes a little further with some neat security features to discourage and even photograph those trying to sneak a peak at your photos.
This week's roundup is going to focus on four alternatives to Pic Lock Ultimate. These photo lockers are amongst the higher rated apps of this nature to keep your photos in a secure area. While these picture lockers may lack the anti-intrusion features they aren't too shabby in their own right.
Photo Lock Free (free): Photo Lock Free is a fairly simple photo locker with a healthy stock of features. You first have to register an email (for password recovery) and then set your password. Photo Lock Free supports pattern passwords as well as the traditional alphanumeric passwords.
The main pages display your secure photo albums, a favorites page and a settings page. New albums can be created from the main page of the app and you can import photos but not videos (OS restriction) into Photo Lock Free or you can launch the camera app from within the app to capture images and footage to be secured in the locker.
Photo Lock Free has a photo editor powered by Aviary which allows you to crop, rotate and add effects to photos in your secure collection. You also have multiple account support so if you want to give someone access to your secure photos, you can avoid handing out your password by creating the additional account.
Photo Lock Free is an ad-supported app for your Windows Phone 8 or 7.x device that you can find here (opens in new tab) in the Windows Phone Store. There is a $.99, ad-free version of Photo Lock that you can pick up here (opens in new tab) in the Store.
Private Photo (trial/$.99): Private Photo has more of a sanitary feel to it than the other photo lockers. That's not necessarily bad but the app does have a vaulty feel to it with the brushed steel backdrops.
As with most photo lockers, the first order of business with Private Photo is to set up your password and provide an email address for password recovery. Private Photo only supports numeric passwords of six digits.
From there you are sent to the main page of the app that will list your secure photo albums and display controls to add new albums, edit the existing and access the settings. Settings cover resetting or changing your passwords, view the about information and view the Help Section.
There isn't an editor with Private Photo but you can launch a slide show. There is also a decoy mode. The decoy mode lets you set up a secondary password that sends you to a private collection area. So, if you have some secure photos you want to share but don't want to give away the primary password, you can use the decoy mode.
Private Photo will import and export photos only. You'll have to use the developers video app, Private Video (trial/$2.99) (opens in new tab), to secure videos on your Windows Phone.
There is a trial version available for Private Photo with the full version running $.99. Private Photo is available for Windows Phone 8 and 7.x devices and you can find it all here (opens in new tab) in the Windows Phone Store.
Private Album Free (free): Private Album is a free, ad-supported photo locker for your Windows Phone 8 and 7.x devices. Like Private Photo, Private Photo has more of a generic or vaulty look (again, which isn't a bad thing).
Private Album Free supports traditional alphanumeric passwords and instead of email recovering, you enter a word clue in response to one of five questions (favorite color, favorite teacher, etc.).
Photos can be imported from your Pictures Hub while videos have to either be created within the app or downloaded from your Skydrive account (again, OS limitation). Photos can also be exported back to your Pictures Hub or uploaded to Facebook or Skydrive.
Private Album Free lacks a photo editor but will let you rotate the image. The Skydrive support helps Private Album Free stand out but I found instability issues that caused the app to crash when importing images. The crashes didn't occur every time I went to import a photo but enough to be an issue.
Again, Private Album Free is a free, ad-supported app for your Windows Phone 7.x and 8 device that you can find here (opens in new tab) in the Windows Phone Store.
PRIVATE Lite (free): PRIVATE Lite has a little more flair than Private Album Free or Private Photo with a pattern lock that has a wide assortment of lock patterns/icons. Everything from smiley faces to Christmas trees. Once you set your password pattern, you'll enter PIN number to help you reset the password should you forget the pattern. Just don't lose your PIN number because there's no email recovery option.
As with other photo lockers, images can be imported from your Pictures Hub but videos can't. You'll need to import videos from your Skydrive account or create new videos by launching the camera through PRIVATE Lite. You can also capture and secure photos directly through PRIVATE Lite as well.
PRIVATE Lite has a Fake Mode that is similar to the Decoy Modes in Private Photo. You set up a secondary password to give others access to private albums you create but not the entire secure photo collection.
As with Photo Lock Free, PRIVATE Lite has an internal photo editor. The Aviary powered editor allows you to crop, rotate, and apply filters to your images.
Last but not least, PRIVATE Lite has a web browser and the ability to download images through a URL. This way you can import images from your Flickr, PBase or other web albums.
PRIVATE Lite is a free, ad-supported app for your Windows Phone 7.x and 8 devices that you can find here (opens in new tab) in the Windows Phone Store. If you want to get rid of the ads, you can pick up PRIVATE for $.99 here in the Store (opens in new tab).
Here's a few observations on the photo locker apps in general. None of these apps remove the imported image from your Pictures Hub. If you are securing an image you don't want others to see, you'll need to delete it manually from your Pictures Hub.
Next, as we've mentioned, none of these apps will import videos from your Pictures Hub. Some of the apps have Skydrive support for downloading videos from your Skydrive account and/or let you capture video directly through the app.
These apps can come in handy to keep work photos private or photos you may not want your kids stumbling on to. Which is the best? I think Pic Lock Ultimate has the edge with it's anti-intrusion features but the app has some serious bugs holding it back. Of the apps in the roundup, PRIVATE Lite has plenty of features and enough pop with the pattern lock screen to make it stand out. It's also hard to ignore the photo editor feature and Skydrive support.
The nice thing about it all is that these apps are either free or have a trial version so you can try them all out yourself. If your favorite photo locker wasn't listed, sound off in the comments and feel free to make your own recommendation.
George is the Reviews Editor at Windows Central, concentrating on Windows 10 PC and Mobile apps. He's been a supporter of the platform since the days of Windows CE and uses his current Windows 10 Mobile phone daily to keep up with life and enjoy a game during down time.
Typo...should say "...arent *Too* shabby..". Misspelled too.

Whooo nudie apps to hold nudes lol

Been using Image Locker Ultimate. May have to give these a shot.

i hate the 'not videos' part.......they are trying to be too 'IOS'ey with restrictions

There are an app named "private hub", can transfer videos to phone from your pc.
http://www.windowsphone.com/en-us/store/app/private-hub/22c96a79-539b-45...

This sort of thing needs to be built into a phones.

Agreed. I should be able to lock down certain parts of my phone- texts would be a good one.

I hear ya. WP should allow users to password protect any apps we choose.

There was this feature on my samsung corby mate a multimedia phone called privacy lock - it would allow me to use a privacy password for the no of inbuilt apps like messaging , pictures, even call log etc. And i may choose to lock either all of those apps or any selected or none if i wish ..that was so cool i could easily lock my pictures apps and could give my phone to any ome . Best part was that this password would be different from the phone lock password .
Bought samsung omnia w only coz i thought samsung would provide the same settings in WP also as they did it with their androids later ..
But i still love my WP..

I used to have this feature in my Motorola RAZR V3x back in the day ! People hated touching my phone because everything was locked down Lol

I've used PhotoSafe on my other devices. I hadn't gotten around to setting of a photo locker on this device yet. Now they are all installed, and I will easily confuse myself!
Check out "PhotoSafe" http://www.windowsphone.com/s?appid=f525c455-2362-e011-81d2-78e7d1fa76f8

One nice app everyone misses out the best private photo app i have ever used " unit converter " this simple looking unit converter has a hidden vault for storing you private photos.
http://windowsphone.com/s?appid=1cbe0125-cd52-4406-a451-b670bfba92a9 It even has this panic button which is availble everywhere and takes you back to unit converter if you tap it

We all know what people use this for haha

That girl you know, you know who I'm talking about.... Her. Lol

Hi,
Great article, but i thik You should mention about Picture Vault:
http://www.windowsphone.com/s?appid=59aa9c2f-0b01-484a-854e-ce49c3c99325
1. Unlimitet hidden vaults (no one will know how many vaults are there)
2. Strong encryption
3. Indicator if imported picture is still in media library.
Give it a try.

Nice information, valuable and excellent design, as share good stuff with good ideas and concepts, lots of great information and inspiration, both of which I need, thanks to offer such a helpful information here.
essay editing service || pay for assignment || free essays

I must be one of the few with a password on my phone, and who doesn't let anyone else use it. But for those that do have photos to hide when they do hand over their phone, these look handy.

Fire extinguisher, is a necessary part of any security system in public places. Fire alarm system is an essential commercial, but before it becomes out of control, fire extinguisher, you can provide an immediate response to a small fire.

Learning or developing skills in art or poetry is not simply beneficial because your child will learn a novel skill. Art classes for kids balance your child's learning and helps to build their thinking skills. Art Mojo

A very good window app options are so easy to keep your photo private mightyresearchpapers.com

these windown phones will really help to make our photos, company logos and other stuff like brochures private. you can also get cheap designs and other stuff from these apps.

I'm trying to download this app as a widget to my wealth generators site so I can help keep my photos in order. Windows is a little complicated for me so I've been trying to research a lot lately.

With the advanced internet technology, computer software has been intensively used for computer related work. Nowadays, computer software is being used in tax, real estate and even security purposes. Wolfgang Puck Pressure Cooker Review

You have to look at the bigger picture and just think about it for a second. Windows has always been the submit invention of all times and minecraft survival servers king. WindowsCentral has a lot of potential so this app has a lot of capacity if any.

Good set of Apps, but all of these lack the MOST important feature. Try this - Add Photos to a Private Album through these apps. When I goto the default Gallery, I/Not just me, anyone could still open the Images that I added to that album earlier. What's the point in it?? I want some photos to be restricted, I installed an app to do so but still anoyone can see that photos using the default Gallery?? That doesn't make any sense. All these apps are a total fail..

As we speak I received lots of information out of your article .. I hope you continue to put in writing articles which are helpful to us all .. <a href="http://dietsehatmenurunkanberatbadan.com/">diet sehat menurunkan berat badan</a>.. Greetings .. success for you ..

This article is really fantastic and thanks for sharing the valuable post. Packers and Movers Hyderabad Packers and Movers Mumbai Packers and Movers Noida

This article is really fantastic and thanks for sharing the valuable post. Packers and Movers Chennai Packers and Movers Delhi Packers and Movers Bangalore Packers and Movers Pune

I have learn all the posts and i found very unique info on this blog good work by your side thanks for your views these are very useful for many who don't know as much at any time when i wanna share or focus on one thing i surely come back and talk about on this blog <a href="http://caramenghilangkanjerawatmembandel.com">sabun penghilang bekas jerawat</a>


I'm actually grateful to the creator of this submit this text by charming and instructive for us live. We actually recognize your effort. Maintain the nice work. [url=http://caramenghilangkankeriput.com]menghilangkan kerutan di dahi[/url]

Thanks for sharing. I hope it will be helpful for too many people that are searching for this topic. Packers and Movers Thane Packers and Movers Navi Mumbai Packers and Movers Ghaziabad Packers and Movers Faridabad

That's great! I also recommend you to buy custom essays at http://special-essays.com =) Good luck.

This article is really awesome. It enjoys me very much. The content are so much informative.Thank you writer for giving me such a good article. SeoDevil15

This is an excellent post I seen thanks to share it. It is really what I wanted to see hope in future you will continue for sharing such a excellent post.Seo Baclinks Social Bookmarking And Backlinks Service.

Cabs in bangalore http://www.firstcab.in/ Cabs in chennai http://www.firstcab.in/cabs-in-chennai.php Cabs in delhi http://www.firstcab.in/cabs-in-delhi.php Cabs in hyderabad http://www.firstcab.in/cabs-in-hyderabad.php Cabs in kolkata http://www.firstcab.in/cabs-in-kolkata.php Cabs in mumbai http://www.firstcab.in/cabs-in-mumbai.php

Wedding venues near Delhi http://resorts.neardelhi.in/wedding-venues-delhi.html 2 bhk apartments for rent in Gurgaon http://www.gurgaonapartmentsforrent.com/2-BHK_apartments-1
3 bhk apartments for rent in Gurgaon http://www.gurgaonapartmentsforrent.com/3-BHK_apartments-1 Tree cottages jaipur http://resortsnearjaipur.com

We are always on the line when it comes to windows and what not. It's going to be amazing. invention You got no idea how big this is going to be now.

We always deliver best of our experience http://www.entranceessays.com/university-of-chicago/ that can every student easily get good marks in their exams.
Windows Central Newsletter
Thank you for signing up to Windows Central. You will receive a verification email shortly.
There was a problem. Please refresh the page and try again.