Kinivo K500 5-Port 4K HDMI Switch review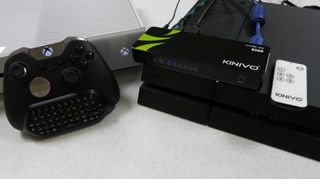 As the Xbox One and PlayStation 4 continue to drop in price and come in ever more attractive software bundles, it becomes increasingly likely that gamers will run low on HDMI ports. Game consoles, Blu-ray players, streaming devices from Roku, Google, and others, maybe even a computer or tablet – these all require HDMI ports. Even if you own a surround sound receiver with multiple ports, you still might find yourself having to switch cables around as time goes on.
When you find yourself with too many devices and not enough HDMI ports, the simple solution is to get an HDMI switch. These come in many shapes, sizes, and qualities though, making shopping hard. We recently picked up the K500 HDMI switch from Washington-based manufacturer Kinivo. The K500 boasts 5 HDMI inputs and 4K resolution support. Will Kinivo's switch solve your HDMI woes? Read our detailed review to find out!
Kinivo K500 at a glance
Key features:
Easily switch your HDTV between five video sources at up to 4K resolution with automated switching (smart function) or manually controlled switching using the IR remote.
Supports display resolutions 4K@30Hz, 1080p@120Hz, and 1080p 3D@60Hz
Compatible with all HDMI video sources including gaming consoles, DVD and Blu-Ray players, Home theatres, etc.
Supports 48-bit Deep Color
Supports HDCP 1.3 (Reportedly it also supports HDCP 2.2, but we can't test that)
Switch inputs or power the switch on and off using the included remote
AC powered (Power adapter included) for maximum compatibility
The K500 box contains:
K500 5-Port HDMI switch
Power supply
Remote control powered by 1 CR2025 battery
Instructions
Meet the K500
The K500 measures 7 x 2-5/8 x 7/8 inches. Its body consists entirely of black aluminum, with a high gloss finish on top and bottom and a brushed metallic finish on the sides.
The plus side to the aluminum construction is it helps combat overheating, a common problem among HDMI switches. The K500 is cold to the touch when not in use, and should not overheat during regular use.
On the downside, the glossy top and bottom show fingerprints and dirt very easily. The shiny surface looks great when clean, but you're bound to get it dirty whenever you add or remove a cable.
On the K500's front panel, you'll find a power light, an IR sensor for the remote, an output light, and individual lights for each of the five inputs. Off to the right all by its lonesome lives a manual switch button that toggles between the inputs.
The backside of the K500 offers a single HDMI output jack, 5 HDMI inputs, and a 5V jack for the power supply. Although some HDMI switches draw electricity solely from connected HDMI devices, the K500 requires the included power supply to function. That actually provides the best compatibility, as I've experienced issues with some devices like the PlayStation 4 not providing enough power for other HDMI switches to detect them.
Automatic switching
As you probably know, the purpose of an HDMI switch is to allow multiple devices to share a single HDMI jack. This ability enables you to leave several devices connected to a monitor or receiver without the need to physically remove and replace cables when changing devices.
Many HDMI switches provide an automatic switching function that makes things even more convenient. Complicating matters somewhat is the fact that modern game consoles don't usually shut off when not in use; they just go into sleep mode. And some devices like Rokus never shut off at all.
Given those complications, I experienced mixed results with the K500's automatic switching. If I have both the Xbox One and PlayStation 4 turned on and then put one into sleep mode, the K500 won't automatically switch to the device that remains fully powered. And when I start with no fully powered console and turn one on, the K500 only switched over some of the time.
Starting with one device already on and then powering on another device seems to produce the best results. I can't come down too hard on the K500's automatic switching, though, as the cheaper switch I used before had the same problem.
Manual switching
K500 users have two options for manually switching devices: the front-panel Switch button or the included remote.
The button simply toggles between the five inputs in ascending order. This includes toggling over to inputs that don't actually have anything connected to them. So if you're only using three devices, pressing the Switch button while on the third device would switch to the unused fourth input rather than jumping straight to the first connected input. Bit annoying, but not a huge deal.
The tiny included remote proves more convenient. It has a dedicated button for each input, so you can jump straight to whichever device you want. The remote also packs a power button, the only way to turn the K500 off without unplugging it.
The remote is operates using infrared (IR), like most remote controls. A few Amazon reviews have complained that you have to point the remote at the front of the K500 to use it. That seems silly to me, because the alternative – Bluetooth remote technology – is far less common and more expensive. Also, a code for this remote reportedly exists in the Logitech Harmony database.
Reliability
The K500 has performed well for me so far. However, Amazon reviews for the K500 and its 3-port cousin the K300 are a bit worrying. As of his writing, four out of the ten most recent K500 reviews are negative, and three out of the K300's reviews are negative. All the reviews complain of either nonworking devices or specific compatibility issues.
In Kinivo's defense, replies to those same Amazon reviews show us that the manufacturer quickly reaches out to people who receive defective units, replying to negative reviews with offers of assistance. And these HDMI switches are covered by a 1-year warranty.
I wouldn't normally bring up problems I didn't run into myself, but that sampling of user reviews seems to indicate an unhealthy defect rate among the K500 and K300. Hopefully Kinivo can knock the defect rate down soon so that consumers can buy with confidence.
One powerful HDMI switch
For a while now, I've been making do with a generic 3-port HDMI switch. But I couldn't hook up all of my HDMI-enabled devices at once, so only the most frequently used devices stayed plugged in. Now that I have the K500, I can connect my Xbox One, Xbox 360, PlayStation 4, PlayStation TV, and computer to my capture device and primary monitor simultaneously – without the need to switch cables again in the foreseeable future. It's awesome.
Speaking of the future, the Kinivo K500 is a sleek and sexy HDMI switch that should maintain its usefulness for years to come. 5 HDMI ports are more than enough for most families and gamers – by the time they get a sixth device, they'll have outgrown or sold one of the old ones. And with 4K, 120 Hz, and 3D support, the K500 can handle just about any video signal you throw at it. The manual input selection and auto switching could be a little better, but those niggles do little to detract from this switch's beauty and utility.
If you're looking for a high-end HDMI switch for your consoles, computers, and streaming devices, be sure to give the K500 (or the 3-port K300) a look.
Windows Central Newsletter
Get the best of Windows Central in in your inbox, every day!
Paul Acevedo is the Games Editor at Windows Central. A lifelong gamer, he has written about videogames for over 15 years and reviewed over 350 games for our site. Follow him on Twitter @PaulRAcevedo. Don't hate. Appreciate!
I have their older 5 switch model and love it, one of the best HDMI switchers I've bought and would buy again. What I like about this company is they don't build super cheap products like many sold switchers on Amazon, but they also are very good with customer service. Might have to upgrade to this model as it supports more of what I need and seems to have a better layout.

Yup, have one too. Fully satisfied. Works like a charm.

Looks like a good switcher.

Maybe I'm falling behind but I thought HDMI (1.4) could only support up to 60fps? Is there already a new type of HDMI (1.5 for example)?

We are now on HDMI 2.0a. Which 2.0a only adds HDR support over 2.0.

HDMI 1.4a supported 4K @ 60hz. HDMI 1.4 and 1.3 supported 4k but, only at 30hz... If you want to use a PC on your TV, dont even attempt it at 30hz....YUCK ! The max of 4K @ 60hz right now us fully supported by HDMI 2.0 (a) with HDCP 2.2... and that should be the new standard of 4K Blu-ray when released sometime next month (according to reports, you can pre-order one from amazon now)

Only problem is most are waiting for hdcp2.0 to be finalized

HDMI 1.4 only supports 4k at 30hz. HDMI 2.0 is required for 4k support at 60hz. If the switch is not HDMI 2.0 compliant then it will not be HDCP 2.2 compliant, which justifies the poor reviews as the device is already obsolete without HDMI 2.0 support. As an example the Amazon Fire TV 4k box requires HDCP 2.2 support that comes with HDMI 2.0 for any 4k support. I've tried one on a TV with an HDMI 1.4 socket and 4k videos simply do not work. Short answer, as a basic 1080p switch, I'm sure it does the job. But 4k support is likely to be questionable and forget about HDR.

Picked up ones on eBay for £2. China naturally. Remote, 5 switches. Bargain. Lots of cheaper options around.

The cheapest options are usually made poorly and don't last more than a year. Which might be fine for some people.

see below...Cheap one...over 8 months now, cost $8 5 HDMI ports, remote, and power cord.

Is this compatible with Logitech One Universal Remote?

Even if it is, if you are already using a reciever I'm not sure it can be made smart enough to recognize the extra device.

Yes it is, according to an Amazon review.

No 4K @ 60hz, 4:4;4:4 worthless for my needs. I have been running a cheap-0 ebay 5 port auto HDMI switch I got from ebay for $8. I grabbed it for a quick fix but, 8 months later, it works perfect, I use it for my Xbox one, PS4, Xbox 360 and WiiU... Turn one off, turn the other on, it switches. All run at 1080p with no issues. I was acually SHOCKED on how well it worked. I have a higher end one and connected it and noticed no difference at al. So I put the cheap-0- one back. The moral, you dont need a high end splitter if your only running devices at 1080p or 720p.

Nice write-up but a little expensive for a maybe on the HDCP 2.2 support. That's a must for UHD going forward as new devices won't work without it.

Lol most dont understand that & there are few devices that support hdmi 2.0 aside from a few video cards

This is why i always buy a TV that has more than 4 HDMI ports (Front/Back), that saved me some $ from buying switches. Anyway its good to know such a quality device is available :) ps: I really like the Vanguard Case! haha

It's much nicer if your hanging your TV on a wall or on a desk to have only 1 HDMI cable to the tv... Power and 1 HDMI gives a nice clean look...

Ever since I got a PS4 this Christmas, I've needed this. I'll definitely be checking this out.

Is the IR receiver built into the device? I have a 4-port swicth at the moment that has a separate wired receiver, which is handy if you want to hide the device and just stick the receiver in line-of-sight but a pain otherwise.

Yeah, it's built into the device.

Thanks for the review. Might need this at some point in the near future.

time to change your name. notymetogame.

I want this but also the oposite. I need one to split hdmi to 2 screens but an exact mirror.

after watching we need to see your face at the ending. like we see dan from time to time.

Should be able to press-and-hold the switch button on the device to power it off/on. That's how it works on my Rocketfish anyway.

Paul, not Bluetooth, but simple RF. It's convenient not to have to aim a remote or, more common, to worry about something being in the way. I happen to be a Dish customer. All of their remotes have been RF (UHF) for at least the past 15 years. They work anywhere in the house. They work under a blanket (regardless of how thick -- some IR controls can push through a thin cover, but not a thick one). They work through walls, electronics, etc. If you have more than one box and remote, they can be assigned uniquely. Simpler and longer range than Bluetooth, but lacking any of the security. The Dish controllers are also learning universal remotes, supporting IR for the other devices, either by code lookup or by direct programming through the IR receiver. The main benefit to IR is that it can usually be transferred to a separate universal remote, where RF can't be.

nice article review but i dont use more than 2 hdmi if i need an option this is cool.

im gogig too have to get me one of these, so i can hook up all my stiff since tv i hason has 2 hdmi ports no more cabek moving around

Last time I looked at HDMI switchers they were going for $200-300 range... $40 is very reasonable imo. Although right now my surround sound system offers me enough HDMI inputs but I am full.

Good review and sounds like a great product. Might help me out here soon when i get another blu-ray player.
Windows Central Newsletter
Thank you for signing up to Windows Central. You will receive a verification email shortly.
There was a problem. Please refresh the page and try again.