Kurio Smart is a $199 Windows 2-in-1 tablet aimed at kids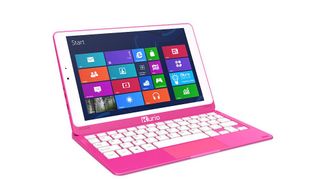 KD Interactive has launched Kurio Smart, a Windows 2-in-1 tablet aimed at kids. The 9-inch tablet comes with a detachable keyboard which doubles up as a hard case when closed.
The Kurio Smart comes with $200 worth of content in pre-installed apps and games, along with a one-year subscription to Microsoft Office 365. Also included is access to thousands of cartoons via Toon Goggles.
Initial units of the tablet will offer Windows 8.1 out of the box, with later devices coming with Windows 10. Parental control options include time-based restrictions, and the ability to filter websites and apps.
When it comes to the specs, you get an 8.9-inch display with a resolution of 1200 x 800, quad-core Intel Bay Trail-T Z3735G CPU, 1GB RAM, 32GB storage, microSD slot, 2MP camera at the back, 0.3MP front shooter, Wi-Fi 802.11 b/g/n, Bluetooth 4.0, micro-USB and a 4,900mAh battery.
The tablet is available online from Toys "R" Us, and will make its way to Walmart store shelves in the near future. Any takers?
My nephew would love it ... ;)

I probably will buy it, it depends if my foot goddess let me

Quite expensive for what it offers...

I agree for the money there are better options out there.

One should go for hp steam then

Does the hp stream come with $200 worth of kiddie software?

Okay, so the free year of office is over 1/3 of that, and it's kind of misleading. After one year, it ceases to function unless you start paying. How much of the other stuff is also basically just a limited time trial of subscription based software? (My guess is most of it.) And how much of it is something you'd actually want, and how much is just junk? I think I'd reserve judgement until they publish the list of what it actually comes with.

Not if you keep in mind they offer also 200$ worth of software with the machine and tons of cartoons ;-)

Since this is upgradable to W10, my godchild would like it.

Especially for having no restrictions after 'upgrade'.

It needs an Office 365 Children's Edition. Make it happen Microsoft.

No function keys! Very clever design. I seldom use function keys. So a keyboard without function keys can save much space, and hence the keys can be made bigger

Yeaaaa a unique 2 in 1 . Tired of looking at kids playing with there ipad Posted via the Windows Central App for Android

My niece would love it, she always likes messing around on my Surface. Very tempted.

A decent tab and a decent price just wished it would be available in my country

They need a Start screen that's more appealing for kids. Weather? Finance?? Maps??? This is perfect for kids who are planning their escape... on a nice day.

That is true. Should have a bright background and kids apps on the screen.

1 GB of RAM seems a bit on the low side though.. Otherwise it's kind of nice.

Could be a Christmas gift. But there are cheaper alternatives if you want a nice tablet for the kids...

What would you recommend? With keyboard and kid proofness.

Doesn't look very "kid proof" to me. The Amazon fire for $49.99 or the Amazon Fire Free Time tablet for kids is $99 with a 2 years replacement against anything (drops, cracks, water, neglect) no keyboard but hey you can buy 4 fires or 2 freetimes for the price of this.

This is better than a Chrome book for sure and you do get office so you at least can create & edit a word document. if it thad 2 gigs of ram it would run netflix or hulu plus more smooothly

Or you could buy 4 amazon Fires, amazon has really done it.
Those tablets will sell like crazy for holiday season. Posted via the Windows Central App for Android on my Oneplus One

The parental control stuff is probably the standard Microsoft Family feature that comes out of the box with Windows... This looks like a pink colored ripoff.

I hope they have a blue colored one for the guys. not too many boys would want a pink tablet because they might get teased.

Updated my 1200x800 tablet to Win10, the start menu doesn't fit the screen in vertical desktop mode. W10 on tablets still has a lot of issues with app-scaling and crashing etc. This device looks decent for what it's meant to be, but it's not great value just ok.
Windows Central Newsletter
Thank you for signing up to Windows Central. You will receive a verification email shortly.
There was a problem. Please refresh the page and try again.