Lara Croft GO travels to the Cave of Fire on Windows 10 and Windows Phone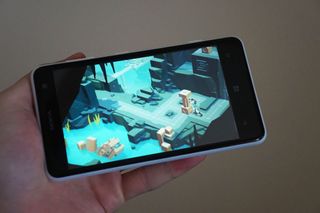 Square Enix Montreal's acclaimed turn-based puzzle game Lara Croft GO has been updated to version 2.0 for Windows 10 and Windows Phone. It adds a bunch of new content to the game, including 26 puzzles in the new Cave of Fire location.
In addition, the update adds two new artifacts to collect, a new gem to find (obsidian stones) and two new costumes for Lara to wear. There's also a new gameplay mechanic that the developer says "changes enemy behavior completely." A new snapshot feature has been added, along with more achievements, and Chinese language support.
Thanks to Dennis and Deven for the tips!
Download Lara Croft GO for Windows Phone ($4.99)
Download Lara Croft GO for Windows 10 (opens in new tab) ($4.99)
Windows Central Newsletter
Get the best of Windows Central in your inbox, every day!
Great to see some developers putting out updates with actual content in them! :D I just sent you guys a tip, like 2 minutes before this post was published. :P

Shows $2.99 in the store on WP8.1.

Probably black friday/cyber monday pricing. I went ahead and grabbed it because I enjoy Hitman but wish this had achievements too.

Yeah I just bought it as well. Game is pretty good so far!

They had a sale a couple of weeks ago... $1.99 then I think, which is when I bought it!

Finally! I've been waiting for this expansion since it was released last week. I love this game and blew through it in a couple days.

All the stories last week kept saying "sorry Windows users, you won't be getting this" Glad we did!

Beautiful game, glad they updated it for the platform

Nice gift after a hard reset. Thank you Montréal.

I was really hoping these would hit the 0.10 deals, lol.

I think Hitman Go is one of the deals.

Love this game, and was delighted to grab it for super cheap last week!

Same here - I finished it way to quickly, so I'm glad to see more content!

Been waiting on a deal for this. 2.99 on windows phone and its a crossbuy it.

You mentioned new achievements. But this game Doesn't have Xbox achievements right?

Great, now Xbox Achievements please =)

I agree. Enjoyed Hitman GO and took all achievements on both phone and pc, and would definitely do the same with this if they add Xbox achievements.