Lara Croft GO will combine tomb raiding with puzzles for mobile gamers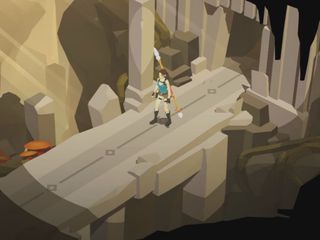 Lara Croft, the adventurer at the center of the Tomb Raider game franchise, is no stranger to mobile devices. Today, publisher Square Enix announced plans to release Lara Croft GO, and by the looks of the game's trailer, this will be a very different experience compared to past games in the series.
Here's the official description:
The game is due out sometime later this year.
Source: Tomb Raider (YouTube)
Windows Central Newsletter
Get the best of Windows Central in your inbox, every day!
Looks cool! It'd be great if this Lara Croft game comes with XBox Live too.

I expect it will be: every other Square Enix mobile game on Windows Phone has been an Xbox game. If you want it to, though, be sure to support some of their other Xbox games, like Hitman Go.

Will be available for Windows phone?

Well if it wouldn't why would they post it here?

Hope! But I still didn't find any information about WP release)

It's a pretty safe bet that it is... Hitman: GO is currently available on both WP8 and W8 (cross-buy)

It took a long while for Hitman: GO to show up on the Windows stores though, compared to its release on iOS and then Android. Nothing is guarenteed if Square Enix think it won't be worth their time even after the delay this time around.

That's great! Can't wait!!!

Hope it is as nice as Hitman Go, and has achievements.

Hitman GO is a great example of a game that works on mobile / touch screen devices. FPS' or action games I general aren't very good.

Hit man GO was a fantastic game so I'll be grabbing this.

They just said "Coming to Mobile and tablets later" I really hope they include Windows.

It should... as "Hitman: GO" was on Windows (I'm playing through it at the moment on my SP3)

Hope WP gets it on official release also. Hitman Go was an excellent game, looking forward to getting TR version.

This reminds me a lot of Flashback!

I guess you mean the colours / visual style as the gameplay is completely different

Hitman GO was a solid game. I'll be looking forward to this one.

Nice! I was intriguied by the idea of Hitman GO, but since I never cared for the franchise setting, I never tried it. I would definitely buy Lara Croft GO.

It's definitely worth checking out if you like puzzle type of games.


Why isn't it "Tomb Raider: GO?"

With the Tomb Raider reboot, Square Enix has been looking to separate the franchise into two themes: "Tomb Raider", which are your traditional cinematic big bugdet Action-Adventure games, and "Lara Croft" which are the smaller bite-sized titles (such as "Lara Croft and the Guardian of Light" and "Lara Croft and the Temple of Osiris", which were more twin-stick run and gun action games with some puzzles).

Reminds me of 'Monument Valley' restructured with 'Tomb Radier'....even the music had the feeling of 'Monument Valley'...