Lara Croft GO will raid some tombs on Windows Phone Aug. 27 for $4.99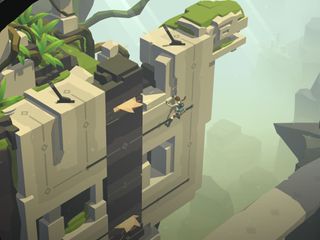 Square Enix is bringing the next game in the Tomb Raider series to Windows Phone users. The publisher revealed today that the mobile puzzle game, Lara Croft GO, will be released on Android, iOS and Windows Phone on August 27 for the price of $4.99.
Instead of an action-adventure game like most titles in the Tomb Raider franchise, Lara Croft GO will be more of a puzzle game, but the main character will still be raiding some tombs:
Source: Square Enix
Windows Central Newsletter
Get the best of Windows Central in your inbox, every day!
Pretty much like the Hitman GO

Yeah, except not just on flat ground (climbs walls etc), and she's animated instead of being like a static gameboard piece

This is an insta-buy for me. Thanks Square Enix! Too bad Bethesda can't get thier stuff together and release Fallout Shelter

Would have liked to play fallout shelter on wm but nope

I saw pics of someone running it through Astoria, so it may be possible soon.

Too much babysitting involved in shelter. I don't really get the allure of it.

Probably because you have a life, a family, and a career. I'll be sitting over here in the mean time... poking at tiny people on a smallish screen. Okay, joking aside. Yeah, you aren't missing too much. It's a fun, shallow game in the thread of a few city building style'd games with some control over people. I think Sim Tower has been used as an example. Feel free to correct me.

I'm playing it on BlueStacks right now :)

Can we connect on the game using Facebook or something so that if we start on BlueStacks we could potentially sync our game once/if it releases on Windows 10 later on?

I read Lara Croft Global Offensive for a while

I hope so. Hitman Go was so I don't see why Lara Croft wouldn't be, but we never know...

I'll definitely buy it. I loved Hitman Go. I just hope they fixed the problem with camera angles. In certain levels the camera would rotate once you get to a certain point of the level and if you played with the arrows on the keyboard it messed up the controls so you'd often die and need to start again. It'd also be nice if it could be played 100% with a keyboard or Xbox Controller. Right now if you want to throw an object or something you need to click on your target using a touch screen or mouse even though it could easily be done with the arrows on the keyboard or controller if they'd let us.

Same time as Android and iOS. I'm impressed. Hope this is a continued trend.

I hope this is multi platform so i can buy on phone and play on my surface

Hitman Go was, so the precedent is there--although, it didn't have cloud saves, so that kind of defeated the purpose.

Looks good; I'm likely gonna be buying... :-)

Personally, I'll be holding off on this. They released Lara Croft Relic Run and haven't fixed a whole lot of the bugs, including the one that makes an achievement unattainable (Hex-agon), and are actively ignoring requests for info. Might be minor, but it points to SquEnix not offering proper support for their Windows apps. I'm not dropping money up-front for lack of support.

Cool, maybe they will also make Deus Ex GO and Thief GO.

Whew! Last week they said just ios and android. Extremely happy they are putting this on WP! DAY ONE!

Yay!!! Not free to play bollocks

Easy answer - set up your own software company and create games like this and offer them for free.

wut? he's happy it's NOT freemium

Nice.Definitely getting this

hmmm Posted via the Windows Central App for Android

should be, as HM:GO had them

It begins! Good quality games for Windows Phone, released at the same time as for other platforms <3

$4.99 ? That's way too much! OK, just kidding. When do we get a good classic Command & Conquer game, I wonder? Westwood Studios - where are you?

I've put a reminder in my calendar for this. :)