LastPass password manager has a Microsoft Edge extension for Windows 10 Insiders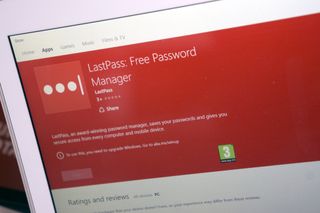 LastPass, the popular password manager, has released an extension for the Microsoft Edge web browser. It's currently available for Windows 10 Insiders.
As with other releases from LassPass, the Edge extension allows users to store and use passwords for multiple sites so that they don't have to use the same password over and over again. It also allows for more complex passwords to be used as well.
This is just the latest Edge extension from third-party companies to be released. Support for extensions is still just for members of the Insider program but it is expected to be added to all Windows 10 users as part of the upcoming free Anniversary Update that's due later this summer.
Download LastPass from the Windows Store (opens in new tab)
Windows Central Newsletter
Get the best of Windows Central in your inbox, every day!
Ok.
BB chrome and firefox from my PC.

Edge for me has a horrible bug where it keeps forgetting the tabs I had open, that's on the latest stable TH2 build, if it's not fixed in RS1/AU, I won't be sticking with it.

I think it's safe to assume rs1 will fix a lot for those still running TH2 :)

Do you get the issue too? Is it a known issue? I really hope it's resolved by RS1, it's a terrible bug & simply unacceptable for a top-tier browser (which Edge aspires to be). I have to remember to book-mark all the tabs I have open, as I never know when it's going to strike (& the horrid BM management/presentation is another story).

It happens at times, yes. Because of that, I don't use the feature as much as I would otherwise. I find the often used pages is a great alternative though, and I have made a habit of using reading list to secure my pinned and tabs. I read that rs1 build 1435..2? mentioned a bug fixed concerning losing pinned tabs on upgrade, so that's at least some of the way :)

I had that issue maybe 3 months ago or more. Seems it happen when browser freezes and closed unexpectedly. Now it just works great.

For me it's never happened when the browser froze & closed unexpectedly (that rarely happens for me), happens after I've closed the browser normally & come back later, only to find the tabs I had open are no longer there.

Yes, that is really annoying when it happens but since 3 or 4 months I don't have this problem.

Well, why is it fixed for you & not for me? I wouldn't call that truly fixed. You running the latest stable TH2 build?

Edge has always remebered my tabs and this latest build, Edge seems a lot more solid than before. What I find odd is when I try to get the lastpass extension, it says I should upgrade when I am already running the latest build. No worries though. It'll be fixed at some point.

PITA for me, no idea why it keeps doing it, is it a formally doco'd issue?

Dumb question but in your Edge settngs, do you have Open Microsoft Edge with Previous pages set? BTW, what is "doco'd"

@jazmac (1) Yep (2) documented

I'm on latest th2 build. Using Surface Pro 4. It almost never happened to me. Maybe in some cases when browser unexpectedly closed. I rarely use my laptop now but I don't remember when edge forgot tabs last time.

Wish I could say the same, happens to me pretty regularly (latest stable TH2), such a PITA, hope it's sorted with RS.

I've just tracked that bug. Try to open Edge, then open some pdf file using Edge and close browser. Open edge again to make sure tabs are saved with your pdf. Close edge again and open pdf using Edge when Edge is closed. Boom - saved tabs cleaned and you have only your opened pdf.

@Ndevs X, I've had the issue many times without involving PDF's being opened, but I'm glad you can at least trigger it now.

I guess this issue may appear also when browser closed and you open link from external app but I'm not sure, need to try.

It happens for me with normal use, just closing & then opening to whatever tabs I had, no pdf or exteral apps at play.

no, no, no,no nononono lastpass you fools. Why do you make a different app/plugin for each platform that runs on windows. just make a UWP that can fill passwords in other apps. then you dont need a chrome plugin and an edge plugin and a phone app and a tablet app you just have the one app..... (IDK if its possible for a UWP to write across other apps but i bet lastpass could work something out with MS)

they had a windows mobile app it didn't auto fill from the app to ie in windows phone 7. so it would be nice to have an extension.. soooo yes yes yes yes yes write an app that actualy works so i dont have to use chrome or firefox when i want to access sites that i store my passwords in lastpass!

Lastpass is actually more applicable as an Extension than being an app, so this just makes pefectly sense. Only other things like Pocket needs to be an app since the Share Charm is actually flexible enough to do the job yet still having an app that you can use offline with Live Tile support and other Windows features. Even OneNote is reduntant actually. Sent from Turing Machine

you answered by yourself: they can't. They all rely in their isolated storage and can't very much interact unless they both are ready to do so. In this form Edge (that is an app) is leveraging the API extension to get arguments passed from another app (the extension itself). That's the only way, in the UWA universe.

That's not possible for UWP apps. And the extension is likely a fairly simple port from Chrome so it probably didn't take them long, especially compared to maintaining their completely separate IE plugin. What would be nice is an official password-filling protocol on Windows that ties in with Windows Hello. Then LastPass could build an app for that.

This needs to be an extension to write into a secure browser window. For those of us who use LastPass, this is what we need. However, I think your goal is because we Windows fans want more Windows apps. Keep in mind that extensions will be available through the Windows Store, which in turn helps UWP gain traction. So, I think this actually plays well to your objectives.

Hope it works better than adblock. Adblock doesn't seem to block most ads. Twitch for example still plays video ads

do you know what Lastpass is? its a password management and storage system. nothing to do with advertising.

Maybe he was referring to extensions in general ...

ABOUT TIME!@!!!!~!!!! !!!!!@!@!@!!@!@!!

Please add Windows Hello to it so I can login to any kind of website with LastPass using Windows Hello

This is really what I'm joping to happen! Sent from Turing Machine

Lastpass support of windows has been very good lately. They released lastpass authenticator recently and now this. Btw, for those of you who may think that Microsoft authenticator is good enough, try lastpass authenticator at least with lastpass. The push notifications are so much better than opening the app each time.

I've never been able to get the push notifications to work for me. It's a great feature that I would love to use but without it working, it just doesn't provide any additional benefit for me.

I know what you mean. The Authenticator app from Microsoft for Windows Phone is lacking. The Android version has better features - how ironic.

Ok Edge is just about ready to be my main browser now. ublock origin would make it perfect.

Yes! I'm not an Insider so don't get to try it get, but this might be the only thing left I really need to switch from primarily using Chrome to primarily using Edge.

This was the one thing I was waiting for to make my edge experience more pleasant.

With this and AdBlock in Edge now I just need the option from Firefox to pin folders to the bookmarks toolbar (Edge can do this) and be able to right-click that folder and select 'Open All in Tabs' and have them all open in separate tabs. Edge does not do this and having to open each website one by one gets tedious. If Edge could do this then I could theoretically see myself ditching Firefox.

:) soon as its officially available bye bye Chrome

Oh my god!!, i have waited for this one and time to say good bye to Chrome. Time has come.

Oh my god!!, i have waited for this one and time to say good bye to Chrome. Time has come.

OK, I have it installed and working on my Sruface Book running 14352 and I have to say it is SLOW! I hope they can improve the performance of it becaue it is almost unusable. From touching the icon just for its menu to populate is almost 4 seconds. Then clicking sites for it to expand is painful and doesn't seem to work. Searching for a site by name also doesn't appear to always work. I really hope they can fix these issues because this would be awesome.

Bye Bye Chrome and Firefox at last.

Does it make Edge crash as much as it makes IE11 crash?

Don't say goodbye to your other browsers yet! I'm very thankful for this plugin (it's been my password manager of choice for the six years or so), but it's slow and buggy at the moment. I can't get it to do anything other than log in to my LastPass account. Searching my vault is dreadfully slow when it actually works. Right clicking on a web page shows the LastPass option in the context menu, but so far it has always said "No Matching Sites!" when I select autofill. Congrats on being first (and especially for supporting our favorite platform!), but this plugin is definitely not ready for prime-time yet.

Same initial experience. However, seems to have improved dramatically in the last hour or so (2:15PM PDT).

So is Lastpass the best thing to spend money on? It's $12/year right?

It's the best password manager for the money. I've been using Dashlane because I got a free year, but I'll be going back to Lastpass when my year is up (if not sooner).

Cant see the extension on this page https://developer.microsoft.com/en-us/microsoft-edge/extensions/#availab... ; the store one seems like an app; i am assuming app and extension will be different

I am not seeing a way to get the extension working. Maybe there is an update to Lastpass coming?

Their phone app looks like 2005 all over again. Needs some serious work.

YEEEEEESSS!!! Now I just need Tile Tabs and Color Me to ditch FF forever!

I hope RoboForm makes an extension also.

Requires Windows 10 Version 14395.0, which is not available even for insiders. So probably nobody is able to use it.

Yeah, it's strange. At first it showed a lower required build and I was able to install it onto one of my computers, but now it's showing that the 14395.0 build is required and I can't get it on my primary computer. My first computer which I could install is now also showing that I do not meet the requirements to install even though I aleady have it.

same here. no way to install the extension.build 14359.0 required.

I am getting the same message about incorrect Windows version.

Yes! I was waiting for this!

Guess we'll have to wait a little longer.

This is literally the only plugin that I deem necessary if I am going to use a browser. Thank you LastPass :)

Now I see why I can't get this Edge extension. The Last Pass extension requires Windows 10 Version 14359 or higher. The latest Insider build I got just yesterday is 14352 so John 'da driveby' Calahan should fix his description to get this extension. We are not INSIDE enough.

They changed the lower build number for some unknown reason. It was 14352 on Saturday....

It has dropped to 14357 now, so those of us on the fast ring are getting closer.

Thank God! I wasn't buying that enpass crap for a secod.