The latest Cortana server-side updates offer fun with riddles and trivia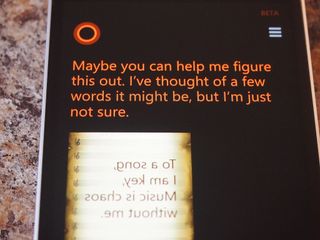 Microsoft's Cortana digital assistant keeps getting new and fun updates on the server side. Today, users who have Cortana installed on Windows Phone 8.1 and Windows 10 can get a riddle to solve when they say, "Surprise me."
As you can see in the image above, Cortana has the riddle shown as if it was displayed in a mirror. We will leave it to you to solve this puzzle, and if you do Cortana asks that you retweet it. This new server-side feature is in addition to one Microsoft added to Cortana a few days ago, where it will offer up a random piece of trivia if you say "What's up".
Hopefully we will see more of these fun distractions from Microsoft added to Cortana in the weeks and months ahead.
Via: Neowin
Windows Central Newsletter
Get the best of Windows Central in your inbox, every day!
Where Daniel Rubino?......he should see Siri.....when you're trying to chat with Cortana..she ends up searching....when will she become better than Siri.....i love Windows phone...but dude :(

Remind me about a tv show

Set likes with Cortana of the tv show

Updates and more updates but nothing about regions expansion...

This. They need to get Canada out of alpha, and roll the service out. There are more than just Americans using your service!

Any new updates for Canada would be welcome, news and weather aren't cutting it.

Same in Australia, enable all features in the Alpha countries

I think everyone should stop using Cortana if you're not from USA. Then MS will see how much people really use Cortana in USA.

Anyone heard news about updates for her voice? ie Jen Taylor's voice

While not official, the past few days I've been noticing that phrases that previously lacked Jen Taylor's voice acting (and used the computerized voice instead) have been receiving more voice acting, and previous voice acting has started to sound crisper and cleaner.

I get less computerized responses and more human like responses. Even paragraphs of well spoken things.

"Tell me a riddle" also works :¬)

there's a new one now. (the last one it looks like) Tell me a riddle - now shows the older riddles. Looks liek they are all connected!

I want it to work in Spanish now please

Just put your phone in Spanish (Spain) and Region to Spain. Make sure voice and keyboard lang is also Spanish (Spain).

No, I'll wait for a Latin American version, I'm not very keen on Spain's version

Totalmente de acuerdo contigo! Por que tenemos que cambiar de región para poder disfrutar de la característica? Si esa es la solución en Windows 10...Que vil decepción! Un año después de que se anunció Cortana y solo esta disponible como en 6 países, en Alfa y Beta. Y solo actualizan la versión de Estados Unidos. Lo he dicho y lo vuelvo a decir, si Microsoft sigue viendo solo para ese país jamas va a ser un existo su plataforma como antes lo fue.

No cambies de región entonces. Alguien te proveyó una forma de utilizar cortana. Windows 10 no ha salido aún, así que la especulación es inútil. Ve y utiliza siri o now si quieres mostrarle a ms que estás molesto, de lo contrario, lo que digas acá no significa ni m.

Jamás se dijo que Cortana iba a ser exclusiva de Windows 10. Para cuando se anuncio por primera vez nadie sabia de la existencia de W10. Entonces por que existe en Windows Phone 8.1? No tiene nada que ver! A un año de ser lanzada es increíble que solo este disponible en pocos países. O dime? Entonces para que esta la versión en ingles de EUA y la versión en ingles de Reino Unido?

I want the Latin America Version...no the Spain version!

Is the answer C? To a Song, I am key (Key of C) Music is chaos without me (musi means chaos?)

Songs don't have to be in C..

Feel free to say it is rhythm cause I don't have neither Cortana (really annoying it hasn't yet come to Portugal) neither twitter

It's time. Time is the key...

I originally thought rhythm.... But then I noticed the Treble Clef (and one should assume everything in a riddle serves a purpose). I'm thinking you're right with "C" as the answer.

In what language does musi mean chaos?

It's time. A song doesn't have to be in the key of C but in written music, but in written music you need a time signature to keep the beat and it's something musicians are anal about if they've studied music theory/are professionally taught. http://en.m.wikipedia.org/wiki/Time_signature

Think i'm the first with the answer Harmony! What do I win?

Is any one here with windows 10 mobile.....?
With non - active Cortana

Its been a long month......

Did you read the post yesterday about what was fixed and what not before updating? I know you din. They clearly mention that you have to change your phone settings back to your phone's original regional settings then update to W10TP then change your settings for Cortana to work.

Do calm down. I installed the build before seeing the post and had the same issue so it's not a big deal. I just did a hard reset (not my daily driver) and Cortana popped back up.

and Cortana still can't tell me the time...

Imagine when you wake up and don't want to touch your phone, then you just say "hey Cortana, what time is it?"
But I'm afraid that Cortana can't understand our sleepy voice yet...

Imagine you, like me, use to listen to music while walking to work with the phone in your pocket, and suddenly wants to know the time in a rainy day or with your hands busy.
But since Cortana would unlock the phone in my pocket as soon as I activate it with the bluetooth earbuds, and start the madness of touchscreen activation... this little detail takes out 80% of Cortana's utility for me. Cortana is stil half-baked, it's not even beta.

Or tell you battery level, or signal strength, or set to silent...all things we could do with WM6.1.

WRONG... Yes she can. Just say "What time is it?" and she reads the time. She even shows a live clock in Windows 10 TP :)

Not for me. Sends me to a web search. Tried a few variations of the question, always goes to web results. Date works...though I usually already know that :)

For me it does a Bing search that doesn't even show the time at all. Tried lots and lots of times since Cortana was available, in never worked.

Ask 'Whats the time now' she will reply with a list of US times if you've set the region to US to get the full Cortana experience. You can ask 'Whats the time now in '. She will respond with the time in the country you've asked for.

yeah, better than the bing search, but I don't need a list of times, I want to know the time where I am, and Cortana requires location, so it should be automatic. And it doesn't even read aloud, so I better see the time on the status bar if I'm goint to the trouble of looking at the screen, Cortana is useless as a real voice-commanded assistant, for exemple, via bluetooth. I'll keep asking my Android for the time, since it works in my language, without requiring me to even know where exactly the phone is, I simple say out loud "Ok Google, que horas são?", and voilà.

Yeah, all I get are terrible Bing search results (as expected) for all the variations mentioned, but "What time is it in Perth" does work, although I have to scroll past the useless ads to see it!

It works great on 8.1, but on 10 TP it only works if you type it, not say it... strange!

I'm on 8.1 and it does a Bing search and doesn't tell me the time. I am in the US.

Works for me she speaks the time in my city

Cortana tells the time for me... on the preview version

This is why you should get a Microsoft Band ;)

like most Microsoft products and services, it's not available in most countries where Windows Phone maters. I could buy an Android watch, those are available since launch here. Microsoft is so slow that I don't even consider products like the Surface and the Band, they are just publicity stunts for the US. ​

Hmm, I have got it. "To a song, I am key, music is chaos without me."

That's the riddle, not the answer.

Now i understand why Sam Sabry said that on twitter.

Make it work in finland. I don't want cortana to speak finnish... I just want to use her with finnish language in my phone and she still talking in english

My Cortana is sometimes "thinking..."/"listening..." forever when I tell her something. OR she types some random words that are not even close to what I say

She is dependent on you internet connection quality. Either that or you shouldn't talk with your mouth full ;)

I know about the internet. When I say "give me directions to.." while she's acting weird it work right away. So that's definitely not the internet or my full mouth :)

I was wondering when WPCentral would notice this and post an article. It's been this way for at least several days.

Maybe you should've tipped them.

I did tip these chumps about this (twice.) A little more than a week ago. See how well they pay attention?

Yeah, I'm sure they only get a couple of tips each day and have ample time up their sleeves to thoroughly investigate each one and then write up an article for them. /sarcasm

That doesn't mean we shouldn't give them a tip every now and then......

We should absolutely give them a tip - my point was that people shouldn't bitch and moan that they don't put the tipped story online 5 minutes after it comes through.

You're right...10 or 12 days is clearly not enough time to read a two sentence tip, observe the provided screenshot, and ask Cortana "What's Up" to verify said tip. "Thoroghly investigate." LOL

You're making a lot of assumptions that they have plenty of time up their sleeves - I'm sure they get hundreds, if not thousands, of tips per day. It takes time to go through them all, decide what's worth writing about and what isn't, and then allocate it to one of the writers to schedule in. I'm sure most of these guys have day jobs too, so that doesn't leave much time to write up an article in addition to their current workloads - afterall they do have proper articles to write too, instead of tips.

I think the answer is "treble clef", in Turkish "Sol Anahtarı"

Cortana rocks... Google Now and Siri shocked.

When in India will Cortana be launched...?

Lol we don't care about these stupid features we just want Cortana support in other countries.. Enough of this "alpha" bs.

We? I care about this. It makes Cortana more fun.

La seguimos esperando en Latinoamérica y nada! Microsoft sigue pensando solo en servir a Estados Unidos, la peor estrategia!

Cortana is not working as expected in w10 mobile build 10080 on my Icon.

Still no Cortana for Slovenia.F*** Microsoft.I'll change to Android.

You still won't get Cortana, you know.

Android and iOS will get Cortana in the not so distant future.

Even if it does happen, it won't have the same integration like the Windows one..

Still wishing to be able to ask Cortana to repeat the last text message....

In the initial TP build they said they disabled it in the TP but will bring it back... not sure why it was removed, but I'm guessing it's becaused Messaging is not baked in anymore, so they have to make apps be able to integrate like baked in apps.

I don't know what it is about her. I just don't use her too often. I hardly use her at all actually. I'm not satisfied until she can actually voice my name when I say hello to her.

I believe that she will be able to very soon I was talking to a guy who is a software engineer working on Windows 10 and he told me that there will be a lot of changes with Cortana bit said he couldn't tell me anymore about her ​

Solved it. Pretty easy actually.

Will someone please tell me if Cortana can read text messages and give directions in the new Windows 10 for phone build?

They updated her reading voice too, like it still sounds a bit robotic, but you can tell it sounds more like Jen... certain parts of words her voice raises or gets raspy... really cool! It's getting there.

It still bugs me how Cortana can't start a conversation,like the bots we used to chat with on the web,I mean I solved it,I said the answer,but what happens is it becomes another command!
Cortana get smarter!

She says a joke, I laugh but she goes like: I didn't get that :/ ,imagine this happening with a real person lol :D

The conversation works for the weather and calendar info. Ask the weather. Then ask if its gonna rain. Then say thank you. Agreed, it has a long way to go.

I asked her "Was geht" in German and she told me about Mickey and Minnie having their first movie debut together in 1928. Is it the same for today in English?

Yes, being the first animated power couple

Errr ... I wanted to know if Cortana tells you the same story today. Does she?

Will there be Cortana for every region at Windows 10 launch??? That's the issue.

Microsoft s​hould enable contana to work with any phone that it's language is set to English or other supported languages, not by region. Because like me, I am in Italy and contana is supported here but I don't speak or hear Italian, but English and I set my phone language to English so if I don't change my region to UK, I can't use it. So I think it is an issue Microsoft should work on.

If you guys actually read your tips, you could have reported on this about a week or two ago.

I placed my phone in front of a mirror then was able to read perfectly.

And here in New Zealand, STILL waiting for Cortana. We don't need Lucy Lawless doing ours, just give us Jen Taylor thanks, at least so i can use Quiet Hours without having to change my damn region. Honestly, this kinda stuff is 'cute', but that's about it.

there is another riddle today .. i wonder if they are all connected to a bigger hunt ..

There's a new one today again! looks like the final one. Did anyone see it?