Latest Intel display drivers enable Dynamic Refresh for Surface Pro 8, Laptop Studio
While not officially signed by Microsoft, Intel's latest drivers show that the new dynamic refresh feature is very close.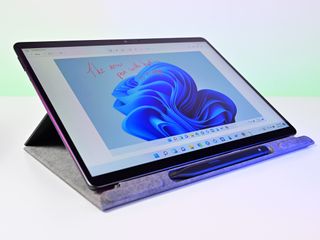 (Image credit: Daniel Rubino / Windows Central)
What you need to know
Intel's generic graphics for 10/14/2021 enable 'Dynamic Refresh Rate' for Windows 11.
The drivers let specific displays jump between 60 and 120 Hz automatically.
While it works on Surface Pro 8 and Laptop Studio, users need to install the drivers manually.
Once approved as stable, Microsoft will push the drivers out through Windows Update.
In June, we noted a new feature in Windows 11 called Dynamic Refresh Rate, which would allow PCs with high-refresh displays to jump dynamically between low and high-refresh based on scrolling, inking, or inactivity. We strongly hinted that new Surface products would likely embrace such technology, and sure enough, Surface Pro 8 and Surface Laptop Studio both have 120 Hz screens.
Despite the underlying technology being present, Dynamic Refresh Rate is not enabled on either new Surface is something coming later via an update. Today, users on reddit spotted Intel's latest generic display drivers and noticed that upon installation, a new option now appears enabling this new display option.
We've confirmed on Surface Pro 8 that the new drivers add the option for dynamic refresh rate found under Settings > Display > Advanced Display > Choose a refresh rate. Instead of just 60 Hz or 120 Hz, there is now a third option for Dynamic (60 Hz or 120 Hz) that was not present earlier.
The feature seems to work quite well, although more testing is needed for stability and to see any oddities with the drivers.
The drivers need to be manually installed (extract drivers from the zip file, upgrade driver through Device Manager) as the .exe installer will not work.
Microsoft releases its own "Surface-approved" graphics drivers through Windows Update after it has signed off on the drivers as being stable. It also removes things like the Intel Graphics Panel, which is auto-installed with these drivers.
As a rule of thumb, most users should hold off until Microsoft releases its Surface-approved drivers. These new Intel ones could cause unforeseen issues, especially if someone picks the wrong driver to update or the drivers themselves cause a conflict.
However, the good news is it seems Dynamic Refresh Rate for Windows 11 devices (those with 90Hz or higher displays) is right around the corner. We'll likely see many more laptops announced in the coming months that support this feature, which improves inking (reduced latency) and makes scrolling and OS animations a bit smoother while also helping to mitigate the hit on battery life.
Daniel Rubino is the Executive Editor of Windows Central, head reviewer, podcast co-host, and analyst. He has been covering Microsoft here since 2007, back when this site was called WMExperts (and later Windows Phone Central). His interests include Windows, Microsoft Surface, laptops, next-gen computing, and arguing with people on the internet.
This is great news! I was only hitting about 4-5 hours of battery with my Pro 8 on 120 Hz, but it jumped to about 8 hours when I switched it to 60 Hz. I'm really excited to get the best of both. Theoretically, could Dynamic Refresh Rate lower the refresh rate down to 30 Hz or lower when the screen is static? For instance if I'm reading in the Kindle app, could it drop down to 1 Hz and then jump to 120 Hz for a page turn animation, and then back to to 1 Hz on the next page?
I'd even welcome something like 20-30 Hz when I'm just working in Word and Excel to extend battery life.

"Theoretically, could Dynamic Refresh Rate lower the refresh rate down to 30 Hz or lower when the screen is static? "

Yes, but not with this hardware AFAIK. Displays aren't currently meant to be run at anything than 60 or 120 (or 300, etc. on gaming laptops). They're fixed, which is why you can't manually set a display to 30 Hz. It may be an area we see improvements in future hardware, costs/value permitting.

I heard that the experience is pretty jarring--you can see it shift from 120 Hz to 60 Hz. I think a better configuration would be 120 Hz when plugged in and 60 Hz when on the go, for battery life. Will this be an option?

I'm running it on both Pro 8 and Laptop Studio. Definitely wouldn't describe it as "jarring." If anything, it's hard to notice.

Nice tip. Got it on my SLS. So far so good.

It crashes my YouTube running on Edge browser. I uninstalled it. Just setting it at 120 Hz. Will wait for the Surface approved driver.

Would be great if they could also go to 40, 30, 20, 15, 12, 10, etc. in theory battery life would improve further, it would be cool if the hardware supported VRR for gaming and more granular control.

I believe earlier Surface Pro's had displays with "Panel Self Refresh". The panel has its own frame buffer so the GPU can indeed slow right down even to 0Hz when displaying static images. With IGZO displays the LCD cell needs refreshing less often before the image fades as well. Putting it all together could give a boost to battery life but we'll have to wait and see as the Windows 11 updates come and enable the features. Probably most of the power will still be for the backlight, though even there IGZO helps by letting more of the light through.

Why Microsoft is always selling a product half finished ? This feature should have been available and finished day one like on the new MacBook Pro m1 pro with the ProMotion at 120hz. This tech is working so well on the iPad Pro. If you watch a movie at 24 frames it sets his refresh rate at 24hz.
That's a pity for the new owners of the surface pro 8 and studio. I hope Microsoft will fix it ASAP
Windows Central Newsletter
Get the best of Windows Central in in your inbox, every day!
Thank you for signing up to Windows Central. You will receive a verification email shortly.
There was a problem. Please refresh the page and try again.