Latest version of Windows 10 Store brings automatic app updates, UI tweaks and 'My Library'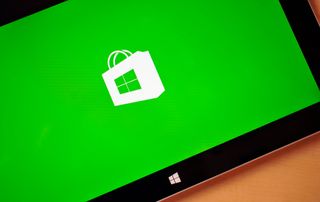 An update to the Windows 10 Store introduces the option to toggle automatic app updates, also bringing a "My Library" feature that gives you an overview of all the content purchased from the store.
The update — which is now rolling out to Windows Insiders on the latest Insider Preview of Windows 10 (build 10074) — comes with minor UI tweaks to the overall look of the Windows Store, as well as a download icon on the home page that lets you check the status of your downloads.
You guys noticing anything else that's new? Let us know in the comments below.
Thanks, Aakash S., for the tip!
Get the Windows Central Newsletter
All the latest news, reviews, and guides for Windows and Xbox diehards.
Harish Jonnalagadda is a Senior Editor overseeing Asia for Android Central, Windows Central's sister site. When not reviewing phones, he's testing PC hardware, including video cards, motherboards, gaming accessories, and keyboards.
No, it's a normal store update. So just start the beta store app, check for updates, wait a while and it'll pop up.

an update for the store within the store? :|

It's like Inception. A dream within a dream.

Let's see if the dream within a dream is stable.

When I click the check for update in the Beta Store Universal App nothing happens. It doesn't even seem to check. Any suggestions??? Do I just have to be a little more patient???

Ya I think so. I usually go in, click check for updates, then head back to the home page and browse for a minute, then back to downloads and they're all pending my input. Very convoluted, hopefully this version fixed this (although, the check for updates button still behaves as dead as a stone).

Ahhh. Didn't know that I had to go to the download section in order to download and install the updates. Thanks for the tip!!!

well, they could make up phone news..but then you'd call them fake..
so.. :)

If they knew about Phone, they would tell about phone

Geez, didn't think about that.

There - phone news for you. - NO builds this week for phone. No new office either. Happy?


Well it's Windows central now not windows phone central anymore!

The store is a universal app, so this is 'phone' news.

No phone builds are expected this week. Are you satisfied now?)

I couldnt even try the new build, the update didnt work in Virtual Box. So deleted the Virtual drive. Crap !!

If you've got around 25GB free, try on dual boot along with your current OS. It's much faster and easier than using in virtual box.

Oh it works alright .. but Windows 10 will bluescreen you if you try update via Windows update. Download the ISO! It worked great for me. I had the same Virtualbox disaster, but it worked with the ISO install. Do this: Download the iso. Mount it as a CD-ROM image disc in the Virtualbox menu. Let Windows 10 be powered on, booted up on the desktop as normal. Open up My Computer (aka Windows Explorer) and go to the cdrom device. You should see a setup or install executable there. Just run it and it will pop up an install window. Follow normal Windows installation/upgrade procedures as you are used to normally doing.

They should categorize this list. If I have 800 apps that I have installed over the time today I have to scroll all of them to search for one specific app (phone and desktop).

You should also be able to erase apps from your purchase and download history...

Amen! Especially an app that's appealing in name only. And when you installed and ran it, and felt like shooting the developer's left scrotum. I have apps like that in my installed history.

Yeah, that's pretty much what we think about the maker of a bad app.

This is my biggest gripe about the current 'Store'. There are so many garbage apps in the store that often you want to remove the crap from your history as well. Second biggest gripe is all the garbage they apprive in the app store, mostly "Tutorials"....there are like 8 different "How to use Spotify" apps, and there isn't even a Windows 8 Spotify app.

I still wonder why we don't have a wish list, or a download later option, and for god damn why the search is still broken on Windows Phone!

Kinda off topic, but is windows 10 for phone update comin today?

No its not. Not this week.

No new Phone or PC Build this week as Gabe told via Twitter today.

This is not new. I have this in Windows 8.1.

The Store App for Windows 10 was Rebuild as a Universal App. Mostly the UI is the main difference what People see.

Great. You will have it in Windows 10 too.

I'm glad we'll have this feature for desktop, amazing that people are complaining about missing features the moment they see the literal v.0.0.0.0.0.0.0.1 of a feature. Good lord people. For those who didn't explore, in the first screenshot there is a sidebar with the title Refine. Meaning you'll be able to filter apps/games based on certain criteria which I'm excited for. I would, however, like a few more improvements to the Downloads page - such as, similar to the current Phone store, the ability to see recent updates and when they were installed. Glad to see the Store is making good progress though.

Seems functional for a v.0.0.0.0.0.0.0.1 version software.

Yep. High expectations are never good. People just end up disliking the finished product.

Is the store a universal app yet :P

Does it support app videos?? One of the build task in the insider app for release 10074 mentions video support in the store. Or is this just the film section???

Where exactly did you see this task?

In the insider app. My current tasks(missions) inc using the updated maps for 3d exploration, the xbox app to find a certain player and the store app to dl and install an app, in brackets they mention video support. I'll try grab ss to show you.

Microsoft not considering phones...

In what way? This is the Universal store. It will be used on Phone too.

Because soon there will be no more Phone. One OS for all devices.

So do u think windows phones will see a growth.?

is there will be a wishlist feature on store W10 phone?

Now if we could only erase purchased app history. There have been so many apps I've downloaded, wished I hadn't and then refreshed a system and then they all start downloading again.

just what I think to , Think it is a very important thing to fix // +1000

This! My purchased history is real mess nowadays also add to that its not sortable and searchable. They need to fix this soon.

Agreed, this should be included. Hope this makes it to Insider feedback.

Interesting that as you scroll down through the Store, the app navigation header is transparent. Very similar aesthetic to iOS and OS X translucent in-app UI. I wonder if this will have an option to have blur transparency too. I'm still wondering why this navigation bar is too big though with alot of unused space at the top. I think that space will soon be utilize as an app titlebar with that Back button at the left corner. I'm still hoping they will implement Wishlist and Gift system like from Steam. My Library view also looks very barebone, it needs sorting options like letter tiles like from Windows Phone and multiple selection.
Good thing about this new Store is that it updates itself.

We need bookmarks feature or call it a wishlist feature wherein we can mark several apps as favourites or for later downloads. This is very handy and equally productive.

Well, you should suggest them at user voice Posted via the Windows Central App for Android

Didn't we already have automatic updates?

Yes we did. But MS has decided (and its a good decision) to build the Windows store from the ground up, converting it into an universal app with unified Music, Movies, etc stores.

Where the fuck is windows phone 10 TP update they promised will come out early this week, seems MS can't keep to their promise, fucking tired of the wait, I need my office doc back

If your Office doc is that important, what are you doing on the TP?

You can't use a TP OS in your daily driver, at least not until RTM. So wait dumbass

Still getting used to the fact Microsoft can 'just update' components, like the store, and give a better user experience. This is just awesome

Don't see any options for installing updates for the store beta. Or any way to check for updates.


Got a dark-themed store here,
activated using registry

Does the store now remember your scroll position when going back sfter viewing an app's details?

a blue icon instead of the gay one

Well my store will not open crashes every time spartan will not open crashes every time store Bata crashes every time Posted via the Windows Central App for Android

Store, spartan/edge, and insider hub all still giving me proxy error, any idea why..? Posted via the Windows Central App for Android

Release tbe build for windows phone.. Its friday today and the build is not live

It's worth to install Win10TP or should I wait for final release? I'm using my T100 just for browsing and playing Terraria :D

If you dont want to test potentially broken stuff or provide feedback dont do it. Personally I've been using it since day one on my primary work pc and just recently installed on my surface pro.

I am really hoping they don't kill the ability to link the store to another account. If they do, they have lost me as I refuse to purchase the same items for each of my kids.

you should let them know that, it is a very important feature that I didnt think of

It appears to now also support the dark theme where as the previous version did not.

Improve the search thing in store! Minecraft doesn't even appears! Of searched with PE in name..

I am telling you guys, this update solved some issues which I've been facing lately. Up up to the sky, microsoft

The my libray is a welcome addition. It works better than the my account/apps section on the original store AND you can download apps on your account that have been removed from the store which was not possible on the old store (green or blue). On 8.1 you could download apps not in the store but only if you had just setup a new microsoft account and chose to restore your stuff from a previous device.

hello every body i am not happy with windowse funtions , just check andorid calling and masseging function, also check windows, mis call recive call, calling summary just compare..