Potential Surface Pro 8 engineering prototype shows up for sale with 11th-gen Intel processor
By Zac Bowden last updated
An unreleased, prototype version of Microsoft's upcoming Surface Pro 8 appears online for sale.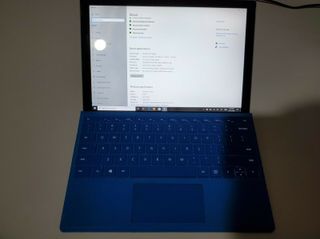 (Image credit: eBay)
What you need to know
An eBay listing claims to have a Surface Pro 8 prototype for sale.
The prototype comes with an 11th-gen processor and 32GB RAM.
Externally, the device is identical to the Surface Pro 7.
The Microsoft Surface Pro 8 hasn't been announced yet, but that hasn't stopped an early engineering sample from popping up online for sale. Spotted on eBay (opens in new tab), this Surface Pro 8 is the top spec model with an 11th generation Intel Core i7-1165G7, 32GB RAM, and 1TB of SSD storage packed inside the familiar Surface Pro 7 chassis.
Other than the improved specs, it appears there's nothing different about this Surface Pro 8 prototype compared to the current Surface Pro 7. Depending on how recent this prototype is, I'd say this is a pretty good indication that the Surface Pro 8 won't be featuring that rumored "redesign" people have been expecting, remaining exclusive to the Surface Pro X instead.
The eBay listing describes the following:
It's rare for Surface prototypes to show up online for sale, let alone prototypes of hardware that hasn't been announced yet. The item is available for pickup-only in Seattle, Washington, and bidding starts at $1,300. Buying unreleased hardware on the internet can be tricky business, especially when unconfirmed, so proceed at your own risk.
We've reached out to the seller to see if we can find out more about this prototype to confirm its legitimacy. In the meantime, what are your thoughts on the Surface Pro 8? Let us know in the comments.
Zac Bowden is a Senior Editor at Windows Central. Bringing you exclusive coverage into the world of Windows 10 on PCs, tablets, phones, and more. Also an avid collector of rare Microsoft prototype devices! Keep in touch on Twitter: @zacbowden.
Not an awful lot to think about here. I'll be very disappointed if this is reflective of the Pro 8 we see next year, though we still have most of a year until then, so things could change.

Hoping for a design update similar to the one with the Go 2. Same body, bigger screen and smaller bezels. Not much of a fan of the ProX design with the varying bezel.

Isn't this a violation of Microsoft's NDA/internal policy? I wouldn't buy it, since it wouldn't have warranty support or anything. On another note, sticking to the old design is a bit of a letdown, but I guess they do not want to cannibalize their Surface Pro X line.

I really, really hope the final device wont have this design anymore which francly is no longer good enough for 2021. Please Microsoft make it like the pro X (even if slightly thicker I don't mind) with an sd card slot.

It is pretty normal to put next-gen internals in the cases of previous models when they are in the experimental stage but that does not make this list not a complete scam.

I'd be shocked if this was legal as there's no way Microsoft would be OK with this being released in the wild. Someone is either violating a contract they had/have with Microsoft or they've stolen this unit from someone with such a contract. I'm not sure that you'd be able to legally keep it even if you bought it, if Microsoft wanted it back. I don't really se how it's possible to buy such a thing "in good faith" because any non-idiot would have to be aware that it could be illegally obtained in the first place.

I'm not disappointed about there being no external design change, assuming that is the case. The i7 model would almost certainly need a fan, as with previous i7 versions and I would argue even previous i5's. Also, all current keyboards would work. A larger screen would have been nice, but it's not a big deal. My SP7 is great as it is. It's a very refined product.

There are no bids on the Surface Pro 8, the listing indicates that can be shipped anywhere the US now. I suspect that there won't be much action if any in the next 6 days bid time left. There are 20 watchers.
Seller does not accept returns.

Pretty much the same design as the Surface Pro 5, with yet again another mediocre quad core Intel chip still with lots of unpatchable hardware security vulnerabilities... I really hope this isn't final, this isn't what the Surface team strived for in the past with devices like the Pro 3 and 4. You buy a Surface Pro 5 or a Pro 7 these days and aside from the USB-C port on the side nobody can tell the difference by looking at them. Doing yet another refresh isn't going to help with that, the design was good at the time but things move on and it's starting to look dated when put alongside the likes of the Dell XPS 13. In my opinion, it would be a lot more impressive design-wise for potential buyers if the Pro 7 had slimmed down but still symmetrical bezels like they did with the new Go 2, along with a magnetic storage slot under the kickstand for the full sized pen. Better contrast ratio on the display and Dolby Audio Premium as seen in the Surface Laptop rather than plain Dolby Audio would be a nice touch also. In terms of specs, demand for Ryzen Mobile is HUGE these days and with the Zen3 desktop chips announcement this demand is only going to grow. Tiger Lake is decent but you can't beat 8 similarly clocked, similar IPC cores from Ryzen with just 4 found in the top-end Tiger Lake SKU, anything that takes advantage of multiple cores falls apart on Tiger Lake in comparison to Ryzen Mobile 4000 series. The switch to LPDDR4X RAM is a good step in the right direction however, they should definitely keep that up regardless of whether they use Ryzen Mobile 4000 series or Intel Core i 11th gen. Ryzen Mobile should be a serious consideration now that Zen2 fixed the relatively high idle power draw from previous generations. Another idea I have is to fill out the palm rest of the type cover with a couple of small batteries, that could help further improve battery life of the device without any added thickness, which judging by Ice Lake and the SP7 you'll definitely need it. If you want to be *really* innovative and impressive, unify the Surface Book and Surface Pro families - make it so that you can turn your Surface Pro into a Surface Book just by changing the base/keyboard. This'll theoretically fix the Surface Book's lackluster battery life when seperated from the base, simplify your product portfolio and also allow for powerful features such as taking the type cover and Surface Pro with you on the go and coming home to game on it by simply attaching it to the powerful GPU base at home. It would also offer up the ability to buy a fully functioning Surface Pro now and get a more powerful GPU later rather than being forced to buy both in one go. The kickstand could help stabalize the touch screen when attached to the Surface Book base helping eliminate screen wobble. The base could also house additional ports and act as a kind of integrated and portable Surface Dock with a full sized SD card slot for video editors and photographers and an additional USB port or two. There's so many things you could do with the Surface line, Microsoft! Don't think you've reached the end and release boring refreshes to existing product lines with minor changes all the time.

I'm almost with you on this comment. I love my surface pro but when at my desktop I'd really like to have a LITTLE graphics oomph. My thought was to see if they could integrate a eGPU into the surface dock. That would be enough for me.
Thinking about your comment more, to combine the surface pro and book lines it would be cool to ditch the type cover and go with a surface book like keyboard where the device could truly fold flat. There could be an option for a keyboard with or with out eGPU. Like you said, maybe one with a Jumbo battery instead. They made a battery type cover like that ages ago for the SP2.

I've said this since SB launched. It's so obvious to me and locks people into the ecosystem more. I just can't understand why they wouldn't do it... Dan has also mentioned to me before on Twitter that there was one a prototype for a sort of "Pro Dock" with a built in eGPU but it was canned and never revisited. So much potential

If this is really what we're getting, that sucks. 11th Gen Intel is nothing to be excited about. It seems the Surface Pro line is just dead to innovation now. We're on what seems like the 4th or 5th release with no meaningful change. That it's so stagnant without any decrease in price to stay competitive with improving products from competitors, is pretty lame.

Actually, if it contains the Xe graphics of the 11th Gen, there is a lot to be excited about imho.
This engineering sample is just that - a prototype, probably to do some initial tests. Think about how long it takes to get this ready, this is by no means what we will have in 2021. There will surely be external chassis refinement at the minimum.

If they keep that aging design I will not update my Surface Pro (2017) model. Get with the program MS and get some hardware redesigns out there, everything looks stale now.

You definitely should update from your SP5 if you want any more power. The changes from 7th Gen Intel to 11th gen have been big.

Actually, you should if you have the Surface Pro 2017 (which was only dual core). Surface Pro 6 went to quad core. I also owned the Surface Pro 2017 i7 with 16 GB of RAM. I skipped SP6 because it lost the Iris graphics and I was really happy with the 2017 model. However, Surface Pro 7 has the quad core and the return of Iris graphics.

What exactly sucks? What is it you're looking for that's not there already? And what competitors? No one does detachables like Microsoft. If you think the competitors are doing better (which they're not) get one of their devices. I just don't get the whining. The SP4 was full of issues. A few years later, the SP7 was amazingly refined. If you want a full-on productivity tablet, the SP8 will be perfect. If you want something with lower power but more emphasis on mobility, get the SPX.

I agree. Some people just want change for the sake of change it seems like. I would welcome design changes if it makes sense and isn't just to make it different.

They could adopt the swappable SSD of the SPX. They could adopt AMD's Zen processors, which have proven to be great for laptops. They could have a 5G model. They could do literally anything other than nothing for their continued topping the price charts for the market. There's no justification to spend what usually ends up being $300+ more for a Surface, versus a 2-in-1 with better specs. Even though they don't have detachable keyboards, the typing experiences are usually better.

Agree.
what it really need, MS improve the Tablet experience.

Yet another specs-only refresh is not a good look.

Awesome , it use latest gen CPU.

I would be fine with the current design if the CPU/GPU was AMD. AMD now has out-performing 15W parts. If SP8 comes with Intel and has this same design, I'll stick with my Surface Pro 7. I'm tired of the barely changing Intel parts.

No form factor update? That's disappointing.

Still a speculation if this is what Surface Pro 8 would be still look like. That is still an engineering prototype, which probably just a simple test bed for new architecture but without changing the exterior. Who knows if there is another batch with new design and they have been exploring those as well. We will see once they really officially announce Surface Pro 8.

MS going for similar bezels as Surface Go 2 seem more believable. We will see I guess. At any case the igpu will be a major bump. But something extra like support cradle keyboard would be cool.

if the Surface Pro 8 is still the same old one then it's sad. Did Panos Panay teams lost their vibe? Nothing to be pumped-up there...
It's 2020, we need a borderless 13 or 14" Surface Pro !!! The ultimate device for me would be a merge between Surface Pro and Surface Book line of products, with 2 screen size choices of 13 and 16, borderless indeed, with 2 cover choices : a lightweight TypeCover, as well as a powerfull "PowerCover" with additionnal GPU and second battery. There we would have all possibilities for everyone, and a new line to pump-up the market !! And at least we would have a big sized Surface Pro with the kickstand that is so badly lacking to the Surface Book.

borderless? eww no. smaller bezels? fine. i'm still accidentally hitting the screen of my Surface Pro 7 all the time so it would be a nightmare to have no bezels. I hated all the accidental touches on my Samsung phones.

yeah, borderless will be a stupid design decision to take.

Borderless would be annoying, it is a tablet after all. Go2 bezels are perfect imo.

You might as well buy the Surface Book 3.

My thought is that some butthole is trying to hawk secret pre-release hardware that he stole from the office.

I call shenanigans. I'd be surprised if this reflects the final design for SP8.

If this is true it means Microsoft simply don't want to update their Intel based Surface Pro. The current design dated back to 2015. A 6 year old design by 2021. Whilst pretty clear it's not possible to make the Surface Pro 8 just like the Surface Pro X they could at least trim those bezels. But maybe Microsoft see the Intel based Surface Pro as their workhorse but "not the future". Who knows :-/

So much news bungling with this Surface Pro 8 news. This supposed Surface Pro 8 prototype is a very old test unit and I argue it was just an early test to gauge the electrical and thermal characteristics of Tiger Lake-U, which is layout compatible with Ice Lake-U. Why? None of the news sources took the time to actually look at the install date that was plainly visible on the device screen, which would inform them that it was imaged on April 12th, 2020. I did: http://forum.tabletpcreview.com/attachments/45158d92-eaab-463c-93df-b0e8... Again, Microsoft could have very well be just testing Tiger Lake-U in their preexisting design to get a feel for how it runs early on. As far as the actual leaks are concerned, Surface Pro 8 is still supposed to be inheriting some of the design improvements of Surface Pro X.

Leaks suck. You don't know WHAT to believe. Here we have an actual unit. I'd believe an actual device OVER a leak. But, as stated, we still don't know what will actually appear.
Windows Central Newsletter
Get the best of Windows Central in in your inbox, every day!
Thank you for signing up to Windows Central. You will receive a verification email shortly.
There was a problem. Please refresh the page and try again.