Leaked Windows 10 build 10056 shows improvements to tablet mode, more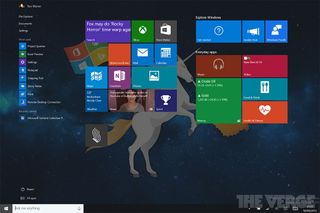 Following up on yesterday's leaked change log and screenshots, Windows 10 build 10056 has leaked in full on the internet today, and it appears to bring with it some changes to tablet mode that improve the touch experience.
As reported by The Verge, enabling tablet mode now places users into an environment that only provides access to the start screen, virtual desktops, and Cortana. From The Verge:
The build also includes a new black theme across Windows 10 and, as we reported yesterday, a new icon for the recycle bin. To see the tablet mode in action, you can check out The Verge's hands-on video at the source link below.
Source: The Verge
Dan Thorp-Lancaster is the former Editor-in-Chief of Windows Central. He began working with Windows Central, Android Central, and iMore as a news writer in 2014 and is obsessed with tech of all sorts. You can follow Dan on Twitter @DthorpL and Instagram @heyitsdtl.
Thank fucking god they made it better.. At least it isn't crippled like it was.

Someone sounds relieved. Lol

I'm relived.
Now just a charms bar, or put those app commands full open on a down swipe.

They're not going to do that because average consumers couldn't figure it out (I had to train literally my entire family how to get to app commands). I don't think they're bringing the Charms back (thankfully!) and will instead put the functions with the Action Center. They've already got a lot of them there now.
Edit: Downvoting doesn't change reality

How did your family members figure out how to find the notification center on their phones? Literally no difference in ease of discovery of the charms or action center in Windows.

The salesman in the AT&T store showed them when they got their smartphones for the first time. Plus, even if he hadn't, 95% of the people around them who have smartphones access the notification center that way, so they could've just as easily picked it up before they even got their first iPhones. Windows (more specifically the Modern UI) have a disadvantage since the UX is different from other OSes. To say "literally no difference in ease fo discovery of the charms" is pretty disengenuous. People are use to sliding from the top to find notifications, they're not use to a bar coming out from the side when they swipe to the right.

when did ios get the notification center? like 2 years ago? so, now it is the only way to do it correctly. i still meet plenty of people who are surprised that a swipe up opens the command center. i meet even more people that don't know that a double tap on the home button open multitaking. everything need to be thought the first. Right clicking in widows to get a context menu has existed forever. that isn't very discoverable as well and no one complained.

The difference between Charms and all of the other non-obvious interface options on other platforms is that Charms hid essential things and other hidden interface items hide non-essential functions. This is why the Charms were poorly implemented.

iOS got a notification center almost 4 years ago... It's a standard. People are use to it. This isn't a complicated thing to understand and the confusion of Windows 8's UI has been well documented.

Now only if they make in place upgrades possible for compressed OS tablets! It's been freaking LONG wait to try touch W10 and having a Lumia 930 doesn't help at all.

If your tablet has an SD card, you can use that. I did that and had no problem installing it (now RUNNING it was a different story lol)

Do have a SD slot but how do I get bootable SD card + drivers on it? :S Think touch doesn't work as soon as it installs ISO

You're able to use the USB/DVD tool from Microsoft to mount the OS onto an SD card. It obviously various per tablet, but my HP Stream 7 still works with touch.

So we wil realy have cortana on the start menu?! Because cortana sits there? Yhose legacy task bar icons are very hard to press on touch.

I agree! Now only if they can remove that most used and make it EXACTLY like 8.1 with nothing but the live tiles that FILLS the entire screen then that would be awesome. And those who like the Start Menu use it and be happy. But bring back the ENTIRE Start Screen just like 8.1.

What I would like is the tablet gestures in the phone version.

Yay. This is what I've been waiting for. (Also, the the title bar finally looks the same in win32 apps and modern apps in this leaked build) Great work Microsoft! :D

Ugh, I hate having title bars on my aps. I loved the original interface, just pull down from the top to close. It wasn't difficult to figure out, and the intro video that played on first launch was pretty much self-explanatory. It just goes to show, a lot of people don't pay attention.

So is it improved enough to drop Windows 10 on my Surface Pro 2 yet? I can deal with a loss of functionality, but until now, W10 really hasn't had any of the tablet specific features enabled that were available on 8.1

I believe by the next preview build released to the fast ring you should be okay.

I am waiting for Build, to define a stable baseline. W10 should be pretty well done in three weeks time, as they need to RTM in July.

Probably best to wait for 10.1, they'll hopefully have figured out how a tablet should work by then.

But can you run apps on tablet but also show taskbar? I'd like that instead of swiping

Amen...the one thing this release has yet to achieve is eliminate the Start/Desktop dichotomy. If that doesn't happen then we're back to square one with one of the biggest W8 issues.

I don't know how but for some reason I got the windows 8.1 update 2 in my 1320

Via preview for developers?

Where can you get that nice high res unicorn background?

Here http://m.imgur.com/VBgqqGH

I would like that all apps menu gets on bottom like it is in Windows 8.1. Or just make it for touch based devices.

So if you have 157 apps they'll be on screen all at once ??? If so wtf

It's just like Tom to put The Verge logo on his own desktop background lol

I thought it was a watermark haha

I really thought they'd get rid of the most used and recently added menus to the side. It looks odd there idk, it makes it seem much less polished. I think having the File Explorer, Settings, All Apps, and Shutdown links Is fine. Then just the regular start screen as it looks in 8.1 right now. am I alone in this design view?

I hate that whole thing in general, I want a non-live start area too. Steam, ie, folders, don't need live tiles.

What do you mean by non-live start area CJ?

The recently used, the column on the far left. I want to pin stuff there like in every windows version practically ever. I hate things on my taskbar, of that's where MS wants me to put stuff now.

I find it more functional IMHO.

But even when you are on a tablet jas? I completely want it when in my desktop and when start is minimized (start menu) but imagining myself using an 8 inch tablet, the live tiles would be enough, i would have my most used programs there anyway. The file explorer link is handy, i think it should stay, but most used and recently added look out of place when in full screen.

I guess to each their own, but for yes, I do find it to be more useful even on a tablet. I say this from experience of using it right now to type this from my HP Stream 7.

It needs to go away. Horrible waste of real estate, especially considering the practically nothing that it accomplishes.

I agree, waste of screen space, I don't need most recent apps, didn't need the in windows 7 either

Agree, live tiles is enough and for anything else just start typing i.e. contr and control panel appears. Easy.

They still have a lot of work need to be done on start screen

I don't see how it's more like Windows 8.1 but is a start...i guess.

Having default programs switch to their app form upon entering tablet mode might be cool. Having a different default program depending on what mode you're in would be very useful - for example with video files and VLC

I need your wallpaper, please, thank you.

The new Windows 10 recycly bin icon looks simlar to the one in Windows 95. Looks cooler than the old Windows 10 bin icon.

So maybe that was why they didn't name it Windows 9...

How awesome would it be if ninja monkey fire breathing unicorn was the default background?

The power button needs to be just under the profile. Too much screen to cover to get to it. And the live tiles need to be larger, like in Win8/8.1, or at least scalable per user.

Yes. Power button should be near the profile

Any pics of the black theme? I like the Visual Studio black theme, but the Office black theme isn't dark enough imo

I don't know. Trying not to be a "negative nancy" but this looks a lot less like the intuitive touch based Start Screen that I fell in love with and more like they're trying to shove the classic start menu back down my throat. I am apparently in the minority, but I liked my large colorful live tiles and swipe features. I see smaller tiles and even smaller icons that I'm expected to interact with. I don't need 95% of that crap on the left.

We are both of the same minority kingtigre....I haven't missed the start menu at all since I was an early adopter of windows 8. I wish there was a way to completely disable the start menu...like in 8.1 In fact, I felt the backlash was severe and unnecessary. I didn't have a touch screen at first, and yet I was able to figure out how to close aps, shut down the computer, switch between loaded programs. I thought the interface was brilliant. I even got my 70 year old mother using it pretty quickly. A touch screen is nice to have, but honestly, I don't use it that much on the desktop. Tablet and phone, oh yeah all the time. Just not so much on desktop.

Actually, the one thing I really like in windows 10 is the mini-start screen. My most important aps can show, and if I need more I can go to full screen....

I'm all for choice. #whynotboth

You both are not alone. anything to the left of that start screen is unnecessary when in tablet mode. User Account, All Apps and File Explorer are the only things that should stay there when going from start menu to start screen. Cant wrap my head around what makes it so hard for them to just keep the windows 8.1 start screen intact. The moment that user enters tablet mode or hits the expand button on the start menu the user should be looking at the exact same start screen we have in 8.1

IMO, the only useful feature of the Start Menu was the jumplists to access recent files and folders. The current W10 menu does not have this feature. Right-clicking folders and applications makes for a good replacement, but many users don't really know this, so that could be partly why W8 got such huge backlash.

Agree, that added menu to the left looks ugly and is totally unacceptable. Live Tiles for accessing main apps and for anything else just start typing, what could be easier. This is a disaster!

Yeah, 3 steps back from a touch perspective

I totally agree! How can it be that Microsoft thinks it is a good idea to have a Desktop OS on a Tablet?! They are also not gonna put a taskbar on the Xbox and smart phone's right? (Well actually they did that with Windows mobile and then Steve Jobs learned how to do it the right way and be succesful!). I think Microsoft is doing really well with the 'One Windows' strategy, meaning that it possible to have universal apps. But you need a device dependent experience both for the apps and for the OS. A phone is a phone. A tablet is a tablet. A desktop is a desktop. A game console is a game console. A watch is a watch. Car entertainment is a carentertainment. Just to be extra sure: Tablet <> Desktop! There is so much proof for this. How can it not be seen by Microsoft? - Window 8 proofed that a tablet OS does not work on a dektop (I was close to perfect for tablets tough). - The fact that every succeslful developer adjust its iphone app to be an iPad app (not just a full screen version of the iphone app) proofes it too. - Apple watch apps won't be just small iphone apps... - etc. etc.

Go fuck yourself. Windows 8 proofed splendidly that both environments could be mixed with barely a hickup. Without 8, we'd still be running crippled, closed-down tablet environments. I, for one, welcome our new future of desktops and x86 tablets. Notebooks can finally die, like the liability that they are.

I agree about the future of x86 tablets and as sead before it's good to have 1 Windows (even on phones) I just want to make the statement that on tablets it needs to behave more touch friendly. Don't understand why your first sentence is needed.

Can't wait to install this on my device when it's finish. Crossing my fingers that it's compatible with some of my old device and give a new life on those device. The music apps look awesome

930 owners check you might get the update my 930 is downloading something

God. Can't they move the tiles down a bit.

One can only hope, couldn't have gotten much worse!

Warning... Anyone who comes across a leaked build of 10056 should stay far away from it. It has LOTS of major issues. Wait for the next official push to the fast ring for Insiders. You have been warned.

Yes, I can confirm. Autohide taskbar has never worked great since win 8 but now its real laggy and sometimes wont pop up at all. Project spartan freezes quite a nit in this build and cortana is broken again for me (recognizes my speech but no audible responses. The build looks good though. New news app is much improved for desktop because it no longer uses hub layout, but I would rather have hub version for touch.

How about flac files? Still can't find those in xbox music...

Tablet mode should be 8.1 start screen, just makes sense.

Microsoft had been slow getting updates for the previews out to the users and now it seems they have the foot is flat to the floor... so much exciting stuff in this latest build. The end of the year can't come fast enough to see the final version of Windows 10. PS... I love how Microsoft seem to have stolen the thunder of the Apple Watch and it's online pre-orders. News feeds seem to be chock-o-block full of MSFT & Windows goodness! :-)

Still the taskbar in tablet mode! I postpone my purchase of a new Surface Pro until it is sure that the taskbar won't show up in tablet mode. Otherwise I'll switch to the Apple camp to get a decent touch experience.

Definitely. The hell do we need taskbar om tablet mode. Get those taskbar icon functionality on notification too. Solves the day.

The taskbar in tablet mode is very good idea!

Why? They can integrate Cortana on the start menu. The taskbar icons need a workaroubd on the notif center and that's it.

Owning a Surface Pro 3 and Surface 2 4G I agree that the Start Screen as is works perfectly. Nothing more needed. But, some prefer the Desktop mode and currently you can choose which to open with and change round at will. But, if they are merging the two to the above then big mistake. I think sticking a Start Menu on to the left of the Start Screen looks ugly and messy and is simply not needed. The option to choose Start Screen (without a Start Menu) or Desktop (without a Start Menu) is perfect. The option to include a Start Menu in both should be an option too. The option to include a Taskbar on either should be an option too. But imposing the Taskbar and Start Menu on the Start Screen is a major mistake!

"You can swipe in from the left to access recent apps" Guys, can someone tell me what exactly this means? Does this mean it's got the old 8 task switching back? Or is this referring to Task View, as in older 10 builds?

The notification did not replace Charms, yet. There is no shortcut for tablets to take a screenshots. Enlighten me if I'm wrong.

Folks for Windows 10 to be on devices Microsoft's OEM partners want to sell to the back to school shoppers crowd. Microsoft has to have a Release to Marker (RTM) version ready byAugust 1st 2016. so Microsoft's OEM partners can have it on new devices to test how well it works. I expect us Windows 10 Tech Preview users to get new Builds every month. The July build should be almost an exact version of the Microsoft Windows 10 version that Microsoft's OEM partners will get to put on devices they intend to sell to the back to school shoppers. The July build will be the most criticle one Windows 10 tech preview users will use that Microsoft will want to know what Windows 10 Tech Preview USERS THINK about how well it LOOKS and WORKS. We are coming fast into the Window 10 ERA. I think it will be a successful Operating system that People will use. Of course the Old Gaurd Desktop fans that do not like Tiles style "Windows App" will BITCH ABOUT IT but at least it will be an Operating system they CAN LEARN to use with out much trouble

Funny, seems like my feedback on touch mode to Microsoft paid off...

Just curious, if the charms bar is gone, how do you get to the start screen on W10 Tablet mode?

If these leaks are really "leaks" then Microsoft has a very poor security.

A desktop OS, with a thin task bar along the bottom........for tablets? Yeah, *that'll* go over well.

Is it just me or is the wallpaper shown in the video and screenshots the lamest wallpaper ever? Maybe the guy is using his 8 year-old daughter's PC for testing W10? Anyway, tablet mode is the only mode I'm interested in. As far as I'm concerned, W8 was close to perfect, for both desktop and tablet use. Everything they have done since has made it worse. e.g. I don't want a taskbar when I'm in a Modern UI app, it just gets in the freakin' way all the time, and I don't need to see my Modern UI apps on the Desktop taskbar, either. I didn't see anything in that video that makes W10 look better in any way, except for the option of a dark theme (finally).