Learn how to give vital first aid with the official St John CPR New Zealand app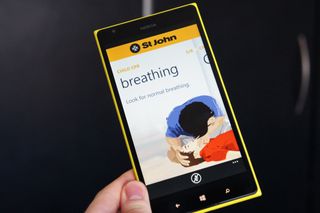 St John New Zealand has just released an official app on the Windows Phone Store. The charity operates in multiple countries, including the UK where a Wales focused app is already available. Much like its Welsh counterpart, this new app aims to teach Windows Phone consumers on how to provide vital CPR to friends, family and others.
Covering 90 percent of the population in New Zealand, it's a lifeline service offering first aid training and ambulance services where required. The apps teach life-saving skills of cardio-pulmonary resuscitation (CPR), providing invaluable knowledge just in case it's needed. Here are some features of the app:
Adult, Child and Infant CPR tutorials
Beeping and vibrating CPR Timing Assist to help you with consistent chest compressions
Instructions can be spoken by your phone.
Set up your own emergency services phone number – useful when travelling abroad
CPR videos from Dr Tony Smith, Medical Director at St John New Zealand
Content available in the app is of high quality with both visual and audio walkthroughs covering the CPR tutorials. The app also allows users to donate directly to the charity, as well as contact the emergency line. We recommend you check the app out if you're interested in learning first aid. Best of all, it's free.
Thanks, Sarang, for the heads up!
Windows Central Newsletter
Get the best of Windows Central in your inbox, every day!
Rich Edmonds was formerly a Senior Editor of PC hardware at Windows Central, covering everything related to PC components and NAS. He's been involved in technology for more than a decade and knows a thing or two about the magic inside a PC chassis. You can follow him on Twitter at @RichEdmonds.
Wooh! First to comment and I'm from New Zealand

Nice app, btw I m a doc..

WP is definitely lacking in medical, EMT, and firefighting apps.

Health & fitness is also best app to check out diseases, symptoms,.

Don't say about medical health & fitness is best app for medical in all platforms.....

second to comment This is new.....

So many official apps lately :)))

Windoes Phone on the roll with official providers, lets hope full Bing and 8.1 is released this month

Compression-only CPR (to the beat of Stayin' Alive) replaced the compression-breath method 2-3 years ago. The updated method hasn't made it to New Zealand? Sources:
Dozens of friends and coworkers at assorted medical institutions
American Heart Association: http://www.youtube.com/watch?v=0HGpp6mStfY
British Heart Association: http://www.youtube.com/watch?v=ILxjxfB4zNk

Just did a First Aid course through DHL UK and I agree.

"CPR with rescue breaths should remain the gold standard but if someone is untrained, or unsure about how to give rescue breaths and chest compressions, Hands-only CPR is still more likely to increase a casualty's chance of survival." http://www.bhf.org.uk/heart-health/life-saving-skills/hands-only-cpr-faq.... It hasn't replaced it.

There's also some good info about it on wikipedia http://en.m.wikipedia.org/wiki/Cardiopulmonary_resuscitation don't for a second think breaths have been replaced.

Every person should know how to do CPR. You never know when you have to save someone's life.

Very good point. My job requires it.

What about the United Kingdom of Great Britain? This app is very professional but I would like to see the same for my country.!

Who the hell says "United Kingdom Of Great Britain"?? Oh. Someone who puts their middle initial in their name that's who. :P hehe. Just winding you up mate. But seriously. Noone says that. I lived in Scotland for 12 years so I should know. Just say "UK" mr posh. :P

Also, if you are going to say UNITED kingdom you might not want to forget the part that's united with great britain (hint: Northern Ireland) :P

Pretty sure I've seen the exact same app but with Wales instead of New Zealand. Good to have.

There is another one St John Cymru Wales http://www.windowsphone.com/s?appid=e63c9543-7b6c-4364-ace3-a1eaa0eb4968

This is something that should be taught in school. I would rather see my kids coming home and telling they are learning CPR than dad we have sex education today grade 5