Lenovo announces new ThinkPad E Series PCs for businesses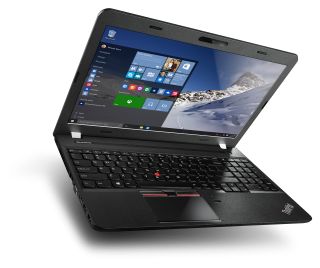 Lenovo today announced a new portfolio of laptops and desktop computers specifically built for small and medium businesses. The ThinkPad E Series joins the S Series of desktops that include all-in-one solutions. Newly announced 14-inch and 15.6-inch laptops offer solid performance, matched with mobility and features tailored for business users.
The new ThinkPad E Series comes with optional fingerprint security, up to nine hours of battery life for when outside the office, current-gen Intel and AMD processors, 16GB of RAM and SSD solutions, as well as the Intel RealSense camera for use with 3D apps and facial recognition suites.
The three desktop models, Lenovo S and Lenovo S200/S500, come in a variety of configurations to cover numerous requirements. With the former, you're looking at an all-in-one desktop with the option of a 19.5-, 21.5- or 23-inch screen (with optional touchscreen support). The S200 by Lenovo is a tower while the S500 is a small form factor PC, both ideal for those looking for traditional desktop setups.
The ThinkPad E460/E465 will be available from November, starting at $549 and $449 respectively. The E560/E565 will set you back by $549 and $479. The new desktops will be made available in select markets from Q4 2015, as well as the Lenovo M41, E41, E51, B41 and B51 laptops.
See the press release below for more details.
New ThinkPad and Lenovo PCs Extend Small Business Choice
ThinkPad E Series offers perfect balance of performance, design and value
Feature packed Lenovo desktops and laptops deliver productivity and style for the budget-conscious business
BERLIN, Germany – September 1, 2015: Lenovo (HKSE: 992) (ADR: LNVGY) today announced its latest portfolio of laptops and desktops specifically designed for the small and medium business. Loaded with the latest technology and stylish designs, the portfolio includes the ThinkPad E Series and S series desktops including elegant all-in-ones. Small and medium businesses are looking for PC solutions to reduce IT headaches and increase efficiency and collaboration between employees in the office and on the road. They need to keep business data safe and ensure critical data protection as they look towards expanding their business information and services to the cloud.
A Perfect Balance In and Out of the Office - ThinkPad E Series
The trustworthy and reliable ThinkPad E-Series, available with 14-inch and 15.6-inch anti-glare displays, offers strong performance, mobility and features for small business users seeking leading edge technology that addresses their needs and offers incredible value.
Optional fingerprint security to protect from external threats and facilitate PC access by allowing users to create more complex and secure passwords linked to their fingerprint.
Up to nine hours of battery life for virtually all day performance out of the office.
The latest generation Intel and AMD processors offering up to ten percent raw performance increase and up to thirty four percent for integrated graphics over predecessors.
Power users will welcome the optional inclusion of discrete graphics, up to 16 GB of memory and solid state storage for increased muscle and efficiency. Flexible ports including three USB3, one HDMI and a Gigabit Ethernet for easier remote access and management in the office.
The ThinkPad E560 features an optional Intel RealSense Technology 3D camera. With an ever increasing number of 3D applications to support design and creativity, collaboration and facial recognition security, the possibilities are practically endless.
ThinkPad E series is also kinder to the environment with Energy Star 6 and GreenGuard compliance and EPEAT Gold worldwide certification.
Finally, Lenovo offers a wide selection of warranty upgrades, services and enhanced support options to protect customer investment, manage total cost of ownership and reduce those IT headaches.
Design and Budget Conscious Essential Computing
The latest Lenovo desktops and laptops are packed with features and stylish designs for businesses looking for excellent value with business-class features to ensure a secure and efficient working environment.
Featuring the latest Intel or AMD processors, these updated models include solid state drives and discrete graphics in selected models and WiFi and Bluetooth for easy connection to wireless networks and peripherals, perfect for open office or reception environments and retail premises.
The desktops offer a variety of display sizes and configurations and include powerful security features such as Smart USB protection and Lenovo Bluetooth Lock:
Lenovo S series all-in-one desktops offer sleek and stylish designs with versatile performance and affordable value. Available in a selection of screen sizes, including 19.5-inch and 21.5-inch or 23-inch full HD displays with optional touchscreen to take best advantage of Windows 10.
Lenovo S200 tower desktop and S500 small form factor are ideal solutions for customers looking for classic desktops with large storage options and upgrade flexibility. The compact small form factor S500 is versatile and twenty six percent smaller than typical small factor desktops.
Pricing and Availability
ThinkPad E460 and E465 will be available from November with a starting price of $549 and $449 respectively. ThinkPad E560 and E565 will be available from November with a starting price of $549 and $479 respectively.
Lenovo S200z, S400z, S405z and S500z all-in-one desktops will be available in selected markets from Q4 2015. Please contact local representatives for pricing.
Lenovo S200 Tower and S500 small form factor will be available in selected markets from Q4 2015. Please contact local representatives for pricing.
Lenovo M41, E41, E51, B41 and B51 laptops will be available in selected markets from Q4 2015. Please contact local representatives for pricing.
For the latest Lenovo news, subscribe to Lenovo RSS feeds or follow Lenovo on Twitter and Facebook.
Rich Edmonds is Senior Editor of PC hardware at Windows Central, covering everything related to PC components and NAS. He's been involved in technology for more than a decade and knows a thing or two about the magic inside a PC chassis. You can follow him over on Twitter at @RichEdmonds.
I just bought the Lenovo ThinkPad E550... Lol.

And you got spyware and malware as a gift too

Lenovo has started that the ThinkPad line has not received any of the software in mind.

They just got caught sneaking it back in through a BIOS exploit. Pretty frustrating, as these are some pretty nice machines.

I am getting used to using a touch screen and active digitizer in all my devices; I wonder if some of these models will include such features

Look like good budget offerings. Only thing I can think of is a criticism is no usb c... But I've got an eye on an alienware 17... Different bracket but I love well made work horses, and these seem like solid upgrades.

My god those are ugly. HP is so much better for business notebooks. Go look at something Folio 1040 for example and they're a league of their own.

The folio books look great, though I prefer the chunk of the elite books ;) the Dell precision range is fantastic looking also - these are work horses, and budgeted cheaply, for Enterprise, so perhaps the bland look is ok ;)

Well I think the Lenovo T or X series is awesome. My T420 still does a wonderful job

Thats's the issue I have with companies like Lenovo; They continually put out these bland black computers when consumers and enterprise customers are one in the same; We all want good looking machines. It's time that Dell, HP, Lenovo, etc stop blurring the lines and sell me what I want instead of shoving ugly black latitudes on us. For example, I purchased about 100 of the Optiplex 9010 & 9020 AIO units which are nice silver with relaxing hindges. Well now they replace those with the 9030AIO which are ugly black plastic with fixed hindges. People buy Apple becaus of the beauty, not necessarily the OS (Techies might, but not average consumers). I don't want cheap plastic ugly units in my organization, I need beauty and power!

Folio has poor battery life

I like Lenovo laptops, but they don't have enough selection.

They one thing I don't like about my Lenovo laptop is how small the trackpad is looks like they're going to remedy that soon.

Rich - You said "current gen Intel and AMD processors". The press release says "latest generation". That's a big difference. If you are going to provide value-added here, you should be able to tell us *which* generation - 4th gen (haswell), 5th gen (broadwell), or 6th gen (Skylake). This is incredibly relevant and important information.

Maybe the second number in the model is the Intel generation? E550 was broadwell, so E560 would be Skylake? I can't imagine them announcing new models now that do not use Skylake.​

Spec sheet is available here: http://news.lenovo.com/article_display.cfm?article_id=2039 Definitely Skylake (6th gen). Notably absent: USB C. Not shocking, but I'd like my next laptop to have it. Also, you can only get the RealSense camera on the 15.6" model. That's too big for me.

Comes with the usual Lenovo bloatware/malware?

Now imagine... ThinkPad Yoga E!
Windows Central Newsletter
Thank you for signing up to Windows Central. You will receive a verification email shortly.
There was a problem. Please refresh the page and try again.