Lenovo launches ARM-powered Miix 630 for $899
The third entry in the initial round of Windows 10 on ARM PCs is now available for $899.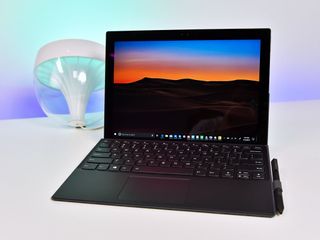 Lenovo has lagged behind HP and ASUS (opens in new tab) in bringing its first Windows 10 on ARM PC to market, but it's finally catching up. The Lenovo Miix 630, which is built on Qualcomm's Snapdragon 835 platform, is now available for $899 (opens in new tab).
Like its HP and Asus counterparts, the main highlight of the Miix 630 is the Snapdragon 835 platform. The chip is extremely power efficient, allowing the Miix 630 to hit battery life estimates of upwards of 20 hours. It also enables a persistent LTE connection, along with instant-on capabilities, which let you immediately power up from standby mode – much like how your smartphone works.
In terms of its other raw specs, the Miix 630 includes a 12.3-inch 1920x1080 IPS touch display, 128GB of storage, and 4GB of RAM. There's also a 5MP front-facing camera, as well as a 13MP rear shooter. The design of the device is similar to Microsoft's Surface line, using a detachable keyboard in combination with a kickstand to stay propped up. There's also a USB-C port on board for charging and data, along with a microSD card slot.
Due to the need for an emulation layer to run traditional desktop apps, the first generation of Windows 10 on ARM devices don't quite match their Intel counterparts in terms of performance, but they're a solid start and should work well for most tasks. Expect further iterations built on the upcoming Snapdragon 850 and further chips to come much closer to matching typical laptop performance.
The Lenovo Miix 630 is available now from Amazon, the Microsoft Store, and Lenovo for $899.
Get the Windows Central Newsletter
All the latest news, reviews, and guides for Windows and Xbox diehards.
Dan Thorp-Lancaster is the former Editor-in-Chief of Windows Central. He began working with Windows Central, Android Central, and iMore as a news writer in 2014 and is obsessed with tech of all sorts. You can follow Dan on Twitter @DthorpL and Instagram @heyitsdtl.
I like Lenovo for their risk taking (Lenovo Yoga Book - still my daily companion), but sometimes they baffle my mind. Since they were last and the SnapDragon 850 is pretty out, they should have just shelved this to use a better chip. Especially since its not budget friendly and lacks 64 bit (x64) support out the box. I hate to say this, but....fail. All 3 ACPC's get points for taking a risk, but they're so overpriced they will not sell well, if at all. Every one of these should only half the price at most.
Sprint has the right idea, enticing you with essentially 6 months of free data and that would be the impulse buy winner here if the price was $450 instead of $900. Same goes for the HP and Asus models.....

"and lacks 64 bit (x64) support out the box"

That's not accurate, actually. It runs recompiled x64 apps if available. Re: price, value, and data, well these are soft-launch devices meant to get them "out there" for feedback. It's early adopter stuff, which is fine.

"and that would be the impulse buy winner here if the price was $450 instead of $900"

Sorry, but you're drunk. Surface Go is $399. It has half the storage and slower (eMMC), no LTE, no keyboard, no pen, no DDR4 RAM, and a display that is 2.3-inches smaller. The fact you just think all of the above is worth $50 is severely out of whack with economics. Were you to increase the Go's display by 2.3-inches, add LTE, double the storage, upgrade that storage to eUFS by Samsung, toss in a pen, add a keyboard/folio cover, put in DDR4 RAM you would easily drive the Surface Go's cost to $1,000 or higher. The problem here is perception. You think all that extra stuff for Miix 630 is just free stuff or no big deal. That's just wrong. Were HP or Lenovo to just sell this tablet part (and reduce the internal specs, thereby performance) they could easily drive the price down to $399. That doesn't make it actually cheaper though - and everyone who has bought a Surface Pro 100% knows this when they get the final receipt. This is all demonstrable too: HP Envy x2 (ARM) = $999 with Windows 10 Pro (on-sale for $899) HP Envy x2 (Intel) = $1,150 with Windows 10

Home

These early ARM devices are - let's just say - premium unibody designs. They're not cheap, nor are they meant to be.

All that is great but doesn't change the fact that these won't sell at this price point. WoA is setup for failure. These need to be budget devices to drive sales and adoption of the ecosystem. These need to be $299. If that means no keyboard and less storage, so be it. Microsoft needs to drive adoption or else it is just a matter of time before they give up due to low demand.

For $399 you are getting things like the Surface Go, but still you expect a much faster 12inch Snapdragon based device to be $299? Not gonna happen...even if you remove pen, LTE and keyboard these are still premium devices.
I am not saying that you cannot possibly build a cheap ARM based device with weaker SoC say at the performance level of the Surface Go - but currently Microsoft only supports the higher end ARM SoCs.
I am also convinced, that for less than 100$ more than the Surface Go Microsoft could have released a Snapdragon 845/950 based devices - which i would have considered the best strategic move.

Surface Go isn't going to be faster, especially when running legacy Windows apps. If Microsoft wants WoA to be successful, unlike last time, they need to price these competitively. The performance just isn't there for a near $1000 device.

Oh the performance is there, i am running many applications faster than many 15W actively cooled devices on my Envy X2. But thats not even the point i bought the device not particularly for performance but for instant-on/always connected capabilities as well as long battery duration - something i do not get from any other Windows tablet be it $1000 or more.
Besides its not Microsoft who determines the prices but the OEMs. In this particular case i am extremely happy, that premium ARM devices are available - because i would never buy anything less.
Would it be better if there would be more ARM devices at lower price points? Sure - if this comes as addition to these premium devices - why not? But saying these devices are too expensive is just stupid - you should rather complain about missing cheaper options.

Your experience doesn't match most of the reviews for these devices. If Apple can sell a higher quality device for $329, I don't see how they can hope to compete with these devices. Apple will sell tens of millions of iPads this fall while Microsoft sells thousands of WoA devices. Guess which one developers will take notice of. This is Microsoft's locked down, highly controlled platform. It is also a new platform. It is up to them to set the expectations and I would even argue the precedent. The Surface Go should have been the first WoA device and at the same $399 price point. Not having a Surface Go on ARM shows their dedication and faith to the platform. Surface Go is the perfect device for ARM. Don't be surprised if they drop support within the next year or two.

My Experience does not match the reviews? Are you totally blind? Any review out there used emulated benchmarks to determine performance - not a single one ran a native benchmark. Now that native benchmarks are available - anyone will come to the same conclusion as me. Besides Microsoft can not possibly effort to drop support, unless they want to drop Windows. Not supporting the dominant and most efficient architecture is equal to the death of Windows in the long term. In addition of course, WoA is not more controller or locked down than any other Windows version. It just literally is Windows for ARM - where the target architecture is the only difference. People running WoA on their Raspberry PIs. The only thing which drove Microsoft to put an Intel core into a passively cooled device is short-term thinking. But its not the first time they do something incredibly stupid.

Not sure what you are talkin about but i am running almost exclusively 64 bit apps on my Envy X2. And why are you assuming they are not going to sell well? Only because you would not buy one - i did not hear any reasonable argument supporting this hypothesis.
Of course as with most premium devices, they shift less volume than the budget devices. Before i bought the HP Envy X2 i was using an iPad Pro LTE - hardly a bargain either.

FYI We shot the video review for this on 7/10, so I'll have my review posted early next week. It's basically the same reference design as HP Envy x2 but with Lenovo's spin. Some good, some not so good, but overall, if you're into this form factor/ARM it's a solid choice.

I'm curious when Microsoft will join the dance and with what implementation exactly - I could not wait and just got myself a Surface Pro (been a longstanding dream).
If (when) they release an ARM-based Surface it will become interesting and I will be waiting for that one instead of the partner versions. Got burned already with a Miix 700, so no matter the rave reviews I will steer clear from Lenovo from now on.
Dan, did you hear anything about a Microsoft ARM device so far?

Only thing we heard about ARM from MS was Andromeda, which makes sense as a solid differentiator.

What about the SD 1000 ARM. That would not be in Andromeda, could be something Microsoft is working on, that would still be on ARM. Or do you think it will be left to the OEMs?

Pity they didn't go for the snapdragon 840 as it's been out for awhile now. I guess they went with the tried and tested soc hence the 835 was chosen.