6 things ThinkPad fans will love about Lenovo's 25th anniversary edition (and 3 they won't)
By Cale Hunt last updated
To celebrate 25 years of ThinkPad supremacy in the business world, Lenovo created and released an anniversary edition that is a throwback to models from the 1990s.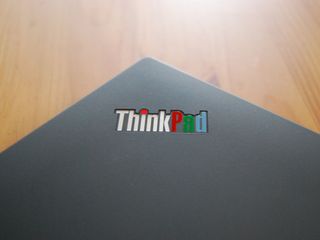 For longtime ThinkPad fans, the ThinkPad 25 has a lot to love, but there are also a couple of things that might be a letdown.
Here's a look at the pros and cons of this unique device.
A former cubicle jockey's awkward ode to the ThinkPad
What you'll love about Lenovo's ThinkPad 25
You'll love that retro look
As soon as you open the box, you'll notice how the ThinkPad 25 has a multi-colored logo with a red LED dot over the "i" in the corner of the lid. The inside palm rest has the same logo, without the red LED.
There's a power button in the middle of the chassis above the keyboard, plus there are dedicated volume and audio buttons next to it. Around the arrow keys are depressions that your fingers slip into, and the sloping body around the keyboard is a nice touch after seeing some ThinkPads of late coming with a completely flat inner chassis.
You'll love the TrackPoint nub
Most ThinkPads these days ship with flat or slightly-rounded TrackPoint nubs that seem to be made from some sort of rubber or plastic. The ThinkPad 25, however, has the original red button that feels mildly fabric-y and offers excellent grip for your pointing finger.
Comparing a modern ThinkPad X1 Yoga's TrackPoint with the one on the ThinkPad 25, it seems like the old nub works much better. You don't have to press as hard, and tracking seems to be much more precise. As a bonus, the ThinkPad 25 comes with three other TrackPoint nubs when the original one wears down and gets dirty.
You'll love the fingerprint reader and IR camera
Business laptops usually have some extra forms of security due to the everyday handling of sensitive and important data. In this case, Lenovo included an IR camera above the display that lets you log in quickly with Windows Hello.
If you'd rather rely on fingerprint security, there's a reader tucked in on the right side of the keyboard. It's also compatible with Windows Hello, so you can rest assured that without your face or finger, no one will be getting into your laptop.
See our Windows Hello Hub for more information
You'll (probably) love the selection of ports
The port selection on the ThinkPad 25 is modern and plentiful. You have three USB-A 3.0 ports, a USB-C Thunderbolt 3 port, an HDMI port, an RJ45 Ethernet port, a 4-in-1 card reader, and a 3.5mm audio jack. On the bottom is a docking port for a ThinkPad dock (opens in new tab).
It would be nice to see VGA, DVI, and DisplayPort make an appearance, as there are plenty of people who still need them to deal with older systems. But that's a battle between form and functionality, and to keep the size and weight at a modern number, form won out. Don't forget, that NVIDIA 940MX needs proper venting.
You'll love the display
The IBM ThinkPad 300, released back in 1992, came with a 9.5-inch display with a 64-shade monochrome color gamut. Needless to say, using a retro display on the ThinkPad 25 just wouldn't do.
Instead, Lenovo used a 14-inch, 1080p, IPS touch display with a matte finish that significantly cuts down glare. It would undoubtedly be nice to have a few more display options — especially for anyone looking to save money on non-touch — but what you get looks great in the chassis.
You'll love the keyboard
Coming from the modern ThinkPad keyboards, including the Wave option in the X1 Yoga, the retro, seven-row keyboard on the ThinkPad 25 seems a bit crowded. However, once you start typing on it, you might wonder why it ever changed. The key travel is perfect, keys are soft but have a bit of a click, and the blue accents (including a blue Enter key) are a true throwback for easy visibility.
After using this laptop as an everyday driver for about a week, it will be tough going back to a regular, modern keyboard with chiclet keys.
What you will NOT love about Lenovo's ThinkPad 25
You won't like the lack of LTE
The ThinkPad 25 is modeled after the modern T470 (which we favorably reviewed), which includes the option for a Qualcomm Snapdragon X7 LTE-A mobile broadband card. This essentially allows you to pop a SIM card into your laptop and use internet wherever there's mobile data.
The decision to not include it is a bit weird, but, then again, modern cell phones were nothing but a dream back in the '90s.
You won't like the lack of optical drive
Considering a lot of refurbished ThinkPads are purchased because they include an optical drive, not including one here might turn away a lot of people. This lack of drive is no doubt again mainly due to size constraints.
There are a lot of ports here and the chassis is relatively thin at 0.79 inches (19.95 mm), but there are some people who'd rather have a larger chassis that included a drive.
You won't like the price
The ThinkPad 25 is modeled after the modern T470, which has a starting price of about $735. The ThinkPad 25, on the other hand, has one configuration that costs about $1,900.
For a fair comparison, you must look at a similarly configured ThinkPad T470. With nearly the same hardware — the ThinkPad 25 has a NVIDIA 940MX GPU, which trumps the Intel HD Graphics 620 in the T470 — same display, and same size storage, you're looking at about $1,500 for a T470. That's about $400 cheaper than the ThinkPad 25.
Is the retro look and feel of the ThinkPad 25 worth the extra money? That's up to you.
More resources
Be sure to check out our collection of laptop reviews, and keep an eye out for review of the ThinkPad 25, coming soon.
See the Windows Central Laptop Review Hub
Cale Hunt is a Senior Editor at Windows Central. He focuses mainly on laptop reviews, news, and accessory coverage. He's been reviewing laptops and accessories full time since 2016, with hundreds of reviews published for Windows Central. He is an avid PC gamer and multi-platform user, and spends most of his time either tinkering with or writing about tech.
I'd be a fan if my work didn't issue me the crappy edition every 5 years.

IMO I think they should have taken a modern chassis like the X1 Carbon and then added the little touches and accents seen in the TP25. Either way, nice machine, I would rock it any day of the week and twice on Sunday :-)

X series would hardly be a throwback. T series has been the defacto business machine for ages.

When they did the surveys, basically the people generally tended towards a T series machine rather than an ultra compact. Unfortunately a few of the things people voted for didn't make it. Glad to see the keyboard though.

2 other things, I don't like is the use of an old gen nvidia graphic card and that Lenovo didn't go with the new 8th gen quad core 15 watts Kaby Lake-R cpus. These 2 last items are why I won't get this laptop.

The one reason I can't get away from ThinkPads is they seem to be the only laptops that still have remotely decent keyboards. I h8 chicklet keyboards! I don't care if the laptop has to be 2mm thicker because of the keys... it's a trade-off I'm willing to make. My ThinkPad Yoga 14 doesn't have an optical drive and I don't miss it... CD's and DVD's are so 2000's ;-)

I miss the track point. I hate touchpads, still do.

I still don't get how people manage to use that

On my first Thinkpad, my co-worker made me commit to one week of using the trackpoint ONLY. So I did. And now, I cringe at trackpads. They're terrible. Once you get used to the trackpoint, there's no going back. What many haters don't realize that you can type, mouse, and SCROLL documents in ANY direction (not just up down left right, you can do any diagonal direction if you wish. Heck even circles if you want). And you can do that all WITHOUT EVER LEAVING HOME ROW. It's super efficient and more comfortable.

The Trackpoint's primary use case is mobility.
It's the only way you can point while sitting in a cramped airplane and/or conference seat, with your wrists sitting comfy on the palmrest.
With a touchpad you need to either be Kate Moss-thin or have a dislocated wrist that moves 270 degrees.
Or, well, tilt your laptop. In other words, people use that thing when they can't use anything else.
That's why ThinkPads and Latitudes and Elitebooks ship with both pointing devices - except Dell's 12" models - I suppose the reasoning there is that they're small enough that you have room for your wrist. Then again, some of us use the pointing stick all the time. I do.
I just like it better.
I'm accustomed to it.
I don't need to move away from home row.
I don't need to move my finger, just exert the smallest pressure.
What's not to love?

Are Lenovo laptops really secure nowadays? Are Lenovo customers truely free from Lenovo's push programs?

ThinkPads (and ThinkStations) are made by a different division that Lenovo bought from IBM a few years ago.
They always have been rock-solid, irrespective of what Lenovo might or might not be doing with their phones and consumer products.

"However, once you start typing on it, you might wonder why it ever changed."

Exactly what I was thinking when the first Thinkpad chiclet keyboard came out. It was a big WTF moment for me. I wish they'd go back to the superior old school keys.

Why would any business user love a 16:9 screen?

Because it's the best aspect ratio ever? Seriously, try to multitask on that 4:3 nonsense...

I'm 110% sure he means it should have a 16:10 display.

16:10 or 3:2 is perfect and the only ratio I'd consider on a notebook. 16:9 is usually found on lower end rubbish or on notebooks pretending to be premium class.

16:9 is waayyyyy better for multitasking. Even better would be one of those new "ultra wide" panels, but they're hard to fit in a laptop. With 3:2/16:10/or any other "square" resolution you can't put 2 windows side by side nearly as efficiently as with 16:9.

"You won't like the lack of optical drive" That line made me cringe... Who uses optical disks anyway? I haven't used one in years... It's pretty much the same as saying "you won't like the lack of floppy drive". Stupid, mildly put.

No, you don't use them. That is the difference. Not everyone has their movies via a streaming service for instance. Saying that nobody uses them is to quote you "Stupid, mildly put." But then again the reviewer is guilty of the same, announcing that "you" won't like the lack of it, stating it as if everyone wants or needs them.

Ok, then find and quote the place where I said "nobody uses them". Because if I did, my memory is failing me.

I do I back all my photo, video, music, documents to DVD or Blu-ray in case of hard drive failure

Then probably nobody has told you that DVD-R fails just as often if not more, as HDD?

Everyone has their own preferences I like having the option

This is Windows Central who always have one foot stuck in the past with odd claims like this. WIndows Central is very much like Microsoft in that they really don't understand what people want in 2017. You only have to watch WC hardware reviews to see where I am coming from.

Most people have an affirmation bias, it's normal and expected. One should make their judgement based on facts, statements and opinions through critical analysis. Sadly though... that appears to be dwindling pretty rapidly.

LOL I think I can do without the optical drive. Didn't even put one in my most recent desktop where space is not a concern.

I think my first model was a T22, back in early 2000s...it was an amazing machine and I have owned nothing but either an X or T series...they are tough, durable and work horses, the only drawback of all laptops of the day was often heat...still a sweet machine, but the price, these days, may be a bit steep; nevertheless, a great brand...I especially respect that Lenovo has kept the ultra nav, while most laptops have dumped it...I stronly dislike the touch pads...cheers.

"DisplayPort....Older System"?!? Since the price is way up there, for a bit more they could have included their really good USB-C dock, which has multiple DisplayPorts among others, as part of a kit.
Windows Central Newsletter
Get the best of Windows Central in in your inbox, every day!
Thank you for signing up to Windows Central. You will receive a verification email shortly.
There was a problem. Please refresh the page and try again.