Lenovo ThinkPad X1 Yoga (2017) review: Take a good thing and make it convertible
By Cale Hunt last updated
The second-generation ThinkPad X1 Yoga is back and better than ever, but you'll need deep pockets to get your hands on this convertible gem.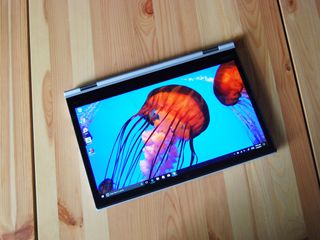 (Image credit: Windows Central)
Lenovo's convertible ThinkPad X1 Yoga is back for a second generation, bringing a redesigned keyboard, a new selection of ports, and a bunch of updated hardware inside. Think of this laptop as the convertible version of the formidable ThinkPad X1 Carbon, but with a couple of extra steps in a direction away from what we imagine as a classic ThinkPad.
Are those steps a bad thing? Will die-hard ThinkPad fans feel stiffed? Let's take a close look at whether or not the ThinkPad X1 Yoga is worth your time and money.
About this review
Lenovo loaned Windows Central a review unit of the second-generation, 14-inch ThinkPad Yoga X1. This specific configuration has an Intel Core i5-7200U processor, 8GB of DDR3 RAM, and a 256GB solid-state drive (SSD), and costs about $1,680.
Lenovo ThinkPad X1 Yoga hardware and specifications
The X1 Yoga doesn't have a ton of low-end configuration options available, making the starting price quite high. Here's what's on offer.
Category
XX
Processor
Dual-core
Intel Core i5-7200U (up to 3.1GHz)
Intel Core i5-7300U vPro (up to 3.5GHz)
Intel Core i7-7500U (up to 3.5GHz)
Intel Core i7-7600U vPro (up to 3.90GHz)
Storage
256GB/512GB/1TB PCIe-NVMe SSD
RAM
8GB/16GB LPDDR3-1866MHz
Display
14-inch FHD (1920 x 1080) IPS, touch, glossy
14-inch WQHD (2560 x 1440) IPS, touch, glossy
14-inch WQHD (2560 x 1440) OLED, touch, glossy
Graphics
Intel HD Graphics 620
Ports
Two USB-C Thunderbolt 3
Two USB-A 3.0
Mini-RJ45 Ethernet
HDMI 1.4
microSD card reader
Micro SIM
3.5mm jack
Speakers
Dual 2W speakers
Wireless
Intel Dual Band Wireless-AC 8265
802.11ac (2 x 2)
Bluetooth 4.1
WWAN
Qualcomm Snapdragon X7 LTE-A (optional)
Camera
Front-facing, 720p
Touchpad
Precision
Pen
ThinkPad Pro Pen
Security
Fingerprint reader
Discrete TPM 2.0
Intel vPro
Battery
56WHr
Weight
2.99lbs (1.36kg) OLED
3.15lbs (1.43kg) IPS
Dimensions
13.11 inches x 9.02 inches x 0.69 inches
333 mm x 229 mm x 17.4 mm
OS
Windows 10 Home
Windows 10 Pro
Color
Black
Silver
Price
Starting at $1,680
ThinkPad meets flexibility
Lenovo ThinkPad X1 Yoga design
The second-generation X1 Yoga's design isn't much different than its older sibling, retaining the convertible design and slim body. The newer carbon-fiber hybrid chassis is just a hair thicker and a few grams heavier, but its stellar build quality is apparent from the start. There are no creaks in the body, there's minimal flex in the lid, and all the parts fit together smoothly. The review unit I received has a silver finish; it feels less like a ThinkPad, but it's an option some will appreciate.
The top of the body is a solid piece with cutouts for the keyboard, which is a step away from standard ThinkPad design with a separate keyboard panel. It takes a bit of getting used to, but I like the look of it now after using it for a week. As always, this ThinkPad has undergone 12 MIL-STD 810G durability tests to ensure it can take a beating and keep on running.
One issue I have — and it is in relation to the new "Wave" keyboard — is with the hinges. They're stiff enough to keep the lid from moving around if you're working in a moving vehicle, but, when opening the lid, there are clicks at about 45 degrees and 110 degrees where you can feel tension building up before dispersing. These tight spots are the points where the keys start retracting into the chassis, something we'll get into later.
A lot of laptop manufacturers use slimness as an excuse to forego a good selection of ports, but Lenovo understands that people who buy their ThinkPad line need various forms of connectivity. The 14-inch body allows for plenty of spacing between ports so that you won't get jammed up when using multiple peripherals. Two USB-C Thunderbolt 3 ports (one can be used for charging) and two USB-A 3.0 ports live on the left side, and an HDMI, USB-A 3.0, and mini-RJ45 Ethernet port live on the right side. On the back edge of the laptop is also a Micro SIM slot and a microSD card reader. If you're concerned about buying a laptop and having to carry around a separate bag of dongles and adapters, rest assured you shouldn't have that problem here.
One potential issue I spotted immediately was the placement of the fingerprint reader. It sits in the right-hand palm rest, a placement similar to that on the ThinkPad X270. Luckily, the size of the body puts this reader just out of the annoying area where your palm would be rubbing it constantly while typing. You do pass your hand over it once in awhile, but it isn't set very deep and isn't as noticeable as some. On a performance note, the fingerprint reader requires just a single touch to log you in fast with Windows Hello.
Another problem a lot of ThinkPad laptops suffer from is poor speaker sound, often distorted or warped due to the location on the bottom of the laptop. In my testing here, however, sound was full without any distortion at loud volume. There's plenty of volume for watching media with others, but don't expect it to be your primary source of music during a party.
Deep color and a built-in pen
Lenovo ThinkPad X1 Yoga display
Many Lenovo laptop displays suffer from dimness, but the X1 Yoga can hold its own in a sunny room at about 70-percent brightness. Working in direct sunlight is made difficult because of the glossy finish, even at 100 percent. The 14-inch, FHD touch display in this review unit is nevertheless quite attractive. It has wide viewing angles, the picture is sharp, and testing the color revealed a satisfying 96 percent sRGB and 72 percent AdobeRGB. Many ThinkPads come with a matte display option, but not here. If you're going to be using your laptop primarily outdoors, you might want to look elsewhere.
Using the touch function in tablet mode works without a hitch, and there's a built-in ThinkPad Pro Pen that lives on the underside of the chassis where it can charge and not get lost. The pen has 2,048 levels of sensitivity for a satisfying inking experience, and they've done a good job of cutting down on "palm drawing" while inking, something that's extremely annoying when writing or doodling. The pen works as it should, but I find its size a bit too slim to use comfortably for extended periods of time.
The bezel around the display isn't noticeably large and there's enough room at the top for a 720p webcam. I'd say it's just enough bezel to comfortably hold the device when it's in tablet mode. One thing that's noticeable when in tablet mode is the raised hump where the hinges attach. The tablet isn't completely flat, but the raised part doesn't get in the way — it's more of an aesthetic issue.
New design, great feel
Lenovo ThinkPad X1 Yoga keyboard and touchpad
The first-generation X1 Yoga had a "lift and lock" keyboard mechanism that would raise a plate up around the keys when converted into tablet mode. The idea wasn't just to disable the keyboard, but to make it more comfortable to hold as a tablet without wiggly keys under your gripping fingers. The new X1 Yoga has the same idea, but in reverse: instead of a keyboard plate that raises up, the keys retract down into the chassis.
It's really a smart design (and it looks great) that keeps your keys from getting banged up while in stand or tablet mode. It also prevents your keys from leaving smudges on the screen when the lid is closed. The only problem here is that it creates tight spots in the hinges where the retraction begins.
At first glance, the X1 Yoga's keyboard doesn't appear to be classic ThinkPad, but in everyday use, it's proven to be just as comfortable as any other I've used. The keys are backlit keys with the usual cupped design, travel is spot on, and everything is spaced well.
The only complaint here, and it's most likely due to the retractable feature, is that bottoming out keys on the deck feels a bit harder than on other ThinkPads that have fixed keys. It's so slight that you won't notice it immediately, but after a couple hours of typing it becomes apparent.
The Precision touchpad is constructed from a smooth mylar, and it's one of the best touchpads I've used so far on a ThinkPad. Right out of the box, the sensitivity settings were spot on, and there doesn't seem to be any rattling or other odd noises when clicking.
You couldn't have a ThinkPad without the TrackPoint and physical buttons, and Lenovo knows this. In testing, it performed as it should, and the buttons had a nice smooth action to them.
Real performance, real expensive
Lenovo ThinkPad X1 Yoga performance
Alongside the Core i5-7200U processor and 8GB of DDR3 RAM is a surprisingly long-lasting battery. From a full charge, I got at least eight hours of regular use the first day, and about 1.5 hours the next day after letting it sit overnight.
That number would no doubt be a bit lower on the WQHD version. Regardless, you'll be able to get through a full workday on a single charge. If you do get caught low, you can get about 80 percent from an hour of charging.
Regarding heat and noise, I only noticed the fan kick on while gaming, and even then it was whisper quiet. Heat was only mildly noticeable on the bottom when under heavy load. Overall, the X1 Yoga took everything I threw at it in everyday use with no standout issues.
CPU
Geekbench 4.0 Benchmarks (Higher is better)
| Device | CPU | Single core | Multi core |
| --- | --- | --- | --- |
| Lenovo ThinkPad X1 Yoga (2nd Gen) | i5-7200U | 3,911 | 7,549 |
| Surface Laptop | i5-7200U | 3,725 | 7,523 |
| Lenovo ThinkPad T470 | i5-7300U vPro | 4,394 | 8,580 |
| Dell Latitude 5285 | i7-7600U | 4,635 | 9,289 |
| Lenovo ThinkPad X270 | i7-7600U | 4,512 | 8,566 |
| Lenovo ThinkPad T470s | i5-7300U vPro | 3,919 | 6,077 |
| Lenovo Yoga 720 | i5-7200U | 3,881 | 7,509 |
| Lenovo X1 Carbon | i5-7300U | 4,139 | 8,311 |
| HP EliteBook x360 G2 | i7-7600U | 4,496 | 8,435 |
| Samsung Notebook 9 15 Ext | i7-7500U | 4,316 | 8,320 |
| Dell Latitude 7280 | i7-7600U | 4,381 | 7,935 |
| Dell XPS 13 (9360) | i7-6560U | 4,120 | 7,829 |
| HP Spectre 13 | i7-7500U | 4,100 | 7,469 |
| Surface Book | i7-6600U | 3,948 | 7,415 |
This dual-core i5-7200U processor hits the marks expected and even competes with some Core i7 CPUs we've tested. Everyday use shows no problems with it, and performance is pretty much smooth sailing.
GPU
Geekbench 4.0 Graphics OpenCL (Higher is better)
| Device | Score |
| --- | --- |
| Lenovo ThinkPad X1 Yoga (2nd Gen) | 19,738 |
| Surface Pro 2017 | 30,678 |
| Surface Laptop | 19,256 |
| Lenovo ThinkPad T470 | 21,276 |
| Dell Latitude 5285 | 21,921 |
| Lenovo ThinkPad X270 | 17,376 |
| Lenovo ThinkPad T470s | 16,635 |
| Lenovo Yoga 720 | 18,185 |
| Lenovo X1 Carbon | 20,932 |
| Dell Latitude 5480 | 21,616 |
| Dell XPS 13 (9360) | 19,410 |
| Surface Book | 18,197 |
| Dell Latitude 7280 | 17,827 |
Intel HD Graphics 620 are integrated here with the CPU. This isn't a gaming machine and shouldn't be treated as such, but you'll get away with some light to medium action. I loaded up Diablo 3 and Minecraft, and they both ran quite well.
PCMark
PCMark Home Conventional 3.0
| Device | Score | Comparison |
| --- | --- | --- |
| Lenovo ThinkPad X1 Yoga (2nd Gen) | 2,773 | Better than 46 percent of all results |
| Surface Pro 2017 | 3,055 | Better than 57 percent of all results |
| Surface Laptop | 2,494 | Better than 40 percent of all results |
| Lenovo ThinkPad T470 | 3,103 | Better than 62 percent of all results |
| Dell Latitude 5285 | 3,079 | Better than 57 percent of all results |
| Lenovo ThinkPad X270 | 3,009 | Better than 57 percent of all results |
| Lenovo ThinkPad T470s | 2,576 | Better than 40 percent of all results |
| Lenovo Yoga 720 | 2,717 | Better than 46 percent of all results |
| Lenovo X1 Carbon Core i5 | 2,965 | Better than 57 percent of all results |
| Samsung Notebook 9 15 Ext | 2,998 | Better than 57 percent of all results |
| Dell XPS 15 (9560) | 3,534 | Better than 71 percent of all results |
| Dell Latitude 7280 | 2,829 | Better than 52 percent of all results |
| HP Spectre x360 15 | 2,472 | Better than 41 percent of all results |
The PCMark Home Conventional test takes a bunch of your hardware and determines how well it works together while performing a number of everyday tasks. The ThinkPad X1 Yoga performed well in the test, and the score is evident in everyday use.
SSD
CrystalDiskMark (Higher is better)
| Device | Read | Write |
| --- | --- | --- |
| Lenovo ThinkPad X1 Yoga (2nd Gen) | 1,253 MB/s | 763.6 MB/s |
| Surface Laptop | 423 MB/s | 237 MB/s |
| Lenovo ThinkPad T470 | 1,079 MB/s | 716.1 MB/s |
| Dell Latitude 5285 | 1,300 MB/s | 1,113 MB/s |
| Lenovo ThinkPad X270 PCIe | 1,049 MB/s | 636.9 MB/s |
| Lenovo ThinkPad T470s | 1,557 MB/s | 1,333 MB/s |
| Lenovo Yoga 720 | 1,904 MB/s | 1,169 MB/s |
| Lenovo X1 Carbon | 1,518 MB/s | 1,188 MB/s |
| Samsung Notebook 9 15 Ext | 1,365 MB/s | 1,213 MB/s |
| Razer Blade Pro | 2,571 MB/s | 2,467 MB/s |
| Dell XPS 15 (9560) | 2,207 MB/s | 1,628 MB/s |
| Dell XPS 13 (9360) | 1,287 MB/s | 794 MB/s |
| HP Spectre x360 15 | 1,128 MB/s | 862 MB/s |
Lenovo offers a Toshiba option only for the 256GB SSD, but there is a Samsung option for the higher sizes that no doubt offers faster speeds. This Toshiba SSD is pretty snappy, but for the price you're paying, it would be nice to have the faster Samsung option across the board.
The bottom line: Lenovo ThinkPad X1 Yoga
The ThinkPad X1 Yoga takes a couple of steps away from the traditional ThinkPad idea — convertible design, glossy touchscreen, silver color, and new "Wave" keyboard — but it also retains pretty much everything we love about the fabled line of workhorses.
It has the ports you need for legacy and future peripherals, it has a battery that lasts through a workday and can charge quickly in a pinch, it has powerful hardware within, and it's built to take abuse.
If ThinkPads have always been your first choice and you're ready for a new experience, the convertible X1 Yoga is a great crossover device that will fit well in both business and everyday situations.
Pros:
Exceptional build quality.
Strong performance.
Keyboard is a typist's dream.
Long-lasting battery.
Display is beautiful.
Cons:
Expensive with no low-end configuration.
"Wave" keyboard causes hinge problems.
Cale Hunt is a Senior Editor at Windows Central. He focuses mainly on laptop reviews, news, and accessory coverage. He's been reviewing laptops and accessories full time since 2016, with hundreds of reviews published for Windows Central. He is an avid PC gamer and multi-platform user, and spends most of his time either tinkering with or writing about tech.
I think Lenovo is the best brand in terms of computers right now...have an 6-7 yr old unit that I still use for work and the damn think has never dissapointed....infact I run R program on it

I loved the keyboard and the "skinlike" texture of the body on the Lenovo Helix -- one of the first 2-in-1 with detatchable keyboard/base...From the specs... I'd like to have seen: * Lenovo, correct the position of the Ctrl-key... PLEASE. For those of us who are touch typist, Lenovo's switching of the Ctrl-key and the Fn-key is a very bad design choice. I use the Ctrl-key regularly, e.g, Ctrl+a, Ctrl+c, Ctrl+v, etc, etc. This is virtually *painful* to do with Lenovo's location of the key, and is close to a NO-DEAL for me * Please allow for up to 32 GB RAM. * HDMI 2.0, please. * SD port, not microSD, please!! SD cards are the standard on most cameras...

Hey, you can easily remap Fn and Ctrl keys in BIOS ;)

If you are a touch typist, wouldn't you use the right Ctrl-key with a, c, and v? Having a Ctrl key on both sides is what keeps me a loyal ThinkPad customer (among other reasons) ever since IBM owned the product. I attempted to switch to a Surface Pro 3 and a Surface Book. Both machines are quite nice, but the lack of a right-side Ctrl key finally pulled me back to the ThinkPad. I am currently using the X1 Yoga Gen 1 and so far it is one of my favorite ThinkPads ever.

i have this in silver and it's pretty awesome, just hella expensive but at least i get my USB C tbolt ports no thanks to the Surface it ships with OPAL 2.0 self-encrypting PCIe SSD but i wish they were compatible with eDrive standard for BitLocker hardware-encryption support it was a tough call between X1 Yoga (2nd Gen) and the 370 but the bigger screen is what i wanted

I currently have the thinkpad carbon x1 (3rd Gen) best laptop I have ever owned. I will probably keep this one for a couple of more years until the battery is below 4 hour usuage. (I am currently at around 6 hours). I saw this computer at the Microsoft Store at Bellevue Square (Seattle area) and the keys feel softer than my 3rd generation X1 and I mean this as a good thing. Typing has some good key travel and the screen was a beauty. The other thing I liked was I felt like the pen is better for writing then on the Surface Pro 4 where I see some lag from time to time. Great review. I didn't see a video review on this but could be the browser. Would love to see a video review!
Windows Central Newsletter
Get the best of Windows Central in in your inbox, every day!
Thank you for signing up to Windows Central. You will receive a verification email shortly.
There was a problem. Please refresh the page and try again.