Lenovo ThinkPad X1 Extreme FHD vs. 4K display: Which is a better buy?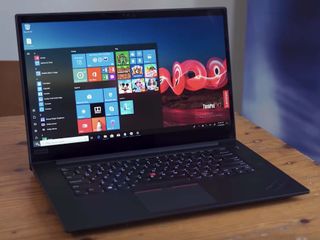 (Image credit: Windows Central)
Lenovo ThinkPad X1 Extreme (Gen 2)
1080p display in two flavors

The X1 Extreme's display can be had in two versions of FHD, one with and one without Dolby Vision HDR 400, giving you a couple of price points to choose from. You won't be able to get an IR camera with the basic FHD model, but otherwise, all hardware should be configurable with the FHD displays.
For
Cheaper than 4K models
Battery lasts longer with lower resolution
All performance hardware still available
Anti-glare for easier viewing
IR camera available with FHD HDR model
Against
No IR camera available with basic FHD model
Basic FHD models max out at 300 nits
No touch function
Lenovo ThinkPad X1 Extreme (Gen 2)
4K IPS or OLED

The X1 Extreme is available in either non-touch 4K IPS or touch 4K OLED. Both have precise color reproduction, though the latter model is superior for those in photography and editing work. You can configure the 4K display with just about any other hardware, but keep in mind you'll see a heavier draw on the battery.
For
Available in 4K IPS or OLED
Stunning color reproduction in both models
Dolby Vision HDR 400 or HDR 500
IR camera for Windows Hello
Suited for design and photography work
Against
Big price jump from FHD
Faster battery drain
GPU isn't cut out for 4K gaming
The four display options — FHD, FHD with HDR, 4K IPS, and 4K OLED — are all built into the same chassis and come with the same ports, the same internal hardware options, and the same battery size. The only thing you won't be able to get with the basic FHD display is an IR camera for Windows Hello. Let's take a close look at these four displays to get an idea of which one works best for you.
Lenovo ThinkPad X1 Extreme FHD vs. 4K tech specs
Swipe to scroll horizontally
X1 Extreme (FHD)
X1 Extreme (4K IPS)
X1 Extreme (4K OLED)
Display size
15.6 inches
15.6 inches
15.6 inches
Resolution
1920x1080
3840x2160
3840x2160
Brightness
Basic: 300 nits
HDR: 500 nits
500 nits
400 nits
Color
72% NTSC
100% AdobeRGB
100% DCI-P3
Contrast
Basic: 700:1
HDR: 1200:1
1200:1
100000:1
Viewing angle
170 degrees
170 degrees
170 degrees
Touch
No
No
Yes
Pen support
No
No
Special bid only
IR camera
Basic: No
HDR: Yes
Yes
Yes
Battery
80Wh
80 Wh
80Wh
Graphics
NVIDIA GTX 1650 Max-Q
4GB GDDR5 VRAM
NVIDIA GTX 1650 Max-Q
4GB GDDR5 VRAM
NVIDIA GTX 1650 Max-Q
4GB GDDR5 VRAM
FHD or 4K display?
The second-generation ThinkPad X1 Extreme from Lenovo comes with four display options to choose from, including FHD, FHD with HDR, 4K IPS, and 4K OLED with touch. Resolution is no doubt the biggest difference here, but there are a bunch of smaller things to be aware of when trying to decide between the four.
The basic FHD model will save you the most money, and it's still an OK display if you're mainly using it indoors — 300 nits brightness can be tough to work with in sunlight — and if you don't have any specialized work in mind. It will suck up the least amount of power out of all three displays, so if battery life is high on your list, it might be quite attractive. There's no pen or touch support here, and it does have the least impressive contrast at 700:1. If facial recognition through an IR camera is important, you'll have to opt for one of the displays with HDR, as the basic model is stuck with a 720p webcam and fingerprint reader.
Stepping things up, you can opt instead for an FHD panel with Dolby Vision HDR 400 for about $60 more. That's not a huge jump in price, and the benefit of a brightness boost and an IR camera for Windows Hello will be worth it for many people. Contrast takes a jump up to 1200:1, which should be noticeable every time you open the lid. There's going to be more draw on the battery, but the tradeoff should be worth it.
If you have an extra $285 or so in your budget, the 4K IPS display will offer a far better picture. It's a sizeable jump in price and battery life will take a hit, but 100% AdobeRGB color reproduction (we tested 98% in our review model) and plenty of brightness is a killer combination if you're interested in specialized work. It doesn't have touch function, but it also lacks a glossy finish that might annoy those working often in well-lit areas.
Finally, the 4K OLED touch model is the most expensive upgrade at about $380 (opens in new tab). It ships from the factory with X-Rite Pantone color calibration, and we tested 100% sRGB, 100% AdobeRGB, and 97% NTSC color reproduction. Lenovo also claims 100% DCI-P3 color reproduction, making this the best option for editors, designers, and creatives who need precise color accuracy. The main downside here is the glossy finish that doesn't play well with sunlight, and you'll no doubt notice more of a draw on the battery due to the touch function. There is the possibility of an OLED display with pen support, though Lenovo doesn't regularly sell them and has the option under a "Special bid only" category.
Note that an NVIDIA GTX 1650 Max-Q graphics card (GPU) is available with all configurations, and if you plan on gaming with the X1 Extreme, it will no doubt feel wimpy trying to keep up with the higher resolution.
Design and features
Aside from slight differences in weight and the lack of IR camera with the basic FHD display, you're going to essentially get the same ThinkPad X1 Extreme no matter which screen you choose.
All models have plenty of ports, including two USB-A 3.1, two Thunderbolt 3, HDMI 2.0, 3.5mm audio, an Ethernet extension adapter port, and an SD card reader. You get the same touchpad, same comfortable keyboard, and a fingerprint reader next to the keyboard, even if your laptop includes an IR camera. This allows you to get the performance you need without having to make an unnecessary jump in display tech and price.
If you're in search of a 15-inch Ultrabook and want something with excellent durability and plenty of extra security features, any X1 Extreme (Gen 2) model should be a worthwhile investment.
The FHD ThinkPad X1 Extreme models will suit a lot of people
Whether you need HDR or not, you can grab an FHD X1 Extreme for quite a bit less than a 4K model. You should see better battery life and, if you're gaming, better framerates from the NVIDIA GTX 1650 Max-Q GPU. The anti-glare finish helps deal with well-lit spaces, and you're still going to get decent color. As long as you're not getting into any specialized work and don't mind the lower resolution, an X1 Extreme with FHD display should work for most people.
1080p computing
Lenovo ThinkPad X1 Extreme (Gen 2)
With and without HDR

You can save hundreds and still get your hands on a powerful ThinkPad X1 Extreme by going with an FHD model.
The 4K ThinkPad X1 Extreme models are better for power users
Available in IPS non-touch or OLED touch, the 4K X1 Extreme models are the right choice for pros who need precise color reproduction across multiple gamuts. Go with OLED for the ultimate package, or save a bit of money with IPS and still get an amazing picture. Battery life does take a significant hit here, though, and you will pay quite a bit more, making the upgrade more a niche choice for those who absolutely need it.
IPS or OLED
Lenovo ThinkPad X1 Extreme (Gen 2)
More money, more pixels

You're going to pay a premium for the 4K display options in the ThinkPad X1 Extreme, but accurate color reproduction and plenty more pixels will be well worth it for plenty of people.
Windows Central Newsletter
Get the best of Windows Central in in your inbox, every day!
Senior Editor, Laptop Reviews
Cale Hunt is formerly a Senior Editor at Windows Central. He focuses mainly on laptop reviews, news, and accessory coverage. He's been reviewing laptops and accessories full-time since 2016, with hundreds of reviews published for Windows Central. He is an avid PC gamer and multi-platform user, and spends most of his time either tinkering with or writing about tech.
Windows Central Newsletter
Thank you for signing up to Windows Central. You will receive a verification email shortly.
There was a problem. Please refresh the page and try again.