Lenovo ThinkPad X13 review: AMD 4000 PRO processors are the main draw to this mid-range business laptop
The new first-generation ThinkPad X13 looks a whole lot like the other ThinkPads, but it's packing AMD Ryzen 4000 PRO processors for a big performance boost.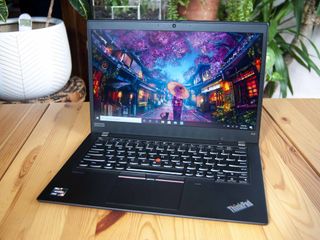 (Image credit: Windows Central)
The Lenovo ThinkPad X lineup — not to be confused with the high-end ThinkPad X1 lineup that includes the X1 Carbon, X1 Extreme, and X1 Yoga — is meant to appeal to those who want a thin and light business laptop with extra security features and coveted ThinkPad durability. X-series laptops, which include standard and Yoga versions of the ThinkPad X390, ThinkPad X395, and ThinkPad X13 (which I'm reviewing here), are a lot closer to Lenovo's T-series devices than the expensive X1 line. The X13 starts at an affordable price, it's sized to travel, and it's packing hardware cut out for productivity work. I've been using a ThinkPad X13 with AMD Ryzen 4000 PRO CPU for about a week to see what it's all about and, ultimately, whether or not it's worth a buy among all the best AMD Ryzen laptops out there.
(opens in new tab)
Bottom line: The first-gen ThinkPad X13 doesn't really offer anything new, but it does bring outstanding performance from AMD Ryzen 4000 PRO CPUs. If you value performance, typing comfort, and durability over all else, this should make for a tempting 13-inch laptop that starts at well less than $1,000.
For
Starts at a low price
AMD Ryzen 4000 PRO brings the power
Excellent keyboard
Lots of ports
Wi-Fi 6 and optional LTE connectivity
Against
Poor audio
Stale design
No Thunderbolt 3
Battery life could be better
ThinkPad X13 at a glance
Lenovo supplied Windows Central with a review unit of the first-gen ThinkPad X13. It's packing an AMD Ryzen 5 PRO 4650U processor (CPU), 8GB of DDR4 RAM that is soldered to the board, a 256GB M.2 PCIe NVMe solid-state drive (SSD) that can be upgraded after purchase, and integrated AMD Radeon Vega 6 graphics. The 13.3-inch display is touch-enabled. Altogether, this exact model costs about $975 (opens in new tab) after applying Lenovo's instant coupon savings. Otherwise, it retails for about $1,624.
Baseline models go as low as a Ryzen 3 PRO 4450U CPU, 8GB of RAM, 128GB SSD, and 13.3-inch non-touch HD display, starting at around $684 (opens in new tab). This is best reserved for bulk enterprise buys; if you're buying for yourself, at least go with the FHD resolution.
Going all out, with a Ryzen 7 PRO 4750U CPU, 32GB of RAM, 1TB SSD, and 13.3-inch FHD display with Privacy Guard costs closer to about $1,774 (opens in new tab) after a big Lenovo discount. Otherwise, it's regularly priced at about $2,956.
Here's a look at the exact specs found in the model I was sent for review.
Swipe to scroll horizontally
Category
Spec
OS
Windows 10 Pro
Processor
AMD Ryzen 5 PRO 4650U
Six cores, 12 threads
Up to 4.0GHz
RAM
8GB DDR4-3200MHz
Soldered
Graphics
AMD Radeon Vega 6
Integrated
Storage
256GB M.2 PCIe NVMe SSD
Display
13.3 inches
1920x1080 (FHD)
IPS, anti-glare
Touch
Ports
Two USB-C 3.2 (Gen 2)
Two USB-A 3.2 (Gen 1)
HDMI 2.0
Ethernet extension connector
microSD card reader
Nano-SIM (optional)
3.5mm audio
Smart Card reader (optional)
Audio
Dual 1W speakers
Dolby Audio
Wireless
Intel Wi-Fi 6 AX200
802.11ax
Bluetooth 5.1
4G LTE-A (optional)
Camera
Front-facing 720p
ThinkShutter privacy
Security
Fingerprint reader
Battery
48Wh
Dimensions
12.28 x 8.55 x 0.67 inches
(311.9mm x 217.2mm x 16.9mm)
Weight
From 2.84 pounds (1.28kg)
Nothing much new
ThinkPad X13 design and features
The first-gen ThinkPad X13 is unmistakably a Lenovo business laptop, with its magnesium-aluminum chassis and black finish. It's been put through myriad durability tests to prove it can withstand a life of travel, yet it's relatively thin and light for a 13-inch device. It measures 0.67-inches thin and weighs in at 2.84 pounds (1.28kg) for a touch-display model. It's easy to carry under an arm, clip into a briefcase, or slide into a backpack.
The X13 nails what I would consider the ThinkPad design essentials, but when I heard "first-generation," I was expecting a bit more flair or at least something just a bit out of the ordinary. This is ultimately just a 13-inch ThinkPad that could easily be mistaken for another if not for the internal performance hardware. It's almost heresy to suggest Lenovo messes with the ThinkPad recipe, but mixing things up a bit to set the X13 apart from its siblings would have me a whole lot more excited for its arrival.
One thing Lenovo doesn't want to do is mess with the keyboard. As is the case with pretty much every ThinkPad, the cupped keys, ample travel, and perfect spacing make a return here. If you're someone who types all day every day, this laptop isn't going to let you down. It would be nice to see the board stretch closer to the laptop's edges — a design trend I love — but I assume in Lenovo's case that deep key travel doesn't play well with the ample port selection along the edges.
I don't often use it, but the TrackPoint system is included above the Precision touchpad. It has the usual three physical buttons and a red pointing nub. Another trend I love in modern laptops is the blown-up size of touchpads, and I think the X13 could benefit. Depth is fine for a 13-inch device (especially when room is saved for the physical TrackPoint buttons), but width could be expanded to better accommodate those of us who ignore the red pointing nub.
Image 1 of 2
Despite the compact build, the X13 retains generous port selection. It includes two USB-C 3.1 (Gen 2) with one doubling as a charging port, two USB-A 3.2, HDMI 2.0, a microSD card reader and Nano-SIM tray, 3.5mm audio, Ethernet extension (which requires a separate adapter (opens in new tab) for full RJ45), and an optional Smart Card reader for those enterprise buys.
It'd be great to have full Thunderbolt 3 here, but that privilege is reserved for the Intel-based X13 models. At least you can still connect something like the CalDigit USB-C Pro Dock to create a bonafide workstation. Have a look at more of the best laptop docking stations if it's not quite what you're looking for.
Audio from the dual 1W down-firing speakers is nothing to get excited about. You'll be able to hear meetings and videos fine, but don't expect to set the laptop down and blast music. At high volume, there is some distortion, and it overall sounds a bit hollow. It's about what you'd expect from a business laptop at this price.
As for the camera, it comes standard with a front-facing 720p option, and you can add, with certain display options, an IR camera for facial recognition. The standard camera is not bad at all for video conferencing. For some extra privacy, a webcam shutter is included. It's a feature I love and one I wish to see on more laptops. An optional fingerprint reader is built into the right palm rest, and it works as it should with snappy logins.
Rounding out the features is Intel AX200 Wi-Fi 6 connectivity for fast wireless speeds. The laptop is also available with optional 4G LTE connectivity for those who need to stay in touch when Wi-Fi isn't available.
It gets the job done
ThinkPad X13 display
You can choose from four different 13.3-inch display options when configuring your ThinkPad X13, starting with a low-end 720p (HD) option with 250 nits brightness, TN panel with narrow viewing angle, and low color reproduction. Moving up to 1080p (FHD) and IPS panel, you can get a non-touch or touch option (both with 300 nits) or a non-touch option with Privacy Guard and 500 nits brightness. They all have an anti-glare coating to help with working in well-lit spaces.
I received the FHD touch display to test. Using a Datacolor SpyderX Pro (opens in new tab) colorimeter, I measured 97% sRGB, 75% AdobeRGB, and 75% DCI-P3 color reproduction. These are decent numbers for a laptop in this price range, and it's going to fare well for productivity and business-oriented tasks. It also hit 324 nits brightness, going as low as 3.4 nits. I just wish there was an option to bump up to even 1440p.
The bezel around the display is rather chunky, and I'd love to see an aspect ratio switch for some of these laptops. Even moving to 16:10 and cutting out some of the chin would make a huge difference.
The real selling point
ThinkPad X13 performance and battery