The ThinkPad X13s is Lenovo's first Snapdragon-powered ThinkPad, promises up to 28 hours of battery life
Powered by the all-new Qualcomm Snapdragon 8cx Gen 3, the 5G-enabled ThinkPad X13s sets the bar for mobile productivity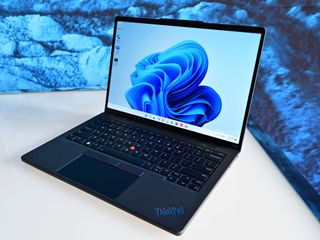 (Image credit: Daniel Rubino / Windows Central)
What you need to know
The Lenovo ThinkPad X13s is a 2.35lbs (1.06kg) 5G clamshell laptop that features the new Qualcomm Snapdragon 8cx Gen 3 processor.
The "ultra-slim, ultra-light fan-less design" delivers up to 28 hours of battery life.
It's the first ThinkPad with ARM that Lenovo has worked with Microsoft on for nearly four years.
The ThinkPad X13s will be available starting May 2022, starting from $1099. AT&T and Verizon will also be selling it.
The first Qualcomm Snapdragon 8cx Gen 3-powered laptop has just been announced. The ThinkPad X13s is a brand-new clamshell PC that looks to bring Lenovo's enterprise-first security and familiar TrackPoint system to mobile workers.
Windows-on-ARM is nothing new to Lenovo, which has launched previous devices like the first mmWave 5G laptop, the 2020 Flex 5G, and the Lenovo Yoga C630 from 2018. But the X13s is the first to earn the ThinkPad badge. What that means is besides the familiar TrackPoint red dot on the keyboard, it also gets the full suite of security features that make ThinkPads, well, ThinkPads.
Lenovo told Windows Central during a briefing that this laptop has been in development for the last four years as it worked with Microsoft to bring Lenovo's security of software and tools natively over to ARM, including VPN and antivirus abilities required by companies.
Swipe to scroll horizontally
Category
Lenovo ThinkPad X13s
OS
Windows 11 Pro
Processor
Snapdragon 8cx (Gen 3)
RAM
Up to 32GB LPDDR4x
Soldered
Dual-channel
Graphics
Qualcomm Adreno
Storage
Up to 1TB M.2 PCIe 4.0 SSD
Display
13.3 inches
16:10 aspect ratio
1920x1200 (FHD+)
IPS, anti-glare, 300 nits, 100% sRGB
1920x1200 (FHD+)
IPS, touch, anti-glare, 300 nits, 72% NTSC
1920x1200 (FHD+)
IPS, anti-glare, low power, 400 nits, 100% sRGB, low blue light
Ports
Two USB-C 3.2 (Gen 2)
3.5mm audio
SIM
Audio
Top-firing
Dual Dolby speakers
Three far-field mics
Qualcomm Voice and Audio suite
Wireless
Wi-Fi 6
Wi-Fi 6E
5G sub6 eSIM
5G mmWave eSIM
Camera
5MP RGB camera
5MP IR camera
Computer Vision
Keyboard
Spill resistant
Backlit
Touchpad
Precision
TrackPoint
Security
Human Presence Detection
IR camera
Camera e-shutter
Microsoft Pluton
Battery
49.5Wh
Dimensions
11.76 x 8.13 x 0.53 inches
(298.7mm x 206.4mm x 13.4mm)
Weight
2.35 pounds (1.06kg)
Color
Thunder Black
Availability
May 2022
Price
From $1,099
The laptop has a familiar design with a low-power 13.3-inch 16:10 1920x1200 (FHD+) display that is also anti-glare. The top and bottom covers of the X13s are made from 90% certified recycled magnesium and come in a "Thunder Black" colorway.
The rest of the specs are also impressive, especially for connectivity. There is the latest Wi-Fi 6E and, of course, 5G, including mmWave and sub6. The inclusion of mmWave, which is always challenging and still rare in laptops, is one reason Verizon (along with AT&T) will be selling this laptop later in 2022.
Since mobile video conferencing is so important these days, the ThinkPad X13s has a 5MP full HD web camera with AI-based auto framing, Windows Hello IR for facial recognition, and a triple microphone array with intelligent noise suppression. There are also modern features like human presence detection, which allows hands-free logging in, locking the PC, and dimming the screen when not looking at it to save power.
Ports are kept simple with just two Type-C 3.2 (Gen 2) ports for data, display out, and charging, along with a standard 3.5mm headphone and mic jack.
However, the secret sauce for the ThinkPad X13s is that new Snapdragon 8cx Gen 3 ARM processor, first announced back in December. The 8cx Gen 3 is a 5nm SoC, a massive generational shift in performance compared to the anemic Gen 2. The CPU is supposed to garner a boost of 40% for single-core, 85% for multi-core, and 60% for GPU performance over the 8cx Gen 2, making the most substantial improvement yet.
For comparison, earlier benchmarks gave the single-core GeekBench score of 1,010, which puts the Snapdragon 8cx Gen 3 in the range of the Lenovo Yoga C740 with an Intel Core i5-10210U CPU.
The multi-core scores of the Snapdragon 8cx Gen 3 look even more promising. A Geekbench 5 multi-core score of 5,355 places the processor above the HP Spectre x360 14 with an Intel Core i7-1165G7.
Image 1 of 8
When combined with the 50WHr battery, Lenovo claims that the ThinkPad X13s can get 28 hours of usage (likely video streaming). While that seems absurdly high, a real-world test could land near the 17 to 20-hour mark. Indeed, Lenovo's 2020 Flex 5G hit 18 hours of usage in PCMark 10 with 20% battery left. That laptop beat the ARM-based Galaxy Book S from Samsung by 7 hours and the Surface Pro X (G1) by 10 hours.
Lenovo is also using zippy PCIe 4.0 for the SSD and LPDDR4 for the RAM, which should make this laptop easily the fastest Windows on ARM PC to date. This is the first Windows-on-ARM laptop that can be configured with up to 32GB of RAM.
We won't have to wait long to get our hands on the ThinkPad X13s, either, as Lenovo says it will begin shipping in May. Even the price is a bit fairer, starting at $1,100, which is $300 less than 2020's Lenovo Flex 5G. AT&T and Verizon are expected to carry the ThinkPad X13s a bit later in the year.
Windows Central Newsletter
Get the best of Windows Central in in your inbox, every day!
Daniel Rubino is the Editor-in-chief of Windows Central, head reviewer, podcast co-host, and analyst. He has been covering Microsoft since 2007 when this site was called WMExperts (and later Windows Phone Central). His interests include Windows, laptops, next-gen computing, and for some reason, watches. Before all this tech stuff, he worked on a Ph.D. in linguistics, watched people sleep (for medical purposes!), and ran the projectors at movie theaters because it was fun.
Finally! After radio silence, we finally get a juicy new WOA laptop. I'm especially exited to see the inclusion of mmWave 5G because IMO it makes far more sense to have it on a laptop, where you'll actually be making more use of that bandwidth for heavy downloads, than on a smartphone. Hopefully it also comes unlocked and with fairly robust world 4G/5G band compatibility.

This looks really promising. Not only is this an enterprise-ready ThinkPad, but the 8cx looks like a real winner (at least before we see the details of emulation performance). All the benefits of WoA with (at least for many users) none of the drawbacks. And at $1100? Hard to dismiss this as just another WoA offering. I still need Intel-native software. But with a ThinkPad-branded WoA device on the market now the incentive for developers to offer WoA versions of their productivity software is stronger than ever. Great rundown.

I have heard that the x64 emulation has gotten better recently, maybe you can give it a try on one of these 8cx machines and see how it works out?

True. I'm not in the market yet (maybe next year?) but things look promising.

Things certainly do look promising, especially with Qualcomm making a 5G M.2 module for laptops. My next laptop will definitely have 5G.

I kinda think Microsoft will be releasing an updated Pro X with something dubbed the SQ3 based on the 8CX G3 by mid summer ish, before the back to school market starts. Any longer than that and the current model will be 2 years old with no replacement/upgrade. This looks like a real nice machine though. Always liked the pointing stick, mil spec goodness, I'd expect a fingerprint reader option if it's not standard.

The Pro X is insanely expensive though

It's always on sale and the Bestbuy open box is always around 500-600 range. Looks and works like brand new.

Exactly! That's how I bought mine, as an open-box item from Best Buy.

One thing that is important when saying that this is using 5nm, is that this is using Samsung's 5nm that is notably inferior to TSMC's 5nm that Apple uses and that AMD will use for ryzen 7000

One thing that is important is that focusing on nanometers for chip fab is mostly a useless exercise in 2022. It's a marketing term that has little meaning and no bearing on actual chip performance or advances. It's one reason why there is an effort to move to the LMC metric:

"The picture the semiconductor technology node system paints is false. Most of the critical features of a 7-nm transistor are actually considerably larger than 7 nm, and that disconnect between nomenclature and physical reality has been the case for about two decades. That's no secret, of course, but it does have some really unfortunate consequences." "One is that the continuing focus on "nodes" obscures the fact that there are actually achievable ways semiconductor technology will continue to drive computing forward even after there is no more squeezing to be accomplished with CMOS transistor geometry. Another is that the continuing node-centric view of semiconductor progress fails to point the way forward in the industry-galvanizing way that it used to. And, finally, it just rankles that so much stock is put into a number that is so fundamentally meaningless."

I think, and I mean no offense in this, people who focus on nm in manufacturing processes don't really want to talk about features, performance, value, etc, but instead want a quick and easy way to "win" an argument about which processor is better by using clearly outdated terminology. Now, in the case of Qualcomm, they use 5nm here simply to compare to the 8cx Gen 2, which was 7nm. So, for them, it is a shrinking of the SoC, while also delivering a substantial improvement in performance. Going beyond that is, IMO, just pointless manhood measuring.

Anandtech's benchmarks showed Qualcomm chips on Samsung's 5 nm process had much higher power usage and thermal output compared to TSMC 5 nm. Not all nanometers are equal, unfortunately.

You're so close to getting this lol. "Not all nanometers are equal, unfortunately," THAT'S THE REASON why the LMC metric is being proposed because using nanometers in 2022 when comparing different chip designs is for those who are uneducated. I'm not sure how much more clearly I can state this. Stop attributing nm to processors as if it's some golden metric for evaluating performance. It's not and hasn't been for years. It's ONLY interesting/relevant when comparing chip design from the same line e.g. 8cx Gen 2 (7nm) to 8cx Gen 3 (5nm). That's it.

Thanks for the link. I doubt many people will want to read and comprehend the article. Alot there to figure out.

I still have and pack my C630 for long trips because it is a productivity beast with an enormous battery life. I'm glad to see both AT&T and Verizon are getting this one, the more choice the better.

This. The c630 is excellent
If this new X13s has the same screen + battery life but with snappier performance it will be sweet

I still question Microsoft's decision to use a tiny battery on the Surface Pro X. I've been a happy user for a while now - x64 emulation is great - but I can't get 10 hours on a charge with 4G enabled. This ThinkPad finally shows the benefits of using ARM: double the battery life compared to Intel, with 5G built-in.

Well, that is true. Pro X is 38WHr, while this is 50WHr. Otoh, the Pro X's thinness can't be done with x86, so it lets MS create a device that under Intel/AMD would not exist. While the X13s looks great it's really only the fanless bit that is unique to it in terms of design compared to an x86 laptop e.g., ThinkPad X1 Nano (which is lighter!). So, Lenovo chose a different design direction, but this laptop is far from the lightest in its class. Finding that balance of what is acceptable/good is challenging. Most "all-day" work scenarios consider 8 to 10 hours. But, like performance itself, there is no such thing as having too much battery life. The good news is with the smaller SoC that is the 8cx Gen 3, MS could (and likely will) increase that battery by a few WHrs with the saved space. When you balance the performance increase and size decrease of the 8cx Gen 3 with the larger battery, it should work out in positive gain for the Pro X Gen 3. My bet, however, is it only gets an extra 90 to 120 minutes (max) of longer battery life. We'll see.

50 WHr is the same battery size as the Surface Pro 8. This ThinkPad also weighs the same as the Surface Pro X with a type cover. I wouldn't mind a slightly heavier, chunkier Pro X update that allows real 10-12 hour battery life on 5G or 4G. It's already too big to be used as a tablet only, without the keyboard, so a slight increase in weight doesn't hurt.

What the Surface Laptop Go should've been. Not everyone is video editor.

The GO is terrible. Terrible battery life. Hated mine. Got rid of it.

The c630 was excellent, tad sluggish but excellent life.
This x13s looks like a dream machine.

Looks like the specs SPX should have had from the beginning.

What will be interesting to see is a comparison of the Surface Pro 9 with the 1230U versus the Pro X with the 8c3 chip.
Windows Central Newsletter
Thank you for signing up to Windows Central. You will receive a verification email shortly.
There was a problem. Please refresh the page and try again.