Qualcomm announces 5nm Snapdragon 8cx Gen 3 with 85% performance improvement
Windows on ARM is getting its most significant boost thanks to the new 8cx and 7c+ Gen 3 processors.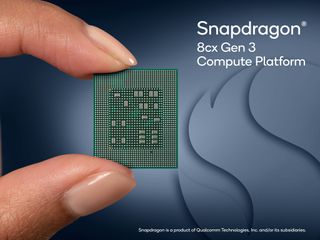 (Image credit: Qualcomm)
What you need to know
Qualcomm has announced the new Snapdragon 8cx and 7c+ Gen 3 processors for Windows PCs.
The 8cx Gen 3 gets a boost of 40% for single-core, 85% for multi-core, and 60% for GPU over the 8cx Gen 2, making the most substantial improvement yet.
Games on the 8cx can reportedly run at full HD and hit 120 FPS.
The 6nm 7c+ Gen 3 delivers up to 40% better CPU performance and 35% better graphics performance than the 7c Gen 2.
Both chips will appear in consumer devices in the first half of 2022.
Qualcomm just announced two new processors for Windows on ARM at its 2021 Snapdragon Summit.
While these chips are not part of the next-gen Nuvia processors, which are expected to ship in consumer products in 2023, these are the most significant leap in performance to date for Windows on ARM. The new chips also push new technology like AI, Wi-Fi 6E, and 5G to more devices.
The Snapdragon 8cx and 7c+ Gen 3 chips are due to ship in new PCs in the first half of 2022, making a quicker turnaround than previous announcements for the company.
Qualcomm Snapdragon 8cx Gen 3
The big story is the new Snapdragon 8cx Gen 3, which, for the first time, hits 5nm for Windows PCs.
Qualcomm claims the 8cx Gen 3 is substantially more powerful than the Gen 2, currently found in the Microsoft Surface Pro X SQ2 and the HP Elite Folio, with a boost of 40% for single-core, 85% for multi-core, and 60% for GPU performance over the 8cx Gen 2 making the most substantial improvement yet.
The claims seem to hold going by recently leaked Geekbench 5 benchmarks for the 8cx Gen 3. The single-core score of 1,010 puts the Snapdragon 8cx Gen 3 in the range of the Lenovo Yoga C740 with an Intel Core i5-10210U CPU.
The multi-core scores of the Snapdragon 8cx Gen 3 look even more promising. A Geekbench 5 multi-core score of 5,355 places the processor above the HP Spectre x360 14 with an Intel Core i7-1165G7.
While those numbers still fall short of Apple's M1 line of processors, for most consumers, getting Core i7 multi-core performance with much better battery life is still a winning combination, especially when put into unique 2-in-1 form factors that are entirely fanless.
Battery life is still claimed at "over 25 hours," although that number is device-dependent and under specific scenarios. Qualcomm, however, told us that battery life is effectively the same between the 8cx Gen 2 and Gen 3 despite the significant performance improvement.
Qualcomm goes into more detail in its press release:
Gaming and graphics are also getting a "tremendous" boost:
Besides raw performance, the chipset is also getting upgrades in other areas, including:
Cameras: Up to four cameras are now supported, allowing for "multiple front-facing cameras on detachable form factors" as well as 4K and HDR. Camera startup time is also decreased by 15%.
Audio: Echo Cancellation and Noise Suppression are now included using advanced AI technologies.
AI: Snapdragon 8cx Gen 3 has more than three times the AI capabilities of the previous generation and significantly leads the competition with over 29 TOPS of acceleration. This translates to more accurate and innovative experiences, along with faster security features like threat detection.
Improved 5G: The Snapdragon X55 Modem-RF System enables reliable connections with up to 7.5 Gbps speeds. Support will also be extended to the latest Snapdragon X65 Modem-RF System, allowing users the freedom to be productive from almost anywhere
Wi-Fi 6E + FastConnect: This connectivity system supports the fastest Wi-Fi speeds available, with multi-gig speeds supported at up to 3.6 Gbps. FastConnect 6900 also makes use of 4-stream DBS to support Wi-Fi Dual Station for extremely low latency and responsiveness.
Enhanced security: A Secure Boot process enables NIST recovery, designed to better prevent systems from loading corrupt firmware, while Microsoft Pluton integration into the Qualcomm Secure Processing Unit reduces the surface area open to attacks. Secure Camera for Windows Hello, enhanced sensors, and cutting-edge encryption practices round out Snapdragon 8cx Gen 3 as a truly security-rich platform for online collaboration for consumers, businesses, and education.
Overall, the Snapdragon 8cx Gen 3 looks very promising and more interesting than any previous upgrades to its PC compute line.
Of course, Intel is expected to announce its 12th Gen mobile processors in early 2022 (with a spring release), likely at CES, utilizing its similar Performance and Efficiency core design, possibly giving Qualcomm a run for its money.
Qualcomm Snapdragon 7c+ Gen 3
Up until now, Qualcomm has had the Snapdragon 7c and 7c Gen 2 processors for entry-level devices like the Samsung Galaxy Book Go. While the 7c Gen 2 edges out Intel's entry-level chips in some areas, they're still not very competitive as we've argued, suggesting people should wait for a "Gen 3."
The new Snapdragon 7c+ Gen 3 could be that chip. It will be sold alongside the 7c Gen 2, but it is considered a slightly higher tier.
Qualcomm didn't go into too much detail about 7c+ Gen 3, but it did note it's now a 6nm architecture. Performance is "up to 40 percent better CPU performance and 35 percent better graphics performance" than the 7c Gen 2, which is noteworthy.
Like the 8cx Gen 3, the 7c+ Gen 3 adds "FastConnect 6700, bringing incredible Wi-Fi 6 and Wi-Fi 6E speeds" and an integrated Snapdragon X53 Modem-RF System bringing 5G to entry-level devices for the first time.
Availability
While no new Windows PCs were announced with either chip, Qualcomm remarked that this would be quicker than previous announcements where devices didn't ship until an agonizing eight months later.
Instead, Qualcomm is confident we'll see new hardware with the 8cx Gen 3 and 7c+ Gen 3 in the first half of 2022. That means we could get some actual announcements during CES, which takes place in early January, with a commercial release towards May (which follows Intel and AMD's market execution).
Likewise, Qualcomm continues to push "always connected" 4G and 5G Windows on ARM PCs. Still, the company allows Wi-Fi-only models like Surface Pro X and Galaxy Book Go to compete more aggressively in price. That practice will continue with these news chips, leaving the decision up to OEMs on which features and price points they would like to target.
Besides the new PC processors, Qualcomm also announced a new gaming-specific chip. The Snapdragon G3x Gen 1 will be featured in a new handheld reference design made with Razer and focuses on game streaming. The company also announced its latest smartphone processor, the Snapdragon 8 Gen 1.
Daniel Rubino is the Editor-in-chief of Windows Central, head reviewer, podcast co-host, and analyst. He has been here covering Microsoft since 2007 when this site was called WMExperts (and later Windows Phone Central). His interests include Windows, Microsoft Surface, laptops, next-gen computing, and for some reason, watches. Before all this tech stuff, he worked on a Ph.D. in linguistics and ran the projectors at movie theaters, which has done absolutely nothing for his career.
Until they can get to a similar memory pipeline like the M1 uses they will always be behind. The way that works is the true secret sauce of the new Apple chips. With the M2 pending they will be even further behind.

Serious question: Did you come to this highly confident conclusion after watching Apple marketing videos? Or did you supplement your research with videos from The Verge?

I am not an Apple fan boy at all. I am referring to the actual way the chip is designed. They have the CPU and GPU using a pooled really fast pipeline. I really want others to succeed but Apple caught them flat footed. Qualcomm was just coasting on the past. There hasn't been much true innovation there for awhile. Tom's Hardware had a really good explanation.

Hmm. Trouble is though, that's a fixed RAM size. The premium over 8G with Apple is horrid. They also have the same issue as Windows with emulated non native software. I wish Microsoft went all in on ARM.

I'm happy to read the Tom's Hardware article but I am very skeptical This One Trick is what makes the M1 so fast.

Interesting, So how come with all of this bleeding edge performance, It still doesn't work for 70% of I and most people use their computer for in office environments? Oh yeah... cause Apple is Apple. Remember when the Apple MacBook had powerPC chips that were better than the stuff on the Windows side in early 2000s? Remember when everybody switched to Macs all sudden because of that?... Oh wait, that's right, that didn't happen

The 8cx gen 3 (same as previous Gens) supports 8 channel LPDDR4X, so memory speed isn't a problem, it can actually suport higer memory bandwith then the base M1 while being a lower TDP SoC.

I mean why bother with other laptops or tablets either? There is nothing good but Apple!

I'm sure the 10% who use Apple PCs will find that very fascinating.

The true secret sauce is that it uses more power and uses TSMC's 5nm that is 30% better then samsung's

"Camera startup time is also increased by 15%." Shouldn't that read "decreased by 15%," or did the time to load actually get longer?

That's the kind of performance I was hoping for. Let's see what emulation looks like. Overall, very promising.

I'm hoping that they employed some sort of hardware trick to aid in x86/x64 emulation like Apple did in their M1 chips, but if they don't do it here, they (hopefully) may do it in the Nuvia chips that are coming.

Yeah, that's the thing as to why Apple M1 chips got that very native performance for non-native apps is thmmit does hardware emulation, which is more performant and battery efficient. Without it, M1 may not get this impressive performance on most apps that are emulated. Also it goes hand in hand with Rosetta 2 which does its emulation slightly differently than on Windows. If Snapdragon were to have x86-64 emulation on hardware level, that would be a significant boost for Windows were majority aren't ARM native. It doest need to beat M1, but that alone would be very critical enough for Windows users.

This is probably based on a Snapdragon 8 but with more X2 cores. The SD8 uses a Samsung 4nm process though.

It's looking more like a modified 888+ with more 4 X1 cores and 4 "medium perf" cores.

You're probably right. I am sure they didn't mention which cores they used for a reason.

I mean they're pretty decent, great gen over gen improvement. It's looking like 4x X1 and 4x A78. A7x is what last gen's high perf cores were.
X2 isn't out yet iirc.

It's about time we got new 8cx chips. It will be very interesting to see how Windows 11 will specifically use the Qualcomm chip's AI functions to enhance the Windows 11 experience (like automatically sort incoming e-mails/notifications based on content, etc.) because I know that Android already uses it for AR, the Google Assistant, etc and other things.

Intel's "efficiency cores" are highly capable (you can even game on them). So no doubt Intel will be giving Qualcomm a run of their money. The question is who would be Wile E. Coyote and Roadrunner in this upcoming tussle. Since Qualcomm had to get kicked into action (in terms of a WoA SOC) by Apple in the ARM space. On the flipside, laptops have very limited power budgets and the efficiency cores do need some what of a sustained high clock speed (in turn requiring more power) to be extremely capable in other tasks that are not basic background, word processing and browsing.

It will be interesting. Alder lake mobile u series i5 and i7 chips will be available in 9w and 15w segment with core combination of 2 big performance cores + 8 small efficiency cores which are basically their latest and greatest atom cores. Compared to that Qualcomm 8cx gen 3 got 4 big cortex x1 cores paired with 4 a78 cores so battery life advantage may not be that big because just like intel atom cores a78 cores are not as efficient as regular a-55 cores so performance upgrade will be there but with noticable battery life hit. My guess is intel alder lake mobile will easily beat Qualcomm 8cx gen 3 in performance but again loose in battery life and in performance per watt.

I think that has always been the debate. Will Intel and ARM produce chips that are similar in utility. Intel may always have better performance whereas ARM chips will always have better battery life. But for most people, they would rarely notice a difference. Sure, my ARM device can run for 20 hours and my Intel device can run for 12 hours. But I plug it in every day so I never run out of power. Further, my performance requirements are easily handled by either device. This is the same as the performance of SUVs. Will I ever need to tow a 12,000 pound trailer? For most SUV owners the answer is never. Maybe 10% of Pickup owners will tow a 12,000 pound trailer (think of towing a trailer holding a Bobcat Compact track loader.

Atleast it's better than having nothing. Performance is 70% of apple m1 & beats apple a15 in multicore. GPU performance should be good as well considering 8cx gen 1 and 2 had much more powerful GPU than Qualcomm mobile counterparts. Battery life will remain same as last generation despite moving to 5nm because of use of 4 big cores instead of 1 to gain performance unlike mobile socs. It should serve as temporary stop gap solution. Comparison with alderlake mobile should be interesting let's see how close is intel in terms off performance per watt. Overall it shows limitations of current arm cores and why Qualcomm is eying 2023 to deliver apple m1/m2 like performance. Because with current arm cores it's not possible to match apple.

7c+ is looking damn good. It got
4 a78 cores + 4 a-55 cores so it should beat or equal 8cx gen1/gen2/sq1/sq2 in cpu performance.