Lenovo Yoga C740 14 review: Fewer features than the Yoga C940, but far more affordable
The Yoga C740 is a refresh of the aging Yoga 730 that adds an extra choice for those who love the Yoga lineup.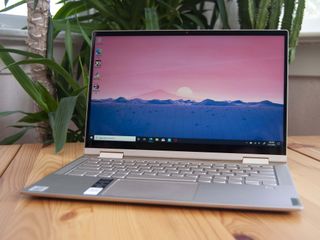 (Image credit: Windows Central)
Lenovo's premium Yoga C940 is one of the finest convertible laptops on the market today, but all the fancy features boost the price up beyond what a lot of people are looking to pay. Enter the Yoga C740, a mid-range convertible available in a well-built 14- or 15-inch chassis. I've been using the modestly-priced 14-inch model for a week to see where it has improved over the Yoga 730 and whether or not it's up to be your next laptop.
Bottom line: If you're not interested in paying the Yoga C940 price and don't mind missing out on some of the more premium features, the Yoga C740 should satisfy as a well-built convertible laptop available in 14- and 15-inch sizes.
For
10th Gen Intel "Comet Lake" CPUs
Robust audio from top-firing speakers
Slick aluminum chassis and solid design
Huge Precision touchpad, comfy keyboard
Fingerprint reader for Windows Hello
Against
No Thunderbolt 3
Some display glare issues
Active pen not included
Lenovo Yoga C740 at a glance
Lenovo's Yoga C740 has a slightly new name, but it's still a successor to the Yoga 730, which I reviewed in early 2018. Lenovo makes two different sizes — 14 inches and 15 inches — though the main differences between the two models are display (optional Dolby Vision HDR400 in the larger laptop), slightly larger battery, and chassis size.
My review unit of the Yoga C740 14 has a 10th Gen Intel Core i5-10210U processor (CPU) with four cores, 8GB of DDR4-2666MHz RAM that is soldered and not upgradeable, a 512GB M.2 PCIe solid-state drive (SSD) that can be upgraded after purchase, and integrated Intel UHD Graphics. The touch display uses an IPS panel and has a glossy finish.
Lenovo often has ecoupons available for its laptops that drop the price, but you can generally expect to pay around $750 for an introductory model with similar hardware to the review unit. A high-end unit customized with an Intel Core i7-10510U CPU, 16GB of RAM, and 1TB M.2 PCIe SSD costs closer to about $1,220.
Let's take a look at the hardware you can expect in the 14-inch Yoga C740.
Swipe to scroll horizontally
Category
Spec
Processor
10th Gen "Comet Lake"
Intel Core i5-10210U
1.60GHz Base
4.20GHz Max
Four cores
RAM
8GB DDR4-2666MHz
Soldered
Graphics
Integrated
Intel UHD Graphics
Storage
512GB M.2 PCIe SSD
Display
14 inches
1920x1080 (FHD)
Touch
IPS, glossy
Dolby Vision
Ports
Two USB-C 3.1
USB-A 3.1
3.5mm audio
Audio
Top-firing
Dual 2W speakers
Dolby Atmos
Wireless
Intel Wireless AC 9560
802.11ac (2x2)
Bluetooth 5.0
Camera
Front-facing 720p
Security
Fingerprint reader
Webcam shutter
Battery
51Wh
65W AC adapter
Dimensions
12.67 x 8.45 x 0.59 - 0.67 inches
(321.8mm x 214.6mm x 14.9 - 16.9mm)
Weight
3.09 pounds
(1.4kg)
What I love about Lenovo's Yoga C740
Like its predecessor (Yoga 730) and its more expensive sibling (Yoga C940), the Yoga C740 is built into a solid aluminum chassis with explicit lines. Its firm dual-hinge design allows it to convert to tent, stand, and tablet modes when you're interested in deviating from a standard notebook format, and its display is compatible with a Wacom AES active pen — like the Lenovo Active Pen 2 — for jotting down notes or sketching drafts. It weighs in at just more than three pounds (1.4kg), which might feel a tad heavy when used as a tablet, but as a notebook, it's no issue.
The rear edge between hinges houses two thermal vents, and there's a wide air intake along the bottom. Removing the bottom cover reveals a single fan that does an admirable job of keeping the laptop cool even under sustained load. There's a bit of noise when hardware heats up, but nothing egregious or really noticeable unless you're working in a quiet room.
There's no snazzy soundbar hinge like on the Yoga C940, but speakers have thankfully been moved since the Yoga 730 to sit along the sides of the keyboard. Combined with some help from Dolby Atmos, audio is satisfyingly loud and crisp. There's a bit of distortion at higher levels, but overall it's above average for a laptop this size. Using the laptop in a converted mode is a bit of a different story. In stand mode, the speakers are pressed directly against a surface, and in tablet mode, there's a tendency for your hands to cover them while gripping the device. Still, I'd rather see top-firing audio if we can't have the soundbar hinge.
Image 1 of 4
Keys stretch up against the speakers, and large keycaps make for comfortable typing. I used it for a few days to type thousands of words, and even coming off of the dreamy ThinkPad X1 Extreme I didn't mind too much the change. Key travel isn't nearly as deep, but it's still soft and well-spaced. The Precision touchpad does its job well, offering up access to all Windows 10 gestures. It's sized appropriately for the rest of the laptop, not too big (if there is such a thing) and not too small.
There's no IR camera here, but above the display is a front-facing 720p webcam that has one of the most unobtrusive privacy shutters I've seen so far. If you're worried about your privacy when sitting at the laptop, it's a welcome addition. Set into the right palm rest is a fingerprint reader for logins through Windows Hello. It works quickly and accurately.
Image 1 of 2
I used the Yoga C740 for general productivity work — heavy web browsing, video streaming, word processing, and some photo editing — and found the 51Wh battery to last about six hours on a charge. I was primarily working in a very well-lit room and required brightness to be cranked up to maximum to fight glare. In an ideal situation with display brightness at about halfway, this laptop can no doubt push eight hours. Plugged into the 65W AC adapter, a dead battery will regain a majority of its charge in less than an hour.
Using PCMark 10's battery rundown test with constant video playback, the Yoga C740 hit just a couple minutes less than six hours at 60% brightness.
I ran some synthetic benchmarks to see how well the hardware inside the Yoga C740 led by an Intel Core i5-10210U CPU holds up against other laptops we've tested.
CPU
Geekbench 5.0 Benchmarks (Higher is better)
Swipe to scroll horizontally
| Device | CPU | Single core | Multi core |
| --- | --- | --- | --- |
| Lenovo Yoga C740 | i5-10210U | 1,094 | 3,767 |
| LG gram 17 (2020) | i7-1065G7 | 1,208 | 3,349 |
| Acer Swift 5 (SF514-54T) | i7-1065G7 | 1,202 | 3,600 |
| Surface Pro 7 | i7-1065G7 | 1,205 | 4,852 |
| Surface Laptop 3 13.5 | i5-1035G7 | 1,177 | 4,413 |
| Surface Laptop 3 15 | Ryzen 5 | 769 | 2,720 |
| Dell XPS 13 2-in-1 7390 | i7-1065G7 | 1,209 | 3,571 |
| Dell XPS 15 7590 | i9-9980HK | 1,176 | 7,624 |
| Dell Inspiron 13 7390 2-in-1 | i7-8565U | 1,111 | 2,965 |
Solid numbers here from the quad-core Core i5-1021U CPU. It's going to cut through productivity work without much issue. I also ran an OpenCL integrated GPU test on the Intel UHD Graphics and got back a score of 5,888. Even with the Core i7 model, there's no Iris Plus Graphics; this is a 14nm Comet Lake CPU rather than 10nm Ice Lake.
PCMark
PCMark 10 Express
Swipe to scroll horizontally
| Device | Score |
| --- | --- |
| Lenovo Yoga C740 | 4,941 |
| LG gram 17 | 4,157 |
| Acer Swift 5 (SF514-54T) | 4,415 |
| Surface Pro 7 (i5) | 3,992 |
| Surface Laptop 3 15 (AMD) | 4,006 |
| Dell XPS 13 2-in-1 (7390) | 4,427 |
| Dell Inspiron 13 7390 2-in-1 | 3,764 |
| Dell XPS 15 7590 | 5,521 |
| Dell Precision 3541 | 3,906 |
The PCMark 10 Express test measures how well a laptop handles several everyday tasks. Again, a great score from the hardware inside that is reflected in everyday use.
Cinebench
Cinebench (R20) (Higher is better)
Swipe to scroll horizontally
| Device | CPU | Range |
| --- | --- | --- |
| Lenovo Yoga C740 | 1,450 to 1,535 | Row 0 - Cell 2 |
| LG gram 17 | i7-1065G7 | 1,079 to 1,199 |
| Acer Swift 5 (SF514-54T) | Core i7-1065G7 | 1,361 to 1,400 |
| Lenovo ThinkPad P53 | Xeon E-2276M | 2,686 to 2,701 |
| Surface Laptop 3 13.5 | Core i5-1035G4 | 1,584 to 1,606 |
| Surface Laptop 3 15 | Core i7-1065G7 | 1,703 to 1,745 |
Repeatedly running Cinebench R20 can determine how well a laptop stands up to sustained load. Not a significant drop in performance here thanks to a sturdy cooling system.
SSD
CrystalDiskMark (Higher is better)
Swipe to scroll horizontally
| Device | Read | Write |
| --- | --- | --- |
| Lenovo Yoga C740 | 3,408 MB/s | 2,982 MB/s |
| LG gram 17 (2020) | 3,477 MB/s | 2,900 MB/s |
| Surface Laptop 3 15 | 2,028 MB/s | 806 MB/s |
| Surface Laptop 3 13.5 | 2,338 MB/s | 1,583 MB/s |
| Acer Swift 5 (SF514-54T) | 1,641 MB/s | 1,025 MB/s |
| Lenovo ThinkPad X1 Extreme (Gen 2) | 3,416 MB/s | 3,016 MB/s |
| Lenovo ThinkPad P53 | 3,567.23 MB/s | 2,813.25 MB/s |
| Lenovo ThinkPad P52 | 3,120 MB/s | 1,551.5 MB/s |
| Dell XPS 15 7590 | 3,000 MB/s | 2,796 MB/s |
| MSI PS63 Modern | 3,300 MB/s | 1,875 MB/s |
The Samsung PM981a M.2 PCIe SSD delivers excellent read and speeds that contribute to the overall snappy performance of the Yoga C740.
What I dislike about Lenovo's Yoga C740
The Yoga C740's 14-inch FHD (no 4K option) display gets a mixed reaction. It features accurate color reproduction — I measured with my Spyder5pro colorimeter 100% sRGB and 78% AdobeRGB — and noticeably punchy contrast. Brightness is average at around the 300 nits mark, but its glossy display causes some issues. It's touted as being "anti-glare," but there's no anti about it.
I primarily worked in a very sunny room while testing the laptop, and had to have the brightness turned up to the maximum at all times. Even then, it was often hard to clearly see the entire screen. Moving to a room with standard electric lighting cuts down on the severity, but keep this in mind if you're one who likes to work near a window.
The other main gripe I have is port selection. The Yoga 730 featured a Thunderbolt 3 port as well as two USB-A, whereas the Yoga C740 has made the move to dual USB-C and a single USB-A. Having even a single Thunderbolt 3 on the Yoga C740 would be a welcome addition, allowing users to connect a powerful docking station. Add in the fact that the Yoga C740 uses one of the USB-C ports to charge, and you're essentially down to one USB-C, one USB-A, and a 3.5mm audio jack.
Should you buy Lenovo's Yoga C740?
So … all things considered, should you buy Lenovo's 14-inch Yoga C740 as your next convertible device? The price is undeniably quite attractive. You're looking at paying about $750 for a model with review-unit hardware, which is capable of handling a day of home or office work. Add in an active pen, and you have something equally capable for notes and sketches.
It's a well-built convertible with sleek aluminum chassis, the top-firing speakers are a welcome change, and the keyboard and touchpad are built to promote productivity. A fingerprint reader and webcam shutter help with privacy and security. If 14 inches isn't large enough, there's also the 15-inch model to check out. That being said, it might not be quite what you're looking for despite the great price.
If you're interested in adding some extra features and don't mind a higher price, the Yoga C940 might be a better choice. It comes with an optional 4K touch display with HDR400, two Thunderbolt 3 ports, standard Wi-Fi 6, a soundbar hinge, and an optional dedicated GPU in the larger 15-inch model. The pen is also built right into the chassis, meaning you don't have to shell out extra and keep tabs on it after that.
Goodbye Yoga 730
Lots of laptop for the price

It doesn't have as many premium features as the Yoga C940, but it's available for far less and is still a solid 14-inch convertible for everyday use.
Get the Windows Central Newsletter
All the latest news, reviews, and guides for Windows and Xbox diehards.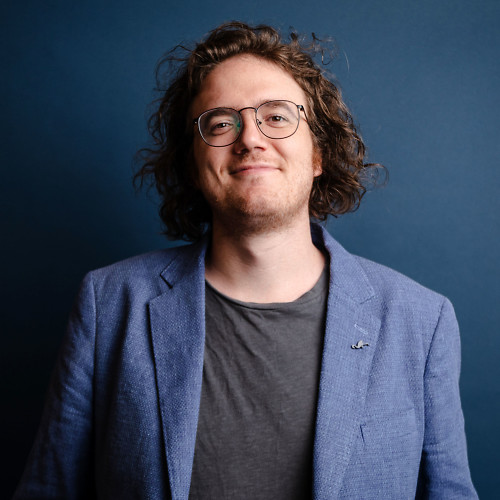 Senior Editor, Laptop Reviews
Cale Hunt is formerly a Senior Editor at Windows Central. He focuses mainly on laptop reviews, news, and accessory coverage. He's been reviewing laptops and accessories full-time since 2016, with hundreds of reviews published for Windows Central. He is an avid PC gamer and multi-platform user, and spends most of his time either tinkering with or writing about tech.