Snapdragon 8cx Gen 3 leaked benchmarks look like good news for Windows on ARM PCs
Windows on ARM PCs could get a big boost thanks to the Snapdragon 8cx Gen 3.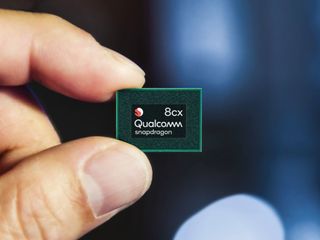 (Image credit: Windows Central)
What you need to know
A Geekbench listing has been spotted for the Snapdragon 8cx Gen 3.
The CPU got a single-core score of 1,010 and a multi-core score of 5,535.
As with all leaked benchmarks, these figures could prove to be inaccurate or for a different piece of hardware.
Windows on ARM PCs could see a big performance boost if leaked benchmarks for the Snapdragon 8cx Gen 3 prove to be accurate. A Geekbench listing for the CPU recently appeared, showing a single-core score of 1,010 and a multi-core score of 5,335. Those figures mark a significant improvement over the Snapdragon 8cx Gen 2 and could result in more powerful computing on Windows on ARM devices like the Surface Pro X.
The Snapdragon 8cx Gen 2 had a single-core score of 797 and a multi-core score of 3,006 when we ran Geekbench 5 as part of our HP Elite Folio review. Testing on the Surface Pro X with an 8cx Gen 2 showed similar scores.
While benchmarks aren't the only factor that affects PC performance, computers powered by the Snapdragon 8cx Gen 3 should see significant improvement over the previous generation.
The single-core score of 1,010 puts the Snapdragon 8cx Gen 3 in the range of the Lenovo Yoga C740 with an Intel Core i5-10210U CPU. The multi-core scores of the Snapdragon 8cx Gen 3 look much more promising. A Geekbench 5 multi-core score of 5,355 places the processor above the HP Spectre x360 14 with an Intel Core i7-1165G7.
These scores show promise for the Snapdragon 8cx Gen 3, but they fall short of Apple's M1 lineup. That's to be expected, as Apple's processor lineup outperforms some of the best CPUs from Intel and AMD, but it is worth noting.
The improvements in the Snapdragon 8cx Gen may help Qualcomm stave off competitors. Qualcomm may see more serious competition in the Windows on ARM space after its exclusive agreement with Microsoft expires.
Benchmark figures like this need to be taken with a grain of salt and within context. Entries can be faked or may be from a different piece of hardware than what eventually ships to the public. If they are close to what we see in upcoming Windows on ARM PCs, the third generation of the Snapdragon 8cx line would be quite an improvement over what's currently available.
We covered similar leaks for the Snapdragon 8cx Gen 3 back in March 2021 that showed similar scores.
Windows Central Newsletter
Get the best of Windows Central in in your inbox, every day!
News Writer and apps editor
Sean Endicott brings nearly a decade of experience covering Microsoft and Windows news to Windows Central. He joined our team in 2017 as an app reviewer and now heads up our day-to-day news coverage. If you have a news tip or an app to review, hit him up at sean.endicott@futurenet.com (opens in new tab).
Great news. That's roughly the kind of performance I was hoping for (including a long battery life and LTE, though personally I'm not sold on LTE on a laptop yet). I think the trouble for WoA is that 12th Gen Intel is going to be very competitive. In any case, more choice and more competition is good.

Once you try LTE on a laptop you suddenly can't be without it. Same goes for tablets. I got a cellular iPad a few years back and now I have to have it. Even got the cellular Go 2.

Yes, I've heard that from people (including in the comments here) and it makes me think. I'll have a better idea of what I really want when I really do have to go back to the office physically.

Because it is so hard to hit the quick setting to turn on your hotspot, assuming you don't have it sharing automatically? Not to mention, you have to pay fairly heavily for that minor convenience!

Higher scores than current flagship mobile soc indicates they are using multiple big cores like cortex x2 or a78c inside it instead following 1+3+4 cores combination like current flagship mobile soc from Qualcomm and mediatek. Use of multiple big cores may noticeably impact battery life as well. comparison with alderlake mobile will be interesting. Mediatek dimensity 9000 should be brought in for more affordable devices.

Multiple big X2 cores with A78 middle cores on a 4 nm process would result in a high-performance chip that uses less power than the SQ/SQ2 chips that used a 7 nm process. I'd be happy to have i5-level performance with half the power usage, thin and light fanless designs with LTE built in.

LTE and not UW 5g? In the city I get like 1.5gbs on my iPhone. Sharing the hotspot is so easy, no need to pay for a second, slower data stream.

Yeah great. Going to go ahead and guess that that 1.5 gbs is available on under 10 street corners and only when the wind isnt kicking up. Uwb is a scam foisted on you by carriers who are only capable of improving their marketing, not their product.

Well, time (read: release date) will tell on this. If we get a new SPX in the spring, that could be a big deal. If it takes until the fall Surface event, then the next generations of x86 CPUs will come out, possibly a new M1 (M2?) as well. Qualcomm has to hopefully be close to release on this, or it might be dated before it ever reaches consumers.

Meh, by the time it releases Intel will release their Alder Lake CPUs that should have better performance per watt, the 8cx gen 3 will probably get you better web cam quality then Intel's CPU but I don't think that's a bug deal. ARM CPUs have to be clearly better if they want to succeed and need to have great x86 64bit emulation.

ARM CPUs are just fine. The problem is Windows is a resource hog and no one is bothering to build Windows apps for ARM. There is absolutely no point in running everything in emulation. That is just stupid. Emulation is a temporary solution. Not a permanent solution. Great emulation means there is even less incentive for anyone to port apps to ARM. 25 years ago, Windows Server was available on 4 different CPUs. Intel, MIPS, Alpha and Power-PC. Guess what happened to the non-Intel versions? It's known as WinTel for a reason. WOA makes as much sense as iOS on Intel would.

They are not at least till now. Arm cores are legging behind Apple cores hence the performance Gulf between m1 and other arm chips is huge. Emulation is necessity.More powerful processor will handle it better. If intel or amd can offer better performance per Watt then it's no brainer to prefer their chips over arm. But the reality is until now Intel and amd have failed to match arm in efficiency.

Standby power is still a huge advantage to arm. But it does seem entirely plausible that Intel and or amd deliver in the end and arm becomes unnecessary... Though I think we would all benefit by having 3-5 soc vendors competing to bring prices down.

$599 performance. Guessing they will price the SPX at $1499 with this chip?

And hopefully there will also be a 599 clamshell laptop. The mere existence of spx does not prevent another oem from making the computer you want, nor you buying it. Are you somehow paid to whine on the internet?

"Are you somehow paid to whine on the internet?" ;) You new here?

We can see MediaTek, Samsung too
Windows Central Newsletter
Thank you for signing up to Windows Central. You will receive a verification email shortly.
There was a problem. Please refresh the page and try again.