Lenovo ThinkPad X280 review: Thinner and lighter at the cost of popular features
By Cale Hunt published
Did Lenovo remove too many features from its 12-inch X-series laptop?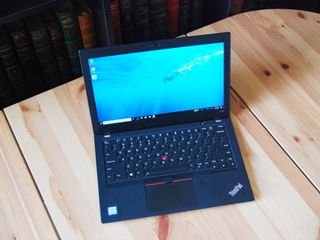 Lenovo's update cycle to its "X" lineup of ThinkPad laptops, including the X1 Carbon, X1 Yoga, and X1 Tablet, hasn't ignored the X200 series. The ThinkPad X280 I have here is the successor to the X270 (which I also reviewed), and it's still marketed as a more smaller, more mobile business partner.
It's lighter and thinner than the X270, with a less boxy chassis and a few other design changes I can appreciate. However, it's also missing some of the features that I think business folks equate with a solid ThinkPad workhorse. Let's take a closer look in this review.
About this review
Lenovo supplied Windows Central with a review unit of the ThinkPad X280. This specific configuration has inside an eighth-gen Intel Core i5 processor (CPU), 8GB of RAM, and a 512GB solid-state drive (SSD). Expect to pay about $1,650 for this model.
Lenovo ThinkPad X280 hardware and specs
Category
XX
Processor
Eighth-gen
Intel Core i5-8250
Quad core
Storage
Samsung PM981
512GB PCIe SSD
RAM
8GB DDR4
Display
12.5-inch FHD (1,920 x 1,080)
Touch, matte, IPS
Graphics
Intel UHD Graphics 620
Ports
Thunderbolt 3
USB-C 3.1
Two USB-A 3.0
HDMI 1.4b
Ethernet extension hub
3.5mm audio jack
micro SD card reader
Smart Card reader (optional)
Speakers
Dual stereo
Wireless
Intel Dual Band Wireless-AC 8265
802.11ac (2 x 2)
Bluetooth 4.1
Camera
Front-facing 720p
Keyboard
Backlit
Touchpad
Precision
TrackPoint system
Biometrics
Fingerprint reader (optional)
IR camera (optional)
Battery
Six-cell 48WHr
Weight
2.79 pounds (1.27 kg)
Dimensions
12.11 in x 8.26 in x 0.69-0.70 in
(307.7 mm x 209.8 mm x 17.4-17.8 mm)
Lenovo ThinkPad X280 design
The X280 holds onto the unmistakable ThinkPad look, with plain black exterior, logo with PC-state LED, and dual-hinge lid, but it's been redesigned for the Ultrabook era. The magnesium and carbon fiber hybrid chassis is thinner and lighter than last year's relatively boxy X270, but that's caused a full-sized Ethernet port to disappear and there's no longer a hot-swappable battery on the bottom.
There's not necessarily a poor selection of ports — you're getting Thunderbolt 3, USB-A, USB-C, HDMI, and a micro SD card reader — but for RJ45 Ethernet you'll need to dish out a bit extra for Lenovo's extension cable (opens in new tab). On the bottom, there are two down-firing speakers that deliver a good amount of sound when not muffled by your lap or table.
One of my issues with the X270 was the fingerprint reader's placement near the middle of the palm rest, where it would rub against your hand while typing. It's now been moved closer to the touchpad where it doesn't interfere nearly as much, if at all.
It should be stressed that this laptop is noticeably light, and its small form factor makes it very easy to slip into a bag when you're on the go. It feels like a sturdy, well-built device, but I do think that fans of the X200 series are going to view this as more of a miniaturized X1 Carbon than anything else. If you like the idea of a svelte business laptop, this is undoubtedly appealing, but those of you who want the workhorse attributes will be disappointed.
Lenovo ThinkPad X280 display
The 12.5-inch 1080p touch display is one of the better ThinkPad screens I've seen, with ample brightness making it possible to work in a sunlit area, especially with the matte finish. The touch digitizer and panel are all wrapped into one package to help keep weight down, and in testing it worked as intended. As for color, testing brought back 98 percent sRGB and 75 percent AdobeRGB, both excellent results.
The bezels are just shy of being noticeably large, and there's certainly plenty of room above the screen if you choose an IR camera for Windows Hello. The review unit here has the 720p webcam with a sliding shutter, a feature I love and something I think more laptops should have.
One area of concern involves the bezel along the bottom of the display. It's already peeling away from the panel in the bottom corners, and pushing it back flat only to have it pop back up proves the adhesive isn't sticking. Whether or not the rest will come unglued is yet to be seen, but it's a bit concerning on a laptop that costs this much.
Lenovo ThinkPad X280 keyboard and touchpad
There are no surprises when it comes to the keyboard. This is standard ThinkPad comfortability, with backlit keys and plenty of space for travel. The smaller form factor might take a bit of getting used to if you're coming from a larger device, but I had no issues using it as a daily driver.
The TrackPoint system is still here, with three physical buttons located just below the spacebar. If that's not your thing, the Precision touchpad works as it should. Again, I was used to the touchpad on a 15-inch device, so this one will take some getting used to.
Lenovo ThinkPad X280 performance
The eighth-gen, quad-core Intel Core i5 CPU here performed well in all cases, backed up by 8GB of RAM and a speedy 512GB SSD. For productivity purposes, this will chew through just about anything as long as you don't venture into any specialized tasks that require a discrete GPU. A full gamut of security features, including TPM 2.0 chip, vPro CPU, and Smart Card reader, round things out.
Battery life is average at about 9-10 hours from a single charge with brightness at 60 percent, and would no doubt drop a bit if you were pushing it for the entire time. The hot-swappable battery is missing, but at least you can get a full recharge in about an hour.
Likewise, RAM is now soldered onto the board, and there's no longer room for an extra HDD down the line. The X280 apparently has the option for LTE connectivity, but the Lenovo website doesn't seem to have any mention of it being an option at checkout.
CPU
Geekbench 4.0 benchmarks (higher is better)
| Device | CPU | Single core | Multi core |
| --- | --- | --- | --- |
| Lenovo ThinkPad X280 | i5-8250U | 4,061 | 13,017 |
| LG gram 15 | i7-8550U | 5,033 | 12,906 |
| Samsung Notebook 9 Pro 15 | i7-7500U | 4,431 | 8,669 |
| Lenovo Yoga 720 15 | i7-7700HQ | 3,784 | 10,255 |
| HP Spectre x360 15 | i7-7500U | 4,098 | 8,022 |
| Dell XPS 13 (9360) | i7-8550U | 4,690 | 14,334 |
| Dell XPS 13 (9360) | i7-6560U | 4,120 | 7,829 |
| Surface Book 2 13 | i7-8650U | 4,862 | 14,694 |
| Surface Laptop | i5-7200U | 3,725 | 7,523 |
| HP EliteBook x360 G2 | i7-7600U | 4,496 | 8,435 |
| Samsung Notebook 9 15 Ext | i7-7500U | 4,316 | 8,320 |
| Lenovo X1 Carbon | i5-7300U | 4,139 | 8,311 |
| HP Spectre 13 | i7-7500U | 4,100 | 7,469 |
Eighth-gen Intel goodness is on display here. Four cores mean better performance when it counts, and I had no issues in everyday use.
GPU
Geekbench 4.0 OpenCL (higher is better)
| Device | Compute score |
| --- | --- |
| Lenovo ThinkPad X280 | 21,142 |
| LG gram 15 | 22,334 |
| Samsung Notebook 9 Pro 15 | 19,769 |
| Lenovo Yoga 720 15 | 13,727 |
| Dell XPS 13 (NEW) | 22,555 |
| Surface Laptop | 19,256 |
| HP Spectre x360 15 | 28,868 |
| Samsung Notebook 9 15 Ext | 23,207 |
| HP EliteBook x360 G2 | 21,512 |
| Lenovo X1 Carbon | 20,932 |
| Dell XPS 13 (OLD) | 19,410 |
| Surface Book HD520 | 18,197 |
| Dell Latitude 7280 | 17,827 |
You aren't going to be doing any heavy-duty video editing with the integrated Intel UHD 620 GPU, but it can certainly compete with others in the same class.
PCMark
PCMark (Home Conventional 3.0)
| Device | Score |
| --- | --- |
| Lenovo ThinkPad X280 | 3,335 |
| LG gram 15 | 3,395 |
| Samsung Notebook 9 Pro 15 | 3,542 |
| Lenovo Yoga 720 15 | 2,993 |
| Dell XPS 13 i7 | 3,280 |
| Surface Book 2 13 | 3,341 |
| Surface Laptop Core i5 | 2,494 |
| Samsung Notebook 9 15 Ext | 2,998 |
| Lenovo X1 Carbon Core i5 | 2,965 |
| HP EliteBook x360 G2 | 2,916 |
| Dell Latitude 7280 | 2,829 |
| HP Spectre x360 15 | 2,472 |
The PCMark Home Conventional test measures how well the hardware in a laptop works together to accomplish usual tasks. The score achieved here is right where it should be, and this performance is evident as soon as you start using the laptop.
SSD
CrystalDiskMark (higher is better)
| Device | Read | Write |
| --- | --- | --- |
| Lenovo ThinkPad X280 | 3,366.1 MB/s | 1,901.5 MB/s |
| LG gram 15 | 554.1 MB/s | 449.6 MB/s |
| Samsung Notebook 9 Pro 15 | 549.9 MB/s | 519.3 MB/s |
| Dell XPS 13 (NEW) | 1,368 MB/s | 847 MB/s |
| Dell XPS 13 (OLD) | 1,287 MB/s | 794 MB/s |
| Surface Book 2 13 | 1,411 MB/s | 1,202 MB/s |
| Surface Laptop | 423 MB/s | 237 MB/s |
| Lenovo X1 Carbon | 1,518 MB/s | 1,188 MB/s |
| Samsung Notebook 9 Ext | 1,365 MB/s | 1,213 MB/s |
| HP EliteBook x360 G2 | 1,129 MB/s | 916 MB/s |
| HP Spectre x360 15 | 1,128 MB/s | 862 MB/s |
The Samsung SSD delivers undeniably great performance. You should have no issues with it, though it's a shame there's no longer an option to install a secondary drive yourself after purchase.
Lenovo ThinkPad X280 review: Conclusion
The ThinkPad X280 has clearly been refreshed with the future in mind, and I don't doubt it will polarize fans of the X200 series. It has the latest Intel hardware packed into a thinner and lighter chassis, making it easier than ever to tote around with you while still delivering great performance. These design changes, however, mean the removable battery, full-sized Ethernet port, and upgradeable hardware have been scrapped.
Considering you can pick up the 14-inch X1 Carbon with identical hardware inside for only about $200 (opens in new tab) more than the X280, Lenovo might have gone a bit too far. Still, changes had to come at some point as we march further into the realm of ultraportable.
Pros:
Thinner and lighter.
Great keyboard.
Bright, colorful display.
Great performance.
Webcam shutter.
Cons:
Bezel is unsticking itself in spots.
No more hot-swappable battery.
Less upgrade options.
Cale Hunt is a Senior Editor at Windows Central. He focuses mainly on laptop reviews, news, and accessory coverage. He is an avid PC gamer and multi-platform user, and spends most of his time either tinkering with or writing about tech.
I would really Like to have it and enjoy it for school

Doesn't seem worth it, in my opinion. Are you planning on reviewing the X380? That's something I'd be interested in.

If it comes our way we will definitely review it.

Where is docking sockets? Ethernet? WTF? After X220 and X250 this model is not My X choice anymore

Hey you're right, I don't see any, and that was a key selling feature that a lenovo dock could be used interchangably with the X200 series and the T400, T500 series,,,,guess we will have to use a Thunderbolt Ethernet adapter as we do with similar models of this size...

By the image of the bezel seems like same problem I had with their cheaper ThinkPad 13. Hinge is on the tighter side, bezel is on the softer side, and after half a year of use it will basically break. Really poor design from Lenovo from what was basically a perfect laptop for it's money. Couldn't imagine they would do same thing with their premium line.
Windows Central Newsletter
Get the best of Windows Central in in your inbox, every day!
Thank you for signing up to Windows Central. You will receive a verification email shortly.
There was a problem. Please refresh the page and try again.