Lenovo Yoga 920 review: Return of the master
The Yoga 9-series is back to reclaim its spot at the top of the stack.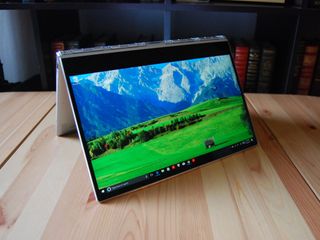 The successor of the awesome Yoga 910 is finally here, and it brings with it some design cues that are no doubt familiar. The unique watchband hinge is back and works as good as ever, the all-metal chassis is still light and thin, and the hardware inside provides plenty of power. This is Lenovo's premium convertible Yoga device, and this fact is evident as soon as you pick it up.
How does the Yoga 920 fare in the world of convertible Ultrabooks? Let's have an in-depth look in our review.
About this review
Lenovo supplied Windows Central with a review unit of the Yoga 920. It has inside an eighth-generation Intel Core i7-8550U quad-core processor (CPU), 16GB of DDR4 RAM, and a 512GB solid-state drive (SSD). This exact configuration is not currently available, but a similar configuration with 1TB of storage costs about $2,000 from Lenovo.
Lenovo Yoga 920 hardware and specs
Swipe to scroll horizontally
Category
XX
Processor
Eighth-generation
Intel Core i7-8550U (up to 4.0GHz)
Quad-core
Storage
Samsung 512GB PCIe SSD
RAM
16GB DDR4-2400MHz
Display
13.9-inch UHD (3,840 x 2,160)
IPS, touch
Graphics
Intel UHD Graphics 620
Ports
Two USB-C Thunderbolt 3
USB-A 3.0
3.5mm jack
Speakers
Dual JBL speakers
Dolby Atmos
Wireless
Qualcomm Atheros QCA6174A
802.11ac (2 x 2)
Bluetooth 4.2
Camera
Front-facing 720p
Touchpad
Precision
Pen
Lenovo Active Pen 2
Biometrics
Fingerprint reader for Windows Hello
Battery
Four-cell 70WHr
Weight
3.02 pounds (1.37kg)
Dimensions
12.7 inches x 8.8 inches x 0.54 inches
323mm x 223.5mm x 13.95mm
Color
Platinum silver
Price
About $2,000
Lenovo Yoga 920 design
Unboxing this laptop, you'll immediately notice the thinness of the all-metal chassis and the watchband hinge. The laptop is smaller than a standard 14-inch, no doubt due to the thin bezel around the sides and top of the display. Weight is balanced well, and three pounds doesn't seem as heavy as it sounds. If you like to turn heads with your laptop, this will no doubt do it. It's only about a half-inch thick, and the tapered design makes it appear even thinner toward the front.
The most striking part of this laptop's design is the watchband hinge, which provides sturdy 360-degree rotation of the display for tent, stand, and tablet modes. There are differing levels of firmness; you can open the laptop with one hand, but only up to about 90 degrees. At that point, it gets stiff and provides enough stability to be used in a moving vehicle. The lid should not close or open on its own when continuously bumped.
Instead of any visible vents on the chassis, they're routed through the hinge. This allows for open air flow even when the laptop is on your lap, and for the most part it works well. The fan does kick on when under load, but it remains quiet.
Image 1 of 2
The backlit power button is located on the right edge of the laptop, next to the USB-A 3.0 port. The only issue here, and one we've seen on many convertible laptops with the same placement, is that it often gets hit accidentally when in tablet mode. On the left are a 3.5mm audio jack and two USB-C Thunderbolt 3 ports. One is used part-time as a charging port. It's difficult for a manufacturer to get a mix of ports that everyone can love, especially on a laptop this thin. If you're one to use an external display or other peripherals, you might need to invest in HDMI or DisplayPort adapters.
The touch fingerprint reader is set into the right palm rest but well out of the way of your palm when typing. It allows for instant PC logins through Windows Hello, and in my testing worked without fault. A down-firing JBL speaker is set into each front corner of the laptop. With volume at full blast, the sound is a bit hollow and jagged, but at least it's loud. Dolby Atmos does offer an enhanced listening experience, but you'll no doubt want to take advantage while wearing headphones.
Lenovo Yoga 920 display
Our Yoga 920 sports a 13.9-inch 4K display (a Full HD 1920x1080 configuration is also available). Out of the box, it's scaled at 300 percent which really cuts down on available screen real estate. For multitasking and productivity, 200 percent provides enough room to place two windows side-by-side and is still clear enough to easily read text.
The convertible design calls for a touch display, this one with an IPS panel and glossy finish. It's all glass from edge to edge, and the thin bezel can almost be completely ignored thanks to the stunning picture with deep color and great contrast. Testing color accuracy, we saw 100 percent sRGB and 81 percent AdobeRGB, both excellent results.
The display is not as bright as we've seen from the competition — the HP Spectre x360 easily beats it — but it's also not too dim to be used in sunlight. Lenovo has moved the 720p webcam back to the top of the display to avoid intrusive nostril shots, though it is not the clearest camera we've used. It gets the job done for video, but don't expect to take any quality still shots.
One extra feature the 4K configurations have is a Wacom AES digitizer, allowing for Lenovo Active Pen 2 support. It's a step up from the first Active Pen, now offering 4,096 levels of pressure and a sleek redesign. Gone is the pocket clip, and there's now an eraser/shortcut button on the top. There's still no proper tilt support that allows for shading, but the pen feels comfortable in the hand and tracks well. The only major complaint is that Lenovo is sticking with the separate plastic attachment piece that sticks into your USB-A port. Compared to the Surface Pro's magnetic attachment, this just seems sloppy.
Lenovo Yoga 920 keyboard and touchpad
Lenovo is usually on its game when it comes to keyboards, but this one is a bit of a letdown. The chiclet keys have a slight cupping to them and spacing is comfortable, but key travel is limited. At least there's a soft landing when keys hit the deck. The worst part, though, is the squeaking sound that some keys suffer from. When typing all day, this minor annoyance became a major irritant.
The keyboard has three levels of backlight that makes working in the dark easy, and the F keys have the common shortcuts, including volume, display brightness, airplane mode, account lock, and touchpad on/off toggle.
The touchpad is finished with mylar for a smooth tracking experience, and a small line denotes the separation between left and right buttons. It uses Precision drivers for full Windows 10 gestures, and sensitivity didn't need to be tweaked at all. Lenovo used to use a proprietary Settings app that would often mess with a good thing (in this case, the Precision touchpad), but since merging with the Lenovo Companion app, it appears that the takeover has been dialed back.
There's no rattling or looseness in the touchpad when clicking. It responds well to all gestures, the surface doesn't pick up a ton of oil from the hands, and it's sized in proportion with the rest of the device.
Lenovo Yoga 920 performance
A 4K display usually means a solid hit to battery life, but thanks to the new, more efficient CPU and large 70WHr battery, I saw more than 10 hours of battery life when going about regular tasks. Leaving your charger at home when you head into the office is a big deal, and even if you do need to charge, it will refill in only about an hour and a half.
You will feel some warmth on the solid bottom of the laptop, especially when it's under load. It got the hottest while video conferencing with the power supply plugged, and even then it could still sit on my lap without fear of setting my pants on fire.
If you're looking for a laptop that's easily upgradeable, look elsewhere. The RAM is soldered to the board and the SSD, while set apart, is best considered unreachable. On a related note, the 512GB hard drive has a 25GB partition that contains just 1GB of Lenovo's drivers. The rest of the space can be used, but it's an inconvenience, especially if you're opting for a 256GB SSD.
CPU
Geekbench 4.0 Benchmarks (Higher is better)
Swipe to scroll horizontally
| Device | CPU | Single core | Multi core |
| --- | --- | --- | --- |
| Lenovo Yoga 920 | i7-8550U | 4,485 | 12,297 |
| Lenovo ThinkPad 25 | i7-7500U | 4,211 | 7,919 |
| Lenovo Flex 5 15 | i7-7500U | 3,976 | 7,730 |
| Lenovo Yoga 720 15 | i7-7700HQ | 3,784 | 10,255 |
| Lenovo ThinkPad X1 Yoga (2nd Gen) | i5-7200U | 3,911 | 7,549 |
| Surface Laptop | i5-7200U | 3,725 | 7,523 |
| Lenovo ThinkPad T470 | i5-7300U vPro | 4,394 | 8,580 |
| Dell Latitude 5285 | i7-7600U | 4,635 | 9,289 |
| Lenovo ThinkPad X270 | i7-7600U | 4,512 | 8,566 |
| Lenovo ThinkPad T470s | i5-7300U vPro | 3,919 | 6,077 |
| Lenovo Yoga 720 13 | i5-7200U | 3,881 | 7,509 |
| Lenovo X1 Carbon | i5-7300U | 4,139 | 8,311 |
| HP EliteBook x360 G2 | i7-7600U | 4,496 | 8,435 |
| Samsung Notebook 9 15 Ext | i7-7500U | 4,316 | 8,320 |
| Dell Latitude 7280 | i7-7600U | 4,381 | 7,935 |
| Dell XPS 13 (9360) | i7-6560U | 4,120 | 7,829 |
| HP Spectre 13 | i7-7500U | 4,100 | 7,469 |
| Surface Book | i7-6600U | 3,948 | 7,415 |
The quad-core, eighth-generation Intel Core i7-8550U CPU delivers a solid single-core score, and with all four cores enabled, we see performance that even beats out the seventh-generation i7-7700HQ CPU in the 15-inch Yoga 720. The difference here is that the newer i7-8550U has a thermal design point (TDP) of 15W, while the i7-7700HQ has a TDP of 45W. It's drawing a lot less power, yet retains the performance associated with four cores.
GPU
Geekbench 4.0 Graphics OpenCL (Higher is better)
Swipe to scroll horizontally
| Device | Score |
| --- | --- |
| Lenovo Yoga 920 | 21,892 |
| Lenovo ThinkPad 25 | 17,789 |
| Lenovo Flex 5 15 | 16,912 |
| Lenovo Yoga 720 15 | 13,727 |
| Lenovo ThinkPad X1 Yoga (2nd Gen) | 19,738 |
| Surface Pro 2017 | 30,678 |
| Surface Laptop | 19,256 |
| Lenovo ThinkPad T470 | 21,276 |
| Dell Latitude 5285 | 21,921 |
| Lenovo ThinkPad X270 | 17,376 |
| Lenovo ThinkPad T470s | 16,635 |
| Lenovo Yoga 720 13 | 18,185 |
| Lenovo X1 Carbon | 20,932 |
| Dell Latitude 5480 | 21,616 |
| Dell XPS 13 (9360) | 19,410 |
| Surface Book | 18,197 |
| Dell Latitude 7280 | 17,827 |
Here we have Intel UHD Graphics 620, which is essentially a rebrand of HD Graphics 620 for the eighth-generation CPUs. Still, performance is right where it should be, and you'll be able to handle some multimedia editing; just don't expect any stellar 4K gaming experiences or a solid video-editing machine.
PCMark
PCMark Home Conventional 3.0
Swipe to scroll horizontally
| Device | Score | Comparison |
| --- | --- | --- |
| Lenovo Yoga 920 | 2,882 | Better than 51 percent of all results |
| Lenovo ThinkPad 25 | 2,884 | Better than 51 percent of all results |
| Lenovo Flex 5 15 | 2,634 | Better than 46 percent of all results |
| Lenovo Yoga 720 15 | 2,993 | Better than 57 percent of all results |
| Lenovo ThinkPad X1 Yoga (2nd Gen) | 2,773 | Better than 46 percent of all results |
| Surface Pro 2017 | 3,055 | Better than 57 percent of all results |
| Surface Laptop | 2,494 | Better than 40 percent of all results |
| Lenovo ThinkPad T470 | 3,103 | Better than 62 percent of all results |
| Dell Latitude 5285 | 3,079 | Better than 57 percent of all results |
| Lenovo ThinkPad X270 | 3,009 | Better than 57 percent of all results |
| Lenovo ThinkPad T470s | 2,576 | Better than 40 percent of all results |
| Lenovo Yoga 720 13 | 2,717 | Better than 46 percent of all results |
| Lenovo X1 Carbon Core i5 | 2,965 | Better than 57 percent of all results |
| Samsung Notebook 9 15 Ext | 2,998 | Better than 57 percent of all results |
| Dell XPS 15 (9560) | 3,534 | Better than 71 percent of all results |
| Dell Latitude 7280 | 2,829 | Better than 52 percent of all results |
| HP Spectre x360 15 | 2,472 | Better than 41 percent of all results |
The PCMark Home Conventional test takes a bunch of your hardware and determines how well it works together while performing a number of everyday tasks. The Yoga 920 scored well, and in everyday use, I ran into no issues whatsoever. This laptop will tear through everyday productivity, and is even an entry point to some specialized tasks thanks to the quad-core CPU and 16GB of RAM.
SSD
CrystalDiskMark (Higher is better)
Swipe to scroll horizontally
| Device | Read | Write |
| --- | --- | --- |
| Lenovo Yoga 920 | 1,756 MB/s | 1,428 MB/s |
| Lenovo ThinkPad 25 | 1,368 MB/s | 858.4 MB/s |
| Lenovo Flex 5 15 | 2,146 MB/s | 1,186 MB/s |
| Lenovo Yoga 720 15 | 1,839 MB/s | 1,238 MB/s |
| Lenovo ThinkPad X1 Yoga (2nd Gen) | 1,253 MB/s | 763.6 MB/s |
| Surface Laptop | 423 MB/s | 237 MB/s |
| Lenovo ThinkPad T470 | 1,079 MB/s | 716.1 MB/s |
| Dell Latitude 5285 | 1,300 MB/s | 1,113 MB/s |
| Lenovo ThinkPad X270 PCIe | 1,049 MB/s | 636.9 MB/s |
| Lenovo ThinkPad T470s | 1,557 MB/s | 1,333 MB/s |
| Lenovo Yoga 720 | 1,904 MB/s | 1,169 MB/s |
| Lenovo X1 Carbon | 1,518 MB/s | 1,188 MB/s |
| Samsung Notebook 9 15 Ext | 1,365 MB/s | 1,213 MB/s |
| Razer Blade Pro | 2,571 MB/s | 2,467 MB/s |
| Dell XPS 15 (9560) | 2,207 MB/s | 1,628 MB/s |
| Dell XPS 13 (9360) | 1,287 MB/s | 794 MB/s |
| HP Spectre x360 15 | 1,128 MB/s | 862 MB/s |
This Samsung PM961 SSD has an M.2 form factor and uses a PCIe interface for quick data transfers. Read and write speeds are excellent, and you'll notice no issues when it comes to booting Windows, loading apps, and unzipping files.
Lenovo Yoga 920 review: Conclusion
Lenovo's premier Yoga device is near the top of all convertible laptops. The all-metal build is solid but light, the chassis is only about a half-inch thick, and the watchband hinge is the best there is.
Inside we have performance hardware, including an eighth-generation Intel quad-core CPU, plenty of DDR4 RAM, and a premium SSD. There's also a gorgeous 4K touch display with small bezel that can be used with the new Active Pen 2. Despite the hardware and display, the battery runs all day and can be fully charged in about 1.5 hours.
It's a shame that the keyboard isn't quite up to snuff, otherwise this laptop would receive full marks. The shallow key travel combined with a couple squeaky keys will drive you nuts if you type all day, tainting your overall experience.
Still, if you're looking for one of the best convertible laptops on the market, the Yoga 920 will not disappoint. Performance and style are well balanced, but you're going to pay accordingly.
Pros
4K touch display is beautiful.
Hinge is stellar.
Excellent battery life.
Webcam back above the display.
Strong performance.
Cons:
Keyboard could be a lot better.
Pen USB attachment seems sloppy.
Windows Central Newsletter
Get the best of Windows Central in in your inbox, every day!
Senior Editor, Laptop Reviews
Cale Hunt is formerly a Senior Editor at Windows Central. He focuses mainly on laptop reviews, news, and accessory coverage. He's been reviewing laptops and accessories full-time since 2016, with hundreds of reviews published for Windows Central. He is an avid PC gamer and multi-platform user, and spends most of his time either tinkering with or writing about tech.
It would have to nice (and more balanced) to compare against the 8th generation HP Spectre x360 rather the 7th gen. While there's little changed in terms of chassis, the performance is comparable. Also, the new 8th gen is more readily available than the Lenovo.

We'll be getting the Spectre x360 8th gen review unit in the coming week; we do what we can when we have the resources.

nice will you guys be reviewing the Dell Inspiron 7000 2 in 1 and the HP Envy x360 15T ?

Webcam 720p should be listed a con as well I think. At least 1080p for video conf calls. Also the display panel is probably an additional con. Since I assume besides brightness, the black level is probably again bit dark grayish instead of deeper black. They should use displays similar to Surface. That bezel below could have been used to more screen vertically. It's black anyway now with 16:9 movies so might as well make more use of it for other content.

Couple of sqeuaky keys might be just for specific unit though. Don't think it will be very generic throughout all machines. Otherwise looks like a solid laptop. A comparison of late 2017 spectre x360, xps 13 2-in-1 and this should be good. :) Plus, can we have a review of WMR on ultrabook PCs. Minimum requirement is i5 7th gen and intel graphics 620, I guess, which are found in most of the ultrabooks adn 2-in-1s like this.

Pardon my ignorance, but could an eGPU be used in the thunderbolt 3 ports? I imagine the quad core would be less of a bottleneck when combined with something like a 1070 as opposed to the older dual core processors.

Yes. Both Thunderbolt 3 are 4 lanes. So it should be good to go.

Do the non-4K versions support the active pen? I was looking on the Lenovo website and under tech specs there is a section that lists Active Pen which says "No Active Pen." But I'm unsure if this means no active pen support or that the active pen is not included with the unit.

"One extra feature the 4K configurations have is a Wacom AES digitizer, allowing for Lenovo Active Pen 2 support." I don't think non-4k versions support active pen.

Just seeing the numbers "920" brings back some great WP memories. This looks like a nice ultrabook but I am not a fan of that hinge for some reason.

But the hinge is the best feature! it's their most visible USP.

Oh, I know. I understand that and it also works very well. I am just not a fan of it aesthetically.

I think it's the color. It's too shiny compared to the rest of the device. I do really love that darker grey of the Dell XPS 13. It just look professional and modern (and it's so small for a 13" device).

I wasn't a fan of the 910's hinge until I saw it in person.

2000 USD I would rather get surface book 2 13.5 i7 8GB 256GB 1050 2GB

No IR camera for Windows Hello is a little disappointing, but at least is has a fingerprint reader. Hopefully these show up in Microsoft Stores soon. "There's no rattling or looseness in the touchpad when clicking." I can't wait to be the judge of this. This is my biggest complaint from practically all non-Apple laptops.

Haha! Youre back again with your track pad pickiness!do you like the mac book track pads before they had the haptic feedback? Or you only like the haptic feed back ones?

My trackpad senses led me to this article :). I had a MacBook Air for four years and always liked using the trackpad. The first laptop I used after it was last year's ENVY x360 where I immediately noticed the rattling trackpad. I've been using a MBP with the haptic trackpad for several months and wish the "click" felt as though I was pushing down deeper (ha). Otherwise it's still unmatched. The closest non-Apple trackpad I actually liked was in the XPS 13. The noise when lightly tapping was minimal (compared to everything else), but I felt like its click required too little force. Picky? Hell yeah. For four-figure laptops that I want to use for 4+ years, I want it to be perfect.

Have you used the Trackpad of a Surface Book?... I've never felt a "rattling" or "looseness" in mine... it is easily the best trackpad I've used (on par with MacBooks).

I have and did find a slight about of rattle when lightly tapping, though not nearly as noticeable as most competitors. IMO, all the Surface trackpads are as close to MacBooks as we'll get until we get ones without physical clicks.

Thats really sad that this 15 watt CPU out benchmarks my 45 watt CPU in my 720. I wish Lenovo would push out an update for the 720 to improve on it a bit. I still would prefer my 720 over the 920 though because of the 1050 GPU. If they made a variant of the 920 with a 1050 or at least the new 150, I would really be wishing I had waited for the 920. But not regretting it with lack of dedicated GPU in the 920. Also MAJOR KUDOS/PROPS to Lenovo for moving the webcam back to the top. I been screaming for Dell to do this with the XPS. Like it can still be small bezels with it at the top just like this 920.

In order for Lenovo to control heat, they disbled turbo boost on your 45 watt CPU. You are essentially always running at base clocks. Open yoir laptop, apply new thermal paste, undervolt your CPU, and re enable boost in the BIOS. Then you will see a pretty big improvement. Note: This voids your warrenty

I think I'll wait for the new Ryzen APU models to be released.

I am trying a Lenovo Flex 5, with the same 8th gen i7, 512gb, 16ram. The build quality and weight are probably not as good, but it's $999....and really quite nice. I have had it for a week and it seems to be a keeper. Bought it from Costco...was surprised to see the 8th gen in this model. It is not to be found on Lenovo's web site for some reason.

I bought the flex 5 with the 7700 and returned it, bought the legion 5something and reurned that. Have the 8550 flex five I'm typing on now and am going to return it too. Turns out the flex 5 is a mobile desktop--it only last 2 hours (1 hour and 40 minutes before battery save program kicks in. Thats not good enough for me. I love the screen, the touchpad (minus the fact that microsoft, lenovo and synaptic have given the nod to the apple gestures with out ever having used the one finger scrolling on the older Lenovos, everyone that has lost that feature is trying to get it back), I can edit videos and RAW without waiting and freezing up.I have been researching everything out there and think I might try the x360 to see how that feels. If its not great then I might try the envy with the MX150 to see how that does. GPU is important to me but camping in the van I need more than 2 hours battery life. Almost all the Costco high end models are built just for Costco, never on the manufacturers websites. I really dont want to go 2k for good portability but I might just end up with this 920. After 3 Thinkpads, 2 MBPs and others, Lenovo has my vote. I dropped my 420 hard enough so that both the harddrives popped out, cracked the battery tabs and the case and it is still working. That and the fact that I don't have to wait in line for the Geniouses to get around to me because I can't fix the thing myself. I really want an SD reader on the machine so I don't have to carry something else just to get the images off my camera but smaller laptops seem to be getting rid of them. Oh well.

Interesting on the Flex 5. Well, perhaps I'm not noticing "battery saver mode", but in my initial trial runs, it is looking like this Flex 5 8th gen i7 would easily get 7-8 hours. I end my test at the point that it says I have 1.5hrs left, and that is after 7 hours. Granted, I only use the browser (Edge primarily) and office applications. This processor is over-kill for me, but I was hoping to buy something that I can hang with for a while. Just coming off of 7 years using Macbook pro's, so I'm just getting familiar. And actually, I wil probably look into the settings to see if I can keep battery saving features applied at all times. This is my first machine with 16gb, and it is sweet.

UPDATE: Just got back from Costco - The Lenovo Flex 5 8th gen just dropped to $899 at Costco.

I was tempted by Costco's Flex 5 but found their displays too wobbly and the trackpads felt super cheap.

Coming from the Apple world, I'm a trackpad snob. The trackpad and gestures are Apple's greatest contribution, IMO. I have never felt a Window's trackpad that meets the Apple standard, but honestly, I'm quite fine with the Flex's version. For $899 and tons of RAM and SSD....with 8th gen....it seems, to me, a solid deal. I'm not a touch screen guy (again, from the Mac world)....but not noticing the wobble issues. For me, I'd say fan noise and weight are the biggest issues. Yesterday, I ran a test and got 7:45 hours with 8% battery remaining.

There seems to be not a single picture of the back of the display, the most prominently displayed part of the chassis. Given you note that this is a head-turner in design, shouldn't we see why that is, beyond a hinge most won't really notice. This one's not for me though. After Lenovo got caught selling their laptops with adware on them, I wrote their products off for personal use. That they would try something so sketchy makes me incapable of trusting them to not sneak it back in there, so I'll look to another OEM for my next laptop. Also, Raven Ridge just got announced today. This will put the Intel iGPU to shame, while giving and overall strong APU that could give us gaming-capable ultrabooks. I'm definitely in the market for a laptop because of this, and will be waiting to see what comes of the Raven Ridge product line before making a purchase.

Cale, think you have a typo in the dimensions - 13.95mm vs 0.5in. Was a number left off the depth in inches possibly?

Looks right to me. 13.95mm = 0.549"

Looks impressive and sounds impressive. Before I bought my Surface Pro 4 I was considered a Yoga 910, the hinge is nice in real life. Anyway, never tired a loop attached to USP solution, sure it's not as convenient as a magnetic attachable pen, but the magnets aren't almighty as well. Used to carry my SP4 in a sleeve with the pen attached to it, but a few days ago, my pen fell down and the tip got ruined after I got it out from the sleeve, because it's not hard to dislocate it as well. Luckily I have spare tips...

If only some OEM would make one of these in a wide form factor for a numeric pad on the keyboard.....

Too bad it has a 16:9 screen, pass. Almost there, almost there, ahhhhhhh

Microsoft store has these now. i7-8550U / 256GB SSD / 8GB RAM / W10 Pro for $1,399.99. As expected, the trackpad rattles, especially the bottom half.

When you say rattles do you mean like when you lightly press on the track pad with fully clicking? If so I just tried this on my Lenovo Yoga 720 and it doesnt have that issue. However the late 2016 HP Sepctrex360 I had then returned (for different reason), had that rattle when lightly pressing on the track pad too. Since my Yoga 720 doesn't have it maybe its just a defective one? I'd try a second Yoga 920 track pad before you write it off as all of them.

With light taps, yes. There is a minor gap between the pad and the actual button, which to me is a big design flaw on Synaptics' end. It also happens on the Yoga 720 as heard in my video here: https://youtu.be/Vt_xQsTl68o. Yes, it's 100% a FWP. All non-Apple laptops I tried at both Best Buy and the Microsoft store do this, though the Surface line does it the least.

- Love the Lenovo watchband hinge (Microsoft, your super bulky hinge sucks.) - Hate the pen having to attach to USB port (Lenovo, where do I put the pen when I'm using the USB port? Duh.) - BAD: All of these types of devices are getting pricier and pricier! Gimme a 13" Surface 5 Pro or Yoga on ARM (with the power equivalent of Apple's A11) for, say, hmm, $700? And a 10" for $500? That would just about kill Chromebooks and take a big bite out of Apple and Samsung.

The benchmarks are wrong... Yoga 720 15 7700HQ Geekbench single-core score is about 4700 (not 3700) and its multi-core score is about 14000 (not 10000)

Not sure I like that keyboard (fairly ugly), but otherwise it's a great looking machine. Well done, Lenovo
Windows Central Newsletter
Thank you for signing up to Windows Central. You will receive a verification email shortly.
There was a problem. Please refresh the page and try again.