Lenovo Yoga 720 15 review: An Ultrabook that can seemingly do it all
By Cale Hunt last updated
A convertible design with enough power to double as a gaming laptop? Count me in.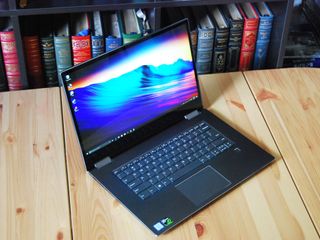 Lenovo's 700-series laptops sit somewhere in the middle of its overall selection, with the 900-series being the upper echelon when it comes to design and performance. The Yoga 910 is still awaiting an update, and now the newer 15-inch Yoga 720 could easily be mistaken as the top of the line when it comes to Lenovo products. It's that nice.
Compared to its predecessor, the Yoga 710, you're getting a beefier GPU, an HQ-series processor, larger battery, larger storage, and a lighter build. How does it fare in a world full of outstanding 15-inch laptops? Let's take a closer look.
About this review
Lenovo supplied Windows Central with a review unit of the 15-inch Yoga 720. This specific configuration has an Intel Core i7-7700HQ processor, 8GB of DDR4 RAM, and a 256GB solid-state drive (SSD). It costs about $1,030.
Plenty of options available
Lenovo Yoga 720 hardware and specs
Lenovo offers quite a few configuration options, including a 4K display, two different colors, and your standard SSD sizes. The wireless card and the SSD are both user upgradeable, and there is an accessible slot for an extra stick of DIMM RAM if you choose to add to whatever's soldered on board.
Category
XX
Processor
Intel Core i5-7300HQ (up to 3.50GHz)
Intel Core i7-7700HQ (up to 3.80GHz)
Storage
256GB/512GB/1TB PCIe SSD
RAM
8GB/16GB DDR4-2133MHz
Display
15.6-inch FHD (1920 x 1080) IPS, touch, glossy
15.6-inch UHD (3840 x 2160) IPS, touch, glossy
Graphics
Intel HD Graphics 630
NVIDIA GeForce GTX 1050 with 2GB VRAM
Ports
USB-C Thunderbolt 3
Two USB-A 3.0
3.5mm audio jack
Speakers
Two JBL speakers
Dolby Premium Audio
Wireless
Intel Dual Band Wireless-AC 8265
802.11ac (2 x 2)
Bluetooth 4.1
Camera
Front-facing 720p
Biometrics
Fingerprint reader for Windows Hello
Battery
Six-cell 72WHr
Weight
4.4lbs (2kg)
Dimensions
14.3 inches x 9.5 inches x 0.75 inches
364mm x 242mm x 19mm
Color
Iron Grey
Platinum Silver
OS
Windows 10 Home
Windows 10 Pro
Price
Starting at $1,030
Topping out the specs with a Core i7 CPU, 16GB of RAM, a 1TB SSD, and a 4K display powered by a GTX 1050 costs about $2,000, which is a price on par with other, similar laptops (looking at you, HP Spectre x360).
Sleek, smooth, slim
Lenovo Yoga 720 design
The Yoga 720 I received has an Iron Grey finish, which hides a lot of the regular dirt and oil picked up over a workday. The overall design creates an understated look. The lid has the Yoga logo in the upper-left corner, and that's pretty much it for branding until you open it up and see another, smaller Yoga logo in the bottom-right corner.
All edges, including around the lid, touchpad, and fingerprint reader, are smooth and have a machined silver accent to them that, when catching the light just right, really makes the rest of the laptop pop out at you, despite its darker, uniform color.
The lid cannot be opened with one hand due to the stiffness of the dual hinges, but that's forgiven when you start using the laptop in a moving vehicle and don't have to deal with a screen that's opening or closing on its own. Working the hinges — including converting the laptop into tent, stand, and tablet modes — is as smooth as it gets. The lid is sturdy and there's minimal flex when opening it from one corner, and the main body feels solid when you pick it up. No creaking or twisting here.
The sides of the laptop are designed to give the appearance of a bit of a wedge, but thickness, in reality, remains the same across the laptop. Compared to the Yoga 710, there are fewer ports, including a lack of Micro HDMI and an SD card reader, something many of you will miss. A USB-C Thunderbolt 3 port has been added alongside two USB-A 3.0 ports, one on each side.
There's plenty of space to plug in your peripherals, and having all ports plugged in won't cause a jam. A few more ports here would have been nice considering how well the Yoga 720 performs — it's a true multipurpose machine hampered by the fact that you won't be able to connect all of your devices without the help of adapters and dongles.
A fingerprint reader is set into the right-hand palm rest, but it's far enough to the side to keep it from rubbing up against your palm while typing. It's a single-touch reader, so to log in with Windows Hello, all you need to do is give it a tap.
One small problem I noticed when using the Yoga 720 in tablet mode was the propensity to hit the power button located on the side of the device. It isn't set into the laptop and is quite sensitive, and holding onto the tablet had me bump it quite often. It's annoying at first, but you'll eventually get used to avoiding it.
Because of the higher thermal design point (TDP) of the CPU and the GTX 1050 GPU, there is plenty of venting on the back edge and bottom of the laptop. Dual down-firing speakers can also be found on the bottom, and they deliver clear sound when not being muffled by your lap or a desk.
Nothing extraordinary
Lenovo Yoga 720 display
This Yoga 720 came with an FHD (1920 x 1080) IPS touch display, but there is a 4K option also available. You'll first notice how great the small bezel looks on a glossy screen this size. Despite the slim bezel, a 720p webcam is housed at the top of the display; no nose cam here. Color and contrast are what you'd expect, and testing revealed 97 percent sRGB and 78 percent AdobeRGB, both decent results from this type of display.
The glossy finish does sometimes make it difficult to work outdoors or inside in sunlight, but luckily the screen gets very bright when you hit the 90 to 100 percent mark on the slider. Lenovo is no doubt attempting to eke as much life out of the battery inside, so there's not much difference in the middle brightness range.
Switching into tablet mode, you might find that the bezel is a bit too slim to properly hold onto. This is a big device that weighs about 4.4 pounds, and I found that my thumbs and palms hit the screen often. If you have the tablet sitting in your lap it's no problem, but if you're primarily thinking about using this device as something to draw with, you might want to invest in a stand.
Lenovo's Active Pen wasn't included with the review unit, but indeed the display should be compatible with most Wacom AES pens thanks to the AES digitizer panel.
With Precision
Lenovo Yoga 720 keyboard and touchpad
The keyboard on the Yoga 720 doesn't have the same famous comfort as Lenovo's ThinkPad line, but it's still a pleasure to type on for extended periods of time. The keys have ample spacing and make a satisfying click while you type, and there are three levels of backlight for when you're working in the dark.
There isn't quite as much travel as you'd find on a ThinkPad keyboard, and bottoming keys out on the deck isn't as cushioned. Still, this is one of my favorite keyboards of late to type on. The F1 to F12 keys all have settings adjustments, including volume, brightness, lock, and a touchpad toggle for when you're using an external mouse.
The mylar Precision touchpad is plenty big — what you'd expect on a laptop this size — and it has perfect sensitivity right out of the box. All Windows 10 gestures can be used, and overall I had no issues using it. There is no rattle and it seems well put together.
A polite gaming machine
Lenovo Yoga 720 gaming
Thanks to the GeForce GTX 1050 with 2GB of VRAM inside, the Yoga 720 makes a suitable laptop for some medium-duty gaming. I ran some benchmarks using 3DMark Sky Diver and received a score of 14,916, which is better than 46 percent of all recorded results. To put that into perspective, the highest score ever from a GTX 1050 is 26,968, no doubt pushed to its limits.
As a simpler way to measure performance, I benchmarked a few minutes of Diablo III at 1080p with all graphics settings on high. The first results, with anti-aliasing set at 4X High, I averaged 66.5FPS. With anti-aliasing off, I averaged about the same at 70.1FPS.
A real-world opinion of the Yoga 720 as a gaming machine is that it will do you well if you don't push it too hard. This is primarily a convertible laptop, and so it's made to be as thin as possible and doesn't have quite the same thermals as a dedicated gaming machine.
When the GPU is working, the laptop gets quite hot and the fan has to work hard and loud to keep everything from melting down. Stick with medium settings on newer games and this thing is actually a respectable laptop when it comes to gaming.
Nailed it
Lenovo Yoga 720 performance
Using the Yoga 720 as an everyday device for more than a week revealed no major problems with performance. No matter what I did, including game, I was satisfied. The quad-core Intel Core i7-7700HQ is a nice step up from the usual U-series Ultrabooks CPUs, but it also sucks up more power.
That doesn't seem to matter when it comes to the 72WHr battery, as I was able to get between seven and eight hours of standard use out of it on a single charge. While gaming steadily, that number is decreased by about three hours, and if you get the 4K display, that number will also no doubt drop. One small complaint is that Lenovo is still using its proprietary charger instead of USB-C.
CPU
Geekbench 4.0 Benchmarks (Higher is better)
| Device | CPU | Single core | Multi core |
| --- | --- | --- | --- |
| Lenovo Yoga 720 15 | i7-7700HQ | 3,784 | 10,255 |
| Lenovo ThinkPad X1 Yoga (2nd Gen) | i5-7200U | 3,911 | 7,549 |
| Surface Laptop | i5-7200U | 3,725 | 7,523 |
| Lenovo ThinkPad T470 | i5-7300U vPro | 4,394 | 8,580 |
| Dell Latitude 5285 | i7-7600U | 4,635 | 9,289 |
| Lenovo ThinkPad X270 | i7-7600U | 4,512 | 8,566 |
| Lenovo ThinkPad T470s | i5-7300U vPro | 3,919 | 6,077 |
| Lenovo Yoga 720 13 | i5-7200U | 3,881 | 7,509 |
| Lenovo X1 Carbon | i5-7300U | 4,139 | 8,311 |
| HP EliteBook x360 G2 | i7-7600U | 4,496 | 8,435 |
| Samsung Notebook 9 15 Ext | i7-7500U | 4,316 | 8,320 |
| Dell Latitude 7280 | i7-7600U | 4,381 | 7,935 |
| Dell XPS 13 (9360) | i7-6560U | 4,120 | 7,829 |
| HP Spectre 13 | i7-7500U | 4,100 | 7,469 |
| Surface Book | i7-6600U | 3,948 | 7,415 |
The single core for the Core i7-7700HQ is similar or lower than a lot of the other U-series CPUs we've tested, but once that quad-core greatness kicks in, there's a significant difference in performance. This is enough power for your everyday tasks and even some specialized tasks, like multimedia editing and gaming.
GPU
Geekbench 4.0 Graphics OpenCL (Higher is better)
| Device | Score |
| --- | --- |
| Lenovo Yoga 720 15 | 13,727 |
| Lenovo ThinkPad X1 Yoga (2nd Gen) | 19,738 |
| Surface Pro 2017 | 30,678 |
| Surface Laptop | 19,256 |
| Lenovo ThinkPad T470 | 21,276 |
| Dell Latitude 5285 | 21,921 |
| Lenovo ThinkPad X270 | 17,376 |
| Lenovo ThinkPad T470s | 16,635 |
| Lenovo Yoga 720 13 | 18,185 |
| Lenovo X1 Carbon | 20,932 |
| Dell Latitude 5480 | 21,616 |
| Dell XPS 13 (9360) | 19,410 |
| Surface Book | 18,197 |
| Dell Latitude 7280 | 17,827 |
Intel HD Graphics 630 is integrated with the CPU and can be used for less-taxing jobs. It doesn't perform as well as a lot of other laptops we've reviewed, and you'll no doubt want to opt for the GTX 1050. Oddly enough, the only configuration Lenovo offers without the dedicated GPU costs more money.
PCMark
PCMark Home Conventional 3.0
| Device | Score | Comparison |
| --- | --- | --- |
| Lenovo Yoga 720 15 | 2,993 | Better than 57 percent of all results |
| Lenovo ThinkPad X1 Yoga (2nd Gen) | 2,773 | Better than 46 percent of all results |
| Surface Pro 2017 | 3,055 | Better than 57 percent of all results |
| Surface Laptop | 2,494 | Better than 40 percent of all results |
| Lenovo ThinkPad T470 | 3,103 | Better than 62 percent of all results |
| Dell Latitude 5285 | 3,079 | Better than 57 percent of all results |
| Lenovo ThinkPad X270 | 3,009 | Better than 57 percent of all results |
| Lenovo ThinkPad T470s | 2,576 | Better than 40 percent of all results |
| Lenovo Yoga 720 13 | 2,717 | Better than 46 percent of all results |
| Lenovo X1 Carbon Core i5 | 2,965 | Better than 57 percent of all results |
| Samsung Notebook 9 15 Ext | 2,998 | Better than 57 percent of all results |
| Dell XPS 15 (9560) | 3,534 | Better than 71 percent of all results |
| Dell Latitude 7280 | 2,829 | Better than 52 percent of all results |
| HP Spectre x360 15 | 2,472 | Better than 41 percent of all results |
The PCMark Home Conventional test takes a bunch of your hardware and determines how well it works together while performing a number of everyday tasks. The Yoga 720 held its own when compared to other high-end Ultrabooks we've reviewed, and the results are evident in day-to-day use.
SSD
CrystalDiskMark (Higher is better)
| Device | Read | Write |
| --- | --- | --- |
| Lenovo Yoga 720 15 | 1,839 MB/s | 1,238 MB/s |
| Lenovo ThinkPad X1 Yoga (2nd Gen) | 1,253 MB/s | 763.6 MB/s |
| Surface Laptop | 423 MB/s | 237 MB/s |
| Lenovo ThinkPad T470 | 1,079 MB/s | 716.1 MB/s |
| Dell Latitude 5285 | 1,300 MB/s | 1,113 MB/s |
| Lenovo ThinkPad X270 PCIe | 1,049 MB/s | 636.9 MB/s |
| Lenovo ThinkPad T470s | 1,557 MB/s | 1,333 MB/s |
| Lenovo Yoga 720 | 1,904 MB/s | 1,169 MB/s |
| Lenovo X1 Carbon | 1,518 MB/s | 1,188 MB/s |
| Samsung Notebook 9 15 Ext | 1,365 MB/s | 1,213 MB/s |
| Razer Blade Pro | 2,571 MB/s | 2,467 MB/s |
| Dell XPS 15 (9560) | 2,207 MB/s | 1,628 MB/s |
| Dell XPS 13 (9360) | 1,287 MB/s | 794 MB/s |
| HP Spectre x360 15 | 1,128 MB/s | 862 MB/s |
The Samsung PCIe SSD here is extremely fast, leaving no hiccups in performance when launching apps or loading files. It performed as well as or better than a lot of other SSDs we've tested, and there are no issues to report.
TL;DR
Lenovo Yoga 720 review: Conclusion
Like its smaller, 13-inch sibling that we also reviewed, the 15-inch Yoga 720 adds another legitimate option when shopping for a convertible Ultrabook. It has a slim build, it can perform multiple tasks with ease, and it's competitively priced. Want to game while you're not working? Don't push it too hard and you'll have a great time.
Yes, there are some inconveniences. We've lost ports, which on a multipurpose machine like this are all-important. The bezel, while beautifully slim, makes it hard to hold in tablet mode. And Lenovo still hasn't ditched its proprietary charger for the smaller universal USB-C. These are relatively small downsides, but on a device at this price, they're definitely worth noting.
If you love the 15-inch size, need a laptop that really performs, and would like something that can be used for drawing or watching movies in a converted mode, the Yoga 720 should be taken seriously. The added bonus of the GTX 1050 GPU for gaming just makes the entire package that much sweeter.
Pros
Solid performance and long battery life
Attractive, understated design
Plenty of configuration options
Comfy keyboard, smooth touchpad, pen support
Upgradeable RAM, SSD, Wi-Fi
Cons:
Fewer ports than last-gen
Bezel is almost too small for a tablet this size
Still using Lenovo's proprietary charger
Cale Hunt is a Senior Editor at Windows Central. He focuses mainly on laptop reviews, news, and accessory coverage. He's been reviewing laptops and accessories full time since 2016, with hundreds of reviews published for Windows Central. He is an avid PC gamer and multi-platform user, and spends most of his time either tinkering with or writing about tech.
Just an FYI, I have the UHD one, and it's truly amazing, but there's a very common problem with the screen. A light diffuser sheet inside the screen slips down, causing what looks to be a black line across the top of the screen. It can't be fixed without screen replacement. See this thread for more detail: https://forums.lenovo.com/t5/Lenovo-Yoga-Series-Notebooks/Yoga-720-Displ... Again, it's a great computer, but this seems almost inevitable and very common. I have it, and so did the computer at the Best Buy I bought it at.

Also chiming in on the UHD screen issue, just got mine not long ago. Another buyer-beware fact is that Lenovo has disabled Turbo Boost to keep temperatures down, as seen by the lower benchmark scores. You can enable it manually via Throttlestop, but that results in really high internal temperatures.

You could probably open the thing up, replace the heatsinking paste or whatever cheap material they use, and it'll vastly improve the cooling such that you could use Throttlestop more safely. I've seen other people do this with other laptops like this. It's also relatively easy to get inside of the thing. I'm definitely going to do it.

hello and thanks for this review. i really wanted to get this computer because the whole package is solid, but im not a fan of the weight. my current computer weighs about that much and gets a little heavy with the other things i always carry. i may go for the 13 inch lenovo 720 instead.

This computer can't do USB-C for power. USB PD maxes out at 100w. The Geforce 1050 has a 50w TDP and the i7-7700HQ has a 45w TDP. Then you've got the rest of the components to power. Unless the TDP drops on dedicated GPUs or they allow more watts over USB C, you'll always see a laptop with a dGPU have a propriatary power plug. Now if they could make a standard for higher end/workstation laptops that would be awesome.

TDP is how many watts of heat a component generates not how many watts is needed to run a component. Two totally different things. USB-C can definitely power this laptop. Lenovo chose to go proprietary instead.

Not true. The laptop needs more wattage than 100w when under full load.

@Starrbuck How does a Macbook Pro 15 with more power hungry dGPUs (AMD Radeon Pro 555/560) need only an 87 watt charger? Apple Magic?

The Radeon Pro series actually has a lower TDP compared to a GTX 1050 (35W vs ~50W). According to notebookcheck.net's reviews, laptops such as this and XPS 15 actually do consume above 100W under full load.

Look at the ports on the Yoga 720 13 inch. Then come back with an apology.

You mean the laptop that comes with half the CPU cores, no dedicated GPU and a smaller screen? That one? I'm pretty sure the point is this configuration requires more power than that. Now apologize dufus!

Yeah, it is a great ultrabook! No doubt about that! But Lenovo's marketing and business strategy sucks! They aren't selling the higher (7700HQ) configurations worldwide (In my case, India)! I genuinely wanted to buy this convertible! It's the only one, that checks all the boxes in my checklist (Quad Core | NVMe SSD | DDR4 | TB3 (x2 or x4 PCIe) | 2-in-1 | Pen Support), but no, Lenovo just won't allow all the configurations! They don't even wanna provide an international warranty (I know, Thinkpads exist - But there's no laptop like this Yoga in the ThinkPad line)! So, I can't risk importing it into India! The cost isn't the impediment here! Look at HP! At least, they sell the better configurations of the Spectre x360 in almost all regions! But Lenovo just won't budge! And all of this, when they have a good market presence in India, with the Yoga line being really popular among premium laptops! Personally, I have no other choice! I'll most probably bite the bullet and buy a 7500U Yoga 720! SMH!! (P.S.: No, I don't want a gaming laptop or a workstation! That check-list's complete! I want a portable convertible! I'm planning to use an eGPU for my "creative needs"!)

A true powerhouse that would replace everything, if I could afford one.☹

This is a very impressive computer. If this had been available 6 months ago, I probably would have bought one. Very nice.

It was announced 6 months ago and released 4 months ago in the US. So it has been out a long time if you're in the US. Just tech reviewers ignored if the first couple months it was out for some reason.

I bought a Yoga 720 15.6" 4K i7 with 16GB RAM, GTX 1050 and 512GB SSD for $1250 during the July fourth sales. It is indeed a great value. The Wacom Bamboo Ink Smart Stylus works great with it. I also added a Plugable Thunderbolt 3 Dock station to provide a wired network connection and HDMI output to the Sony 4k TV. All went well thus far. I was going to get a i5 Surface Pro, but the Yoga 720 provides much better value in comparison. I'm super happy with the decision.

Yes!!!! Finally!!! I been waiting 4 months since this was released for you guys to do this laptop. I did end up buying the Yoga 720 15" with the 4K display, i7-7700HQ, 16 GB DDR4 RAM, 512GB SSD, and NVIDIA 1050. It's a beast. I got it for a corporate discount, but even the base price of $1,499 is honestly hell of a deal. Compare that to the equal spec Dell XPS 15 and the Yoga 720 is $500 LESS! Super happy with the Yoga 720. Also I haven't had the black bar at the top like some others have. So it's it all devices.

It is indeed one of the best all-around 15" quadcore covertible, half-gaming/workstation w/ gtx1050 and it's affordable (againts dell XPS 15 ofc). The only sub-par thing on Lenovo middle-high laptops are always screen accuracy/colors, and maybe weight as others have mentioned. That though maybe solved on the IFA Berlin 2017 on September. As the successor of Yoga 910, the Lenovo Yoga 920 will be unveiled. Basically from the leaks it is a: non-detachable Surface Book (as in now they have AES pen support).

Yoga 920 would use Coffee Lake processor which is 30% faster than 7th generation processor.

Nope, the Yoga 720 with the 4K display has not only high resolution, but has 96% sRGB and 74% of Adobe RGB. So it is very very color accurate. Only numbers better than that on a 4K laptop I seen is the XPS 15. But this laptop is literally $500 less than XPS 15. So while your statement could be true about previous generation Lenovo laptops, it is definitely not true with this laptop. Very good color range.

%sRGB and %AdobeRGB are measurements of color gamut, not color accuracy. Color gamut is like the total number of colors a display is capable of showing. According to MobileTechReview, this display is actually not that accurate compared to other ultrabooks, and way less than the average.

But Keep in mind at MobileTechReview she was reviewing the 1080p display. Not the 2160p (4k) display that I was referring to. None of the big tech reviewers have reviewed the 4k display model cause Lenovo is only sending out the 1080p model for review units for some reason. The only detailed review I seen for the 4K display model is by YouTube channel OWNorDISOWN
Windows Central Newsletter
Get the best of Windows Central in in your inbox, every day!
Thank you for signing up to Windows Central. You will receive a verification email shortly.
There was a problem. Please refresh the page and try again.