Lenovo's awesome WRITEit is now live for ThinkPad stylus users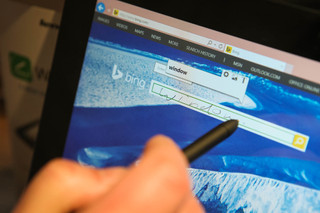 Back at CES we got an early look at WRITEit, Lenovo's forthcoming utility that lets you use a stylus in any text field in Windows. Currently, stylus support for Windows is limited to Modern apps on Windows tablets, which is fine for most uses, but it becomes less useful in traditional x86 applications due to the extra steps needed.
WRITEit solves this by detecting the stylus in text fields, including web browsers. It lets stylus users truly convert to that pen input method full-time with no compromises.
Even better, WRITEit improves the stylus experience, even in Modern apps. Here's why:
It hides the stylus input windows, which takes up significant space in Windows 8.1
It provides auto-suggestions
Prevents the digital keyboard from popping up
Works in any text field on Windows
The beta for WRITEit went live today, and it is an open to anyone. However, only a select few devices work with it for now, including:
ThinkPad Helix
ThinkPad Yoga
ThinkPad Tablet 10
More Lenovo devices are expected to be added as the beta program expands and improves over the coming months. Lenovo told us they expected a finalized version sometime this spring, which seems doable.
Unfortunately for Surface users, this tool will not install on non-Lenovo hardware and Microsoft has failed to provide something similar to its users. However, we would not be surprised if some minor hacking by users can get this working, ahem, on any device with pen input. We'll be following that closely for any developments.
For now, if you are a lucky owner of one of those three devices, you can head to Lenovo's WRITEit page to get started. You can also watch their demo video to see it in action, in addition to our hands-on demo at CES.
Source: Lenovo WRITEit (opens in new tab)
Daniel Rubino is the Executive Editor of Windows Central, head reviewer, podcast co-host, and analyst. He has been covering Microsoft here since 2007, back when this site was called WMExperts (and later Windows Phone Central). His interests include Windows, Microsoft Surface, laptops, next-gen computing, and arguing with people on the internet.
Oh! My Lumia 520 does not have a pen.
LOL :-)

Turn on the high sensitivity of your phone screen and try to use a carrot.

Yeah, touch also works when I hover my finger slightly above the screen without actually touching it. That feels awesome.

Looking forward to them extending it to the Yoga 8 2 with anypen.

Sad... This is how Windows once worked. I'm not sure which goof changed things, but MS needs to change it back.

My Surface Pro 2 wants this :(

* waits patiently for someone to hack it to work on SP3 *

My 1600 dollar ThinkPad yoga thanks you

Thanks for the heads up. I just dropped $1900 on a new Thinkpad Yoga 12 (Gen2), with stylus and top of the line i7.... and I totally forgot about this feature! sweet!

This is very cool! I don't have it, but the only thing I could see improving is expanding the area for writing in a little bit. From the demo video Lenovo released you can write outside the box. It would be kind of neat if they just made a slightly larger white space area for you to write in. Not necessary, but would be a nice touch! I wonder if they will get this to work with theiry anypen tech they were showing off? If so they would be really cool!

This is a great feature. Hope this will come to SP3 soon

cool COOL Testing write IT EDIT: Need to get hang of it but above is a test using TP10

If anyone wants to try to make it run on on their Surface or whatever, download the Installer, run it then grab the Lenovo WRITEit.msi it extracts and extract the MSI and voila you have your files, it will run at the very least... not sure if it actually works just like that as i don't have any device to test it on.


ust let setup run, go to your temp folder, copy the msi file edit the file with orca and remove the LaunchCondition line related to Lenovo. Save it. VOila, now will install and work on any pc tablet. Tested on my old toshiba M750. Good luck

Another relatively simple thing I am missing on the SP3 is that when you touch a text field, the keyboard does not pop up automatically. And swipe.... But this Lenovo thing is great. Good to see 3rd parties investing in this.

It also works on the older thinkpad tablet 2!

My SP3 is dying for this. I have been a Thinkpad user having been through four of them, and it was a tough call moving to the Surface. I love the surface, but this kind of pen tech is REALLY what I want. PLEASE MS, bring this to the surface!!!

Nice article Daniel. Glad you brought this back to our attention. I can remember you doing a short sneaky video of it back at ces 2015! I hope in due time you will share how to hack this functionality on a surface pro. It makes so much sense to me to have this on a surface pro. I am a bit worried though about the box size. On my surface pro most search boxes are about 40-50 pixels wide, which does kind of make the size a fidgety one, I could imagine. I was curious to know what your experience with this is. It is saddening that this couldn't be part of the surface pro feature. Microsoft did bring the love for stylus and notetaking back. It would only make sense to add this for tablets and surface pros as part a unified workflow expereince, moving between handwriting notes or drawing, and searching for something inbetween using the pen, and not having to switch user input from pen to virtual keyboard just for the sake of a few words. I think windows 10 is ready to have more pen features, even as so far that it goed to handwriting in outlook, calendar and office (this was supported for windows for tablets in the past!). Im curious to know does Lenovo provide this function through the windows pen and handwriting recognition api, or does Lenovo use a proprietary library? It would make a big difference I think because it is my experience that the windows library is more powerful and complete and user definable. And it supports more languages, I think.

You can download it from XDA Developers, just search for "lenovo writeit on surface"

It's definately BETA software. I put it on my SP3, and it needs some work. Most likely because I did put it on my SP3, it may have compatibility issues.

Please up vote on this feature suggestion thread https://windows.uservoice.com/forums/265757-windows-feature-suggestions/...
Windows Central Newsletter
Get the best of Windows Central in in your inbox, every day!
Thank you for signing up to Windows Central. You will receive a verification email shortly.
There was a problem. Please refresh the page and try again.