Lenovo's PawPad Yoga 9 is designed specifically for your cat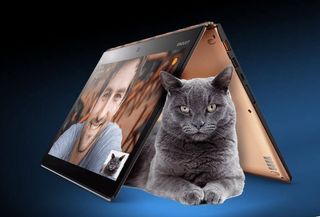 Lenovo has announced the PawPad Yoga 9, a 13-inch laptop designed specifically for the furry feline in your life. Running the Panther 919 CPU and a 13-inch FHD (Feline High Definition) display with Jaguar Glass, the laptop has Meow Recognition mode, a Pawprint Scanner as well as a Tent Mode / Hiding Place, all aimed at ensuring that your cat has easy access to all the features Curtains 10 OS has to offer.
Says Lenovo:
The hardware on offer with the PawPad Yoga 9 is nothing short of cutting-edge:
| Category | Features |
| --- | --- |
| Processor | Panther 919 |
| Operating System | Curtains 10 |
| Trackpoint/Touchpad | Scratchpad, Limited "Cat Got Your Tongue" Button on Trackpoint |
| Camera / Meowcrophone | 1MP 720p Fish-Eye Lens, Digital Array Meowcrophone |
| Voice Controls | Meow Recognition |
| Graphics | Integrated Graphics with Two Modes -- Night Vision or Daytime Use, Optional Discreet Graphics -- Hides Behind Furniture |
| Audio | POUNC by Prey -- Low-Frequency Circular Projection, to Mimic Cats' Hearing, Static Hiss Control |
| Battery | Up to 9 Lives of Non-Productivity |
| Display | 13" FHD (Feline High Definition) with Jaguar Glass |
| Security and Manageability | Meow Recognition, Pawprint Scanner, Tent Mode / Hiding Place |
| Keyboard | Dander-Proof, Spill-Proof, Hairball-Proof, with Heated Keys |
| Connectivity | Sabertooth 4.0 |
| Weight | Supports up to a 25-Pound Cat |
There's even a slew of official accessories. Head to the link below to see what you get with the PawPad Yoga 9. How many of you want this to be an actual thing?
I thought it was a WC joke, but it's lenovo's :D click on the link "see at lenovo"

http://shop.lenovo.com/ca/en/laptops/lenovo/yoga-laptop-series/pawpad-yo... They're just playing the game :D

Happy April 1st everybody!

I actually got this email direct from Lenovo. It is clearly a joke, but it is not made up by WC.

Not that surprising, but I give them points for well thought-out.

Windows 10 mobile in itself is an April fool. (Owner of one of the last good real nokia. L920)

"Owner of one of the last good real nokia. L920" I upgraded my 920 to the 1020 - it is much better than the 920.

And then there's 1520 Posted from WC 920, 1520, 920, 635, 640 or 950XL

I didn't want upgrade waiting to see Microsoft strategy. And I think it was a good decision to not invest on the 950.

the last best phone nokia made was and is the L1520

I said ONE OF the best last Nokia phones. So no debat here Posted via the Windows Central App for Android

Great on my 1520 and 950xl

The L920 is nearly 4 years old. Get over it. You are acting like an old man sticking to outdated tech because that's what he's used to. Even a L640 is more powerful.

Don't worry, I got over after all the problems caused by windows 10 mobile. (alarme not working and getting me late at work, no calls or notification receiving) and also by the Microsoft strategy that is prong windows 10 mobile just as an accessory for the Windows 10 desktop. I might get back to WM10 When Microsoft will show us more respect. For now and since last December, I am pretty satisfied with the Oneplus One. But I have a question for all of you : was it really worth it for Microsoft to destroy a legendary manufacturer as Nokia? Posted via the Windows Central App for Android

Well if its anything like palm/hp it really wouldn't matter if it ran droid/aosp cause we all know the users who left Symbian before they were in trouble wouldn't come back even if they put out the same effort they tried to with wp

I love April Fools. Windows Central for Windows 10-Nokia Lumia 830

No catnip, no buy. Why MS allows it's partners to release products in 2016 without such basic features like catnip is beyond me. I know, I know, just wait until next year. Well, I'm done waiting. Another epic fail and if they don't get their crap together soon I will be done with MS!

Catnip wasn't included because it was "incomlete" and they weren't able to finish the product in time for launch. It will arrive in the 1st major Meowpdate, kind of like extensions for Edge.

We have four cats. Hopefully it supports multiple paw print identification and login. The youngest probably would still need Kitten Corner set up.

Yall had me there for a minute. Lol

ALSO SNAPCHAT IS BRINGING THEIR APP TO WINDOWS 10 AND MOBILE AS A UNIVERSAL APP! OMG I CAN BELIEVE THIS OMG WOW IT'S SO HARD TO BELIEVE. THEY ANNOUNCED IT ON THEIR WEBSITE WOWOWOWOWOWOWOSOSOSOSOSOSOSOSKSOSOSOSOAOWOWOWOWOOWOWOWOWOWOWOWOWOWOWW Happy April fools day everybody

Sorry I couldn't resist. In fact I am waiting for the snapchat app to come to windows too... :(

Snapcat is pre-installed on this device ...

And you also get a cat for free if you buy this laptop :p

See the reviews on the lenovo website!! Garfield (5 stars) Better than lasagna! Rover (0 stars) Once again, dogs are being discriminated against! Where is my PuppyPad? #dogsrulecatsdrool

Puppy pads are for pee pee. Silly dog.

This is so amazing will get it no matter how much it will cost

Is there any chick pad i have only chicks in our farm

Har de fu**ing had. I'm done for today. See you tomorrow, internet.

Lol hahaha!
This is the most interesting yet hilarious, mind 'booming' article I've ever read, Sir! I'll get it for my cat, hopefully :3

"POUNC by Prey" Beautiful.

I needed a good laugh today.

Hmm, I have two 18-year-old cats. How user friendly is this version of the OS? Or is this only for young felines? ;-)

It depends upon how you train your cats

http://blogs-images.forbes.com/neilversel/files/2014/09/futurama-shut-up-and-take-my-money-card-34.jpg

Still more realistic than Windows Phone being alive. Posted via the Windows Central App for Android

Great spoilsport aren't you?

Don't do this bs Posted from Windows Central for Windows 10

Nice LMAO #Aprilsfools Posted from Windows Central for Windows 10

Apparently there's a bug that if your cats a polydactyl, upon scan, the whole system goes into shut down until the sun also rises.

Haha, Lol Greetings from The Netherlands.

I hate April Fools, but this is funny!

Mmm....no mouse included.
Not a deal. Edit: Yes there is. "meeeow" said my cat.

I would have bought one but my cat is 26lb. Pity. I understand that there's a portfolio available that doubles up as a litter tray.

Ugh, I forgot it was April 1 until I saw this article. This is going to be a bad day.

Naturally, I approve of this product...

This is too obvious an April Fools joke. You gotta make it clever.

Lol..OMG..for a second i was like..wtf..?!

It won't complete without "when in India..".

I was so lost reading this article bc in australia its the 2nd and I though all the jokes were over
Windows Central Newsletter
Get the best of Windows Central in in your inbox, every day!
Thank you for signing up to Windows Central. You will receive a verification email shortly.
There was a problem. Please refresh the page and try again.