Lenovo's Y series of gaming notebooks and desktops will have Windows 10 and Skylake inside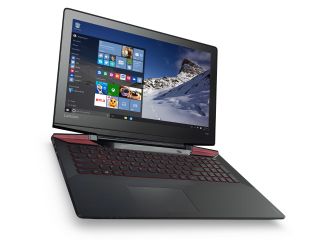 After a number of video teases in the past few weeks, Lenovo has raised the curtain and revealed its new family of gaming-themed desktop and notebook PCs under the Y series branding. All of them will ship with Windows 10 out of the box.
The Lenovo ideapad Y700 notebook can be purchased with either with a processor based on Intel's newly revealed 6th-Gen Core CPUs, with the Skylake architecture, or one with chips with AMD inside. The 5.7-pound notebook also comes with a 15.6-inch display that can either support 1920x1080 resolution or, if you have an Intel chip, there's the option to go higher to 3840X2160 with a multi-touch screen.
Both the Intel and AMD versions of the ideapad Y700 notebook can support up to 16GB of RAM. The AMD version has a TB hard drive, plus a 512GB SSD drive for storage. The Intel version has that option as well, but buyers can also get one with a smaller 8GB SSD drive in addition to the 1TB hard drive. Lenovo also includes Intel's RealSense 3D camera in the non-touchscreen version of the notebook.
In terms of graphics chips, the Intel version is partnered with an NVIDIA GPU, with support up to one with an NVIDIA GTX 960M card with 4G of GDDR5 RAM. The AMD version uses, of course, an AMD Radeon graphics chip, with support up to and AMD R9 with 4GB of GDDR5 RAM. The Intel version of the Lenovo ideapad Y700 notebook has a starting price of $799, while the AMD version starts at $999.
For PC gamers who want some more power and performance, Lenovo is launching the ideacentre Y700 and Y900 desktops. The Y700 can support up to Intel's 6th Gen Quad-Core i7 processor, with up to 32GB of RAM. There are four hard drive slots, two of which are tool-free trays. The desktop can support up to 2TB of SSDs for storage.It's starting price is $999. The Y900 supports up to Intel's 6th Gen Quad-Core i7 K processor, with up to 64GB of RAM. The desktop can hold up to two NVIDIA GTX 980 4GB graphics cards. It also as four hard drive slots with support up to 2TB of SSD storage. It's starting price will be $1599.
The Lenovo ideapad Y700 notebook will go on sale sometime in October, while the ideacentre Y700 and Y900 desktops will launch in November.
WOW, finally I'm the 1st one to make a comt on WC. yeeehhhaaa. How do you guys make comts so fast, its Beyond me. Well I finally beat you guys to it. HAHAHA. This is a very cool laptop, with why not 4K???? I just don't understand that.

Because their not going to handle most highend games at 4k

Read the article again. The Intel version supports 4k. Maybe if you were less interested in being the first comment you would've seen that.

Aye, though the 960 is slightly anemic, for gaming at that res. The 980 struggles. Sli on the other hand and you're golden!

GeForce 960M is quite good for the price, it definately gets better graphics than a game console like an Xbox One or a PS4, it also supports HDMI 2.0, this is the minimum requirement to support 4K on HDMI at 60hz, so this is a nice laptop IMO.

Oh no doubt, as a cheaper entry into the gaming laptop scene for sure. But u say that having the msi gt80 ;)

Need CPU specs of the AMD laptop, please.

Probably FX 8800P, tuned to 15W. Basically Core i5/i7U CPU levels of performance.

So more than enough for gaming. Hell, I just recently finally clocked my PhenomII 965 from 3,4->3,7GHz cause far cry4 was dropping under 30fps with high-ultra settings. Now I get ~30-60fps averaging around 45. And that is quite an old CPU

Is the display ips? My Y50s non ips display sucks.

Bummer, bought a Y50 860M a couple of months ago.... :|

Even though you knew the launch of W10 was imminent and there would be a lot of new devices to immediately follow?

Here again, no sign of USB Type-C connectors. Seems like Lenovo wants to wait a year before introducing USB Type-C.

So, now, Lenovo has announced upgrades to pretty much everything except, notably, the Yoga Pro 3.

There's so many typos in this article. Or words that just don't make sense where they're placed. Excited for the desktop though.

This one is the worst: "IT'S starting price will be..."

Seriously? Have to choose between either RealSense camera or touch screen? Do they seriously not think the demographic they're aiming these at would not want both?

I think Lenovo is le good but it's not Dell, it lets you choose most specs but is dissapointing you need to choose between 4k touchscreen or 1080p display with Intel Sense, I'm sure if Dell launched a machine like this, you could have all the specs on the high end model.

Having Nvidia GeForce GTX 960M means HDMI 2.0 is supported, forget about USB Type-C or mini Display Port, this is the best laptop to connect to a Curved 4K display with amazing 60hz.. Other than that, this is a nice gaming laptop, it sure cannot play 4K games, but most games will run with high settings at 1080p, so this is in fact better than an Xbox One or a PS4.

Well, the laptops cost over 2 to 3 times what the consoles cost.

Man the Desktop Y900 series looks good. Get i7 K Skylake CPU with 64Gb of RAM and GTX 980 with 8Gb DDR5 :) oh, and dont forget the dual 512Gb SSD's in RAID and two 2Tb HDD.
Windows Central Newsletter
Thank you for signing up to Windows Central. You will receive a verification email shortly.
There was a problem. Please refresh the page and try again.