Lies of Astaroth, a fantasy card based battle game for Windows Phone 8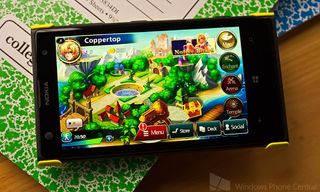 Lies of Astaroth is a fantasy card based battle game that has seen a bit of success over on iOS and now is available for Windows Phone 8.
Game play has you dealing your characters from a deck of cards to do battle against a wide assortment of creatures. The strategy battle game reminds me of the card games like Magic: The Gathering (opens in new tab) and Yu-Gi-Oh (opens in new tab).
While card based battle games may not be everyone's cup of tea, Lies of Astaroth does have a certain level of appeal. Graphics are attractive, game play is fairly simple and challenging and we suspect the game will find its fair share of success on the Windows Phone platform.
The storyline of the game has you meeting an envoy to the God of Prophecy and travel the land battling spies, thieves, goblins, assassins, dragons and other magical monsters. Your character is armed with a battle deck of cards that represent a wide range of characters such as Amazon Warriors, Imp Guardians, Battle Mages, and Palace Guards. As you begin game play your deck of cards will contain the basics and as you progress through the game additional cards will become available.
The game itself is rather extensive and has features to let you manage your battle cards, shop for upgrades, test your strategy skills during the combat phases and invite your Facebook friends to join in on the gaming action. Game play does start out with a series of tutorial screens to get you familiar with game play.
Lies of Astaroth's Main Screen
Navigation around Lies of Astaroth revolves around the main screen where you can access:
The game's menu that includes options to view the games cards album, the Runes album, your gaming achievements, your battle logs, the game's update logs, your gaming settings (music/sound levels, auto combat and custom avatar), view the wanted poster, view the help screens and read any gaming news.
Lies of Astaroth's Store
The game store where you can buy booster packs, magic tickets, and other upgrades. The store also has in-app purchases of crystals that can be used to get a leg up on purchasing bonus items.
View and manage your active deck of cards.
Invite your Facebook Friends
Check in on the social features of the game where you can invite Facebook friends to join you in the game. You can band together and explore the map or battle one another to see who has the strongest deck.
You can also head over to the game map, enchant items, visit the arena and visit the temple. The latter three become available after you have advanced a bit in the game.
Lies of Astaroth's Map
Game play is launched from the Astaroth map and involves movement on the world map, combat sequences, and card deck management. Just tap on an area of the map you wish to travel to and a series of dialog exchanges will take place, typically ending with a combat round.
Lies of Astaroth's Combat Screen
Combat can be done automatically or turn-by-turn. If you select auto-combat cards will be selected from your deck and the rounds of combat completed automatically. Managing the combat manually will require you to choose your lead card to start the battle with and then allow other cards to enter the melee as the rounds are completed.
Each character (or card) has an Attack Point rating, a Health Point level, along with various attributes that relate to healing, special attacks or defenses. First player to see all their cards go down in flames loses he battle.
Amazon Warrior Card Information
At the end of the combat sequence, you will be rewarded with gold coins, crystals and experience. The coins and crystals can be used in the game's store to purchase items. As you gain experience, your character will advance in level, new cards will become available, the number of cards you have active will increase and new maps will open up.
Game play with Lies of Astaroth can be rather time consuming. Luckily, the game will save your progress should you only be able to tackle the game in short spurts.
Deck Management Screen
Lies of Astaroth is more of a strategy game than an action/adventure game full on animation like we see in other RPG games such as Dark Lands or Order & Chaos. The graphics for Lies of Astaroth are well done, just not very lively.
Battle card games may not appeal to everyone but for those who see the attraction; Lies of Astaroth is an appealing game and well worth a try. Game play is challenging enough to keep the game fresh and again, the game is drawn up nicely.
Lies of Astaroth is a free game available for Windows Phone 8 devices. You can find Lies of Astaroth here in the (opens in new tab) Windows Phone Store.
Windows Central Newsletter
Get the best of Windows Central in in your inbox, every day!
George is the Reviews Editor at Windows Central, concentrating on Windows 10 PC and Mobile apps. He's been a supporter of the platform since the days of Windows CE and uses his current Windows 10 Mobile phone daily to keep up with life and enjoy a game during down time.
MTG would be great. Im also hoping Hearthstone is deffinately coming to WP.

iFree Studio, please publish your games here in Brazil! I can help with the process...

yes, MTG playable on my tablet would be the best Christmas present.

Card games on motorcycles

When is subway surfer getting compatible for all WP devices?? Year end??

Deffinitely want Devil Maker Tokyo and Valkyrie Crusade. Maybe that is asking too much.

I'd actually try it if it had Xbox features

Enough with the xbox feature now. Games are meant to play with, not to masturbate on unlocked achievments.

The game has achievements. Each achievement will unlock Magic Card and it can be traded for 3-5 star cards.

Looks nice :) Need a remastered Final Fantasy II, IV and V, the Zenonia saga, .. in short more of those wonderful rpg that are already available on iOS and/or android. RPGs are LIFE.

I would kill for Zenonia on windows. Whenever I was with apple I played Zenonia nonstop.

I bet you would, this game's a mobile masterpiece.

Lies of Asteroth is one of the best RPG games ever. Try it.

I'll grab this one, I tend to be rather terrible at FCG's but I'm itching for something new in the RPG realm.

Is the QR code OK? It scans empty for me...

i think is not ok, tried to scan it too and it does nothing

Uh. Hearthstone. All I want is Hearthstone.

When Hearthstone will available on WP? I hope blizzard include that on WP....

Does anyone know how to restore your LoA after you've hard reset your WP?
I lost all my app and include LoA
Windows Central Newsletter
Thank you for signing up to Windows Central. You will receive a verification email shortly.
There was a problem. Please refresh the page and try again.