The lights go off at Zune.net as final pieces are put in place for Xbox Music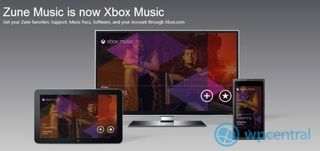 As we move ever closer to the launch of Windows 8 we also near the relaunch of Microsoft's music services. All traces of Zune branding are being replaced with the upcoming Xbox Music.
On trying to go to www.zune.net we now get a re-direct to Xbox.com to be told that Zune Music is now Xbox Music. We're going to miss that crazy pink and white website but it's had its time.
Microsoft didn't have much luck with its iPod competitor but the devices and the eat as much as you like music service was much loved by those in the know. The Zune service, while innovative at the time, failed to keep pace with the rest and fell behind in features and content. Microsoft have been tidying up their often confusing branding and now entertainment products are going to get the Xbox name.
RIP Zune
Helpfully, the Xbox redirect actually has a FAQ section about what is happening. Perhaps Microsoft should have made this change when they announced Xbox Music instead of leaving existing customers confused. The page does still allow for contacting Zune Support and downloading the Zune Software so the rebranding isn't fully complete. The Zune desktop software is essential for Windows Phone 7 for updating and file management, we still haven't had any indication this will be updated to reflect the new naming.
With the destruction of the Zune site comes the promise of greater things. With a new website will come a host of new features and we're excited to see a radical improvement to the often clunky and confusing Zune site. We're being promised new social features along with a radically expanded music collection, topping 30 million tracks. We'll have scan and match capabilities along with Xbox Music clients for iOS and Android. We'd like to see a massive hike in music discovery features and perhaps concert guides too.
The Zune service was almost there with its set of features, we're excited to see Microsoft take Music seriously again. This service will be pre-installed on every Windows 8 and Windows RT device along with Windows Phone 8 and Xbox 360. At present we have so many different services, each offering an incomplete picture, will Xbox Music be able to finally offer the best overall service? Only time will tell.
Feeling sad panda about the loss of zune.net? What do you think is coming with Xbox Music?
Get the Windows Central Newsletter
All the latest news, reviews, and guides for Windows and Xbox diehards.