The lights go off at Zune.net as final pieces are put in place for Xbox Music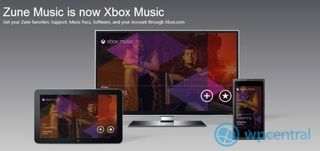 As we move ever closer to the launch of Windows 8 we also near the relaunch of Microsoft's music services. All traces of Zune branding are being replaced with the upcoming Xbox Music.
On trying to go to www.zune.net (opens in new tab) we now get a re-direct to Xbox.com to be told that Zune Music is now Xbox Music. We're going to miss that crazy pink and white website but it's had its time.
Microsoft didn't have much luck with its iPod competitor but the devices and the eat as much as you like music service was much loved by those in the know. The Zune service, while innovative at the time, failed to keep pace with the rest and fell behind in features and content. Microsoft have been tidying up their often confusing branding and now entertainment products are going to get the Xbox name.
RIP Zune
Helpfully, the Xbox redirect actually has a FAQ section about what is happening. Perhaps Microsoft should have made this change when they announced Xbox Music instead of leaving existing customers confused. The page does still allow for contacting Zune Support and downloading the Zune Software so the rebranding isn't fully complete. The Zune desktop software is essential for Windows Phone 7 for updating and file management, we still haven't had any indication this will be updated to reflect the new naming.
With the destruction of the Zune site comes the promise of greater things. With a new website will come a host of new features and we're excited to see a radical improvement to the often clunky and confusing Zune site. We're being promised new social features along with a radically expanded music collection, topping 30 million tracks. We'll have scan and match capabilities along with Xbox Music clients for iOS and Android. We'd like to see a massive hike in music discovery features and perhaps concert guides too.
The Zune service was almost there with its set of features, we're excited to see Microsoft take Music seriously again. This service will be pre-installed on every Windows 8 and Windows RT device along with Windows Phone 8 and Xbox 360. At present we have so many different services, each offering an incomplete picture, will Xbox Music be able to finally offer the best overall service? Only time will tell.
Feeling sad panda about the loss of zune.net? What do you think is coming with Xbox Music?
Windows Central Newsletter
Get the best of Windows Central in in your inbox, every day!
RIP Zune and hello Xbox music. I like the new service .

The grey Xbox music stuff is so ugly. I'm gonna miss Zune.

There are still hints of pink throughout the software

I have to agree. I love the black and white interface of Zune.


Night John boy! We know Xbox music derive from Zune, so you'll live on, LONG LIVE ZUNE!!!!!

I agree, out with the old, in with the new! :) RB

Did anyone know that you can't run any app on Surface RT that is not in windows store?

That's the main reason im waiting for pro.

Uh yeah, they've been saying that for months now.

I knew u couldn't run like adobe Photoshop but I read on pocketnow.com that you can't even use outlook on RT

That's why they Office RT for Windows RT

That's a lie! It comes with Office 2013 pre-installed which does have Outlook RT! These are the kind of journos I want to shoot my bullet at.

From what they said you can only run the 5k+ apps in windows store on RT and that they aren't targeting us "geeks" but just the normal people. I think in a way that's good but in another very bad.

Perhaps I'm missing something but Outlook RT is notably absent from Microsoft's informational site for Office Home & Student 2013 RT Preview that will be preloaded on Windows RT tablets. It says that new features will almost certainly be added -- and I cannot imagine selling any office productivity suite without an email client -- but Outlook RT is absent from the version MS states it will preload on Windows RT at this time along with "send to email recipient" context menus and other email-related integration. But please don't shoot your bullet at me. :-) I'm just reporting what I see.

There is no such thing as outlook RT. That functionality is replaced by the mail people and calendar apps. Ot will have full exchange support just like windows phone.

That is my hope - that the Mail app will replace Outlook. I'm only running the Win8 Preview at home and that mail client only supports one connection (my MS Identity account) as far as I can tell. I seem to recall screenshots, however, of the release version of Win8 that indicate consolidation of several mail accounts in the mail app -- much like we have on WP8. That app would be appropriate for home and student users.

You can use you Exchange and Gmail accounts along with your Hotmail in the Windows Mail in Release Preview. Simply add the accounts under settings in the charms bar.

"Like windows phone" is not full exchange support. That's minimum support for use on a bus or plane. In the real Outlook you can share folders and calendars, delegate permissions, browse the GAL, setup custom views, postpone message delivery, assign Rights Management policies to messages and tons of other stuff. Surface RT is only a nicer version of the iPad, which is merely a huge smartfone. So please, don't call Windows Mail and Windows Calendar a replacement for Outlook, cause it sounds like a bad joke.

If you need to do those real things in Outlook, then buy yourself a "real" computer, and buy a "real" copy of Office 2013. The other 2 billion of us will do just fine with a Surface.

if its such a big deal to you just wait for the pro.... It seems to me that people are forgetting that there are two versions of surface! and if you dont want to wait for a surface pro guess what?!! there are other laptops running win 8 pro that can fulfill your outlook needs bro. Geez everyone seems to be turning into self entitled brats... Surface RT provides the very basics for the basic users, if you need all that extra stuff than go full version.

Well said. Paul Thurott has a detailed write up on Office for surface RT. Doesn't have outlook but has support for exchange. You still get most of the functionality of outlook but not all of it. I think it's a retarded move on MS because for most people Outlook IS Office. Anyway, I don't care. Get a PRO for real productivity

I haven't touched Outlook since outlook.com came out.

good riddance to zune and xbox entertainment is the movement.

I take it you were not a fan of Zune? RB

So the wp7 use Xbox for music and video syncing updating software...whats is it like I didn't get it

The Zune.net website was painfully slow and for all the hype about social, wasn't. Anytime you tried linking something there on to Facebook it came out wrong.

Yeah, it was half baked at best in places, its just a shame they didnt improve it rather than leave it to waste away. RB

No doubt at all that the Zune software will be updated to reflect Xbox Music rebrand. Would be silly if they don't. Microsoft deserve to be crowned the King of tech again. I can't remember Google or Apple ever putting this much effort in to anything.

I have a Zune 8GB that I still use all day at work for podcasts and music. Its amazing how durable it has been for me.

I still use my 32 HD for all my music and vid despite having a WP7. I even use the HD dock to watch video all the time. Love it.

Same here. 32gig blue Zune HD with Zune Originals laser etching on the back. It still works beautifully and I've been a fan since the original Zune came out.

Yea I had the 32GB champagne colored one with the etching. Gave it to a friend so he could enjoy it since I'm getting the lumia 920. Long live Zune!!!!

Ah ha yes I plan to give my cracked-screen zuneHD to my aunt. She has an ancient mp3 player but she loves that it plays radio. Well coincidentally, so does zuneHD.
I'm getting an armband for my lumia920 so I can run with it (despite it beign heavy lol)... it should make for a decent replacement to my beautiful zuneHD *tear*

If you want it for running, look on eBay for the one I have - 3rd gen 8/16GB and get the armband for it. Its pretty inexpensive and worth it since its smaller and lighter!

I regret not buying one of the Zune Originals, but in Canada, they were not as easy to get. I know I can still get an 3rd gen or 4th gen HD on eBay, I just hope Xbox Music will recognize the device on Windows 8. I like having a separate player for my Podcasts and Music. Ive never really liked running music off my phone. And on my Zune, I still get over 12 hours of battery life from it.
PS - I was little annoyed when Zune removed the play counter, I was over 80,000 plays and really wanted to get over 6 digits.

Wonder if when we update to 7.8 if it will be changed for us too?

I will miss it for sure. I wish they at least didn't take away the social features and instead improved on them. I liked seeing how many plays I had for certain artists and what not.

Same here. That's what drew me in to Zune and even made a few friends on the service.

They haven't yet removed LIVE. XBOX LIVE? I can't wait till everything with MSFT is called Microsoft or XBOX. Too many names, too many branding. Merge them into one and take over the world you!
Super sad panda with Zune going like this :(

I recently crashed my PC and once repaired, I logged back into Zune only to find that things I previously purchases were irretrievable. It shows what I purchased, but it is asking me to pay again. Does anyone know a workaround? This is wack yo!

I don't think it will charge you again, but contact tech support for a solid answer

Anything DRM free such as mp3s will not be redownloadable. WMAs should be though.

If your Zune content was backed-up on a separate hard drive, you should be able to reload it with full license/purchase rights. If not, you're SOL. At least that's been my experience with two replacement PCs. Learned the hard way & lost everything the first time I upgraded. After that I started backing up on externals & did not lose anything after migrating content to the newest PC.

oh boy, YAY for orphaned services on WM7.x! It is like having a vestigial tail when everyone else has evolved. Good grief at the very least strip out all references of Zune in the 7.8 update!

So those who are on Windows 7 will have no idea what is in store for them.

Music Pass still works in Zune software on Windows. And it's got more features than the Xbox Music App.

In India Zune simply shows up as playback. Nothing else like smart DJ or artist background or photos when music is playing.Zune pass not available here either

I will not miss Zune, mostly because Xbox Music will see the light in Sweden. Its impressive to see Netflix here also doing what SmartGlass is supposed to do. I have a question to U.S. users of Netflix. Do you have one or the 2 seasons of The Walking Dead? We have only one and im curious if there is difference.

I see 19 episodes on my Netflix here in the US

Cool, thnx a lot. I suspected it will take some time to get stuff up to date, and you confirmed it. My hope was more content in the U.S. store, then we have more to look forward to.

The FAQ says that the 10 track keeper feature isn't supported on windows 8. That really sucks.

It is not for new account. If you have a grandfathered plan, it will still work. I made some changes to my gamertags and lost my grandfathered plan on my phone. (so sad ..... :-( )

The way I'm reading it is if you remain on Windows 7 and the zune software, you'll keep that service. If you upgrade to Windows 8 you won't. I guess, I'll keep my laptop on Windows 7.

You get to keep 10 songs on windows 8 you just have to keep Zune installed for the desktop.

So it's confirmed that the Zune software will work in Windows 8?

Yes, I'm using the Zune Software on the Windows 8 trial right now. (Just don't expect it to work in Windows RT.) I've been using Xbox Music to get used to it, but I just used some of my 10 credits in the Zune Software yesterday. I think all Microsoft is saying is that the "Use Song Credits" menu option doesn't exist in Xbox Music, so for that particular case you need to use the Zune Software. One other thing I've noticed is that the DRM on Xbox Music is different from the Zune Software. So if you use your Zune Pass (I mean, Xbox Music Pass) to download non-purchased tracks in the Zune Software they don't work in Xbox Music, and vice versa. So part of switching over to Xbox Music is going to involve re-downloading all the rented music.

Eww, I have hundreds of pass songs, having to download them all again would be a huge pain.

It works almost perfectly fine (the one thing that's broken is wirless sync with WP7 and using the PC's internet connection by the phone).

Have they fixed the stupid idea of removing podcast support? How will people sync podcasts to windows phone without Zune?

As Walt say, "We all need to remember that this all started with"... a pink/white Zune. I'll miss Zune, but we can all recognize the pieces of the metro UI from the original Zunes...
I wonder how the tatoo guy is felling these days...

http://www.poderpda.com/wp-content/uploads/2011/10/zune-tattoo-guy110216195518.jpg

LOL at "the tattoo guy". He covered it over a long time ago, IIRC, when the discontinuation was announced.

The songs you download in Zune don't play in XBox and what you download in XBox doesn't play in Zune. MS should have taken care of that before the switch. Songs you buy show in both.

Purchased mp3s will show in both. The DRM music that you use for the music pass will only work on one or the other.

Not for me. I have had the beta of the new xbox dashboard for some time, so have access to the XBOX music dashboard app for a while. I was hoping that once it went live, all of my purchased MP3s would show up in the purchase history, but no dice. Logged in through my laptop, don't show up on the site. Go back into the Zune software, they are still there.

I bought the Zune 8GB player and thought it was just OK due to interface and battery life. Then bought a Zune HD when it came out and was astounded at its quality, usability and battery life. I was so enamored with the HD I eventually ended up with 4 of the 32 GB models using them at various sites (car, work, home theater and for travel). I believe if Microsoft had started with the HD model it could have easily competed. But alas, too late to the table. I certainly hope they don't abandon the support for my HD's.

I agree. I got one of the 120GB custom HDs, that thing was awesome. Unfortunately, since it was just easier to put everything on my phone and carry one device, it now collects dust unless I am on a long flight. With newer phones having even better audio, the day of the standalone media player is over.

Death sometimes means change. So it's fine. Zune is evolving.

Dear God, I hope the fix the issue where if I saved a playlist it would download songs. I want it to act like Spotify. Especially when syncing Smart DJ playliststo my phone.

How does someone get the Zune software if they want it?

The Zune software is still available through the site you are redirected to or sometimes as an optional update from windows update in win 7

Ask and ye shall receive!
http://support.xbox.com/en-US/zune/software/remove-and-reinstall-zune

there are still some major things missong from xbox music hope they fix it

I'm a long time Zune Pass subscriber. I too would like to see much better music discovery features in the new Xbox Music service; Zune definitely fell behind MOG and Spotify. I also expect Xbox Music to maintain the great graphical presentation of artists and interface that Zune established. The crappy iTunes spreadsheet interface is what motivated me to adopt Zune years ago.

This is all part of the Xbox video/music purchasing issues I have been having I assume. It feels like they are cutting wires for support left and right.

So... What's the plan for syncing for people with Windows 7 but have a Windows Phone 8?

I think the idea is that once they implement the feature, you would be syncing with the cloud, not with a PC. I don't see any syncing features in Xbox Music either, so I think WP8 devices are intended to sync with the cloud, rather than a PC.

Ahh, so this is probably why Bing's music search wasn't working for me last night. When trying to listen to different tracks, a MySpace popup would appear instead of the familiar Zune. Needless to say, it no longer worked. It said my flash player is outdated (using IE10 in the Release Preview).

Sad to see Zune go but it was really time to go and relaunch. Very excited about Xbox music.

It's hard to miss something that has only been in Australia for 6 months... And the UK only 1 year? Zune players were non-existent outside of US & Canada? It looks like they're doing the right thing with Xbox Music instead of half-baked Zune

Robert, is there any way to stream music off of the Xbox music site like there was from Zune.net? Streaming off of the Zune client on my work computer does not work (invalid file permissions, can not play), and the only way I could take advantage of the Zune Pass without killing my original Focus' battery was through the website. Any thoughts?

There is no streaming on the Xbox Music website, and as of yesterday streaming from the Zune website is gone. Microsoft has said that streaming from the Xbox Music website is something that is coming.

Fare thee well. I'm gonna miss the old look/feel but I welcome the change. :)

Does the FAQ mention support for Zune devices? That is my main concern.

I am sad to see Zune go. What a great name for a product/service. The logo was cool as well.
I owned the original 30GB device, a 4GB black one, and a 8GB red one. Then bought the Zune HD. Now have a Samsung Focus and am waiting for the Nokia 920.
Zune was where METRO UI was born and as someone else said above, it's where this whole new look and feel for Microsoft began.
It would be cool if they took the Zune name/logo and put it somewhere (maybe as a sub-service within XBOX music).

So my question is, that I can' seem to find an answer to, is my Zune HD still going to be supported? I have a galaxy S2 with no plans to get a new phone anytime soon. I use to use my zune HD a lot but now with a 2 hour drive total to and from work each way I hate having to stream music every day for hours over my data plan plus driving from Salt Lake to Lindon there is about 3 spots where the reception gets bad and it cuts out then has to load again which is annoying. Anyways, I decied to go back to the zune pass but is it even worth it now? Are they going to continue to support it and add music to it or should I just scratch the whole idea, toss out my Zune HD and look at other options? I loved being able to pay only $15 a month to get any song I wanted on my Zune and listen to it interruption free on long drives and be able to listen to the songs I wanted instead of like Pandora which will throw in a random song on my list and if I happen to like it then I'm screwed as it goes off on a wild tangent. Thanks!
Windows Central Newsletter
Thank you for signing up to Windows Central. You will receive a verification email shortly.
There was a problem. Please refresh the page and try again.