List of Crackdown 3's known bugs and launch issues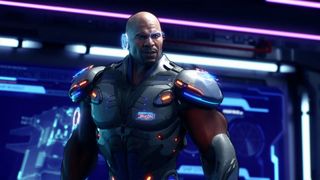 (Image credit: Sumo Digital)
Crackdown 3 was supposed to launch many months ago, but was pushed back to February 15 to polish up the experience. Luckily, it's available right now through the Microsoft Store. You can buy it for $60, or you can grab it with Xbox Game Pass, for $10 a month.
Crackdown 3 is split into two different downloads and supports Xbox Play Anywhere and Xbox One X. The campaign is separate from the "Wrecking Zone" multiplayer mode. The campaign doesn't feature the cloud-powered destruction, so you'll have to battle other players if you want a taste of that. Unfortunately, there are still some issues with the single-player experience. You can read the problems identified by the Crackdown 3 developers below.
Xbox parties
The team went in with a lot of caution and expected the online multiplayer environment to exhibit issues. Luckily, that wasn't the case and Xbox Party support is already in testing. It should be added to the game very soon.
Campaign co-op saves
Campaign co-op saves are quite confusing at the moment because it allows you to keep all of the progress made by the host. The team has promised to revisit this, but in the meantime don't override your single-player save because you will lose your progress.
30 FPS lock
There is a 30 FPS lock for campaign co-op on PC. This is due to network limitations. Right now, the smoothest experience has been prioritized, but it will be unlocked later.
Frame rate issues
Gamers with high-DPI mice on PC are experiencing frame rate issues. This should've already been fixed with the latest patch.
There are some other problems that the team is monitoring and will provide another update next Tuesday. Crackdown 3 may be a little dated according to some reviewers, but it's still a lot of fun and surprisingly polished. Hopefully the team will be able to make it even better in the coming weeks.
In our review, we said, "Crackdown 3 just doesn't meet contemporary standards as a premium $60 title, with dated visuals, thin gameplay features, and an under-delivered story. There are too many open world superhero-style games that simply do it better. That said, it's not a bad game, by any means. To enjoy Crackdown 3, you probably need to be the type of person who really likes basic sandbox mayhem, because that's effectively all Crackdown 3 has to offer."
Explosive playground
(opens in new tab)
Your every day sandbox

Crackdown 3 is a decent sandbox experience that falls short of modern standards, but as an Xbox Game Pass title, it offers some good mindless fun.
Asher Madan handles gaming news for Windows Central. Before joining Windows Central in 2017, Asher worked for a number of different gaming outlets. He has a background in medical science and is passionate about all forms of entertainment, cooking, and antiquing.
Another of those MS-made game, incomplete at launch and sent straight into game pass.

Every ******* time. Its like clockwork

The Only thing I want to know is.
Is better than GTA V ?

Is that a serious question!?!

It is better in the sense that I am ok with my son playing this with some swearing and not ok with him playing GTA V with basically porn in the campaign.

Well considering age ratings are there for a reason and some games should have that respected....

On, another "But think of the children" crap.

The whole multiplayer part is a huge bug I hope and can be fixed

If you use Mouse in menus, it will be broken in the game until next cutscene or driving, at least that is what I have noticed. Performance is good, for UWP title

The best way to describe crackdown 3: A very unpolished Sunset Overdrive, with super powers.

Unpolished? The animation controller is pretty well implemented, rendering is fine, framerate is stable, gameplay is fine as an action game.
You mean repetitive and short campaign?

IMO it's a really fun game several hours into it so far. Game looks awesome in 4k HDR and runs solid. Terry Cruise is flippin awesome.

MS has been pretty transparent about development issues. I think the multiplayer needs a lot of work, but I love the campaign. Phil Spencer had the game delayed because it didn't feel "Crackdown" enough. Mission accomplished for Crackdown fans. If you were looking for more, than I can understand your disappointment.
Windows Central Newsletter
Thank you for signing up to Windows Central. You will receive a verification email shortly.
There was a problem. Please refresh the page and try again.