Location Reminder for Windows Phone 8, position based reminders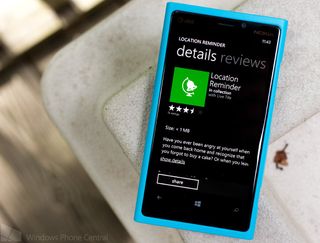 Location Reminder is a Windows Phone 8 app that is a convenient way to tag locations and set location based reminders about them.
For example, you order a birthday cake at the local bakery you drive by daily. With Location Reminder you can save the location of the bakery and set a reminder to pick the cake up. As you drive near the bakery, a toast notification will pop up reminding you to stop and pick up the cake.
Location Reminder can be a handy app to help remind you to pick up that loaf of bread as you pass the grocery store or remember to take your clothes to the dry cleaner as you leave the house.
Location Reminder has three main screens that lists your locations, tasks and any location reminders you've set. To create a location that you'll need to be reminded of, just tap the "+" sign on the locations page. A map view will pop up. You can set the location based on your current location or search for an address. The radius setting is the distance away from the location where you'll get notifications associated with the location.
Once you've saved a location, you can can create reminders from the location reminders page. You can choose "go in" or "go out" and give the reminder a description. The "go in" or "go out" option determines when the notification will sound.
If you need a reminder when you go into the location's radius, choose "go in". If you need a reminder when you leave the area, "go out" is the option to choose. So if you need a reminder not to forget something when you leave work, set a narrow radius around your office location, choose "go out" and a description of "Don't forget the Johnson file". As you move away from the office, a reminder will alert.
Location Reminder has lockscreen and Live Tile support that lists the number of your open reminders/tasks.
Location Reminder's concept can be useful but there is an item of note that may water the app down a little. Due to Windows Phone limitations toast notifications may be silent when the phone is locked. The developer recommends if the reminder is important, keep the app running. However, I didn't experience any issues in getting notifications when my Lumia 920 was locked. The issue may be sporadic so your experiences may differ but the app hit on all cylinders under the lock screen.
I like the thought behind Location Reminder. The only nit I have in tinkering with the app is that at times the on-screen keyboard conceals the text fields. This causes you to type blind. Otherwise, Location Reminder is a cool app.
Location Reminder is a a free app for your Windows Phone 8 device and you can find it here (opens in new tab) in the Windows Phone Store.
George is the Reviews Editor at Windows Central, concentrating on Windows 10 PC and Mobile apps. He's been a supporter of the platform since the days of Windows CE and uses his current Windows 10 Mobile phone daily to keep up with life and enjoy a game during down time.
So I would imagine this application needs the GPS to be running the whole time? I wonder how it affects the battery.

It will not seriously eat up your battery. I have tried a small test with 5 active reminders, leave it overnight (10 hours) and use the phone quite often (short calls, several sms, game in 1 hour, wifi on). Need to charge the phone after 24 hours (before it get into the save battery mode). :D I usually charge my phone when I come home daily (not in the office). So, the app did not change my phone charging schedule much. I think both my phone and phone usage pattern is very unique, so cannot conclude much. At least, the app passes my personal test :) 24 hours without charging. If you can test the app, send us an email with in-app feedback button.
Thank you so much.

Cool. Any idea how much of a battery hit, few vs. many location reminders?

Only need to turn on GPS to save locations!

this will not work due to the way apps can only wake up every 30 minutes and do something. Fatal design flaw keeps this from working correctly.

That's not true here. Microsoft allows one app to monitor location in the background at all times. That's how Nokia Here Drive and Runkeeper work. They get realtime updates of your location and are not subject to the 30 minute restriction. The problem with this method is it only works with the last app you had open. If you go running and forget to open this app back up, it will not be receiving background updates anymore and will not notify you.

I would say that defeats the purpose of the application somewhat... If you are using an application to set reminders it may be because you may not be that good at remembering things... And now you have to remember to always open the application every time you use some other gps application... So the next step is an app to remind you about your reminder app? Hahaha.

as someone else pointed out that is still flawed.

This was a feature I missed from Android. Nice to see an option for it.

Ha,
I was just wishing for a feature like this...I will give it a try.

Anyways, we can always save favorite in our native maps...

Pivots and Switches again ... *ohgodwhy*

We'd like to hear from you more about the design. What's wrong with Pivots and Switches? You are always welcomed to send us feedback by clicking the in-app feedback button. Thank you.

There are already apps in store that do exactly this and they fail at it miserably, due to limitations in WP7 and 30 minutes interval for background agents schedule. You have to spend at least 30 minutes at the spot or the app must be running. I wonder, was this improved in WP8?

Not true. It was improved so that one app can remain "location aware." However, it is by default and unchangeably the most recent location aware APP run, so if you use any other application that uses background location (like a sat nav app) then this one will lose it's ability.

So, it is better in WP8, but not much.

Sounds cool, but I fear this will seriously eat up your battery.

Great logo for the App though!

Microsoft needs to bake this into the OS.

good to see more people using lumia 920 in singapore.



It's true that there are many limitations with WP8 and background location tracking. However, When... Do... is an alternative app that works around them quite nicely.
The main difference is that it adds a time constraint to the reminder. In the majority of cases location based reminders can be time constrained. For example, leaving work, morning commute, during the day, in the evening, today, tomorrow etc. You set the time frame when you expect to be at the location and it makes sure it reminds you to start tracking in time. If it stops tracking during that time window it reminds you to restart it etc. Generally it works really well and the addition of a time constraint is not an issue. I find that in most cases my reminders are for tomorrow or sometime in the same day or I am scheduling them for a trip or activity that I will be undertaking in a few days time. In this case "When... Do..." works great. It also works where time is part of the constraint, for example I may go into town several times in a week but if my dry cleaning is not ready until friday then there is no point reminding me.

There is a app i developed for location tracking,it runs in background(true multi tasking) even when you are listening to music or something,if you like you can take look at https://www.windowscentral.com/e?link=https2F%2Fclick.linksynergy.co... ,dosent eat battery that much.
Windows Central Newsletter
Get the best of Windows Central in in your inbox, every day!
Thank you for signing up to Windows Central. You will receive a verification email shortly.
There was a problem. Please refresh the page and try again.