LockAgenda, giving your Windows Phone lockscreen calendar a boost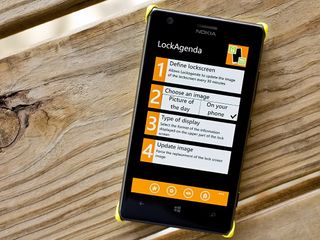 The Windows Phone Store is has plenty lockscreen apps that allows you to add a certain level of customization to your Windows Phone lockscreen. LockAgenda hopes to attract your attention by displaying more of your daily schedule of appointments on your lockscreen.
The app has several display options for your appointments and a decent selection of lockscreen wallpaper images to choose from as well. You can even use your own image as your lockscreen wallpaper. I can see some appeal with LockAgenda and if you need to see more of your calendar from your lockscreen it may be an option worth trying.
Four Step Set-up
LockAgenda has a simple, four step set-up to get your calendar displayed on the Windows Phone lockscreen. Each step is laid out on the app's main page and includes the following.
Set LockAgenda as your lockscreen
Select the background image. Here you will have the option of using your own image or images from online providers such as Bing, NASA, Victoria's Secret and a couple of dozen more choices.
Choose your type of display. Here you can choose one of eight display types that will let you choose from a variety of calendar and appointment views. You can keep it simple and only show the next 3-4 appointments or have a graphical view of the next two weeks and the next two upcoming appointments showing.
Force update the background image. If you need to swap out images before the automatic rotation kicks in, just tap this last button bar in the set-up process.
LockAgenda does provide a few additional options beyond selecting the layout display. You also can set the opacity of the appointment display, choose to display your location and a few color options for the display.
At the very bottom of LockAgenda's main page you will find a collection of control buttons as well as a three-dot menu. The control buttons allow you to rate the app in the Windows Phone Store, access the app's parameters, preview your lockscreen and (if you are running the trial version) buy the app.
The app's parameters allow you to run on/off showing all day appointments and private appointments, choosing which day is the first day of the week and choose which calendar accounts you want displayed.
The three-dot menu gives way to a handful of options that include:
Viewing the release notes
E-mailing the developer
Viewing other apps from the developer
Viewing apps from the developer's friends
Accessing your Windows Phone lockscreen settings
Setting up LockAgenda is a breeze with probably the most difficult part being deciding which agenda layout works the best for you.
Overall Impression
LockAgenda is a simple way to expand how much of your calendar is displayed on the Windows Phone lockscreen. The interface is straightforward and user friendly and overall it's a nice option to consider if you need more of your daily appointments available on the lockscreen.
While I can see the appeal LockAgenda will have for some, I can also see where this lockscreen app may not appeal to everyone. Personally, LockAgenda gives the lockscreen a slightly cluttered feel but then I'm more of a minimalist when it comes to lockscreen layout.
I had no issues running LockAgenda over the past few days with regards to stability or staying updated. The trial version times out after five days, giving you ample time to decide if LockAgenda is your cup of tea. If you do give LockAgenda a whirl, remember to rate it in the Windows Phone Store to give the developer a feel for how his work is being received.
After about a dozen reviews, LockAgenda brings home a 4.5 Star rating, which maybe tad too high, but we won't squabble over half a star.
Windows Central Newsletter
Get the best of Windows Central in your inbox, every day!
George is the Reviews Editor at Windows Central, concentrating on Windows 10 PC and Mobile apps. He's been a supporter of the platform since the days of Windows CE and uses his current Windows 10 Mobile phone daily to keep up with life and enjoy a game during down time.
If everything was free, there would be no reason for developers to develop.

Calendar in Locksceen that's bold idea! Yeah, developers should be paid, reasonably, by their work.

I support you man, I can't afford a credit card.

But my Carrier allow me to pay apps by Prepaid credit

People complain about a lack of quality apps, then complain that developers want to actually earn a living as a developer. I didn't complete my degrees at University and work hard with over 30 years of experience to do stuff for free and not be able to feed my children. $1.49 is cheap, and you get a free trial to make sure it is something you need before you have to pay for it. I say that is quite reasonable. I also would not want apps from people with no proper training or experience who think they can learn to program in their spare time while working at a convenience store. Okay, bad example. I put myself through 2 years of my college working at a convenience store. But I wouldn't call it spare time.

Ok your point is right.
But what you'll except from a guy who owns a $60-90 phone (really $2 for calendar app $2 for weather app $2 for news reader and $5-8 for each and every EA and Gameloft game ) :P
Ik stats r not accurate :D

How is the price of the phone a relevant factor in determining the price of an app?

I agree with you although I think that not all apps should be paid apps. This one looks like a good/great app but my calendar is not that important to me as to pay for the functionality. If my needs change I will try it and buy it if it suits good. I'm not a real developer but I agree that people deserve a pay for their work.

Not all apps should be paid apps, but you agree that people "deserve a pay for their work." Which is it? Free apps often get offset by ads, which I find annoying and a waste of already limited screen space. I would much rather pay the developer directly for the app than put up with the ads. But that's just me...

There are apps that are just shortcuts to some system features and others like some reddit readers. I'm not sure where is the line but unless the application is fantastic I would use the webpage instead of paying.
Another thing that worked with me paying for stuff is giving some apps free and charging for others. I have bought 4 apps I don't need because I liked a lot a free app from the developer in question.

But in android everything is almost free and that the apps are also of higher quality

Larger audience == larger ad revenue.

Giving up your privacy is not "not paying". You are just paying with your personal freedom and personal data points. That's not my idea of free.

Rilek brader brader rilek

Asal dp 8.1 cyan nak download tak available...?

Dp 8.1 cyan not available?

Untuk ko je tak available. Hahaha kitorg sume dah denim..

that lockscreen is a mess

I want to keep my lockscreen clean, so no thanks.

That was what I was wondering, how it compares to LockMix, which have been superb and overall the best lock screen app there is.

This app was one of the first for lock screen I looked into over a year ago. The feature is cool, but it's aesthetics won't fit a Modern lock screen.

Soon they'll support glance screen too...

Not sure this is an option for me. It makes my lock screen look like my desk during tax season. Too much clutter. Images from Bing make stacked with this clutter doesn't help. Until MS gives over full control of the lock screen, this concept simply won't work IMHO.

Give Lockie a try, I think it looks a little better than this one (and there is a free version).

This just reminds me of how much I want Microsoft to add third-party Glance Screen detailed-view support.

Can this app remove date and time from lockscreen....?