The Logitech Keys-To-Go keyboard for Windows is small enough to fit in a purse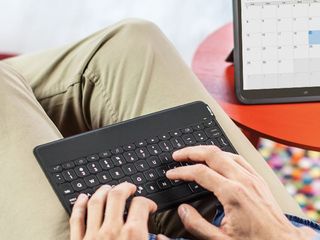 Logitech has announced plans to launch a version of its Keys-To-Go portable keyboard for Windows devices later in April for $69.99. The Keys-To-Go keyboard was previously released for iOS products, but now Logitech is offering a version of the accessory that will work with both Android and Windows devices.
The small keyboard uses Bluetooth to connect to smartphones and other supported devices. Here's what Logitech has to say about this new Keys-To-Go keyboard.
Windows Phone 8.1 with Update 1 currently does not support Bluetooth keyboards. However, Windows Phone 8.1 Update 2, found in newer devices like the Lumia 640 and Lumia 640 XL, are supposed to support the standard. Likewise, Windows 10 for phone will also have native support for Bluetooth keyboards, meaning most newer devices should be able to use this device later this year.
Will this be better or worse than Microsoft's recently announced $99 foldable Bluetooth keyboard (opens in new tab) coming in a few months? Guess we will have to just wait and find out.
Source: Logitech (opens in new tab)
Windows Central Newsletter
Get the best of Windows Central in in your inbox, every day!
I thought Bt keyboards don't work with Windows phone

I believe they do work with Lumia 640

They will work with phones with Windows Phone 8.1 Update 2 (like Lumia 640, Lumia 640 XL) and, of course, Windows 10 update.

Until then, pointless....

https://38.media.tumblr.com/tumblr_lzmttgGExl1qc84cno1_r1_500.gif

Don't lie, we know you carry a murse.

Why not use yours for the shot instead Daniel?

70 dollars? Dat profit margain!

Would've been nicer if they brought back the bt dinovi mini

Microsoft is charging $99 for theirs, so...

My mini is still running strong! Can't seem to find a suitable replacement.

So that doesn't make it any less of a rip off...

And then.... there's the $urface keyboard

This would be a great addition to the Intel HDMI-stick computer

Perfect size for toddler hackers.
Do iPhone or Android offer gaming on phones with keyboard controls? I could get into phone gaming with PC like controls.

I can't speak for iPhone but I know Android does. You can even use Playstation and Xbox controllers if you wanted.

WP is soooo far behind on OTG and BT support. We have Xbox games, but no fckn controller support...how hillbilly is that?

Hmm... Its cool but think its too small for me to type. Maybe they should invent a mini swipe keyboard. Will buy that hehe :D

Those keys looks rather small. But will have to try one out anyhow. I absolutely LOVE the Microsoft wedge because the keys are big and feel like you are typing on a full sized keyboard. Also, I love how the battery isn't rechargeable, using alkaline batteries which lasts for months at a time. Hopefully the folding one is as good.

Can't be any smaller than the keyboard on our phones....

So this version is for Android AND Windows? What's the point then, since it won't have a dedicated Windows button?

Neither does Microsoft's new BT foldable keyboard. Life can exist without that key.

The point is that it works.

I'd be surprised if the current version doesn't already work with windows tablets. I got their ultrathin mouse "for mac" and it worked fine with a windows tablet.

Speaking of keyboards, remember the manufacture who released the Pen Writing program specifically for their computers (Can't remember who they are...) well in the newer Win10 versions there is a new PenWritingKeyboard! You tap a text box (Or where ever you can enter text) and a little pad shows up next to it where you can write your message with the pen and it will enter it into text form,before you had this pad, but it was at the bottom of your screen and not the best (You still have the option to use that version, just click "Use Old Version" when the keyboard is open)

Battery life? OR is it yet another device that has to be charged daily/twice daily.......... .... .. . . .... . .....

No battery needed, no power supply needed, runs on fairy dust!

The one for iOS has a 3-6 month rechargable battery and charges via micro usb. I'm assuming its gonna be the same

After windows 10 or 8.1 update 2 BT drivers arrive, I'm gonna use my good ole Stowaway BT keyboard, worked great on my old win mobile phones and PDAs

Will we even get GDR2 on our devices before Windows 10 comes out, or will they just skip it alltogether?

I was wondering this also. I wouldn't be surprised if they skipped it...

They should put an e-ink prediction bar on the top. A little different thinking couldn't hurt.
Windows Central Newsletter
Thank you for signing up to Windows Central. You will receive a verification email shortly.
There was a problem. Please refresh the page and try again.