Love wins this Wallpaper Wednesday
Don't let your home screen fall into a rut — switch out your wallpaper!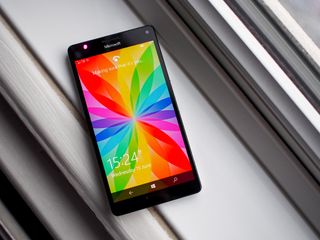 Wallpapers are important. They can give our phone a new feel, even if only for a little while. Some of us change wallpapers as often as we change shirts (sometimes to match), while some of us set one wallpaper and forget it, and that's a shame. A good wallpaper can be a pick-me-up, can remind us of better times (and upcoming times). They can show off what's important to us, be it a picture of the grandkids or an emblem of your favorite house in Game of Thrones. In an effort to brighten your screen, and maybe your day, we present an offering of wonderful wallpapers to grace your smartphone.
If you've got a wallpaper you use everywhere, share it in the comments below! We're always looking for something new. Now get your wallpaper picker ready and see what's in store this week.
Rainbow July
Technically Pride Month is June, but who are we to argue with a wallpaper this bright and hopeful? Let's have a whole Pride Summer! This design may seem familiar to Apple fans, but it's brighter, bolder, and it gives me hope that tomorrow could be just as bright.
Vector Rainbow
This rainbow isn't tidy or simple, and neither are the people who live under these flags. It's vibrant, it's bursting at the seams. The lines and bushes blur together, just as we all blend and come together as one people.
Pride
This seemingly simple wallpaper works well on busy desktops or simple home screens, once again blurring the lines and showing a gentle, shifting rainbow.
Let Me Be Your Rainbow
The flower that blooms in adversity is the most rare and beautiful of all. And while the LGBTQIA community is a community that has almost always faced adversity, that adversity brings it together and makes it stronger. And I have no doubts that this community will indeed continue to bloom and grow in love and inclusion.
Let Me Be Your Rainbow by Anyzamarah
Silky Rainbow Curtain
No matter who you are, no matter who you love and who you surround yourself with, there is a place for us all in this society and there is a place for us all in the light. No matter how dark it seems at times, the light of love will prevail, and at the end of a dark storm, all we can hope for is that we see a rainbow shining in the sky.
Get the Windows Central Newsletter
All the latest news, reviews, and guides for Windows and Xbox diehards.
Ara Wagoner is a Writer at Windows Central. She's addicted to music and video subscriptions. When she's not writing help and how-to's, she's running around Walt Disney World and singing show tunes. If you see her without headphones, RUN. You can follow her on Twitter at @arawagco.