Lumia 430 to be likely launched in India tomorrow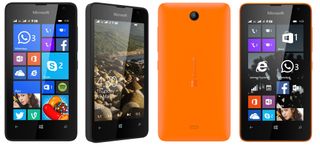 Microsoft India is likely to launch the Lumia 430 in India at a closed event scheduled for tomorrow in New Delhi. The tagline - The new benchmark in affordable smartphones in India – suggests the Lumia 430, the most affordable Lumia device by Microsoft, announced in March earlier this year.
The Lumia 430 is an entry-level Windows Phone, but doesn't cut too many corners in the crucial areas. There's 1GB of RAM and 8GB internal storage with micro SD card expansion. It also packs in a front camera. And of course, the device is slated to get Windows 10 later this year when it is released. The 4-inch dual SIM device attempts to hit all the right notes for both affordability and desirability.
In a way, the Lumia 430 looks like a 'fixed' Lumia 530, which is missing a front-facing camera, ambient light and proximity sensors, and sports only 512 MB of RAM.
Microsoft Lumia 430 Specifications
Qualcomm Snapdragon 200 1.2 GHz dual-core processor
4-inch WVGA (800 x480) LCD at 235 PPI
1GB RAM
8 GB internal storage; micro SD up to 128 GB
1 MP fixed-focus rear camera; 0.3 MP VGA front-facing camera
Sensors: Accelerometer, Proximity, Ambient Light Sensor
1500 mAh removable battery
Size: 120.5 x 63.19 x 10.63 mm
Weight: 127.9 g
The Lumia 430 was announced for a retail price of $70. Let's see if Microsoft prices it really well to stand out in the crowded budget smartphone segment in India. We'll be at the event, and get you all the details from there.
Windows Central Newsletter
Get the best of Windows Central in in your inbox, every day!
Excellent value for money

How low can they go? There's hardly anything between this and the 435 - I guess regional variants?
Ms needs to pare down their offerings. This is getting confusing and out of control. And I understand they're attacking the low end market, as they don't move in the top end, but I'd like to see a hint of something decent. Can't wait for the show. And can't wait for ms to sort their offerings out - enough with the low end.

yeh .i am the first one to comment!!

Hahaha, what a pathetic comment.

Wasn't funny 10 years ago, surely isn't now. Also, 3rd, which is basically the same as 1st, or 8th, or whatever.

Are any of these new low-end devices coming to the U.S. Really need to replace that L530 in stores

They should bring out a buttoned non touch lumia :D

Lol.. Just 1mp? These phones are for kids..

You can get the 435 for £14.99 on pay as you go upgrade from Carphone Warehouse. This has got to be the best value smartphone ever. Posted via the Windows Central App for Android

A WP for $70... Good going microsoft.

Nice move .. By MS replacing asha segment by low end Lumias

Good for the Indian users.

Ya. Now what about someone in the UK?

See my post above. Posted via the Windows Central App for Android

Think again!
When I see increase in number of IOS users!

This is game changer for WP in India!

It is a good move to replace Asha series.now msft can concentrate only on Lumia and one OS that handles all the mobiles.

actually the camera is 2 mega pixel !!!

S4 processor is better than S200?

Giving only 2mp camera that too fixed .. Go to hell still doing same errors what's this Microsoft ...even my old keyboard typing 6years old Nokia phone which is still working well have 2mp camera...

it's a very low cost device, don't expect too much for that price cheapo

70$ when converted to rupees near to above 4200 at that price we get other branded good phones better specification...

Then go buy those. Why are you here. :@

Brother I am saying the fact there is no need to angry with me..i am using Lumia phone more 1 year old..I am great fan of Nokia WP and now Lumia.. I am not simply saying

few weeks after launch prices will.
drop ,it would probably be placed at 3000

530 was probably one of the worst phones out last year

I'm lost. Is this a new one?? They should really stop using numbers.

When Lumia 540 launch in india?

So the higher in the hierarchy 530 will have lower specs than the 430 ?? Microsoft please fix this naming issue for god sake !!

The Lumia 530 is an older model, so it makes perfect sense to me.

What the hell, is that camera is only for purpose of design, wtf an 1 mp rear cam can do.

Just 1MP ha ha ha, without Nokia, MS can do this only

There best Lumia ever made were the x20 series after that it's total haywire

The official price for this is going to be 4999 or thereabouts and not 4200 ( direct currency conversion ). Pay a bit more and get Lumia 630 with SD 400 at 5999 online now !!

If Nokia would have launched this 4xx series then there would be a Lumia 420.
Bored.... seeing only cheap devices. I'm waiting for Lumia 640 XL LTE Dual SIM in India.

had they announced lte variant of l640xl ? for India?

Yes. The model is listed as coming soon on Microsoft devices India page.

Everyone knows that there are no of androids phone even starts from 2500inr.then why not Lumia..it is all about to be in reach of every man..(may be with these low series).and for higher end phones one should wait until win10 release.

Many phones come & go. But no one can defeat the legendary LUMIA 520. Proud to be a 520 owner. 2 Fu*kin years straight still no lag. Running Lumia Denim. Waiting for W10.

Should get lower and lower price range every year, The Asha phones range should be replaced by Lumia 4xx series within few months.

Dear Microsoft, please, don't release Lumia 440 in future.

Pls give us update for windows 10 on Lumia 430 we are waiting long time pls pls be soon Microsoft
Windows Central Newsletter
Thank you for signing up to Windows Central. You will receive a verification email shortly.
There was a problem. Please refresh the page and try again.