Lumia 435 now available for purchase on Flipkart for Rs. 5,821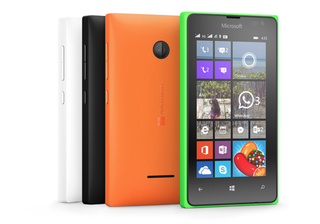 Microsoft's latest entry-level handset, the Lumia 435, is available in India from the manufacturer's online store, but if you were looking to buy the handset from Flipkart, you can now do so. The dual-SIM version of the Lumia 435 is now available on India's largest e-commerce site, with the black and white color variants listed for Rs. 5,821 ($94). The device is also available in orange (opens in new tab) and green (opens in new tab), albeit at a slightly higher asking price of Rs. 6,499 ($104).
For that price, you get a device with a 4-inch screen boasting a resolution of 800 x 480, 1.2 GHz dual-core Snapdragon 200 CPU, 1GB RAM, 8GB internal memory, microSD card slot up to 128GB, 2MP camera at the back, VGA front shooter, Wi-Fi 802.11 b/g/n, Bluetooth 4.0 and a 1,560 mAh battery. The device comes with the Lumia Denim update out of the box.
The hardware on offer is certainly enticing considering the price. Indian readers, how many of you are interested in buying the Lumia 435?
Expected pricing in India. The price should come down gradually to about 4.5k to 5k at which price, it should be a solid phone given it's specifications. Let's look out for the reviews

Wrong pricing strategy AGAIN !!!
------
This entry level phone should have been priced to wiped the competition and steal the headlines.
------
Instead price point is high (compare to competition) and phone will not sell well.
------
Of course price will come down in coming months but the momentum is gone.
Another missed opportunity to close the massive market share.
-----
Time to change some decision makers at the top of MS.

I thought pricing would come around for 3000 for 435 . Just bcoz of its 2mp camera . Bcoz now 530 is only for 5000₹

How it's display quality , tft just like lumia 530 ??? Posted via the Windows Central App

2MP FIXED focus camera? Last time I had a fixed focus camera was in 2007 with Samsung SCH-i760 (The device was something like $400 of dollars off-contract too, and sported 30mb RAM at boot) But in 2015, that camera??

If you want to get a phone with a better camera.. get a better phone and spend some money.why is it everyone complains about the hardware even in lowbudget phones?

Moto E is now available at 5999. It has better display, battery and 5mp camera while lacking front camera and carrying 4gb internal storage only. I don't think one would find it reasonable to opt for a VGA front camera and 4GB extra memory when you can easily expand via sd card. The pricing strategy is poor. The success of a phone depends on launch pricing and not what price it carries after months of release. Lumia 530 comes with 512MB RAM and lacks front cam but has a quad core processor and a very respectable 5MP cam and is available at around 5k

@Arunlobo you completely missed the point and at who this phone is targeted at. You compare this phone with Moto E yet you fail to mention that Moto E has hardly any usable space left in that inbuilt 4 GB memory and even if you install a MicroSD card, you cannot install apps to it. On the other hand, you can install apps in Lumia 435 in both inbuilt 8 GB (5+ GB usable) or the SD card. You also failed to mention that Android runs like crap even on a phone with 1 GB RAM such as Moto E while Windows Phone flies on a phone with 1 GB RAM. You also don't realize the fact that the target user for Lumia 435 is a first time smart phone buyer and Microsoft intention with this phone is to give very good and similar "software" experience compared to other high end phones with differentiation based only on hardware features and that is where they intend to charge money. Lumia 435 is a very good product because in general use people accept that low price brings low quality camera but that is fine because they spend more time using the phone and OS instead of taking pictures. Microsoft's intention with Lumia 435 is to impress people with speed and software/OS quality first and then the customer can chose to pay more for a powerful hardware for camera etc.

Lol Android doesn't run like crap on the Moto E, it's manufacturers skins that drag the os down, the moto e is even faster than the Samsung Galaxy S5 so that is a false statement. Obviously you've never used a Moto E or G because they run buttery smooth and you can install applications on an SD card but it needs developer support for a specific user in regards to privacy and security. In this case the Moto E is better than this device, the 4 gigs kill it but it has around 2 gigabytes usable which isn't that bad plus it'll receive Lollipop and it has one gigabyte of RAM which is better for multitasking than the paltry 512 megabytes. Just my 2 cents. Posted via the Windows Central App for Android

yeah you're right moto works good but the problem is motos quality compared to a Lumia. and it doesn't have a service centre or proper support. now with windows 10 for phones Microsoft and devs have to just work hard to make Lumia a better phone where loading resuming gets sorted.

it is you who missed the point. "You also failed to mention that Android runs like crap even on a phone with 1 GB RAM such as Moto E while Windows Phone flies on a phone with 1 GB RAM."
I have tried moto E, and it runs absolutely fine, no lag or whatsoever. while lumia 520 has poor resuming screen even on system and core apps, moto e does not lag at all. "Lumia 435 is a first time smart phone buyer"
people who buy first time smartphone here, gets either samsung or some local brand, no way microsoft can justify the price. "Microsoft intention with this phone is to give very good and similar "software" experience compared to other high end phones"
LMAO, their so called "GOOD" software experience is the worst. their music app is so pathetic, i have to rely on a third party app. Don't give the shit about good experience. WindowsCentral forums are flooded with app horror. Their first party or system apps are crap, while they make the same app better for the competition market. it is no doubt that 435 is good hardware, but the price could be low. more like 4500rs-4800rs.

Though I kinda agree with you on pricing...however, you saying Moto E runs without a lag is far from true...out of the box, yes, it sure does...but load it up with some apps and games...you will then see it's true colours...

if you wanna see lag, get a lumia 520, the lag is real, the resuming screen, slow app load and a lots of games will simply crash, unfortunately WP is not far away from android problems. i see people bitch about android and iphone here, but never mention the cons of wp, or the lags or the horrible first party apps.

You need to recheck what you wrote. Moto E does allow applications to be installed on SD card and you can check out videos as to how to do this. As far as android running slow on 1GB RAM phones, commoners especially first time buyers do not know this, they simply buy based on what appears to be good. Unless they TRY Windows Phone, they will never know it runs good. And the fact that Moto E has been a bestseller in India proves this. The target for Moto E is also a first time smartphone buyer, there is no other phone from Moto which is priced lower. The price of 435 is not low at all, that hardware can be easily priced for 4999. People look for value for money phone and not "similar experience as highends". How can first time smartphone owners know what a high end flagship performs like?

one can buy ant device if Microsoft's intention is too sell services and applications first not the device more. they will make more lumias but as of now more customers are in droid. even satya never says ppl to buy windows phone all the time. he always wants ppl to use Microsofts software and services first. so now when we know whats the Microsofts and Satyas main ambition then y fight with devices. one can install Microsoft apps on ios and android tooo. my aunt has installed many good services on her phone like msn fitness, Microsoft Office and OneDrive. so windows central forks first help Microsoft win their services b4. Windows phone will then automatically succeed.

Should have been around 4.8/4.9k.
It's not worth 5.8k for such a small screen. Micromax has better offerings at this range

You cannot compare Microsoft phone with Micromax as there is a difference of brand value. But you are totally right wrt to pricing. 4.9k should have been the price of this phone. Lumia 532 should be priced at 5.9k but we now know that this won't happen. Lets hope there is not much of a difference in terms of price between 435 and 532.

You forget this is not a nokia phone.. For people of India Micromax is more popular than Microsoft.But quality wise micromax stands nowwhere near to Microsoft. Thing is camera is totally a disappointment in this phone, else it is a nice phone in this range

Save for Nokia's fanboys, nobody cares if this is a microsoft phone or a nokia phone. Xiaomi was never popular, nor was Asus and Alcatel was a no-namer, but aren't they selling well today? Microsoft, Motorola, Samsung, Sony, HTC, Blackberry, Lg = reputed brands, known for quality Anything else = non-reputed brands, known for less price. Simple as that.

also there is Asus Zenfones and Redmi in this price range... Tough competition...

Camera totally sucks..Who on earth now uses a 2mp rear and vga front camera in a smartphone? This is totally lame, Microsoft..

How about getting a better phone than? why even consider good hardware in a cheap ass phone like that? You guys just keep complaining about it all day long..

Because xiomi motorola Asus are giving better features in this range..So why will people buy this phone?

whatever but do use Microsoft services on that remember mobile first cloud first

Every basic smartphone has a 5MP camera.. 2MP is like ancient.

And every phone is not MSFT!!

Those phones are selling well than Microsoft in India.

The long forgotten nokia 215 when MSFT!! I want a secondary long battery life standby music player phone!!

+1.. Waiting for Nokia 215 to buy as a back up phone

First question in India when you see a new phone. How much megapixel camera? (Eventhough they dont know what megapixel actually is) Ans: 2 megapixel Yeeeeeeewww.... Just 2 mp and more than 5K??? :O who will buy such a phone? This will be the reaction of many in India...

They are just saying it because there are many phones in the same price bracket with a better camera. I don't see anything wrong in expecting more. Where are you from BTW?

totally wrong pricing....actually stupid pricing....no one going to buy 2mp rear and front vga camera phone at this price at least in India......

Majority of people in India go after the numbers than the quality. For this reason, I don't think 435 would do well here.

These new cheap 1GB devices are making my life with 625 & 720 harder.


I'd like to actually see one

Microsoft going in the way of Nokia no sense of pricing.

This Phone is just an Introduction phone for New smartphone users (Willing to use whatsapp & Facebook for the first time) to know what is the difference between Windows & other platform....Putting 2MP Camera with VGA front face camera helps the promotion of Skype Video call (Cost saving compare to regular Video call)....Since it comes with 1GB RAM on 4" compact screen helps to know the simplicity of windows how smooth it runs the app flawlessly....By keeping these things in mind MS did right job by offering this Phone under Low Budget....When it comes to Price in INDIA taxes are incresed for Non indian makers (Branded)....In terms of tax Android market Share is too High compare Windows that makes the constant price in Android devices....

Waiting for the review of the phone by WindowsCentral..

Sigh, Indians always expect goods to be priced at rock bottom prices. I'm surprised someone hasn't asked why this phone isn't free. This is isn't some shitty china sourced phone like micromax or lava or two plus two. And Moto isn't upto quality as well. This phone has an expandable storage upto 128 GB and 1 GB RAM in windows OS, what more could one want?

Only worth 3500 rs,shit phone

First week pricing is always more expensive. Wait a couple of weeks...

The way price comments are flowing, looks like micorosoft expected to give this phone for FREE.


Lava iris windows phone is cheaper than this phone. Don't ask about a brand..even lava windows phone has been hailed by users for its hardware quality and sound. Camera side seems to be same for both phones. This should be at 4k bcoz 2mp phone is outdated these days

I have iris and its awesome. But brand matters. If not nobody would have bought phones from Samsung Nokia Sony or Moto. That said this phone is overpriced when compared to devices from above mentioned brands.

Stop complaining abt price point... If u need an HIGH END PHONE FOR 5K then its not possible. Change ur mind

SUPER + BEST+ CHEAPER +QUALITY+ GREAT LOOK AND BEAT = MOTO ,SONY, SAMSUNG,ALL THANK YOU MICROSOFT

Windows Central Newsletter
Thank you for signing up to Windows Central. You will receive a verification email shortly.
There was a problem. Please refresh the page and try again.