Lumia 530 lands in Vietnam for just $110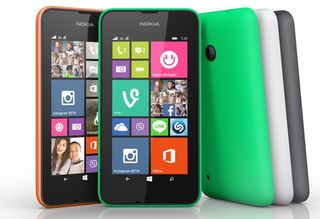 Microsoft has launched the Lumia 530 in Vietnam today, with the device set to go on sale officially starting this weekend. The Windows Phone 8.1 toting dual-SIM handset will be available for just 2.349.000 VND, which comes out to around $110.
The device will be available in four color variations in the country — orange, grey, white and green. During the launch of the handset, Microsoft also announced that it is introducing a Lumia VIP program in Vietnam, which gives Lumia owners exclusive deals and discounts at participating vendors. The program, which is set to commence from August 3, has over 500 brands listed, and includes the likes of Pizza Hut, Calvin Klein, DKNY, Diesel among others. At this stage, it looks like the Lumia VIP initiative is exclusive to Vietnam, but it is not unlikely to imagine that this program will get a wider rollout.
Vietnamese users, are you excited about the pricing of the Lumia 530? What color variant will you be picking up?
Source: Nokia; Via: WinPhoneViet
"Just" followed by a 7 figure currency. What's the cost of a litre/pint of milk in Vietnam?

I think its about 916181529

1,300,000,000,000,000 MUAHAHAHA ('o')

7008667b6...... Oh, I thought we were still dishing out BBM pins :P

A can of milk is 15.000 VND... So this phone is equal to more than 150 cans of milk :p

15,000 not 15.000. Also it depends on the milk brand lol. US $1 equals VND 21,000 approximately.

In my country we use dots instead of commas for separating every 3 digits... commas are for decimals :p

Interesting!
It's just the opposite to what we use :P

Wait, I'm talking about U.S, which country are you from?

Yup .. it is similar to come countries in Europe like Italy .. many countries use . as thousands separator and , (comma) for decimal point.


In the Netherlands dots are als for seperating every 3 didgits and comma's for the decimals.

In Finland we don't use dot but space and commas for decimals so it's almost the same as Vietnam ;)

The hell what ? Seriously ?

So a worker who gets paid cash weekly, takes home a suitcase full of money? Or Vietnam has smallest currency note of 10,000 VND?

Nope, smallest note is 500 dongs :) but most common note is 10,000 :p

the smallest is 500 VND and the biggest is 500,000 VND

No dude, a can of milk (1 litre) is about 32.000 VND :v

From 32,000 - 33,000 VND/litre depends on the shop. It's not a big deal. One bread costs about 10,000 VND but a few billions Zimbabwe dollar :-D

This comment section reminds me, I need to pick up some milk from Target...

About 30,000 VND for one litre.


4,000 Riel = $1
440,000 Riel = $110
I still find Vietnamese dong crazy.

That's one inflated currency.

7 figure currency in Vietnam for the cheapest Lumia

Don't really like any of these new lumia colors.... Give me Cyan or Red back damit!

Holy shit that currency conversion

THAT CURRENCY CONVERSION THOO

Almost everyone is a millionaire in Vietnam

A chewing gum in Vietnam = 1.000 VND, so.... A millionare can only buy 1.000 gums...

Okay... Let me guess...
1000 VND for a chewing gum, what are the currency notes like?
I mean, are there smaller notes like 100 VND, 50 VND?

$1 dollar = 21,225 VN Dong
1,000,000 VND = $47.11 dollars

No dude :) the smallest is 500 VND by now :p

Cool! That still sounds big... but yeah ;)

In India.. 500 is the 2nd biggest currency note. :D

No I think the smallest is 200VND by now ;)

100 đ, 20.000 đ simple like that. We use the french system in currency and date

Ah, I see. I wasn't familiar... :)

The currency in Iran is even worse the same amount money would be 3,400,000 IRR

I want Lumia VIP in the Philippines!

.same here bro..same here..

Does that mean $1 = 21,000 VND (approx)?

yep, the inflation rate is crazy here

Yes it is xD I'm Vietnamese, and I confirm this xD

Indonesia is just the same. But, lil bit better. $1 for Rp10.000 but we always throw the last 3 zero. So, $1 is Rp10 :p

It takes KAMPUCHEA KROM which is the territory of Cambodia, and I'm Cambodian. So tell me the reason why I don't need to hate them.

But why? Personally, I would love to visit there once, the scenic beauty is adorable :)

If you'd like to visit there you may also like Angkor Wat...

I live in Siem Reap, so freely ask me...

What the hell does that have to do with anything?

I'm a Khmer myself and I find him dumb.

Sama ah ngan aku , kat Malaysia tudiaaa bak hang ramai bau cam apa tahh .

បានសំរាក
Shut up if you don't know the real story.

The exact price is 2.349.000 VND :D

The only missing feature is the front cam. If there is a front cam, this will be a very big hit for the Philippines.

who gives a front cam for such a low cost device 530 is good for it's price n 630 should've been given

Search for "Fly Era" (Russia). It's a L530 + auto focus camera + flash + front camera + cheaper.
http://m.wpcentral.com/fly-era-super-affordable-windows-phone-launching-...

I have cousins in Vietnam that bought 520s when they were on sale for 2.700.000₫. This only has 4gb of storage compared to that, but it's expandable; one of my nephews is graduating this year so I might have to remit some money...

I think this phone needs a little better display coz windows phone 8.1 ppl will keep their own or maybe their family pic on the home screen with tiles so they need to make display of budget phone little better.

At that price, they need a clear distinction in screen resolutions between 530 and 635... of course I'm all for better screen if they could really do it ;)

Yeah my dads 630s display is better than by L720 . For lockscreens I keep bing pics which e awsome and changes with beautiful pic every day. Need to do something for home screen

I hope this boosts devs for 512 mb ram compatible games!

Actually most of the best games supports 512MB :p

What will be price of single sim variant ?

The 630 is only $20 more right? So shouldn't the 530 be significantly cheaper?

I read specification of this windows phone it's not good.. Just wastage of money.... Lumia 520&525 is better than this...

Considering its spec and price, I think I prefer 520. I don't find any reason why should anyone get this 530 instead of 520. I just love those three physical capasitive button.

Almost people in Vietnam have at least 2 Sim cards, target of this phone is the customer who want to change from feature phone to smartphone.

Ohh My god.. Can't believe it..

Basing on the price, this might be about 5,000 peasos in the Philippines which is by far the standard price for Android phones with quad core processors, 2mp front cam and an 8mp rear cam and a 5" display. Of course WP 8.1 is a better and more optimized OS but this is least of the buyer's concern, they are more into specs more than the brand name and OS. (sad reality)

and I've just bought a Lumia 630 today...

Congrats!!! And it looks like its your first day comment at WPC too, Welcome!

So, the release of another WP 8.1 handset, and the most popular topic in this comment section is the inflated currency of VietNam...?

That shows not much interest for the phone. I'd expected it be priced at $80, it would be a big hit and expand the user base a lot faster. Ms must have a decent replacement for asha.

you can image how expensive the milk is in Vietnam
Windows Central Newsletter
Thank you for signing up to Windows Central. You will receive a verification email shortly.
There was a problem. Please refresh the page and try again.