Lumia 640 already discounted in India, get one now for just ₹9,999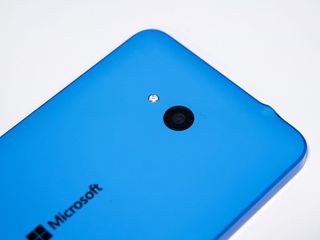 Holding out for a deal on the Lumia 640? If you live in India, we've got good news, as the device is now available for just ₹9,999 ($157) on Flipkart, which is a discount of ₹2,000 from its usual price of ₹11,999 ($190).
There's no telling how long the deal will last, so if you're in the market for a Lumia 640, be sure to head to Flipkart to get the device. Currently, the black, white and orange variants are available, with the cyan version showing as sold out. In terms of hardware, here's what you get:
5-inch 720p ClearBlack display
1.2GHz quad-core Snapdragon 400 CPU
1GB RAM, 8GB internal memory, microSD slot
8MP camera at the back, 1MP front shooter
Wi-Fi 802.11 b/g/n, Bluetooth 4.0
2,500mAh battery
Windows Phone 8.1 Update 2
Before buying the device, be sure to check out our review to know what's on offer with Microsoft's latest:
Great offer, my frnd ordered one

Man o man.!! Good news plus Lumia 840 comin up sooon.!! ;) 830 is discontinued and 840 is on the cards as per sources .!! Improving the areas where 830 lacked .!! Better processor better camera front and back (5mp and 13mp rumoured) and slightly modified or same design .!! Man want one badly .!!

I also heard the 830 being discontinued. But is it just a rumour or...? I mean, it wasn't that old right?

Yep it wasn't old but as expected response by company .! 830 didn't standout that well .! Low rating from critics regarding its specs and processor .! Low resoultion front camera .! There ain't any difference b/w 730 and 830 rather u get better bang for buck with 730 even 640 has the same processor.!! Well in suming up all its a good decision to bring out better speced midranger that consumer can say yep price is good for the phone .!! ;) well u r a lucky guy to have 930 as a winner ;) ppl like me planning to buy with a limited pocket would love to have phone that suits just right and I have the same hope for 840 XD ;)

Agree about the critics for 830. On the top of everything, it was so much overpriced for what it offered, was what people complained the most about. Many would argue that WPs won't need high-end specs for running smoothly and the 830 had enough juice for it. But then, most of the buyers would compare it's specs to other phones of same range and that's where it gets beaten up easily.
I do have my hopes high for 640 and 640 XL and I'm sure it'll beat the selling record of 535 on Flipkart! I really love to see how Microsoft is managing to compete with the current Android market by lowering the phones' prices, which Nokia ever failed to do.
I do wish you become one of the early users of 840 when its made available here! :)

It wasn't that old, but it miserably failed as "affordable flagship". MS had no choice but quietly discontinue it and move on with 840. Hopefully they will make 840 official during \\build\.

Yeah, and also hope it'll be "affordable flagship" for real, this time.

Looks still a bit pricey considering the competition

What is the competition at this price point?

You got to be kidding me. How much cheaper do you need it?? And please don't tell me the Lenovo comes in cheaper than this. As good as the specs of those phones sound I still have to think thrice before buying those. Service and durability anyone???

Has to be around £99-£105 to feel attractive.

At today's exchange rate, that is £103.75.

Do you know Moto G2 . One of the hot cakes in Flipkart

yeah, and u get two free speakers at front that makes it look pretty ugly

Moto G2? Really? Another lagdroid that will be outdated in a year or so~

Like wp which is hell updated always?

Lagroid is what these idiots say to convince themselves that their decision to buy a Windows phone was a good option.... My z3 is ages ahead and better than that flawed 1520 Posted via the Windows Central App for Android

Okay, Z3 is a nice phone but 1520 flawed? Seriously?

How do u explain the Phantom touch issue which made the phone so painful to use

I never heard of 1520s touch issue. My frnd has it, its butter smooth, no lag, no resuming screen. In wp, Only 535 has touch problem

By phantom touch issue, you mean the cluttering of text while typing a message, right?
I'm pretty sure Lumia icon, 535 and 1320 had the same issue but they were all fixed with software updates from Microsoft.

Exactly. I love Windows Phone but switched to Android last year. Zero lag and zero resuming screens. I do miss the camera and the superior keyboard but I've not seen any lag since switching 7 months ago. Maybe I'm just lucky. I don't know. I think bashing Android for lag isn't a viable argument any longer. It's sad to see on this site as soon as someone suggests an alternative to WP, they get ripped a new one.

andriod comes in whole lot of configs, it sure lags in low end devices,

Lagdroid is lagdroid, but still some idiots say lagdroid never lag to convince themselves that their decision to buy a lagdroid was a good decision.

Just a heads up. You sound like a fool when you use words like 'lagdroid'.

Look android is mighty difficult to configure properly to my knowledge of OSes. There have been android devices from not only cheap Indian and Chinese based Indian OEMs but even Samsung boasting hexa or octa core processors with 2 or 3 GB RAM running with so much lag that a 512 MB ram windows device becomes equivalent to it. I've seen simple games such as TR 2 running with so much lag on a note 2, that makes u kid ur self for spending over ₹ 30k on such a device when a simple windows device with a quarter of it's processing power can run the game lag-free all year round. I'm not surprised android is called lagdroid.

Hey, here you are the fool. I don't need fools advise for using appropriate words

Actually you are right, its not lagdroid, its bugdroid.

1520 is one heck of a phablet and has proved itself over the years and could easily be the best phablet out there 2014. You're bloody trolling.

Moto G? Android with 1GB? Are you kidding? I have LG G3s. It's all new level of lag compared to WP.

wp with 2gb (1520,930) lags than 1gb android(never experienced any lag leaving Samsung devices)

WP 8.1 has no resuming screen,works better even on devices with 2gb ram,requires less processing power,IE does not crash at all,office apps even show images and videos in document,system apps open as soon as you click it,no matter how big or small the app is they don't have splash screen,their low ends and high ends are faster than high end iPhones and androids.any thing else

Thanks, you proved you are troll.

The resuming screen only shows up if you are using DP or TP. Or else, there is no lag on Wp. Not saying coz I am a windows phone fan, but from experience.
I have been using Lumia 830 since two months now. Believe it or not, never even restarted it!

stop talking about shamesung , that copies apple

yup lumia 530 for 7.5 k or 8k is good choice.

Why would you buy a 530 for 7.5 or 8 k??
It's already tagged for 5k on Flipkart...

even xolo q1000 costs just 6999 now, like the lumia 535. Real bang for the buck, both those

Saw it this morning on Flipkart. This was made to match the price of the Moto G 2nd gen which too received a price cut. But the Lumia is still a 1000 bucks cheaper than the Moto!!! But is this temporary or permanent?? The launch price should have been actually close to this. Glad they are making up sooner than later. Now this just frees up the sub 15k price bracket for the 740 n the 20k bracket for the 840

Actually the tedious part is that Lumia 730 isnt too far off from 9999 too ! I would definitely prefer the 730 for xZeiss optics

I live in pakistan can i get one too at this price.

that is a horrible thing to say

**** *****. Well those are just asterisks.

Price is the same everywhere my Pak friend, Indian Rupees 9999 !!

If 640 XL decreases... I can save my pocket money little bit

Koi indian bhai mujhe send kardey i can pay him later.

Shipping charges 2,000 extra

I can give you the phone totally free but delivery charge is 9,999 only ;)

Travel to Amritsar by bus from Lahore and buy it yourself !!

Expected this price at the launch. Im getting one now :)

Was reading specs on flipkart and saw a category in it Named important apps-YouTube was the first
Rofl.. :P

better to wait for at&t 640

It always bothers me to see things like phones and other electronics more expensive in lower income countries. I dont get why this phone can be 89 dollars in the us and yet its the equivalent of 157 in India (190 at one point). Are the taxes really that bad that these products are twice as much in a market where the people can only afford half as much? Smh

coming to phones there is no carrier subsidy in India, and call rates and data are way cheaper than us

Yes. And the taxes are high because these phones are imported not manufactured in India. Phones that are made in India cost lesser

no taxes are not that high, only 6%right

1) Import Tax 2) Currency Risk 3) Dealer cost ( Cell Networks dont sell , Bestbuy like third party sell) 4) Unlocked 5) Dual sim

Unlocked and unbranded phones cost more, I would rather pay 160 dollars than be a carrier slave by paying 90 dollars and keep crying for updates.

Oh my, i wish there was some kind of exchange program for this. I would really love to trade my 720 for this :\


You would do well to not trade the awsome 720 for this just for the Zeiss camera. This 640 doesnt have Zeiss optics ..

Awesome!! I was checking the offer price a while ago and now here's the article! You guys are fast, sometimes.
And I'd say its an absolute steal as far as the price point is considered and compared to other WPs! I remember myself buying a 520 for same price around 1.5 years back! (still love the issueless phone) :P

Same here... That poor 520 is still a masterpiece.even though it got only 512mb ram and without front camera and flash its becoming a legendery device :)

Even my friend's Lumia 1520

My Android and my friend's Android crashes and freezes all the time

My friends lagdroid lags, crashed while he dialed a number and some lagdroid dried within one year.

Well what do you expect for that price an iPhone ,

Please. That resuming thing exists on my 930, too. Comparatively less, but its there. It's a software issue. ;)

Why,even for a flagship. Does a consumer really care is it OS bug or hardware bug.

A consumer shouldn't care the excuse, you're right. But there's nothing worth doing...it's all up to Microsoft.

Got one in orange. Loves it.
Already sold out in Norway, got some really good reviews as well.

I so much wish they had released this last year. I regret buying my 630 after seeing this phone.

I know exactly how painful that feels ...

720p display, 294 ppi, a GB of RAM which is enough for WP, a front camera, flash and the sensors! And yeah, Glance Screen. The 640 is a perfect package.
Lumia 630 was really not packaged well. I made a bad decision buying it. :/
They added features that people actually don't use like SensorCore.

That would be the fixed price.

they sure are taking their time launching this phone in the States.

Price drop has now started... Yo... time to make it best selling lumia. :)

well said ,u should be given an award for this,

everyone knows Nokia reduces prices after few days ,Microsoft followed it in case of l535 etc and now l640

Now it came to correct price,

Xolo Q1000S for 6999 and Lumia 535 for the same price if you are ok with SD 200 Lumia 640 if u want SD 400. 9999 is an awsome price, though I would have loved to see xZeiss optics on this one too, like the XL !

Got one Microsoft I have made everybody in my family buy a Lumia device so I have done my part of promotion

Which one is better? L730 or L640?

OMG..! Its one of the great offer here for windows lovers. I was always thinking to buy "My Sexiest Lumia 640XL" and after this price drop for Lumia 640, i think i should wait for the price drop for my desired one "Lumia 640XL" too. Please Satya Nadella (Microsoft) drop the price of "Lumia 640XL" too. As the price dropped for Lumia 640 then i think it should be dropped fo "Lumia 640XL" Thanks.

Any news on the 640 XL LTE version?
Windows Central Newsletter
Thank you for signing up to Windows Central. You will receive a verification email shortly.
There was a problem. Please refresh the page and try again.