Lumia 730 now available for purchase in India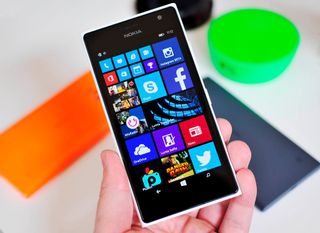 If you've been eagerly waiting to get your hands on Microsoft's selfie-focused Lumia 730, we've got good news for you. Indiatimes is now selling the device for Rs. 14,999 ($250).
The online retailer is selling the grey and white color variants of the Lumia 730. If you're looking for more color versions, Flipkart has listed the device (opens in new tab) in black, white, green and orange. The device is not yet available for sale on the site just yet, but it is expected to go live shortly.
In terms of specs, you're looking at a 4.7-inch 720p display, Snapdragon 400 CPU, 1 GB RAM, 8 GB internal memory, microSD slot up to 128 GB, 6.7 MP camera at the back, 5 MP shooter at the front and a 2,200 mAh battery.
How many of you are interested in purchasing the Lumia 730?
Thanks Rakesh and Jignesh for the heads up!
Windows Central Newsletter
Get the best of Windows Central in in your inbox, every day!
Harish Jonnalagadda is a Senior Editor overseeing Asia for Android Central, Windows Central's sister site. When not reviewing phones, he's testing PC hardware, including video cards, motherboards, gaming accessories, and keyboards.
Brilliant pricing....very competitive
...thats why I resisted buying anything from flipkart yesterday...

Few of us got the Lumia 1020 for ₹13,999 yesterday on Flipkart. I think we're officially classified as spam on the forums :P

But the price was 20000 ??? As per my knowledge. How you got in 13000 ???

that few includes me as well!!!

That includes me too. The seller confirmed the order, not shipped though. I'm not trusting flipkart too much because they have this habbit of cancelling the order without any notification.

my order has been shipped!!

Bro no windows 10 for screens below 4.7 :) not good for you i suppose, but 41 mp is a killer and I'm currently on 7.8 so no glitches in the WP os .. and all the people interested in 730 .. sources say that it is upgradeable to windows 10 .. :) .. but screens below 4.7 get limited update due to the new OS requirement.

What nonsense. I don't believe that one bit. Link please.

Lucky bastard hahah my God 13000.. That is so so good how did I missed it.. Yay

oh man lucky guys... i missed out on the deal... I wish I have seen it. Even the price of a refurbished lumia 1020 20k+ here in kerala.

i got this phone at 13000...

please give me the link where from u get this in 13 k? please give the link,,,,

Just hoping to get sooner good exchange offer with my Lumia 720

Me too. But I'm in a mode to buy Xbox one next month.

525 was avail for 90% off yesterday

I am one of the lucky member of Lumia1020@13.9K club..otherwise this was gonna be mine.

Lumia 525 for rs 900
Nokia X for rs 700
Lumia 520 for 5K..
Wtf pricing.. Too damn low.. And for all those who couldn't buy yesterday, (including me), RIP People..!!

I too got 1020 for 13.9k. Seller has confirmed the order and yet to ship

Hope these phones are not refurbished. :)

There is a high probability of that... few days back i got to know something in similar terms which was not out in open...

I guesss you are right. my firnd bought it fr 18k from flipkart... when we opended yesterday it had the lumia cyan installed and didnt had fron screen plastic to peel... and also it had some strange patch on top left corner.

My L1020 is shipped @13k
Thanks to one day delivery

How could u buy a mobile which is two years old?? You could have waited for 730, at least for a better processor..

lol are you kidding??and its just over a year old!!

It doesn't matter if its old or new. Though it came with Windows 8 and Lumia Black, you can upgrade it to Windows 8.1 and Lumia Cyan. Now what's the difference with its OS from Icon, 930 and 1520? Plus, the specs of 1020 is not very old if you compare it to iPhone 6 and 6+ which is more like a 2012 specs.

Dude..L1020 is not 2 year old. It is just more than 1 year old. But yeah, its chipset is now outdated.

Just visited priority dealer in Mumbai...they said it would be available from next week...desperately waiting :/

i don't trust Indiatimes shopping... I ordered Win Q900s on COD from them... the status went to verified... after four days the same status was reflecting. I wondered why the courier is not showing the location of my phone. On fifth day I called them up and they said its out of stock. I asked them when I ordered it was in stock. He said sorry but its out of stock and please cancel your order or it will be automatically be cancelled. Its good that I did COD, think what would happenif I paid for it through CC or Net Banking. They lost me as a customer.

And I bought a 1020 yesterday on Flipkart! If not, I would have bought this!!

How much did you get it for?

Yesterday they were selling at 20000 INR

seriously ??? It was 29k i guess in amazon.

I got it in just 13999 INR,

I got that for 12,600 10% cashback :D

yah me too, but cash back is not yet deposited. but anyways very happy with 13999

I got it for ₹13,999 yesterday on Flipkart. Order has been processed. Waiting for my Black 1020 to ship :)
Otherwise was waiting for 730. But you just cannot pass up a 14K L1020

+520 till yesterday +1020 now, :D

At what time please tell!?
Damn was waiting for day long,i had no clue! Posted via Windows Phone Central App

Lumia 1020 was available @ Rs 14,000 for 10 minutes yesterday on flipkart! Right now its at 27k. Still a good deal IMO (Until Lumia 830 launches) :)

I never got saw for 13k...damn my internet it went down in the morning and when I checked afternoon it was around 20k bit was confused whether to go for L730 or L1020.

its price was fluctuating between 13999 and 19999 you should have watched closely!!i bought one at 1 pm at 13k

got it for 13.9k...the offer was available for 10 minutes or so

Got it for 19999/- Not among the lucky ones who got it for 13999 :) But 19999 was itself so tempting that I bought it instantly and also recommended it to a friend who bought it for 18000 as he had a citibank card.

I got it for 13999 /- too. Posted via Windows Phone Central App

How much can you pay for brand new 1020?? I will consider selling on right price :P

well you wont get more than 25k hence 11k profit for you..but in those 11k u wnt find another 1020

my friend is ready to take it for 18k :D :P

I'm not selling mine no way!! I'm a super happy windows phone customer with my 525 all I was waiting for was for a good camera and I got the best one! Even if something new comes, 1020 will be a close second :)

Well I wanted to buy the 1020 .!! But company has discontinued the product and soon they will be comin up with something better well.. congrats to one who bought it too gr8 device at a good price :)

Where is the riptide game???

Why only flipkart sale Motorola and new devices. And why not amazon. What's the problem.

3days back amazon sold 625 for ₹7000

Wait for some time they'll going to sell iPhone 6

Now thats a gr8 Pricing. Thanks WP Central for posting this :)

Too much? Sent from somewhere. Don't worry I ain't illegal.

only grey and white are available in india times

available only on indiatimes?not in the stores?

Seems that they have pulled it down.. i have been egerly waiting to buy this phone but seems that there are more delays now..

Its available pls check http://shopping.indiatimes.com/mtkeywordsearch?SEARCH_STRING=lumia%25207...

Launch date is tomorrow, might come on other stores in a day

Finally its here........ I have been eagerly waiting for it...

Was curiously waiting for it....gonna buy this tomorrow morning ASAP! yayayy!!

does anyone know which colours of the lumia 730 are in matte?
grey mostly will be.
i'm interested in white and green.

There is white and grey...no green. I'm waiting for green too.

Matte only for Dark Grey rest are glossy only

Now this is a great deal. I think microsoft hit the sweet spot. I hope other retailers will start selling it soon.

I think you should've written 'You've' instead of 'You're ' in the first line.

First I thought to buy L830, but after seeing price, I thought L730 is much better..

Those two phoned are not comparable.
How can u choose 730 over 830. Those are two completely different segments. Sent from somewhere. Don't worry I ain't illegal.

Still waiting on the Lumia 830. Wish they offered pre-orders :D

Yes guys Lumia 1020 for just ₹13999,I ve seen it yesterday for 10 minutes.

I am gonna get this. Sent from somewhere. Don't worry I ain't illegal.

that signature of yours is... just... nevermind

Price of the device is good. Some of my friends and my sister is intended to have this.

I bought 2 lumia 520s for the price of 1 :) Posted via Windows Phone Central App

I bought lumia530@ 3700 rupees

How? I got it at 4199 from amazon

I bought two for 810₹ each yesterday on flipkart :P

Flipkart made me buy 2 1020s :p

Are you willing to sell for 15k?

Harish, I think you should also mention that this is the official online store of Nokia.

Check out the price for L730 on snapdeal its ₹15,999 (11% discount on ₹17,999)lol..;)

Snapdeal is cheating us... They are increasing the base price then by applying discount showing lesser price ...but that price is actually higher than the other site's price...

Completely agree.
Someone tell snapdeal that the base price is 15299 Sent from somewhere. Don't worry I ain't illegal.

http://www.snapdeal.com/product/nokia-lumia-730-dual-sim/1390187714#bcru...
is this website kidding me? official price is 15,299, look at this lol

Snapdeal is selling Orange one for 15999 http://www.snapdeal.com/product/nokia-lumia-730-dual-sim/1390187714#bcru...

Not showing in the site seems they have removed it......

Price increased Rs 15299 http://nokia.indiatimes.com/nokia/lumia-phones/nokia-lumia-730-dual-sim-...

No. It's still 14,999 only. http://shopping.indiatimes.com/mobiles/nokia-lumia/nokia-lumia-730-dual-...

i just placed an order for 15299

Great handset.. But now I'm planning to buy a windows"phone" with complete MS branding.

LOL, No thanks, got L1020 in 13999 yesterday !

Is the item shipped? If not, they still can cancel it :P. Mine is not shipped yet.

Mine shipped but it has been waiting in Whitefield from 1130 AM!! My office is less than 10 kms from there!

No worries, order is confirmed. I ordered multiple items and those are also in order confirmed stage. They have to handle huge orders not only our 1020s :D

Hope so. Waiting for it to be shipped ;)

Hope there're exchange offers.

too good... This phone will lighten up diwali in India... Come on flipkart give us another billion day sale... :P

My decision of buying lumia 730 depends upon what Microsoft brings in 8.1 update 2,otherwise happy with my 520

IMHO..Lumia 730 should and will get further updates from MS

I mean to say that if Microsoft gives the update i desire like coupling back the music and video player to the os ,more quick toggles (including data toggle),and the ability to swipe individual notifications of an app

$250? That's quite cheap.

It will be retailing for even less after couple of weeks....

What about 830 ? It was also supposed to be available by tomorrow ! Bring it ON !

More people will buy 730 if they give good exchange offer. Will they exchange my 620 for 730?

In nokia priority store there are always exchange offers...

Good. I wil try to exchange my 620. Have seen exchange offers in nokia priority stores,but for specific models. Not sure if they will give offer for 730. But it is worth trying

Will Microsoft release LUMIA 735 in INDIA ?

no nokia won't release 735 in india!! 730 is still worth the deal!!

Same here. Waiting to exchange 620. And Praveen we don't have 735 for India.

Going to buy L730 with 720 as exchange (dealer told he will give 8000 off on 730 with 720 exchange)......

Where do you stay and which store?

is there any chances of 730 getting the glance support in the future updates ?? Anyone any idea ... The phone is absolutely what i need but i wiil miss glance...

Dont think so, as far as I know it;s not aq software limitation.it has something to do with the display memory of the OLED display.

I am definitely buying one! Except, I am not in India. When is this coming to the Philippines?!

http://www.amazon.in/Nokia-Lumia-730-Dual-White/dp/B00NPX86EQ/ref=sr_1_9...

Amazon.in is also offering but for Rs 15890 . LOL http://www.amazon.in/Nokia-Lumia-730-Dual-Green/dp/B00NPX7SY0/ref=sr_1_5... http://www.amazon.in/s/ref=nb_sb_ss_i_7_7?url=search-alias%3Delectronics...

I wish there was a rounded corner back cover for 730. :(

Every body talking of buying a Lumia 1020@ 13k or 20k well it s a killer deal .... 41 mp is a killer and I'm still stuck currently on WP7.8 so no glitches in the WP8.1 os .. .. No Windows 10 for screens below 4.7 :) not good if you buy a L1020, Screen size < 4.7" All the people interested in 730 .. sources say that it is upgradeable to windows 10 .. :), get cortana .. <3 .. . Also It is dual sim so if you need a dual sim phone 730 is the best Lumia out there .. I have been waiting so long .. Already booked Dark Grey .. Getting tomorrow.

from where did you book it? i suppose it is still not available for sale anywhere online!!

Pretty good and affordable price

Going to purchase this device this evening in the Nokia Stores!


I just checked in Nokia Priority Dealer in Hyderabad, both 830 and 730 are available with them. I asked the price for 730 they said 17700 lol, I said its available for 15k in Indiatimes and the sales person was saying its without taxes. I told him its inclusive of all taxes. Then I asked him if any exchange offers are there. I use Lumia 710 (Yeah, I know its quite old), he said he will give me Rs 2000 for Lumia 710 & subsquently reduced the price of 730 for Rs 15500 which means he will give me for Rs 13500 in exchange of 710. But I didnt quite agree and left the store...

I got my green one!! yayyyy!!! at 15200 from a retailer!!

Awesome!!! How's the 730?

one word! awesomeness ! :D my first lumia .i used a focus before and drifted to android later and now having been waiting for this baby since announcement.. glad to have bought it.

I bought 730 Orange Glosy Matte but I feel sleepy on hand but I want to change back cover can you help me how to change Green or Grey back cover? Available in market replace into another color? One more thing when I try selfi photo my face is not looking correct center angle it's looking cross my eye and cross my face what i can do please help

Nice phone and best OS :D. even at 6.7 camera its great. Will be happy if it was 8 MP :D

Excellent phones for my range by nokia
Windows Central Newsletter
Thank you for signing up to Windows Central. You will receive a verification email shortly.
There was a problem. Please refresh the page and try again.