Lumia 735 is now up for sale on Verizon for $79.99 on-contract, $192 full retail
The Lumia 735 is now available for purchase from Verizon, with the carrier currently offering the black color variant of the device.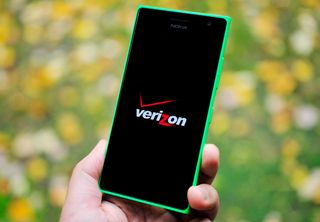 The pricing for the Lumia 735 starts from $8 should you go with Verizon's EDGE monthly plan for 24 months, or $79.99 on a two-year contract. For those looking to not get tied down to a contract, the phone is available for $192. The device was originally scheduled to go on sale June 11, but we received word earlier this month that Verizon pushed back the launch date to June 18. Starting today, you can order online or through a Verizon store, but the stores themselves will not carry the device from at least until June 22, according to our source.
Here's what's on offer with the Lumia 735 on Verizon:
4.7-inch 720p OLED display (1280 x 720) backed by Gorilla Glass 3
1.2 GHz quad-core Snapdragon 400 CPU
1GB RAM, 16GB storage, microSD card slot (up to 128 GB)
6.7MP camera with ZEISS optics and a f/1.9 lens
5MP front shooter with f/2.4 lens that can shoot full-HD video
LTE, Wi-Fi 802.11 b/g/n, Bluetooth 4.0, aptX, microUSB 2.0
2,200mAh battery, Qi wireless charging
Windows Phone 8.1 Update 2
The phone comes with a removable back cover, and those looking to accessorize will be able to pick up additional back covers in several colors, including white, red, orange, green and cyan.
Buy Lumia 735 from Verizon (opens in new tab)
Thanks Joseph, BlakIceTEK and spiff_p239!
Windows Central Newsletter
Get the best of Windows Central in in your inbox, every day!
Harish Jonnalagadda is a Senior Editor overseeing Asia for Android Central, Windows Central's sister site. When not reviewing phones, he's testing PC hardware, including video cards, motherboards, gaming accessories, and keyboards.
That's a pretty decent price. Microsoft needs to start bundling A year music pass, office 365 and an extra cover with this phone for $300. Then its kind of the ultimate College student on a budget device for basically half of an iPhone 6 or Galaxy S6. You've got to think outside the box with some bundles to get the target audiences attention. Market it as the Selfie phone to end all phone.

They pretty much do offer this with the Work and Play Bundle.

The phone storage has been upgraded from 8GB to 16GB on board storage.

@Harish, this phone comes with 16GB for the Verizon verizon. (it shows on the Verizon website.)

Honestly this doesn't appeal unless it was on their prepaid service. No one is going to get a Lumia 735 on contract that makes no sense

I have a 735, its an excellent device. Nice size, has a nice "feel" to it. Good battery life.

Companies like mine. I'm getting 11 of them

I'm going to guess that business contracts are different from consumer contracts. For a consumer the L735 (while a good phone) is a bad deal on contract.

How is it a bad deal? I very familiar with all Verizon devices and their specs and prices. The Lumia 735, spec for spec, is by far the best value in the low end pricing category. I would like some confirmation though that it will get Windows 10 Mobile.

I have a post below which explains it in detail. The full price of $192 is good for the L735, it's less than what I paid. Even EDGE is a reasonable deal at the same price. It is a bad deal on 2-year contract plans. The L735 will get Windows 10. Though if you get this one you have to wait for Verizon to push it. EDIT: fixed price

You do NOT have to wait for Verizon to push Windows 10 to any Lumia phones. Microsoft had already stated this as fact. They will work directly with the carries for their input, but when they are ready to push the update, they will do so. That is one of the major changes with Windows 10.

There is a difference between updates and upgrades. The updates for devices already running Windows 10 will come directly from MS. The device upgrade to get Windows 10 will have to be pushed by the carriers. The exception being non-carrier branded phones.

If the rear camera weren't a downgrade, I'd get this to replace my mother's 822... but overall, it looks like a downgrade (because selfies aren't a measuring stick to me).

Funny, my mom has an 822 as well. I don't often here about the 822 anywhere :P

I love the 8 MP camera on my 822, so yeah that's a downer

The 822 camera has exceeded my expectations. Waiting for a Lumia 940, I want Pureview.

My GF and my father both have this phone. The camera is surprisingly good, both front and back. I'd give it a try if i was you.

My 822 died and I was given a 929 which is also a downgrade from the 822. Losing battery access, SD card, tap to wake, and Glance sucks.

Oh boo hoo you had to get a phone with a 1080p screen to replace the WVGA phone you had before. And the extra 12 megapixels the Icon's camera gives you, that must be a bummer too, huh? Downgrade? Please.

822 represent! Only thing I don't like now is the screen size. I want a 5.5 or greater. Has been a great phone tho

I picked up a spare 822 on Ebay for $80.00 in mint condition. It's a great phone. They'll hold me till the fall and my first ever flagship phone. Windows 10..

You can buy a brand new in the box 822 off eBay for $79.99. No reason to spend more at this point for a lessor Verizon phone.

R the back covers available to purchase seperately immediately? And r they only purchasable at any Verizon store? I aint from US so idk about ur stuff about these things...

25$ for a goddamn battery cover ? lol i wonder if there would be any cheaper ones to buy damn

I'd gladly pay that if the MS store sold them for the Lumia 830! Cyan would be awesome on the 830.

well i was thinking to get 1 over my friend who is coming on 1st july here but damn 25$? i can get the Nokia cover for half the price here...but i want MS so i can have Nokia on front and MS on back :D

I want the organge one!!!

Oranges r glossy..go 4 green or white..

Why go for any other colour when the good old red colour is back :P

For a few dollars more, glance would have been a real addition to this phone.

Yeah, I know they're trying to go low-end, but Glance is such a must-have feature. Whatever it costs to make it work, they should put it in all of their phones except for the very bottom of the low-end.

Agreed! Glance is a real deal breaker for me. No Glance = NO SALE!!!

This is almost half the price I bought my 730 for :(

Any good thing about getting a phone on contract??
Here one can only pay $110 more and get a fully unlocked phone.

If you're looking into Verizon then be aware that if you go on a 2-year contract you will pay at least $15/month more (per-line access) for the 2 years. If you choose a 6GB or higher data plan then your "subsidized" cost is $25/month more per-line than if you BYOD or choose EDGE plan. I'm talking about the plan+per-line cost so for EDGE subtract the $15-25 then add monthly EDGE payment. You would be paying $360-600 over the two years. If you plan to buy a phone within that price range then do the math and it could be better to buy the phone up front at full price or from a third party. The total on-contract price for this L735 is $440 ($80 + $360). Does this look like a good deal?

Thank you for posting that. With the 2-year plan you're paying $430 or $680 for the phone. Plus they lock you in for two years with a $350 early termination fee. With edge you can pay off the phone after 30 days and be done or pay 75% and trade it in.

Yes Verizon should launch this as prepaid option.

It is a prepaid option. You buy the phone off-contract and get a prepaid SIM. I'm running the Icon on their prepaid network and that is all that is required. All Verizon phones technically come "unlocked" out of the box, even though it's a pain to try to get them working with GSM carriers still.

How long is Verizon going to beat the contract horse dead?

They are killing it off themselves with their own Edge plan. It's a completely different deal.

Am i missing something? Isn't this phone kind of old? I mean, come on. It's older then 830 - 930, why not use those? Don't get it.

Yes it is. It was supposed to come out a long time ago on Verizon. Guessing they are just selling it now to fulfill some contract obligation.

It is old but spec wise it isn't that far off from a 830, 640

Every phone they sell is brand new /jk

Yes, you're missing that US carriers sucks.

L830, L730, L735 came out at the same time.

The 640 with the same CPU looks like the better value. It has glance too.

In the U.S. it isn't so much about which phone is better so much as it is about which phone your carrier is willing to offer. For example: Verizon offered the 929 (U.S. version of 930) but not the 1520 at a time when AT&T offered the 1520 but not the 929. Whether your preference was for 5' or 6' phones was less relevant than what your carrier was willing to stock. Switching carriers is often difficult as most people are bound into 2 year contracts as well as reception/lte service not being available or as good in all areas.

And this is why GSM rules, you can buy whichever phone you want and use it on any network you want. As usual though, the US is the exception but for anywhere else where GSM networks are used you always have the choice.

I hope this would happen too in Indonesia.

Finally Verizon has a lumia back on their network. It isn't high end but hopefully people will get the real windows experience

but....but wen in India ...? lolz

Namaste! Thank you for your question. We regret to inform you that Verizon has at this time no plans to expands it operations to India.

Lumia 640 is way better at $129

It is priced in such a way that everyone would pay full retail, or go with Edge plan. Carriers want to wean people off 2 year contracts

An unlocked version won't have LTE on AT&T right?

I would alo like to know - can this phone get AT&T LTE, AT&T HSPA, and AT&T Edge?

Still maybe 5 months away from flagships?
I'm not going to buy two phone one now and one later because my 1520 has a cracked screen.
Went to all my local att stores and none had WP on displays . This is getting old for us wanting good phones for upgrades.

I hear ya. Still going for the 640xl anyway. It'll be December by the time we can get a 940xl.
Disclaimer: Lost my 1520 in a taxi cab

How'd you lose a monster like that.

The variables: * Atlantic City * Alcohol Consumption * Blackout-status * 3:30am * Not an uber, some private taxi guy who couldn't hear my phone ringing everytime I had it ring * Battery died 48 hrs after losing, no longer able to track it Yeah, you do the math -__- All things considered, I'm impressed the battery lasted that long for me to continue tracking/ringing it. Before it died, I left a message on the screen to give my gf a call if it's found. It would need to be found, charged, and then turned on for someone to see that message. I really dont know how someone has not come across it yet, it's BRIGHT GREEN

Man that sucks poor 1520.

Buy a phone on Ebay to use until the Windows 10 flagship is available.

Anyone know how the actual picture quality on this phone compares to the Icon? All of the sudden my Icon is taking absolutely horrible pictures 90% of the time. I think the floating focus lens is bad as I get stretched out faces, etc any time I lean the phone forward or backwards even the slightest bit

I just placed my online order for the phone. I will be receiving it tomorrow. Will post my review and initial impressions tomorrow on the Lumia 735 forums. So happy the phone is finally released. :)

Hi Ltauhmise, do you happen to have an ATT Sim lying around? I was hoping you could test out AT&T LTE, H, & E for us

For the first time in a while, it is raining Lumia phones. T-mobile and Verizon recently, and MetroPCS and AT&T next week. This really pleases me to see.

Phone also comes with one full year of Office 365 Personal, for free.

What a rip-off. It should be $0 down on contract. The full price is pretty good.

They won't have then within view of customers, not special sale price advertised, salespeople won't promote it, and the one they have will be locked in the safe in the employee only area of the store..... So this is nothing to get hyped about! Of yeah, Verizon will kill it in a couple is months.

Does anyone know the variant (RM-xxxx) and/or LTE specs? EDIT: I think I found it. RM-1041 with LTE bands 2,4,13

Can anyone confirm if this will work on ATT LTE, ATT HSPA, and/or ATT Edge?

$25 is a good price if QI charging is on the battery cover. EBay has ones without it and non OEM for $10-$15.

$192 is quite reasonable. Why $192 though? Odd number.

Because they set the price to be $8 per month x 24 months for their Edge plan...or just pay for the whole price at once, $192. :)

I have an 822 right now but this looks like a good upgrade. The 735 may not beat the 822 on the camera but I'm willing to go down 1 megapixel for all the other benefits it offers. At $192 I could buy it off contract and then use my upgrade for when the flagships come out.

Talk about disfunctional releases, i was at the mall today...T-Mobile store did not have 640. Verizon store did n ot have 735. Microsoft Store did not have either!!..WTF???

I have gotten 2 Lumia 735's from Verizon to replace 2 HTC8x phones off contract. One 4 months ago at full price and one just recently with $100 off from VZW. One has been upgraded to Win10 as I am a Windows Insider, So far so good. WiFi is annoying in that on occassion I need to reboot the phone to get a connection. Same on both phones (Win 10 and 8.1).
Windows Central Newsletter
Thank you for signing up to Windows Central. You will receive a verification email shortly.
There was a problem. Please refresh the page and try again.