Lumia 830 now available at Carphone Warehouse for £299.95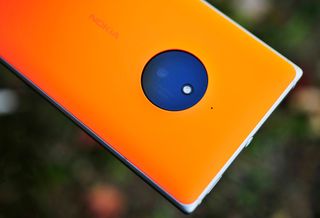 After listing the Lumia 830 as coming soon, UK retailer Carphone Warehouse is now commencing sales of the handset. The device is available in black, green and orange color variants.
The pricing of the Lumia 830 starts at £22.50 ($35) on a pay as you go plan with no upfront fees. SIM-free the device is available for £299.95, which comes out to around $480. And every purchase of the device also entitles you to a free wireless charging bundle which includes a wireless speaker and a wireless charging plate.
As for the device itself, the Lumia 830 features a 5-inch 720p display backed by Gorilla Glass 3, Snapdragon 400 SoC, 1 GB RAM, 16 GB internal storage, microSD slot up to 128 GB, 10 MP PureView camera, 0.9 MP front shooter, Wi-Fi 802.11 a/b/g/n, Bluetooth 4.0, NFC, microUSB 2.0 and a 2200 mAh battery.
How many of you are looking to pick one up?
Thanks JimiDiGriz!
Windows Central Newsletter
Get the best of Windows Central in your inbox, every day!
Harish Jonnalagadda is a Senior Editor overseeing Asia for Android Central, Windows Central's sister site. When not reviewing phones, he's testing PC hardware, including video cards, motherboards, gaming accessories, and keyboards.
Not bad but they have the 930 going for 26.50 a month why not just buy that. Also just got my 930 a few days ago fantastic phone

Lumia 830 is very good solid phone. However, for nearly same price (£320 including delivery) you can buy the truly flagship Lumia 930 (unlock).

Pretty much sums it up the 830 price point placement is terrible.

Yeah but no glance on the 930 !!! Would miss that so much so looks like the 830 is a better option imo

Is the 930 the Icon here in the U.S. ?

930 has no SD card slot or removable battery, so it's just a case of what you prefers.

Any news about middle east??

Where do you live? It was available in Jordan two weeks ago

Saudi Arabia, + I really need Lumia 730 as soon as possible

Of course, the middle east is always in the news.

It's available for 1400 SAR. I saw it in Riyadh and I heard that it's available in Jeddah for same price.

It is also available for 950 SAR

Thanks alot,
in Riyadh, jarir bookstore

Fahmi it's. Available , emax , extra , jarir

In Riyadh, you could find Lumia 830 in many stores. Alhadad, jarir, and mursalat. But to let you know, in Riyadh they sell it without all the accessories but in Jeddah at Palestine St. They sell it for 1300 SAR with all accessories.

What kind of accessories do you mean?

Which one? The 830 or the 730\5?

The 930 Rocks I'm sure. Thinking about getting one of those. $470. It's way better than the 830 based on specs.

For me I prefer 830, the design, weight, and spec and just perfect + SD card

Can I buy this online?
Great offer

You can buy it from here
http://www.clove.co.uk/nokia-lumia-830

£339 plus top up for a unlocked and sim free 930. The 1520 is around that price too. The 830 needs to lose £80. At least.

I though MS sells costly phones only in India . But its £275/- for L830 here.

Don't Buy!!!!!! ...Carphone Warehouse will soon offer a prepay option that will be £50 cheaper. All Carphone Warehouse devices are unbranded and unlocked anyway so no point splashing out £300 today when in a few weeks the exact same deal will be under £250.

That's spot on. I'd imagine retailers will drop the price on this fast.

Yeah, CPW just did that with the 735, dropping the sim-free version from £199 to £179 and the PAYG upgrade to £129 I would guess that CPW will start the PAYG upgrade (if they do it) at around the £250 mark.

Yeah. Already available widely across India at retailers as well as e-commerce stores.

Still too expensive. Should be £225-250. Buy the 930 for only a bit extra

http://www.clove.co.uk/nokia-lumia-830

Same price (£300). You need the inc VAT price, that's what u will buy it for

Exactly right. You can get the 930 for £339 plus top up, including VAT. The 830 is overpriced. But I'd imagine in a couple of weeks cpw will have dropped the price on the 830.

That's only if you live in Europe then you will get that charge.

Well this article was referring to the UK. I'm in the UK and we're discussing UK prices above.

Where are you seeing it for £339?

Giffgaff. Hotukdeals had the Lumia 1520 for £350. If you google em a website called serversdirect also sell em cheap as chips ;)

Pleasure. I'd spend £10 on a 4g goody bag. Good value ;)

Just got Lumia 930 for £220 off eBay brand new!

New model coming up before 2015?

Also in Telenor Serbia along with Lumia 730

Lumia 820 is much better than this shit! -_-

8mp vs 10mp pureview, dual core vs more efficient quad core. Bigger battery and better battery life. 480x800 resolution vs 720p 8.1.1 and denim out of the box. Wireless charging back cover. I'm sorry to drop this on you but 830>820

Getting wife upgrade from 620. There is no point in me going from 820 to 830. Waiting for Microsoft branded flagship device!

I'm rocking a 820 as well and I'm just waiting for a Windows 10 flagship phone. :)

Yep. In the same boat here. Hopefully something leaks out soon.

Nice phone......ill keep me 630 till Xmas though, Mrs getting fed up about changing phones all the time.

Spoke to CPW last night, they said no stock on system. Unknown supply date still. No stock in either of my local outlets!

Was thinking picking up 830 on contract as I really dig the shape but here in SA I can get 930 for just a little bit more.

Guys stop moaning, like if you didn't know how quickly prices of Lumia's drop, probabaly the quickiest in the whole industry!

Waiting for the RM-983 or 985 variants. Hopefully soon!

Wow, I bought my lumia 930 for 449 euros... I think the 830 is a bit expensive in UK if you compare this

Definitely going to check this out.
Seen demo's and looks great.

One thing 830 has, and 930 has not, is the glance screen. This can be a deal breaker.

Your right of course when you have become used to glance screen, it's a hard thing to lose. A guy in my local Carphone warehouse said that I could probably get a glance screen App for the 930 from the Ovi store! Not sure that he is ideal salesman for a phone shop! Idiot

I'm going to end up with a 930 for cheaper than this, I know it'll go down in price over time, but I don't have that time, I really wanted an 830 in orange with that beautiful mini Oreo too :(

The never ending whining about its price vs the 930 yet before that everyone was saying the 930 was crap because it was "old". So its not old anymore? Sheesh.

Oh man it is old. It's also better. The best wp device, all round, is the 1520. Didn't that drop November 2013? Now that's old. And shows you something.

The 930 is still a current model. The 920 is old and that betters the 830 in many areas.

Too expensive, I got my 920 for £155

The 830 was listed on isme.com and Woolworths for £279 but it jumped up to £329 a couple of weeks later. It is though just £295 on Ebuyer, SIM free.

Best deal seems to be on EE 4g plan. £14.99 month and £79.99 up front for phone. See the website for more details. Cheaper than£22.50 deals. Settings Vodafone always want to charger premium, rates but give pour value in return.

In Finland the price difference between 830 and 930 is 35€ as of yesterday. It will kill 830 sales pretty quick. I am set on 830 but 930 is now pretty tempting. The thing is, I don't think I need those specs, 830 is much more appealing in appearance. Slim and almost 20g lighter. 930 is a beast, but there has been many problems with display, heating and lack of sd&glance. I'll wait to see how 830s price drops, because at 35€ difference I just can't decide.

830 ​is a very expensive mid-ranger based on its spec

In Poland new Lumia 830 (3 colors to choose) cost - 241 GBP (1300PLN) its still to high price for that type of phone. This is low-mid range phone and as a graphic designer i must save money for this phone for couple of months! (1300 monthly payment) This is ridiculus! Maximum of the price for this smartphone should be about 148 GBP (800PLN) - bad quality of cheaper screen, poor low-end processor, no headphones in the box, poor quality and quantity of apps, no still no 4k movies recording, and bad image stabilisation, images out of focus...
You can get black 930 for 1300 PLN as well. These phones are very expensive and still we did not know - will these lumias receive windows 10!? Damn i really wanted 830 before release, but after... naaaaaahhhh!


Might get this. Currently got a 920 on a 24 month contract, up this month.